Smart Way To Analyze Keyword Competition

When I started blogging, I was deeply interested in ranking my pages on Google. But, it kinda depressed me that it takes at least 6-12 months to rank on the first page of Google.
When I researched more about it, I came to know that you need quality backlinks pointing towards your content to rank it better. Backlinks act like a vote. So, higher the quality backlinks, higher is the ranking.
Along with that, good & descriptive content with proper SEO plays an important role in ranking.
It was impossible for me to rank my content. So, I researched about Google algorithm & SEO and came to know how to analyze keyword competition to rank better.
So, then what? I applied those techniques to my content & firstly it ranked on the 6th page of Google. Then, it climbed on page 5th, then 4th and within one and a half month, it ranked on 1st page.
Currently, it is ranking on 2nd page as you can see below. But, it will be back on the 1st page.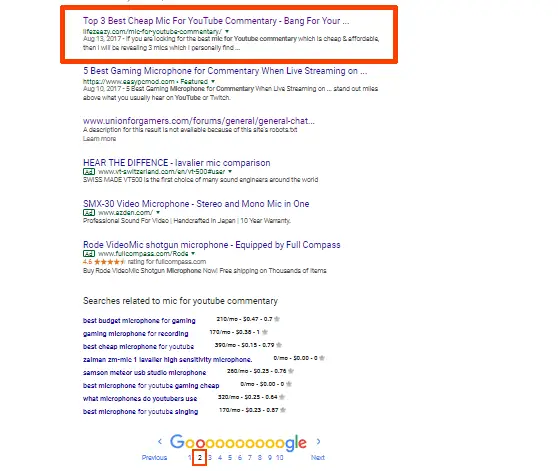 Now, I have 0 backlinks for this article, yet I ranked it on top 2 pages and I am getting some decent organic traffic. Due to this, I made 3 affiliate sales from this article.
Moreover, guess what, it all happened during the 2nd month of blogging.
So, you might be thinking what I did. Don't worry, in this article, I will show you how to analyze keyword competition.
But before that, if you haven't started your own blog, check out how to start a profitable blog that makes money
Keyword competition is the first & the most important part of ranking your content. It shows you whether you can rank your content on the 1st page or not.
 This post contains affiliate links. You can read disclosure page for more info

Relatable Content That You May Wanna Check Out
Keyword Competiton Checker Tools (Which I use)



Factors to Consider While Analyzing Keyword Competiton
Targeting Long tail keywords with less competition & decent to high volume searches

Page Authority of your competitors

Domain Authority of your competitors

No. of backlinks pointing towards your competitor

Checking On-Page SEO

Writing excellent content



How To Analyze Keyword Competition

Below are the steps to follow in order to find the best keywords so that you can rank them on Google without even having a backlink
1) Targeting Long tail keywords

If you want to rank higher, it is essential to target long tail keywords (3 or more words) having less competition & decent to high search volume.
Because if you target broad keywords (1-2 words long), then you are unlikely to rank them because they are having high competition. Plus, you won't get targeted traffic.
According to SearchEngineWatch, Long tail keywords performs 2.5 times better than broad keywords.

As you can see a bar chart prepared by Moz, Longtail keyword improves organic traffic by 80%
For example, If you are targeting keyword "best books", then the traffic you are getting is not targeted. Some of them like Horror genre books, some of them like Fantasy books. So, its a mixed kind of audience but the volume is high.
But, if you target "Best Horror books", then you are getting targeted audience from this keyword & you are more likely to get sales. (even though the volume is less, but they are likely to engage more in comparison with broad keywords)
So, long tail keywords explain the necessity & in-depthness of the topic & you know exactly what your audience is looking for. (Phew, I hope I made myself clear)
Now, to find out those keywords, I use Jaaxy Keyword Tool. You can sign up to their website & can try their trial plan which enables you to search 30 keywords for free.
Before I was using Google Keyword Planner as every newbie does. But, it is very difficult to find good keywords with the exact search stats which GKP lacks.
On the other hand, Jaaxy provides more up to date and more accurate results than GKP. Also, it pulls out search statistics from all the major search engines & not just Google.
That is why I love it because you have better chances to rank on Google. But along with that, you have chances to rank on another search engine as well such as Bing, Yahoo etc.
Let's take an example, You have a normal cycle. Do you think you can win an Olympic cycle race with it?
The answer is No. So, now how to win that race?
Exactly, you need a racing cycle. The racing cycle is better than normal cycle and you have better chances to win that race.
Now here, normal cycle is "Google Keyword Planner". The racing cycle is "Jaaxy" & Racing is "ranking on the first page of Google". I hope you got the concept.
Now, how Jaaxy will help you?
When you search any keyword in Jaaxy, it shows the following results
Avg – Average Monthly search
Traffic – Total no. of visits to your page if you achieve first-page ranking
QSR (Quoted search results) – No. of competing websites which ranks on Google for this exact keyword

KQI (Keyword Quality Indicator) – It shows the quality of the keyword.

SEO – A score based on traffic & competition. The higher the rank, the more likely you will rank for this keyword on the first page
Domains – Availability of domains that are related to the keyword.

For example, I am looking to write an article on "Increase weight". When I searched this keyword on Jaaxy, you can see below results
As you can see, it is suggesting all the orange marked keywords which are great. These keywords are good to rank on Google.
So, your first step is to grab good long tail keywords using Jaaxy.
Get Your Jaaxy Keyword Tool Free Trial
But wait, most of the bloggers think that they are done at this moment & writing an article targeting this keyword will be easier for them to rank on the first page. But that is not the case.
You need to perform some analyses before making up your mind to write an article targeting chosen keyword.
Best Keyword Tool To Find Long Tail Keywords
Click To Tweet



2) Analyze Top 10 Results

It is important to check your competition so that you can make sure that you could outrank them. Just search your keyword on Google and analyze top 10 results (basically 1st-page ranking websites).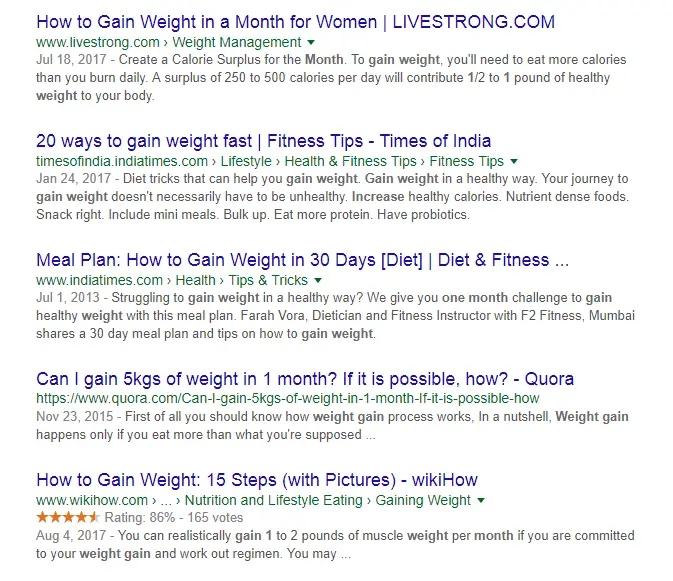 3) Check Page Authority

Now you have all the top 10 results, it's time to check their page authority.
Page Authority (PA) shows how well a specific page will rank on search engine result pages (SERP). Usually, it is ranked in scores which is out of 100. Higher the PA score, difficult to rank keywords.
To check PA, you can download Moz bar (free) which will exactly tell you all the PA of your top 10 competition.


As you can see above Moz bar, it shows PA, DA & total backlinks.
Let's see all the result using Moz Bar.

As you can see above, most of the pages have medium to low PA. So that is a good sign.
If most of the page has low PA, then you have a good chance to outrank them. But if most of the page have high PA along with high DA, then say goodbye to that keyword and choose another keyword.
4) Check Domain Authority (DA)

Domain authority is the total measure of the power of a domain name and is one of many search engine ranking factors.
If the websites ranking on the first page have high DA, then it is very difficult to rank our keyword.
Sites such as Wikipedia, CNN, Amazon are having high DA and you should never think to compete with them if they are also targeting the same keyword as yours.
So in context, high PA along with high DA sites are super competitive. You should look for low PA & low DA sites to easily outrank them.
5) Analyze Competitors Backlinks

As you might know, Google ranks page well if it has no. of backlinks. Backlinks act as a vote. The higher the backlink, higher is the probability to rank better.
But, as of now, many people are using black hat SEO to quickly rank higher. If you found a page that is ranking higher by doing all these kind of SEO i.e having backlinks from spammy websites, blog directories, spammy comments, then don't worry, they won't be ranking higher for too long.
Also, they may get penalized too. So, it is requested to never opt such methods. Instead, use white Hat SEO.
So, if your top 10 results are having quality backlinks. then that too is a red signal.
How to check backlinks?
You can use Moz bar to see the total number of backlinks as shown below.
If you want to check those links whether they are from Quality websites or from low PA, DA websites. Then, you can click on Link Analysis as shown below
It will take you to Open Site Explorer. Here, you can see all the page metrics as shown below.

You can also see all the inbound links (backlink) as shown below
As you can make out from PA & DA, the backlinks are coming from low to quality websites.
At the end, Our main motive is to find those long tail keywords that have competitive pages with less PA, DA & low-quality backlinks.
6) On-Page SEO

To rank article for a particular keyword it is essential to have On-page SEO. A well optimized SEO article has higher chance to rank for a specific keyword than the article having poor SEO.
Analyze your competitor's pages by checking keywords on title, H1 & H2 header, metadata, description & URL. See whether their page is well SEO optimized for that particular keyword.
If some of your competitors lack this, then you have a good chance to outrank them even if they have a decent PA & DA.
For example, I picked the first article for the keyword "Increase weight in 1 month". As you can see below, the title of the article consists of the keyword "Gain weight in a month" & also it is used in URL. (Synonyms can also be considered).

As you see the keyword is only being used in title & URL but not in headers, description & metadata. So, If my article consists of the keyword in all these places. I have better chance to outrank it following other factors as well which I discussed earlier.
So, you need to check all the top 10 articles & make yourself clear whether you can beat them or not.
7) Additional Tip

If your top 10 results consist of pages from Quora, yahoo answers, ezine articles, Blogspot etc, then it's a good news for you as this shows that the competition is very low for that specific keyword and you have better chances to rank there.
For keyword "increase weight in 1 month", I found 2 quora articles which are ranking on the first page. now, that's a green signal.



8) Great Content

So, if you finally found your keyword that satisfies all the above-mentioned criteria. then, congrats you have done 90% research for your keyword competition.
Now, it's time to write an amazing content. By referring amazing means in-depth content, having more than 1000-1500 words.
But before that, let's do a little homework.
Check out top 10 competitors page and analyze the content. Look for what is good & and what is lacking. For example, it might be outdated information, lacking images or videos, poor design etc.
Note down all the good & missing stuff of the articles which are ranking on top 10.
Thus, it's time to create a content having all these good & missing part.
Now you have an article having all the good stuff which your competitors were having along with all the missing part which they were lacking. This makes your content stands unique & outstanding & Google will be happy to rank them on top.
Quick Summary
Find long tail keyword with less competition & decent to high search volume

Extract top 10 pages ranking for that specific keyword.

Check their Page Authority & Domain Authority. If the result contains low PA & DA pages. Then you can proceed further or else try another keyword.

Check no. of backlinks. If competitors pages have less & low-quality backlinks (medium quality can also be considered). then you can head over to next step.

Check On-page SEO. Look for keywords in title, H1 & H2 header, description, metadata & URL. If the competitor pages are missing these, you have better chances to rank.

If search result consists of pages from Quora, Yahoo answers etc. then you can target those keywords.

Lastly, write good content by analyzing your competitors content. List all the good & missing part. Include them in your article.

That's it, you now know how to analyze keyword competition

.



Conclusion – Analyze Keyword Competition

To analyze keyword competition requires a lot of hard work. But believe me, in order to gain something, you need smart hard work.
By doing all the above-mentioned things, the keyword you get is pure gold and you can easily rank on the first page without having backlinks.
Keyword competition checker tools also play an important role in determining proper keywords that have the ability to rank on search engines.
But I know, it's very difficult to find such keywords who fulfills all the criteria. However, if you came across keywords which fulfills 80% of the criteria, then also you can target them along with 2-3 backlinks which would really help a lot.
Lastly, you may see that after applying all these factors, your page is ranking on top 10 search pages of Google. Don't be upset, because it takes time for Google to rank pages.
With time, you can slowly see an improvement in your page ranking which will then head towards the no.1 spot. So chill & relax.
That's it, If you liked the article, then don't forget to share & comment.