When you click the links and ads on this blog, it helps me to pay the bills & keep this site free for you. Thanks for supporting me! For more info, read the Disclosure page.
If you love audiobooks and have been listening to them for quite a while, then you must have heard about Audible?
The company under Amazon that sells audiobooks.
That's right.
I am damn sure you must be curious to know if it is really worth your time?
If you know little about it, then you should definitely read this Audible review where I will cover everything about it.
After reading this review, you will definitely know:
What is it?
What are its features?
Different Audible plans and free membership
Pros & cons
& much more
This review is your stop to learn everything about Audible to have a clear picture on your mind.
But before that, let's have a look at the key features.
KEY FEATURES – AUDIBLE REVIEW 2019
Audible is an Amazon company that provides audiobooks in almost every category.
They offer a 30 day's trial plan during which you can download 2 audiobooks absolutely for free. You can keep these audible books with you even after canceling their trial plan.
They have a paid membership at a price of $14.95/month for a single credit. Using that credit, you can buy any audiobook regardless of its price. Also, you will get a 30% discount on any audiobook you further purchase.
They offer a refund scheme where you can exchange an audiobook for a refund credit within 365 days of purchase.
Audible has a vast library having more than 1,80,000+ audiobooks.
Their app and website are quite user-friendly.
Great customer support service 24/7  via live chat, phone & e-mail.
WHAT IS AUDIBLE?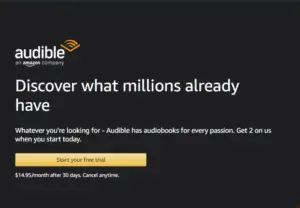 Audible is the most popular audiobooks providing service in the world owned by Amazon since 2008. So, obviously, there is no question about its trust.
It has a huge library of over 1,80,000 audiobooks in various categories. They also have an app through which you can access audiobooks directly from your smartphone.
If I talk about its plan, they offer a paid membership along with a free trial plan.
AUDIBLE TRIAL PLAN & MEMBERSHIP
If you are skeptical to try it, you can use their free trial plan which has a validity of 30 days. During this period, you can download any 2 audiobooks absolutely for free.
Besides, if you decide to cut ties from Audible after using their free trial. You can still keep your 2 downloaded audiobooks with you forever.
This is one of the reason, why some of my friends took advantage of this scheme and downloaded free audible books before canceling the plan.
If I talk about the other services, they only allow you to borrow audiobooks & you have to return them within a time period.
Whereas, with Audible, you can keep it with you even after canceling their free plan.
Moreover, if you have Amazon Prime membership, you will have exclusive access to Audible.
On the other side, if you actually liked Audible and want to continue with their service, then you can join their membership plan.
Below are their different plans:
[wpsm_comparison_table id="4″ class="center-table-align"]
With the credit, you can get any audiobook regardless of its price. You will also get a 30% discount as a member on buying additional audiobooks.
I usually choose only those one which cost more than $15 because the credit is itself worth $14.95.
So, instead of choosing cheaper audiobooks, I always aim to get a higher price audiobook to take full advantage of my credit.
Additionally, I go for longer duration audiobooks so that I can spend more time with it throughout the month.
AUDIBLE REFUND SCHEME
There are many times when you accidentally purchase wrong audiobooks or are lured by the title which in fact turns out to be a disappointment. In such cases, it's better to return it back.
Audible has a great refund scheme where you can exchange the wrong audiobook for a new one. In case, you don't want another audiobook, then you can also exchange it for a refund credit.
The validity of the refund scheme is 365 days from the date of purchase. So, you have an ample amount of time to exchange it which I think is pretty cool.
AUDIBLE LIBRARY
One of the main reason why Audible beats other audiobooks competitors because of the huge variety of audiobooks in almost all categories.
It has an over 1,80,000+ audiobooks with top-notch audio quality.
Plus, their library keeps on updating with new audiobooks so that you can find almost all the popular ones in their database which I bet you can't find in other services.
AUDIBLE AUDIOBOOK PRICE
If you compare the prices, the Audible books are a bit costly than others & that's because of their awesome quality.
However, if you are a member, you can buy extra audiobooks with a 30% discount making it cheap for you.
AUDIBLE APP & WEBSITE
To access audiobooks on smartphone devices, Audible has an official app for Android, Apple & Windows phone. I find this app quite user-friendly & easy to operate.
The app is ad-free so no pop-up adds that can ruin your experience. Also, it delivers premium audio with no interruptions.
You can even download them & listen to it offline.
Besides, you can automatically sync all your audiobooks across all your devices.
Whether you are a slow or fast listener, you can always adjust the speed of narration according to your taste. I usually increase a little speed while listening.
The best thing about the Audible app is that you can set up a timer. Suppose, if you want to stop the app automatically
after one hour, you can set up a timer for 1 hour.
The app also enables you to switch back & forth between e-book and audiobook using the Whispersync feature. However, you must have a Kindle app & e-book.
Talking about the Audible website, it is also quite good. The interface is neat & I liked the pop-up feature whenever you hover the mouse cursor on any book.
This pop-up box will show narrators name, length, overall rating and a short description about the audiobook. This will alone let you decide whether you want to further click on that book or not.
Overall, Audible has a nice app & website which itself attracts many of them to try their service.
CUSTOMER SUPPORT
As I have previously covered that if you accidentally buy a wrong audiobook,  you can always exchange it.
However, to do so, you need to contact the customer support team. You can contact them via live chat, phone or email. They have a 24/7 customer service, so you can contact them at any time.
Besides, if you have some other problem, they have their own forum to discuss various topics every day. So, before contacting the customer care team, you can always scroll the forum to find the solution.
As far as I know, it has one of the best customer support team if we compare it with other services.
PROS & CONS
[one_half][box title="Pros" bg_color="#77d633″ icon="thumbs-up" icon_style="border" icon_shape="circle" align="centre" text_color="#ffffff" height="500″]
It has a huge library of over 1,80,000 audiobooks in different categories
Provides premium quality audiobooks
Great customer support 24/7
You can download 2 audiobooks for free with their trial plan
As an Audible member, you get a 30% discount on purchase.
[/box][/one_half]
[one_half_last][box title="Cons" bg_color="#dd3333″ icon="thumbs-down" icon_style="border" icon_shape="circle" align="left" text_color="#ffffff" height="500″]
It only provides 1-2 credits per month
Audible audiobooks are a bit expensive than other audiobook services
If you have used your credit, you can't buy extra credit for that month.
[/box][/one_half_last]
TWO METHODS TO DOWNLOAD FREE AUDIBLE BOOKS
Till now, we have seen all the features of Audible along with its pros & cons. Now, it's time to look at how you can download these audiobooks using their free trial plan.
Now, there are 2 ways to do so:
Download Free Audible Books Via Audible 30 Days Free Trial Plan
Download Free Audible Books Via Amazon Prime Free Trial Membership 
Let's see each of them one by one.
1. Download Via Audible 30 Days Free Trial Plan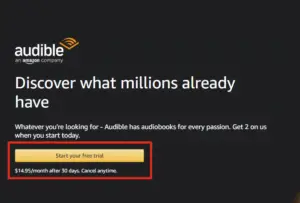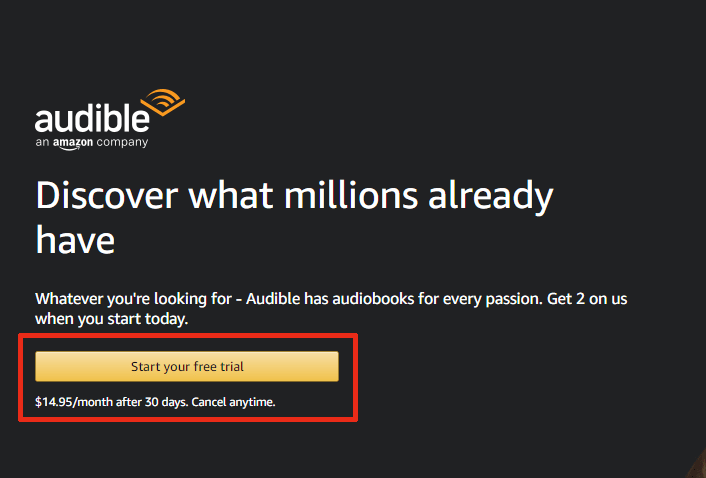 After that, you need to connect your credit or debit card for the security reason. But don't worry, they will not charge you anything within 30 days.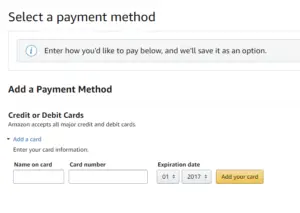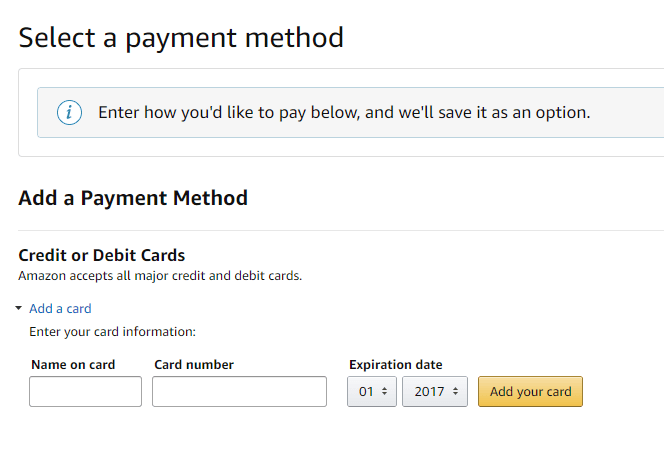 The next page will ask you to confirm your address. Click "Use this address" button.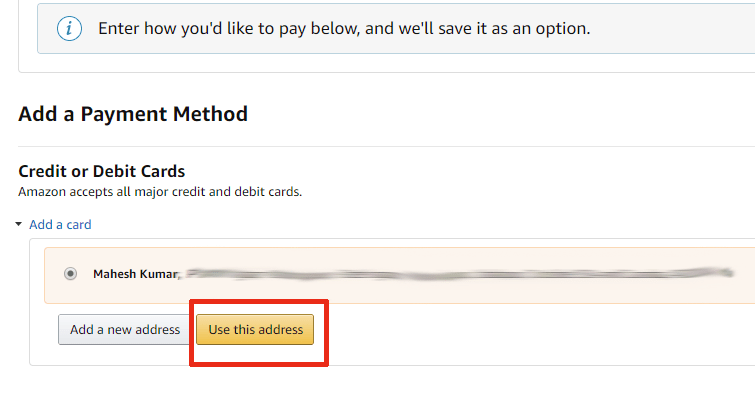 Next will be a review page as shown below. Just check everything & click on the "Confirm Your Free Trial" button.
That's it, you are subscribed to the free trial. You can see below-highlighted guideline.
Now, it's time to buy the audiobooks for free. For this, search for any audiobook using the search bar. I have chosen the "Affiliate marketing audiobook" worth $5.59 as an example. Next, click on the "Buy with Audible credit" button to download the same.
After that, you need to download the Audible app. You can find it in your respective app store (Android, App Store & Windows) or else enter your email address as shown above and you will receive a download link for the app.
Install & open your Audible app & sign in with your Amazon account (the same Amazon Audible account)
After sign in, go to Library > My Books & here you can see your selected audiobook you bought using the free trial credit.
Hit download & that's it. You finally downloaded a paid Audible book for free.
You can also do the same by going to the Audible website instead of app & repeat the same steps.
2. Download Via Amazon Prime Free Trial Membership
If you are already a prime member of Amazon, then you can access these audible books for free. You don't have to do anything extra, except to download their Audible app.
However, if you aren't a prime member, you can try their 30 day's free trial membership to test it out. During this trial period, you have the following advantages for free
Access to a rotating collection of 50 Audible audiobooks
Unlimited Prime movies & TV shows (Just like Netflix)
Access to Kindle Books
2 days free shipping if you buy items from Amazon
Also, If you are a student, you can use Amazon prime student to get a 6 month's free trial plan which I think is great.
During these 6 months, you can take advantage of all the above features absolutely for free. Though, you'll need a .edu email address to qualify for the same.
One thing you should remember is that you can't download audible books using the Prime membership. You can only access them.
HOW TO CANCEL TRIAL MEMBERSHIP?
If you have signed up for the trial plan, then congrats for downloading the free stuff.
However, if you feel you don't want to continue i.e. paying for the membership, then you can cancel your trial plan by following the below steps
Go to Audible's website & click your name at the top. This will open a drop-down box where you need to select the "Account Details" option.
This will take you to the account details page. Here, you can find the "Cancel Membership" button. Click it & it's done. Quite simple.
FINAL VERDICT – AUDIBLE REVIEW 2019
If you love to listen to 1-2 audiobooks per month, then Audible is perfect for you.
However, if you are planning to listen more than that, then I will recommend trying another audiobook service such as Overdrive, Playster.
Although, if you try a different service, you may need to compromise with fewer selections.
Besides, rest all the features are better in Audible if we compare it with others. You have a wider variety of audiobooks to choose from.
They have a great customer support team with a great refund scheme which doesn't make you feel cheated.
Also, you can keep the downloaded audiobooks with you forever and even share them with your relatives which isn't possible with other services.
So, if you think it perfectly suits you, then you can surely go for it.
You Might Also Like: