When you click the links and ads on this blog, it helps me to pay the bills & keep this site free for you. Thanks for supporting me! For more info, read the Disclosure page.
While publishing a post, there are many steps bloggers tend to miss that results in revision once the content went live. Sometimes, it can be adding an alt text, writing a meta description, or including affiliate links.
Having so many steps that go into publishing content can result in forgetting one or two steps. So, to avoid the same, I have curated a list of 25 steps that should be followed before & after publishing a blog post.
These are the same steps I follow for most of my posts that helps & a few of them also help in optimizing your content for SEO.
P.S – If SEO is something new for you, I highly suggest reading my On-Page SEO guide & SEO for beginners guide before proceeding. That's because this post includes a lot of SEO terms.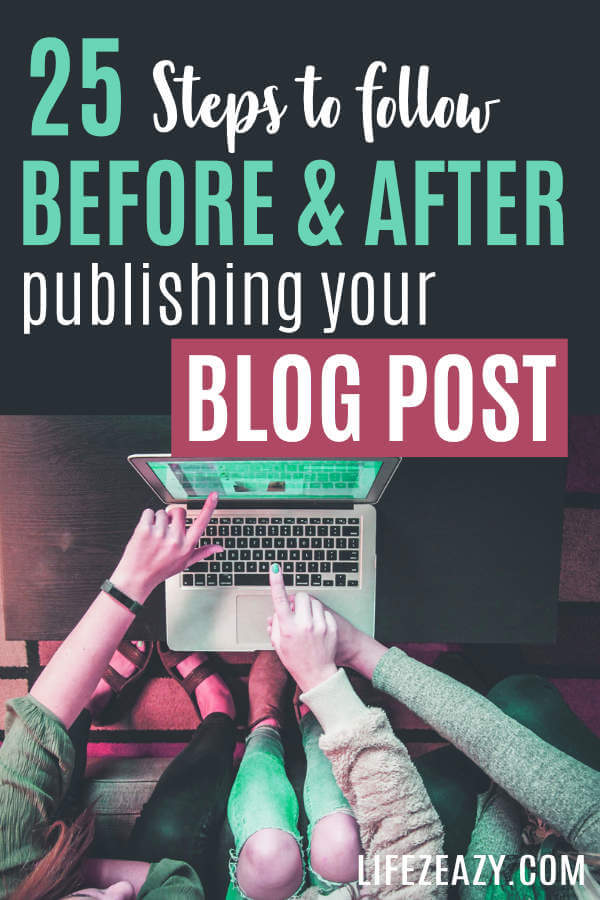 Read More:
21 Steps To Do Before Publishing The Post
Here is a list of 21 steps that I always follow before publishing any new post.
1. Write A Compelling Title Having Your Main Keyword In It
Your post title is the first thing readers will see before checking it out. So, if it sounds boring or common, there is a big chance they will ignore it.
For example, there is a high chance of getting fewer clicks for a post title "How to start a blog" over another post with the title "How to start a blog & make $500/month".
To generate clickable titles, you can try this tool where it suggests a few tips for creating compelling headlines.
Don't forget to add your main keyword at the beginning of your title. This way you can optimize it for SEO.
2. Configure Your Permalink
Make sure your post permalink setting is set to post name or custom structure. With a custom structure, you can include categories in your permalink. So, if you have an eCommerce site, or a blog having several categories, you can go with custom else, the post name is perfect.

Post Permalink shouldn't be set to dates, months, or numeric as it doesn't go well when you update the content regularly.

Always set your main keyword as your permalink as it adds value to your overall On-page SEO.
3. Add a Compelling Meta Description
The meta description usually appears under your title on the search result page.

This is the place where you can add some extra details for a better click-through rate. For this, you can include the benefits or a striking feature of your post in your meta description to create curiosity.

Along with a compelling meta description, ensure to include your main keyword here to add some SEO value.
4. Write Long-Form Content
Aim for over 1,000 words while writing a post. This is because long-form content does well compared to thin content for ranking on the search result page. It does not mean you have to unnecessary add words to make your content long. If you can write an engaging content under 1000 words, you will be fine.
I suggest aiming for 1,500 words for an informational post, 2,000 words for how to guide post & 2,500+ for a review post. It isn't a fixed rule but works pretty well for SEO.
5. Write a Catchy Post Introduction
If your post introduction sounds boring, it can make your readers lose interest in your overall content. 

A dull intro not only encourages your readers to click the back button, but it can also impact your bounce rate and session duration.

To avoid it, make sure your intro sounds interesting by highlighting the problems & offering the solutions to keep them engaged.
6. Use Subheadings To Make Your Content Readable
Most of the readers like to scan content quickly to just read what they want to. Having subheadings makes their work quite easy.

Content with no subheadings is just a long piece of text. It looks dull and can even make your readers lose interest while reading the post.

Sectioning your content using H2. H3. H4 subheadings is a great way to make it readable that improves your post session duration.
7. Add Your Main Keyword & LSI Keywords
Ensure to sprinkle your main keyword a few times naturally within the body of your content.
Add a few LSI (Latent Semantic Indexing) keywords in your post body as it helps Google to see the post semantically related to the main keyword.
You can include both the main keyword and LSI keywords in your subheadings if it makes sense.
8. Add Category and Tags
Categorizing your post helps search engine bots to crawl your site easily. That is why you should set a category & add a few relevant tags to it.
If you haven't created categories yet for your blog, make sure you do it. For this, make a list of all your posts and look at the potential category that can be added to each one. For example, my blog has blogging, Side Hustle, Work from Home jobs as categories. Each post I write goes to one of these.
9. Try To Write Short Paragraphs
Try to keep your paragraphs short (2-3 sentences) as it makes it easier for your reader to take in your words.
Reading a long paragraph is normal for a desktop viewer but when they view the same on mobile, it turns out to be a way long paragraph. So, using two-three lines works best on both desktop and mobile.
Writing long paragraphs is not completely prohibited. You can still use them where you think it makes sense.
10. Add Affiliate Links With An Affiliate Disclosure
Add affiliate links in your post wherever you mention your affiliate products. Even if there is no product, try to find a way to include them naturally. You should always look out for ways to monetize your post.
Add an affiliate disclosure wherever you are using your affiliate link so that your readers know you are getting paid for it. If you check out all of my posts, you can see a default affiliate disclosure just below the title.
Google suggests adding a rel=sponsored link attribute on your affiliate links. This helps Google to identify what kind of link it is.
11. Add a Few Links To Other Relevant Posts
Always add a few relevant post links within your content so that both your reader and Google bots can find other pages in your blog.

Doing this activity improves the session duration and decreases the bounce rate. This really impacts your search engine rankings positively.

With interlinking, you can even improve your ad earnings as your readers will jump to more and more pages.

Lastly, interlinking improves the crawlability of your blog which is good for SEO. 
12. Make Your Outbound Links (External Links) Open In a New tab
When you link to another site/blog in your post, there is a high chance your reader will leave your site as soon as they click the link. Thus, not only will you lose a reader, but it also impacts your session duration and bounce rate.

That is why make sure the link opens in a new tab. This will help the readers stay on your page as they can view the other site content in the new tab.
13. Make Your Outbound Link Nofollow Under a Few Condition
Unless the outbound link points to a high authority niche site, statistics, or research paper that supports your topic, it is a good idea to make them nofollow.
14. Scale & Compress Your Images
Every time you write a post, find ways to add relevant images to make the content more readable and presentable.

Adding images without scaling and compressing can increase your page load time. 

Whenever you download an image, make sure to scale it to an appropriate size that is smaller than your content width area. For example, if your content width area is 800 px and the image is 2500px. Scale it to under 800 px to decrease its size.

After scaling, compress the image to further remove any excess size so that they won't make your pages load slower. For this, you can use the 

TinyPNG site

.
15. Include Alternate Text On All The Images
Alternate text or Alt text is used to describe an image on a web page. It is a way to let Google bots know what the image stands for.

Each image on your post along with the featured one must have an alternate text. 

To create an alternate text, you just have to describe the image in a few words. For example, if an image has a boy working on a laptop, the alt text will be 'a boy working on a laptop'.

Besides describing the image, adding alternate text also improves accessibility, topical relevance & ranks them in Google.
16. Add a Featured Image
Your Site featured image is the image that appears on your blog post list page, and at the top of your individual blog posts.

This image also appears on Social media whenever you share your post. So, ignoring it is not a good idea.
17. Add a Pinterest Image On Your Post
Pinterest is one of the best platforms to drive thousands of visitors within a few months. Unlike Google, which takes at least 6-12 months to see noticeable organic traffic, Pinterest starts driving traffic within a few weeks.

Adding a Pinterest image in your content is always a good idea to let your readers share your post on Pinterest. This will help you get more eyeballs on your post.

You can even install a pin it button on WordPress to make things easier for your readers.
18. Add An Optin Form To Collect Email Address (Optional)
It is always a good idea to offer freebies to your readers in your posts. This way you can collect their email address.

If you think, you can offer something to your reader before publishing the post, go for it. It can be a checklist, e-book, or email course.
19. Include a Call-To-Action
Always add a call-to-action at the end of your post. It can be either a CTA suggesting a product for a review post or simply asking your readers to share your post on social media.
20. Proofread & Edit Your Post
Proofread your whole content to avoid any grammatical errors like a spelling mistake, punctuation, or a typo error.

If your grammar is not strong, you can install Grammarly to make your proofreading work easier. You can also use ProWriting Aid (better tool than Grammarly) to find errors in your content within a few seconds.

Avoid doing proofreading and editing just after finishing the content as you won't be able to find all the errors. It is always a better idea to perform these activities after a few hours as the gap makes your content fresh while reading. 
21. Check Everything In The Preview Mode
Lastly, preview your post in the preview mode to see whether the text is correctly styled and formatted. Just scroll from the top to bottom to see whether you are missing anything. If everything looks fine, hit the publish button.
Things To Do After Publishing Your Post
Till now, you have seen all the steps needed to be done before publishing new content. Now, let's see the steps after publishing your post.
22. Share It On Social Media
The first thing you should do is share it on all the social platforms you are a part of. It can be Pinterest, Facebook, Twitter, etc.
If you are a part of any Facebook group, share there as well.
23. Write An E-mail To Your Subscribers
Write an email for your subscribers letting them know that you dropped a new post.
24. Answer a Few Questions On Quora
Quora is an excellent place to get eyeballs to your new post as it drives long-term traffic.

Answering a few questions on Quora with a post link is a great way to let Quora users know about the post. To find questions, you can either type your main keyword on Quora directly or search it on Google with a Quora tag at the end. For example, if my main keyword is On-page SEO tips, then I will type 'On-Page SEO tips Quora'. 
Read More: How to use Quora to drive blog traffic
25. Add Your Post Link To Other Relevant Posts
Lastly, find other relevant posts on your blog where you can link your new post. This way, you can get visitors immediately from other post traffic.
For example, if I have written a post about how to start a blog, I can add my post link to other posts where I have talked about starting or creating a blog/site.
Final Thoughts
So, these are the 25 steps I follow before and after publishing the post. However, to be honest, I don't always follow all the steps, but make sure to stick with the main ones.
If you think a few steps are not needed for you, you can always avoid it and follow the other ones. Now, it is your chance to let me know how many of them you are currently following?