If you are a beginner and wants to know how to make money from your blog, then you must invest in paid courses. At least that's what I have learned in my blogging journey.
You see there are thousands of blog post that are offering you free information about the secrets of blogging so that you can make your blog successful.
But you need to understand that if people are good at something why would they share it for free. Instead, they can make chunks of money with that knowledge.
No doubt free courses are great for beginners, but if you want to learn all the tips & tricks of a successful blogger like how do they drive tons of traffic, then you must invest in their paid courses.
Suppose, if you are trying to do it all by yourself,  no doubt you will get success but it will take a lot of time for you to finally figure it out.
I mean who wants to waste that much of time when you can invest a small amount and can learn the exact strategy within a day or a week.
Now throughout my blogging journey, I have invested in numerous courses that are written by successful bloggers.
I got to learn many new strategies which I haven't read in any blog post &, to be honest, they are pretty awesome. These e-books are written by those bloggers who are already successful & they are the best person to learn from.
Also, whatever money I have spent on these courses, I have earned way more than that within a short span. So, its a healthy investing.
Now, if you are interested to know which books can be very helpful in your blogging journey, then I am sharing with you some of the best e-books that can be helpful for your blog.
>>Read On: Best blogging tools & resources for beginners to get started
BEST BLOGGING BOOKS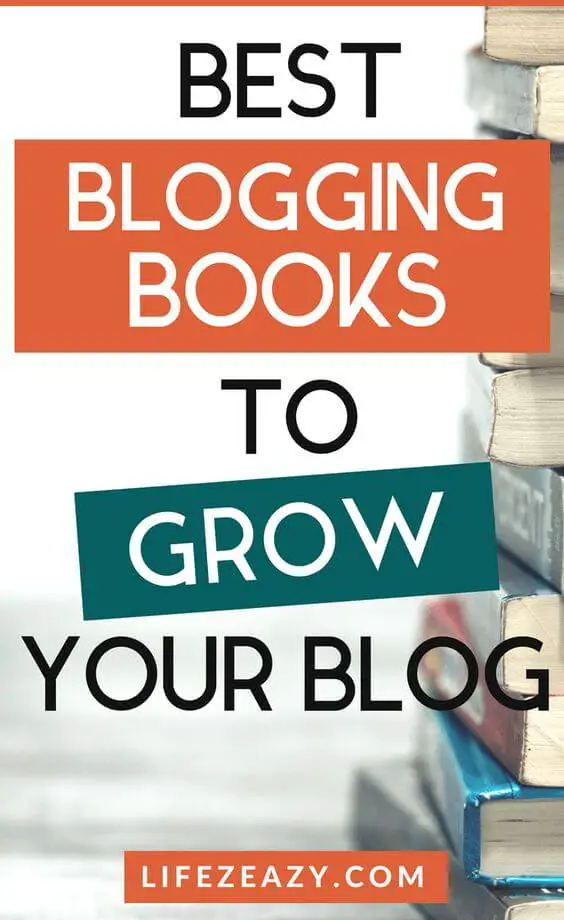 This post contains affiliate links. However, I only suggest those products which are trustable. If you buy or signup anything using my link, I get a small commission which helps me to keep this blog running. For more info, you can refer my Disclosure page.



1. BILLIONAIRE BLOGGING PINTEREST MANUAL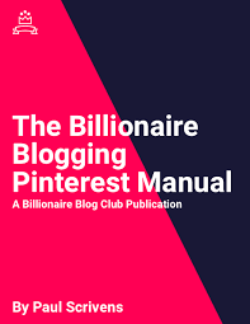 If you want to become an expert on Pinterest and wants to drive massive traffic to your blog,  then this is the best Pinterest e-book out there.

It is written by Scrivs who runs billionaire blogging club. He owns more than 9 blogs and has been making more than $60,000/month. About 90% of his traffic comes from Pinterest.
I guarantee you that this ebook will make you an expert & you will get to know how Pinterest works. If you know how it works, then you can easily plan out your strategy to drive traffic to your blog.
In the Pinterest manual, he has stated all his Pinterest strategies like
How many pins he create for a blog post

How he promotes it during its early stage

After the early stage, how he promotes the same pin in a more advanced manner

How to do manual & automated pinning for maximum traffic & much more
Using all his strategy, you will be able to drive a CONSISTENT traffic from Pinterest even if you don't have any viral pin & that's what I find it unique. It has a total of 165 pages which is a lot of information on Pinterest.
Plus, in future, if there is any change in the Pinterest algorithm, he made sure that he will update his e-book which can be downloaded for free by its purchasers.
So, if you plan to buy this e-book, you won't have to worry about Pinterest anymore even if the algorithm changes in future.
2. HOW TO MAKE YOUR FIRST AFFILIATE SALE IN 24 HOURS USING PINTEREST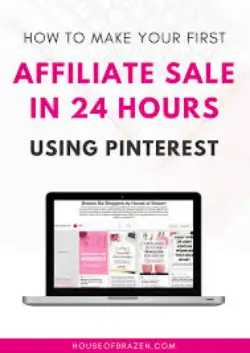 This book is written by Elise from House of brazen. She claims that using her strategy, you can make affiliate sales within 24 hours from Pinterest.  But to be honest, the final result may vary.
Because there are some bloggers who made affiliate sales within 24 hours and others made after one or two days. Some even took one week to see the result.
However, there are some who made sales within 12 hours. So, it all depends on person to person.
If I talk about myself, I made my first affiliate sale using her strategy within 2 days.  So yeah, I can definitely say that her strategy works.
Now, her whole method is based on scheduler like Tailwind which she will teach you in this guide. This book is great if you want to make side income as a blogger. There are many who are adding $100/month by just using her tactics.
3. HOW TO MAKE MONEY BLOGGING AT ANY LEVEL
Now, if you are looking for an ebook that can teach you the right way to make money from your blog then this ebook is definitely for you.
As the name suggests, this e-book is great for all types of page views. No matter, whether you are getting 1000, 30,000 or even 100,000 page views, Victoria has mentioned all the possible ways you can utilize to start making money from your blog.
Her book is divided into 3 categories
For bloggers who are getting page views between 1,000 to 29,000

For bloggers who are getting page views between 30,000 to 99,000

For bloggers who are getting page views more than 100,000
In each category, she has provided different ways & resources that can be utilized to make money. So, no matter if you are a beginner or an intermediate blogger, this book can always guide you with some actionable steps. 
Now, I would recommend this ebook only to the new bloggers who don't know much about blogging. I won't say that intermediate bloggers shouldn't try it. Sure, you can because there are many resources mentioned in this book that can help to fuel up your blog income.
However, if you are a pro blogger who is already earning a good chunk of money from your blog, then I won't suggest you this book because you might be already knowing all the stuff.



4. MANUAL PINNING SIMPLIFIED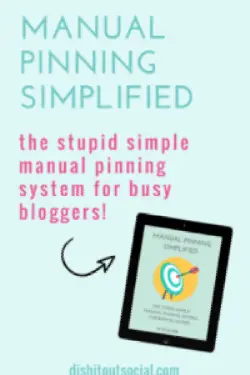 Even though, I already mentioned a Pinterest book earlier which has all the ingredients for Pinterest. However, this e-book is a little different.
This is written by Kyla from Dishitoutsocial. What makes her strategy unique is that she only uses her smartphone to drive traffic from Pinterest.
She has developed a simple pinning strategy that can be used by just using a smartphone. I mean, you won't need any spreadsheet to track your pins.
She also provides a video where she shows you her exact pinning strategy using her smartphone. Now, I would say that her book is great for launching new pins.
If you apply her strategy with your new pins, you will have better chances to make it viral & drive traffic to your blog.
Also, as per my experience, I would say that you don't need any spreadsheets for your new pins. But as they get older, you may need to maintain a spreadsheet to track them.
Apart from that, if you are looking to learn a strategy that can skyrocket your blog traffic through your new pins, then I highly recommend this ebook due to her smartphone strategy. I have seen my analytics exploding when I launched my new pins using her method.

WRAPPING UP – BEST BLOGGING BOOKS
So, here are my 4 best blogging books that are great to grow your blog. I have used each of them and they have given me a pretty solid result.
So, if you are struggling with blogging, then you can check out these books. I hope you liked this article. If you do, then do share it on social media. Cheers.
>>Read Next: Best websites to take any course for free