When you click the links and ads on this blog, it helps me to pay the bills & keep this site free for you. Thanks for supporting me! For more info, read the Disclosure page.
If you are planning to start a new blog or already have one but don't know how to grow it? Then you will definitely like my list of 3 best blogging courses.
When I started blogging, I didn't see much success in one year. I read several posts, watched videos just to make a decent income from blogging, but nothing much helped me.
Until I invested in a few courses that actually showed me the right approach to start blogging. Like where I should spend my time more and where I should pay less attention. These things really helped me, and today, I am making a full-time income from my blog.
The courses listed here are from successful bloggers, teaching you the right way to grow your blog both in income and traffic-wise.
Though these are all paid courses, they are not expensive besides one. Moreover, if you look at it as an investment, I can assure you that you will earn more within a few months. Rest assured, you have to work hard for it because nothing comes easy.
So, without talking much, let's start with the first blogging course.
Read More:
3 Best Blogging Courses To Take
1. Pinterest Strategies
Unlike other Pinterest courses that solely focuses on automated pinning using Tailwind, Pinterest Strategies takes a different approach. It highlights a manual pinning strategy that doesn't need any scheduling tool.
The course is created by Carly, founder of mommyonpurpose.com, where her blog gets over 200k monthly page views from Pinterest.
Before reading her book, I was still getting Pinterest traffic, but the numbers were not impressive. I tried many different strategies to double or even triple them, but all my efforts left in vain
While I was disappointed, I made my mind to try her course because it was so popular among bloggers & gladly, affordable as well. To be honest, it was the best investment I made that year.
While implementing her strategies, I could see positive results within one to two months, and it keeps on climbing. Currently, I get over a thousand visitors per day from Pinterest that also contributes to my ad earnings.
Here is a screenshot of my Pinterest analytics.
Here is my Pinterest traffic for a day.
Now, let's look at the topics that you are going to learn while reading Pinterest Strategies
Chapter 1 – Introduction – Sometimes it is about the traffic
This chapter is just an introductory chapter for beginners who do not know anything about Pinterest.
Chapter 2 – First Things First
The second chapter discusses the things you should do before implementing her strategies.
Chapter 3 – Getting Started: How Pinterest Works + Profile Set Up
The third chapter explains how Pinterest works. You will learn how to create and set up your profile correctly, including creating boards & enabling rich pins.
Chapter 4 – Pinterest is About People
The fourth chapter is about your Pinterest audience & user intent. It also explains how Pinterest can see & read your pins.
Chapter 5 – Pinterest is About SEO, too
The fifth chapter explains how SEO plays a huge role in Pinterest. How implementing keywords rank your pins and how to insert them while writing pin descriptions.
Chapter 6 – Group Boards
The sixth chapter discusses the importance of group boards & how you should monitor them.
Chapter 7 – Get Pinning
You get to know why creating new pins is essential, and how to design click-worthy pins. Why Board co-occurrence & session occurrence is necessary. Plus, how you should start pinning for a brand new & established account.
Chapter 8 – Final Important Things and FAQs
The last chapter talks about video pins, Pinterest analytics, and Google analytics. It also talks about the followers, whether they matter? In total, this chapter answers all the queries related to Pinterest.
2. How To Make Your First Affiliate Sale In 24 Hours Using Pinterest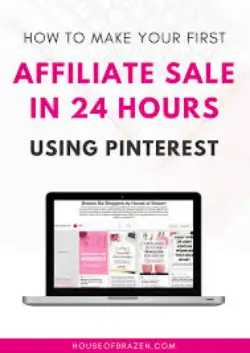 This course is written by Elise from House of brazen that teaches how you can make affiliate sales using Pinterest.
If you go by the course name, many people actually made their first affiliate sales within 24 hours on Pinterest. Though it is not guaranteed, still, you are going to see results within a few days.
The best thing about her strategy is that even if you do not have a blog, you can still make sales. All you need is affiliate products to promote.
Her methods have really worked for many bloggers that helped them to generate extra money every month.
Here are a few reviews by bloggers who tried her course.
Besides her method, you'll also get to learn some additional strategies along with a few bonuses.
Viral pin strategy to triple your sales

How to create perfect pins on Canva?

A 45-minute bonus video on how to increase your traffic, subscribers & sales

The ultimate resource for over 1000+ Pinterest group boards in all niche's

A free e-book "$10k in 12 months" (Value: $25)
3. Becoming a Blogger
If you are tired of reading multiple blog posts regarding how to blog, this course will definitely cut the chase as it is a complete system to learn to blog.
Becoming a Blogger course is written by Cate Rosales, owner + educator behind the award-winning blog SweetandSimpleLife.com. This course is specially targeted towards beginner bloggers who are new to this field and don't know where to begin. Reading this course alone will help them to get the gist.
Talking about the modules, it has a whopping 21 modules that will teach blogging from A-Z. To give you an idea, here are the modules that discuss various aspects of blogging.
Module 1 – Setting up your blog the right way

Module 2 – Writing great blog content 

Module 3 – How Bloggers make their money

Module 4 – Making money through Affiliate Marketing

Module 5 – Making money through Sponsored posts

Module 6 – Making money through Guest posts

Module 7 – Creating & selling your own products

Module 8 – Making money through Social media

Module 9 – Other ways to make money blogging

Module 10 – Using video, Vlogging, & Photography on your blog

Module 11 – Search Engine Optimization (SEO)

Module 12 – How to get more readers on your blog

Module 13 – How to optimize your Site Design for readers and followers

Module 14 – How to promote your blog posts on Social Media

Module 15 – Social sharing threads

Module 16 – Building up a mailing list for your blog

Module 17 – Turning your blog into a real business

Module 18 – Following the rules of online business

Module 19 – Staying motivated and organized

Module 20 – Tips for blogging success

Module 21 – Putting it all together + Blogging bonuses
As you can see, it covers everything and I am pretty sure, you won't need another course after reading this.
Final Note – Best Blogging Courses
I hope these courses will help you to achieve your blogging goals as fast as possible.
If you made your mind to purchase any of them, go through their sales page and read everything. If you still think that it is worth every penny, you can move forward.
At last, I just want to say that even if you are not yet ready, you can still do your own research to start a profitable blog. If you need any help from my side, you can reach out via the contact page.
Good Luck!