Howdy Bloggers

As you know, Blogging is one of the best ways to share your ideas or promote your business online.

If you are someone who is good at something & you want to teach or let others know about it, then it's time to start your own blog.

But as a beginner, we got no idea what to do after we have set up our blog. Though there are a lot of things you should know before you start blogging like
How to write a good & error-free post

How to do On-Page SEO

How to promote your blog

How to do keyword research

Whether your post is readable for all kind of audience.

To know good resources to hire people for blogging related stuff

You can also take free classes to learn about blogging whether it is

Though, you will get to know all these slowly while your blogging. But what's better if you know it earlier.

Today, I will show you 11 best blogging tools & resources that you can use while blogging. Most of them are free and you can start using it immediately.

So, without any further ado, let's jump into it.



Pin It




5 Best Blogging Tools

These are some of the best blogging tools you should use right from the start. When I started blogging, I didn't know about all these and wasted quite a lot of time revising all my old post.

I hope it won't happen to you. So, let's see all the 5 best blogging tools one by one.
Best Blogging Tools That Are Must For Newbies
Click To Tweet



#1 Grammarly (Free)

As we all know, how important is grammar while writing a blog post? While many bloggers are not native English speakers, so they unknowingly make a lot of mistakes while writing a post which is quite embarrassing as a blogger.

Hence, we need something that checks all the spelling as well grammatical errors in real time while writing a post. Thus, Grammarly will help you a lot in this matter.

This tool can be used as an add-on for your browser or can be installed on your MS word or you can even use it online on their website.
You can see below how it detects errors.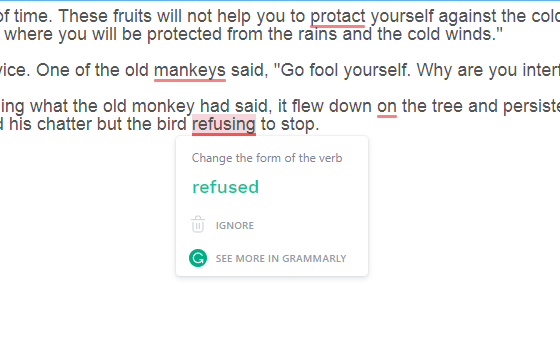 Grammarly will check all kind of errors such as
Grammar Error

Spelling Error

Contextual Error

Punctuation Error

As I am not a native English speaker, this tool helps me a lot to write an error-free post. You can install it as it is free to use.

There is also a premium version where you get additional features such as
Plagiarism Checker

Vocabulary Enhancement

You can read my full review about Grammarly where I talked about all its features & why you should use it to make your blog post error-free.

#2 Yoast SEO Plugin (Free)

I made a mistake while I started blogging. I didn't know about the importance of  On-Page SEO. Many bloggers say that you don't have to pay attention to SEO if you are starting out.

Well, I disagree. According to me, you should have basic knowledge of SEO & should implement it right from the start. So that, after few months you could see some organic traffic driving in.

Well, I did implement it & on my 2nd month of blogging, I ranked a couple of my post on the 2nd page of Google & made few affiliate sales.

But to rank it early, you need to know the best keywords that will actually rank on Google. To know that, you can read how to analyze keyword competition.

Now during all these, Yoast plugin played an important role in On-Page SEO.

Yoast is one of the best plugins with over a million downloads & you should install this free WordPress plugin which will take care of all your On-page SEO.

Basically, it will help you to optimize SEO for a specific keyword. Now, this is an important part of SEO and you should implement it in every post.

You can see below screenshot how it guides for On-Page SEO.

Download Yoast Plugin For WordPress



#3 Google Keyword Planner (Free)

Google Keyword Planner is a free tool that helps you to do keyword research. As keywords play an important role in ranking your post, so you should know which keywords to rank.

On a general rule, keywords with less competition & decent to high traffic are the best keywords to target.

To find those keywords, you can use Google Keyword Planner which extracts data from Google search engine. It displays average monthly searches, competition etc which are beneficial data to know about keywords.

As a beginner, I would recommend GKP because it will help you a lot for doing keyword research & you will get an idea how things work.

Sign Up For Google Keyword Planner

However, if you already know or used it before, you can try "Jaxxy keyword tool as it is one of the best blogging tools that are more advanced and gives exact results which GKP lacks. Also, it extracts data, not only from Google but also from other search engines.

I have ranked many posts on Google search engine within 3-4 months of blogging using keywords suggested by this tool. You can sign up for free for 30 keywords.

Sign Up For Jaxxy Keyword Tool



#4 Social Warfare WordPress Plugin (Free)

While blogging, we know that the main source of traffic that everyone targets are the organic traffic. But in order to drive this kind of traffic, it usually takes around 6-12 months.

As a new blogger, we shouldn't care much about organic traffic (but you should incorporate basic SEO on your post). But more importantly, we should focus more on other types of traffic.

One of them is social traffic. Well, I focus on both social & organic traffic. But when I started blogging, I concentrated more on the social one.

Considering social traffic, you should write amazing content so that people will share it on social media. But how do they share?

That's right. You should incorporate plugins that enable your audience to share your post.


I personally use Social Warface. Why I consider it the best? Because
It takes less space compared to other sharing plugins which means your page will load much faster & Google just loves fast loading page.

It has so many options for sharability. I personally like their tweet option which you can use in between your post.

It is easy to use and less hassle.

So. you can try Social Warfare as it is free to use & best blogging tool for social share.
Download Social Warfare WordPress Plugin



#5 Readable (Free)

While writing a post, have you ever considered that, is your post readable for all kind of age group audience?

As a blogger, we kinda ignore the readability factor of our post which I think should be considered.

Your post is read by all age group audience. If your language sounds more technical, then chances are some of your audience will not be able to identify what you are trying to say.

This means they would probably skip your post and try to search a different post on the same topic.

So, I will recommend that you should check the readability of all your post.

Personally, I use readable which will display the result in the form of grade level. A grade level between 5-8 is considered good.

You simply have to paste your post URL and hit "Calculate Readability".

It will analyze your post and shows you the grade level result. Thus, you will know whether your post language is readable or not as shown in above image.



6 Best Blogging Resources

Now, these are some of the best blogging resources which I have used earlier and some of them I am still using. As a beginner, these will surely help you.
Best Blogging Resources That Are Must For Newbies
Click To Tweet
#1

Skillshare (Free)

This is my most important source for learning anything online for free. Whether it is learning about Social media marketing, driving traffic to your blog, SEO etc. You can simply learn anything here.

Skillshare provides video-based courses on any topic which are given by experts. The whole course is divided into small videos which makes it exciting to learn anything without even getting bored.

For me, Skillshare has helped me to learn advanced SEO, SEO Audit, Profitable keyword research and much more. Here is the exciting thing, you can use Skillshare for 2 months absolutely for free & can learn any number of courses within that period.



#2 AudioBooks (Free)

AudioBooks are one of my favorite resources. Why?

What if I tell you that you can download paid books in the form of recorded books i.e audiobooks for FREE.

Now how does it help you with blogging?

You see, when I started blogging, I was completely new to it. Didn't knew what to do or how to do things related to blogging. I wanted something that provides a step-by-step guide.

That's when I downloaded paid audiobooks from Amazon Audible for free. Now, you are not restricted to just blogging books. You can also download audiobooks related to your niche i.e. food blogging, travel blogging or any other niche or topic.

Why I consider paid books over the free books?
They provide more detail & more practical useful tips.

Nobody wants to give away their secrets for free. Everybody wants to earn money.

Using Amazon audible, you can download 2 free audiobooks after subscribing to their free trial. The free trial is valid for 30 days & it gives you 2 credits to download your favorite audiobooks.

You must download 2 audiobooks within 30 days and if you are not interested in renewing their paid membership i.e $14.95/mo, you must cancel your free trial before 30 days, else your subscription may get renewed.

Many people just subscribe to their free trial service & download 2 audiobooks. After they have downloaded, they simply cancel their free trial service. I mean, they won't wait for 30 days. They simply cancel when things are done. In this way, they simply grab 2 audiobooks for free.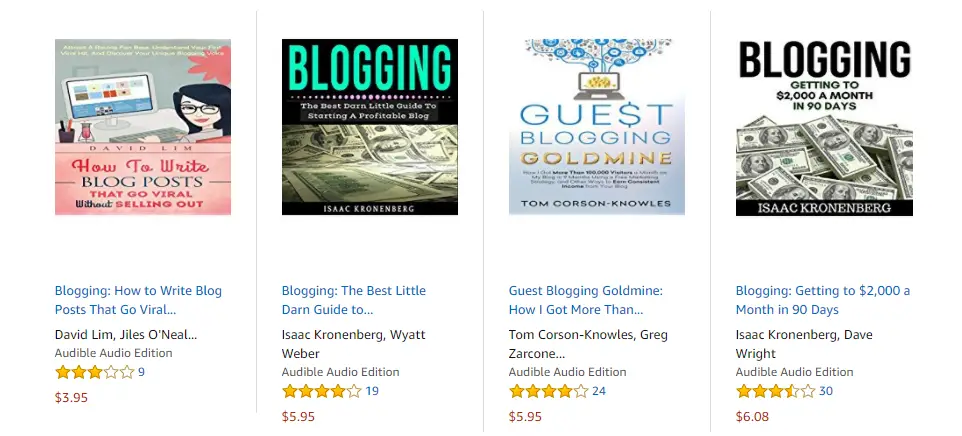 You can click here to know how to download Amazon audible audiobooks for free.



#3 Fiverr (Paid)

Fiverr is a great place to outsource your work for just $5. You can outsource
Whiteboard videos for blogging

Logo Design

Infographics

Voiceovers

Proofreading & Editing

Illustrations & Graphics

& much more. Well, if you can't do above things by yourself, you can hire a freelancer from Fiverr for just $5. 

Now there are some guidelines for choosing good freelancers from Fiverr. I will recommend reading this "Best Fiverr Gigs For Bloggers" guide before buying any service.
I have used their service before for making Graphics & logos. They are worth your time & moreover it's not costly. If you suck at these things, you better hire someone from Fiverr if your price conscious.



#4 SiteGround (Paid)

Siteground is one of the best web hosts out there right now. As you know, that Google rank pages better if they load faster. So, if you are Google search engine addict, then look no further, as SiteGround does this job pretty well.

Now, I have seen many people suggesting Bluehost a lot. Not a doubt it's good, but many of them have faced a lot of problems. If you search on twitter, you can find a lot of tweets regarding the problem which people are facing using Bluehost.

You don't know but Bluehost provides $65 per referral which means people suggesting you this, will get $65 if you buy from their link.

Whereas SiteGround provides only $50 per referral. Now, I am suggesting this because I want that the people should get the best of what they pay because not only they provide the best speed, but also their customer service is awesome. Plus you will get free SSL certificate along with free site migration.

In the end, If you want a web host with
Best Uptime

Best Loading Speed

Best Customer Support

Free SSL Certificate

Free Site Migration

then I would definitely recommend SiteGround because it will surely fulfill your web hosting needs. You can read SiteGround Review here.

P.S – I have recently migrated from Hostgator (bad) to A2 web hosting. As I don't have prior experience with A2, so I can't say anything about it even though I could have suggested you as they pay $85 per referral. But I consider quality over money. Regarding SiteGround, my cousin brother is using it for past 1 year  & he has a wonderful experience. Even, I too have seen it. I wanted to buy SiteGround, but I had some payment method issues.



#5 MailChimp (Free)

This is the email service that I use to email my subscribers. It is free to use and one of the best email service I ever encountered. You can use their free service up to 2000 subscribers which is great.

Why I chose MailChimp? Because
They provide thorough reporting i.e. details about clients, geo-tracking, social media & Google analytics integration.

It has a clean & simple interface but has a powerful editor.

Lots of third party integration

Built-in templates and editor to customize campaigns.

Best for beginners & intermediate bloggers.



#6 Canva (Free)

Canva is a powerful free online photo editing tool where you can create blog covers, infographics, Pinterest pins etc. The layout is very user-friendly and very easy to use.

Apart from Fiverr, I also use Canva to create my Pinterest Pins and blog covers. It has a wide variety of free images & layouts to use. Along with free images, they also have premium images & layouts which cost only $1.


It has a simple drag-drop functionality which makes it easier to create images.

If you are creative and knows how to create images, then it is better to use Canva over Fiverr.



Conclusion – Best Blogging Tools & Resources

So, that's it, these are the tools I used as a beginner & even now, I am still using it. Not only most of them are free to use, but they are also "must have blogging tools" on your blogging journey.

Do let me know, what you think about these best blogging tools & resources in the comment section down below.

Also, I urge everyone to share this post on social media if you find it useful.

Thanks for reading. Take Care.