This post contains affiliate links. For more info, you can read my
Disclosure
page.
BEST FIVERR GIGS FOR BUSINESS
Are you bad at creating graphics & design?
Do you suck in making whiteboard videos for your business?
Well, outsourcing all these work can be a bit costly. But, what if I tell you that you can outsource all these just for $5.
Yes, you read it right…Only for $5.
Now the question is how?
Well, all this is possible using Fiverr.
If you are someone who has never heard or used Fiverr before, then this article is exactly for you.
In this article, I will walk-through you all the steps required for
Signing up for Fiverr

Choosing the best gig

Buying your first gig

Which gigs you should avoid

Best Fiverr Gigs for Online business
But before I begin, let's see what is Fiverr?
WHAT IS FIVERR?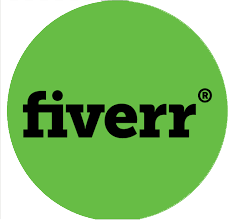 Fiverr is a platform where people do stuff for $5. It is the world's largest marketplace for digital services. The services provided here is termed as Gigs.
Even though the gigs basic cost is $5, but it can end up with more if you buy extra gigs.
Extra gigs or services are the additional services which are related to the main service.
For example, if you hire someone for a logo design, then the basic cost will be $5. But, if you want it to be done within 24 hrs or you need its source file as well, then an additional $5 or more needs to be paid.
It has 3 packages i.e. Basic, Standard & Premium where basic cost starts with $5 & other packages will be higher.
Now, Fiverr has a lot of gigs to provide. You can choose different categories and outsource your work accordingly. The categories include
Graphics & Design
Writing & Translation
Video & Animation
Music & Audio
Programming & Tech
Business
Fun & Lifestyle
These categories have a number of sub-categories under them. 



HOW TO SIGN UP FOR FIVERR

Fiverr is quite easy to use and the interface is user-friendly. For signing up, the process is quite simple and fast.
Click here to go to Fiverr. You will find the "Join" link at the top right corner. Click on it & a window will pop up like below. You can signup via E-mail, Facebook or Gmail. So, fill the required fields & click on "Continue".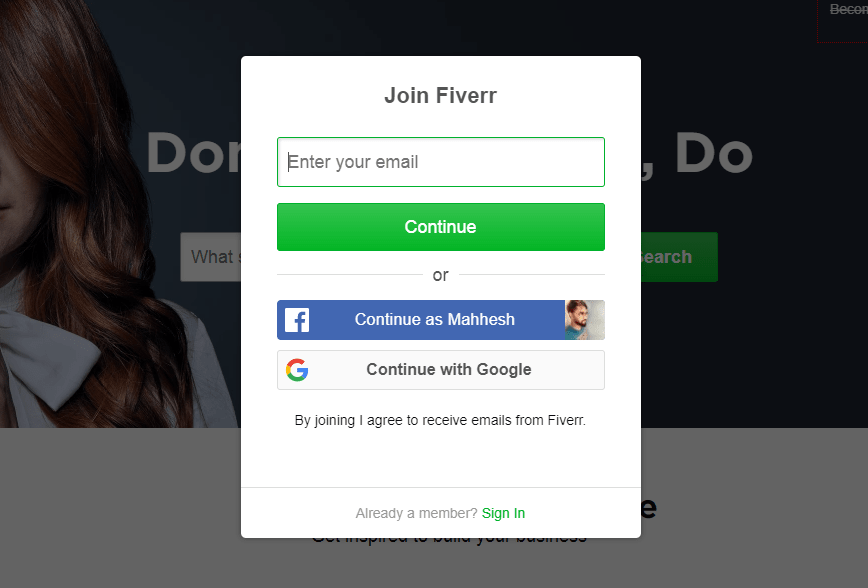 Fill in the required username & password & click "Join"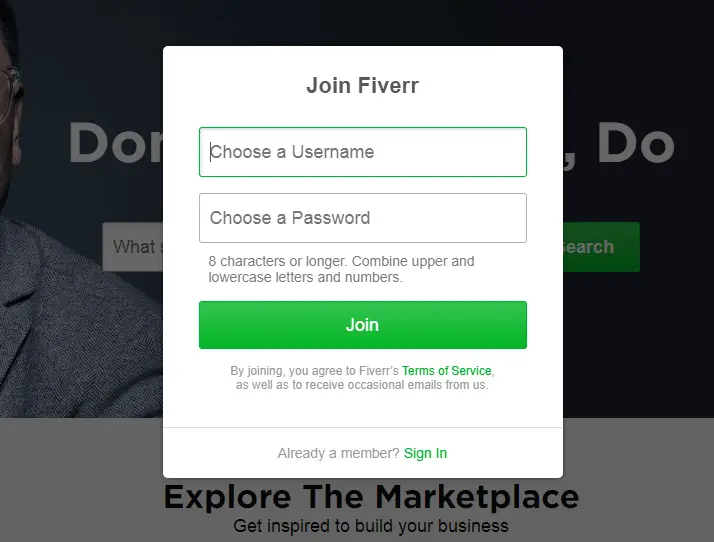 After you done, make sure to confirm your email by clicking on the link in your inbox from Fiverr.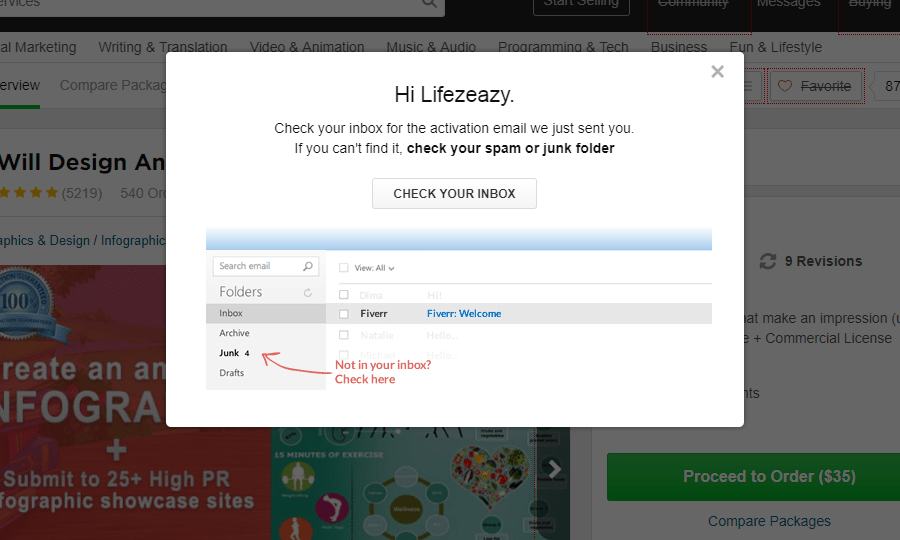 HOW TO CHOOSE BEST FIVERR GIGS
This is the part where you need to analyze a little bit before buying any gig. I would recommend never blindly hire anyone as you will end up getting results which are not pleasable.
So, there are some factors to look while choosing the right person to outsource your desired work.
For example, If I want to outsource a logo design for my blog. Firstly, I will go to the subcategory i.e Logo Design.
Then, you will be seeing a screen full of Logo design Freelancers that are offering the same service. Now, anyone would get confused to see all these.
There would be a few questions that will be popping up your mind regarding who to trust, who will give the best result etc.
But, don't worry I will help you to refine all these and choose the best freelancer that will give you the desired result.
So, while choosing the gig, make sure to check the following things that would help you to make your final decision.



1. CHECK RATINGS & USER REVIEWS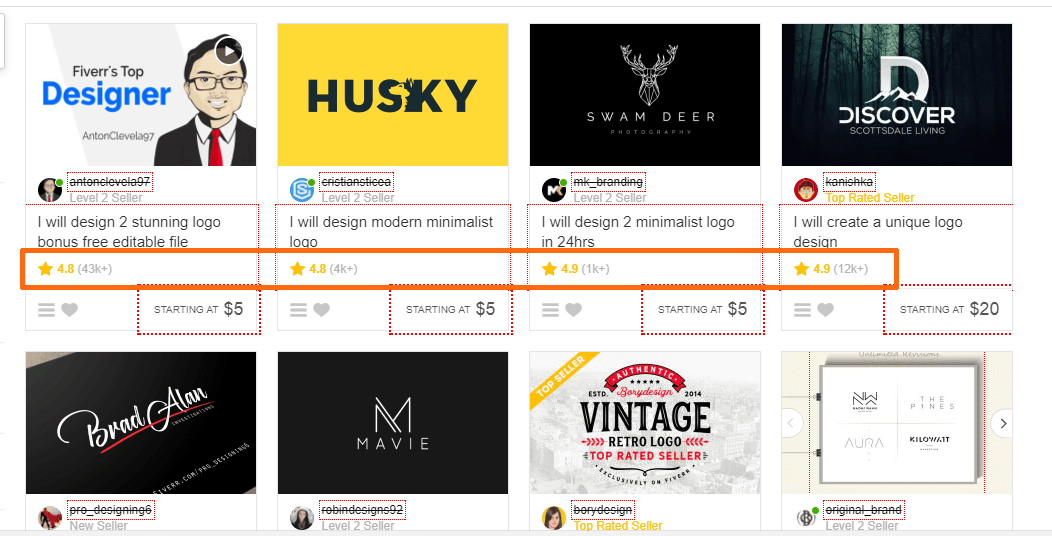 I would recommend looking for those who have a good rating mostly more than 4.7. These ratings are given by users who have outsourced their work with them.
So, you can judge looking at these ratings whether the work is appreciable or not. The next thing to look for is the user reviews.
By going through the reviews, you will get an idea of whether the people are giving their good opinion about their service or whether they are complaining.

Now, there might be some fake comments as well. So its really important to check most of the reviews to get a clear idea. Comments which are descriptive are mostly genuine.



2. AVERAGE RESPONSE TIME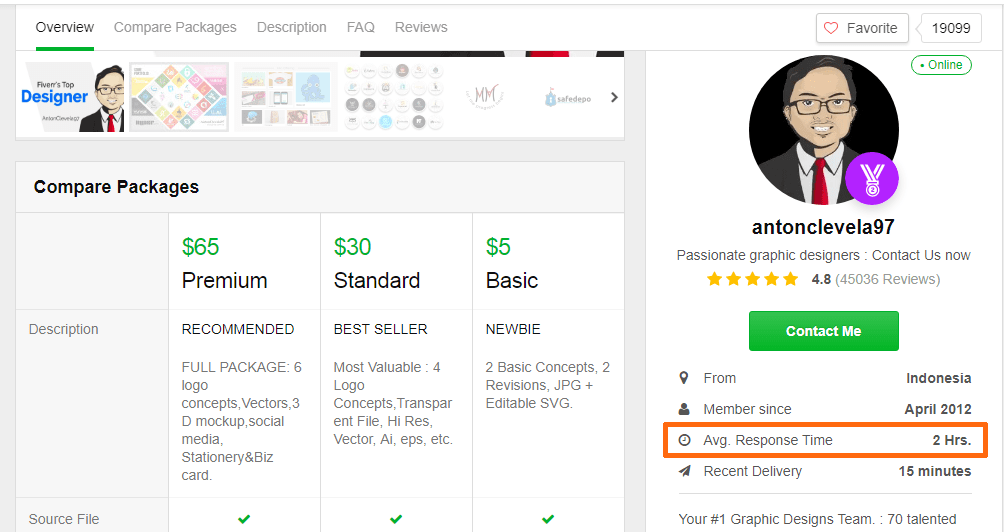 This is the average amount of time in hours that it takes for a seller to send the first response. So, if it's less, then it is better. Because, when you are outsourcing a service, it is very important to have frequent contact with the person.
If they are replying quickly to your needs, then it is well and good.



3. SAMPLE WORK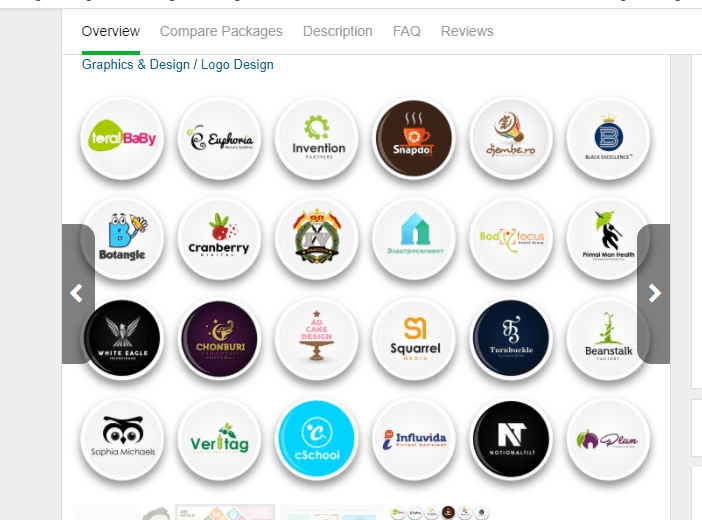 By looking at their sample work, you can get an idea of whether the final product will be good or not. These are basically the final product which they delivered to their customers.
If it seems good and desirable, then you can think of working with them.



4. REVISIONS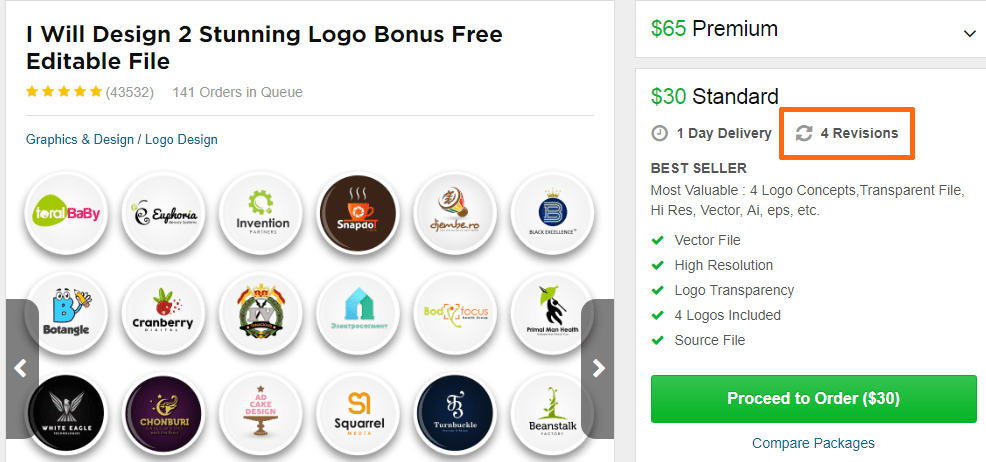 If you are not satisfied with the final product you can ask for revisions as per your need. So, it is important to pick those who are offering revisions in their gigs so that even if you are not happy with the outcome, you can ask to revise it.
Some may offer 1,2 or 3 revisions. There are also people who are offering unlimited revisions as well which is actually good.



5. FINAL PRICE

You may see some of the prices are more than $5 like some might be doing the same work for $10, $15. Well, if you have enough money, then go ahead and contact them because they are more reliable and have more satisfied customers.
That is the reason, they are in high demand so they increased their price. But never forget to always check the above factors as well.
So at this point, you know what is Fiverr, how to sign up an account and how to choose the perfect gig. Now let's see how to buy your first gig.



HOW TO BUY YOUR FIRST GIG?
If you finally choose your gig, then it's time to buy it.
Select your gig and click on "Proceed To Order" green button on the right side.

Next, you can see additional services that you can include. If you want them, just select it and click on "Proceed To Payment".

You can pay the amount either by Paypal or use credit & debit cards.

After paying the amount, don't close the window as you will be redirected to a window where you need to give instruction to your gig provider about the gig.



DESCRIBE YOUR REQUIREMENT
Well, this is the most important step where you need to describe the end result to your gig provider.
For example, if you are hiring someone for Logo design, then you need to explain to them that
What colors do you expect them to use

Fonts that you want them to use

You can show them some example logos so that they know what you are expecting

Tell them what should be written on your logo like website name or website URL, any slogan or quote etc
The main purpose is to explain them thoroughly what are you looking for so that they deliver the end result better & quickly.



WHICH GIGS YOU SHOULD AVOID?
Fiverr is a great place to outsource your work. It has the best gigs provider who delivers quality services. But also, there are some people who are just spammers that are behind your money rather than giving quality service.
These people can be identified using all the factors that I mentioned above. Still, if you don't feel confident you can have a personal chat with them & then decide.
I would recommend avoiding the "Digital Marketing" category because it may have many spammers. Usually, never get engaged in buying links, buying traffic or SEO related stuff from here.
Initially, you will see some good results but for the long-term, you may get penalized by Google. So, please avoid it.



BEST FIVERR GIGS TO CONSIDER
I will be mentioning some important gigs which are useful for bloggers or for anyone who is running an online business. You can use them if you really need to outsource your work.



1. WHITEBOARD VIDEOS

These types of videos are perfect to explain stuff or concept to someone. Basically, it is a video having a white background and the things explained here is in the form of text and figures.
You will feel as if someone is using his hands to explain you a concept.
Now, these types of video are very useful if you want to explain a process such as On-Page SEO or how to start a blog etc.
These videos are short and to the point. You can get your own whiteboard video on Fiverr for just 5 bucks. You can use these types of videos on your blog post, as an introductory video about your website etc.



2. LOGO DESIGN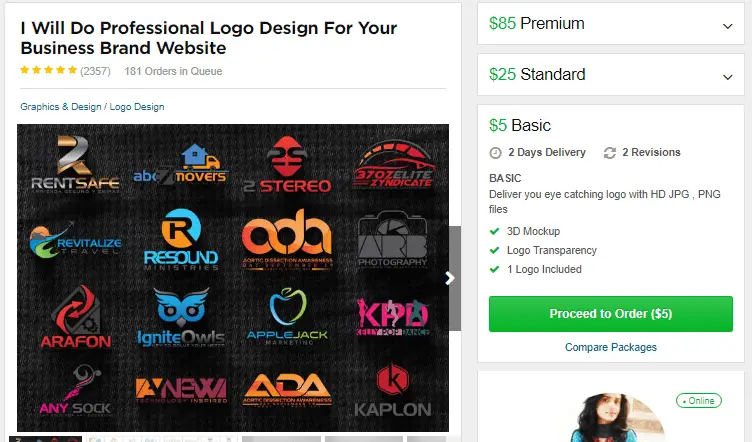 Logos are the visual cornerstone of a brand. If you are someone who doesn't have a company or website logo, then it's time to get one because your company's identity is visually expressed by a logo.
As the charges for a Logo creation shouldn't be just $5 as it is worth more. But still, you can get one from Fiverr at such a low price.
Make sure that the final logo you get is not getting pixelate or isn't copyright work from anybody else. You can refer their sample work on their profile to get a clear idea.
Also, if Fiverr is not your cup of tea, then you can create logos using Designevo.



3. INFOGRAPHICS
Infographics are a visual image representation used to display information or data.
In the case of blogging, it can be used as a summary of your blog post.
So, just get a professional Infographic done in Fiverr and you can use it on your blog post either at the beginning or at the end. In this way, you will also get more social love & shares.
Also, you can use infographics on Pinterest which has a higher chance to get pinned. More pinning means more sharing & more sharing means more traffic. Also, you can share Infographics on Quora which drives highly targeted traffic.



4. VOICE OVERS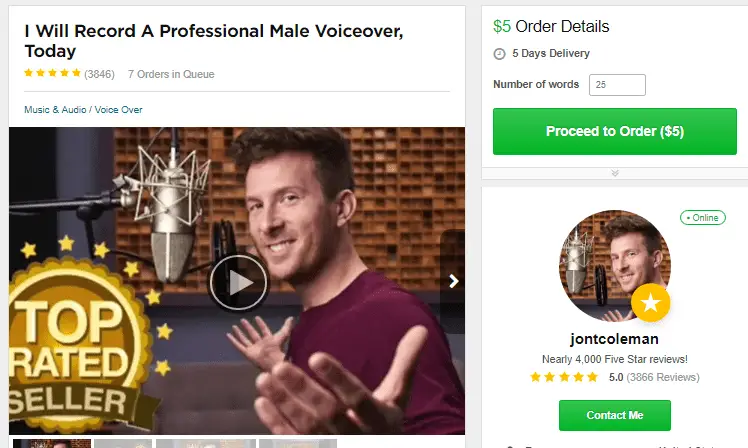 Voice overs can be very useful if you are running a podcast or need a professional voice to explain your presentation videos or whiteboard videos.
There are many people who are providing voice-overs on Fiverr. Just listen to their preview & decide whether their voice is suitable for your kind of videos.
In case of a podcast, you can have a voice over for your little intro that can appeal a more professionalism.



5. PROOFREADING & EDITING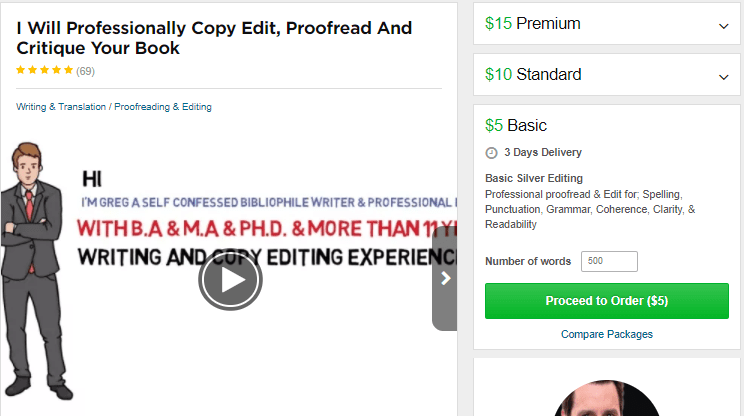 Proofreading is something that must be done for every blog post to spot all the grammatical errors. As this will be kinda boring work for someone (even for me too), but it will reflect content quality which makes it more professional.
Now, you can find cheap proofreaders on Fiverr which can take care of this job. There are many bloggers I know who create their blog post beforehand so that they can use Fiverr to proofread it (takes 1-2 days) & can update it on their blog on time.
Now, these gigs are especially for those who are not a native English speaker. However, you can also use Grammarly to proofread your blog post.
I have an article on how to improve grammatical errors via Grammarly which you can check out.
I personally use Grammarly because it works in real time so that I can correct all my grammatical errors at the same time while writing.



6. ILLUSTRATION & GRAPHICS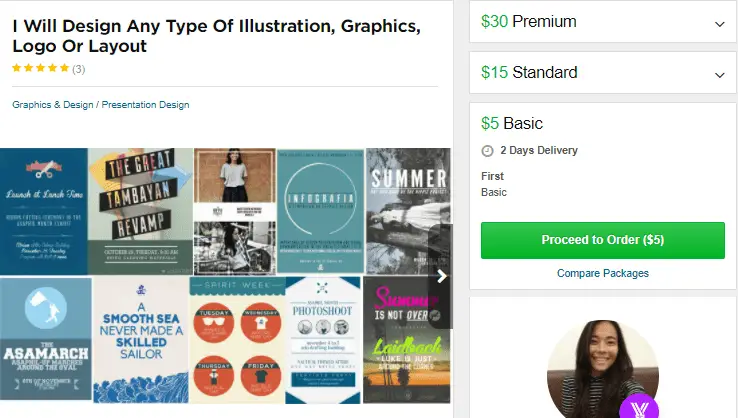 As graphics are very important to attract readers and making them engaged with the content. These can also be used in your e-Book covers, banners, flyers, headers, illustrations etc.
Getting your graphics can be pretty pricey nowadays. But, you can opt Fiverr for this to get it done cheaply. You may have to compromise a little bit with the quality but it will be quite good enough for your business and blogs.



SHOULD YOU USE FIVERR?
If you are a person who sucks in above-mentioned gigs and can spend a few bucks to get a professional work done, then I will highly recommend Fiverr to you.
Although, I suggest that you concentrate more on such gigs that don't affect your productivity & sales such as graphics, logo designing, infographics, proofreading etc.
Regarding content creation and other high-end tasks, I would prefer to adopt a professional freelancer from Upwork.
In this way, you can save a ton of time & money which you would have probably wasted on these secondary tasks. Good thing is, you can now concentrate more on your Blog promotion & SEO related stuff.
Also, If you are earning a decent income from your blog, then you can play around Fiverr to see which gigs work for you.
SHARE IT – BEST FIVERR GIGS
If you find this article useful, then please show some love and share it on social media so that others can also learn about it.
I would also like to know your opinion or your experience if you have used it previously. You can comment your feedback below. Thanks & take care.
>>Read Next: Best tools & resources to grow your blog