When you click the links and ads on this blog, it helps me to pay the bills & keep this site free for you. Thanks for supporting me! For more info, read the Disclosure page.
Blogging is not an easy job as it may look. Behind a well paying blog, there is a lot of website optimization, content writing, promotion, and whatnot.
Because of lots of tasks involved, it may become difficult to manage it. If you're on the same boat or you spend a lot of time doing things you haven't done before? Its time to transfer your load on Freelancers.
Fiverr is an excellent place to find them in a budget. Earlier, it was a $5 marketplace that has now graduated to higher-value services. You can find a lot of blogging gigs that can save your time & energy.
To further help you with that, I am highlighting 13 best Fiverr gigs for bloggers. Though I have used a few of them personally, my recommendation is based on user ratings and positive feedbacks. But, you are free to do your own research before hiring them.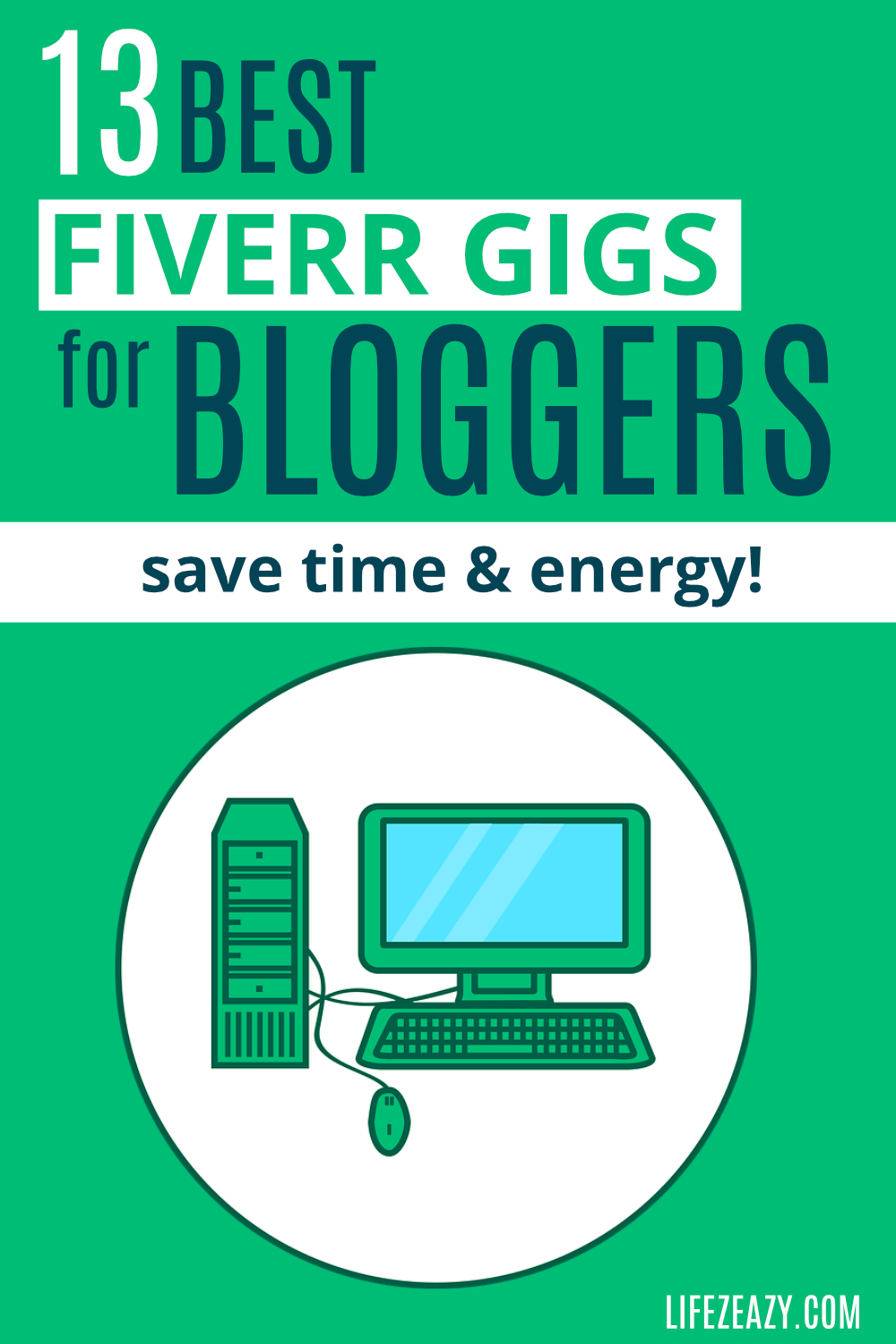 Read More:
> Best tools & resources to grow your blog like a boss
> 20 Websites to download free stock photos for your online business
Best Fiverr Gigs Before Launching a Blog
1. Market Research
Before you start a blog, it's essential to know whether you are diving into a profitable niche. Generally, the niche should be scalable that you can stick around for a long time. It should have a target audience that can spend money on buying products and services. Knowing none of these, choosing a niche is like jumping on an empty swimming pool.
If you don't know how to perform market research? You can always transfer this job to a Freelancer on Fiverr. Laurensdavis is a fine choice when it comes to market research. She has years of experience in this field who will give you a thorough market research report for your favorite niche.
2. Content Plan
A content plan is a must for growing your blog. Writing content without doing any proper research is like fighting in the dark. No doubt, you can still grow your blog, but when you have a plan, it's easier to execute. You get to know which content to write & which keyword to target to see more traffic and leads.
Gladly, if you don't want to go through the pain of doing thorough research, you can take the help of webcopyland. He has been creating content plans for his clients since 2008 and has a deep understanding.
When you buy his gig, you get a full-fledged content plan having post topics & SEO keywords to cover in each one.
Best Fiverr Gigs For Setting Up Your Blog
4. Custom Logo Designs
A logo is a design used to symbolize a brand, business, or a blog. Having a logo for a personal blog is not necessary unless you have a business or want some kind of branding.
If you don't know logo design, you can find a lot of designers on Fiverr working for cheap. One such top-rated logo designer is Shailene George, who has created over 2,700 logos up till now. She has a 4.9 user rating having several satisfied clients under her belt.
5. Create a Custom Favicon
Favicons are small graphics found on the tab whenever you visit a site. For example, you can see a green graphic in your tab while browsing my blog.
It isn't necessary, but if you're cautious about branding, having a favicon is a great option. To get one, you can visit the Sabdersmm profile.
6. Website Design
If website designing is not your thing or you don't like available templates/ themes? You can hire elisionsolution to create a personalized site design for your brand.
They have a whopping 5 user rating and have done over 210 projects up till now. Having so much experience with many satisfied clients, they can create a personalized mobile-responsive blog design for you. 
7. Install Google Analytics
Google Analytics lets you track all the visitors who are stopping by on your blog. It isn't a hard job to install it by yourself, still if you have a problem? You can find people on Fiverr ready to do this job for you. A good example is mafzal9.
Best Fiverr Gigs For Optimizing Your Blog
8. Keyword Research
Keyword Research is an essential part of the SEO to grow your traffic. Writing posts without targeting a keyword is just like throwing stones in the dark. Your posts won't get ranked on the first page of the search engine, and hence, you won't see much organic traffic.
That's why when you're starting, it's necessary to target low competition long-tail keywords. Finding them is a bit of a task and generally requires a Keyword research tool, which is expensive. That's why if you don't like the guesswork of choosing the right keyword, you can buy keyword research gigs from localinteractiv.
He runs an SEO agency in New York City and has an experience of 12+ years. Though the price is a bit high, still worth the shot.
9. Improve Your Websites Speed
Website speed is a thing most bloggers ignore, but it is required for having a better user experience. Your visitors won't have a pleasant experience if your pages are loading forever. This can affect your affiliate sales and ad income as well.
For fixing the problem, many tweaks are required on your blog, which a newbie blogger doesn't know. That's the reason it's better to hire a professional who can do this job for you.
aj_development is a level 2 seller on Fiverr having over 3 years of experience in WordPress optimization. He has fixed over 100 website speed projects and can be a great choice for improving site speed.
Best Fiverr Gigs For Marketing Your Blog
10. Infographics
Infographics are popular graphics often found on Pinterest & other social platforms. It is used to explain a topic through visual representation & often attracts backlinks.
Though it has its benefits, creating a one is a bit hard unless you know graphic designing. Even if you know how to create one, it will suck up a lot of time. That's why it's better to hire someone who can create infographics for you. 
Leoramos has created over 5,100 infographics until now and has a user rating of 4.9. You can check out his work before hiring him.
11. Social Media Images
To have a presence on Social media, especially on Pinterest, you have to make a lot of graphics that can hold your audience's attention.
That's not a problem when you know how to get things done. But if you haven't created social media graphics before, you can hire someone like alelamoi to create beautiful graphics for you.
12. Virtual Assistant
Sometimes, doing the same work repeatedly can be tiresome for you. Whether it is updating your old contents or replying to the messages, you don't have to be involved in all small things that can suck up your productive time.
To tackle it, you can hire Virtual Assistants who will do all your repetitive tasks. This way, you can focus more on productive things.
Best Fiverr Gig For Content
13. Proofreading & Editing
 If you suck at writing, which makes your content copy full of mistakes, you can hire Proofreaders and Editors on Fiverr. 
Proofreaders will make sure your writing doesn't have grammar errors, spelling mistakes, and typo errors. Editors will make sure the writing structure is good, having smooth transitions between sentences and paragraphs.
For this job, you can hire kevin100percent, a pro verified seller having a user rating of 5. He is a retired elementary school teacher with 40 years' experience of teaching English. With several satisfied clients under his belt, he is a perfect fit.
What Not To Buy From Fiverr As a Blogger
1. Traffic
Beware of traffic gigs that promise to increase your blog traffic by 100 or 1,000 visitors. I don't know how they do it, but one thing I know is that it will only affect your blog.
It's not natural traffic, and you may get pleased seeing your visitor numbers skyrocketing. But it will not convert into sales or leads, and who knows whether the visitors are real?
Spending money on fake traffic will only harm and may even result in the Adsense ban. That's why no matter how catchy their gig looks, please avoid them.
2. SEO Backlink Service
SEO gigs offering backlinks should also be avoided. They may seem like a useful gig to get backlinks, but over time, it will do more harm than good.
Such gigs may give you positive results for the short term, but as soon as Google updates its algorithm, you will lose traffic from such backlinks.
That's the reason you should avoid them. However, you can try SEO gigs offering SEO audits reports, On-page optimization & keyword research.
Your Turn
So, these are some best Fiverr gigs for bloggers you can look into. If you're well trained to do all these tasks, then you won't need Fiverr. But, if you have money and won't mind spending on such gigs, then go for it.
Apart from this, if you need any other kind of help, you can always type your keyword on Fiverr to find Freelancers offering the same gigs. Make sure before you hire them, check whether they have good user ratings with several positive feedbacks.
Now, tell me, what's your favorite gig? You can let me know in the comment section.