When you click the links and ads on this blog, it helps me to pay the bills & keep this site free for you. Thanks for supporting me! For more info, read the Disclosure page.
On-Page SEO is one of the essential processes in SEO that you can completely control. Unlike Off-page SEO, where you can't control the majority of methods, On-Page SEO gives you total freedom.
There are many things on your website that hinders Google bots from crawling and indexing your site. Finding and fixing them not only gives you an upper hand but also helps you to improve your rankings on the SERPs. 
But what are those things you need to pay attention to and how to fix them? That's what I am going to discuss in this post.
Here I will be talking about 10 best On-Page SEO techniques that can improve your organic traffic and rankings. Though it won't show results within a day, you have to give it a couple of months to see the desired result.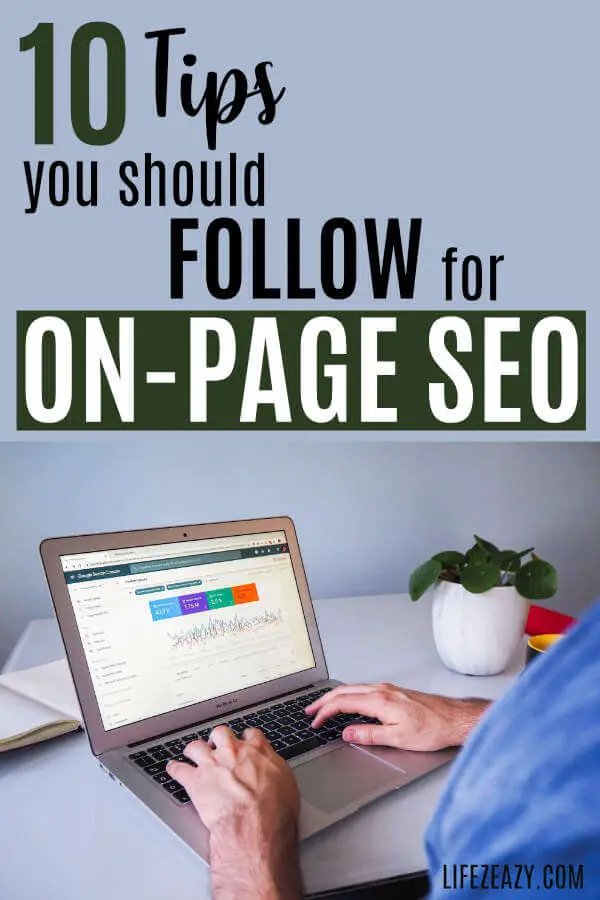 Read More:
10 On-Page SEO Techniques You Should Consider
1. Craft The Perfect SEO Title Tag & H1 Heading
A title tag is the HTML element used to define the title of a webpage that is visible in the tab of your browser. For example, if you look at the tab of this page, you can see the title tag.

Its primary job is to tell visitors and search engine bots what they can expect from the page like what the entire content is all about? 

Your visitors will notice the title tag as the first thing on search engines & social media. So, it's necessary to make a positive first impression to get the clicks.

To create a title tag, ensure it has a primary keyword along with one or two long-tail keywords. For example, 50 Best SEO tips for beginners. Here, the primary keyword is SEO tips, and two long-tail keywords are the best SEO tips for beginners & SEO tips for beginners.

To get a good click-through-rate, you can also add power words in your title to hook the readers. In my previous example, Best is the power word. Other examples include Amazing, Important, Easy, Quick, etc.

You can follow the same method to craft the H1 heading of your page or, use the same title tag as the H1 tag.
2. Optimize Your Post Permalinks
Permalinks known as Permanent links are the URL of blog posts and pages on WordPress. 

When you start a blog, it is necessary to set your permalink structure to post name or custom structure. Else your URL will have dates and months, which is not good if you are going to update your post regularly.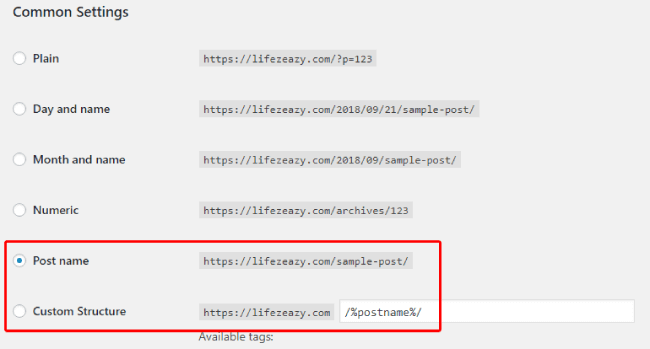 To optimize your post permalink for SEO, ensure to add your main keyword in it. For example, www.example.com/main-keyword. If you look at the permalink of this post, you'll see that I have included my main keyword i.e best On-page SEO techniques.

In the custom structure, you can place both category and main keyword in the URL. For instance, www.example.com/category/main-keyword. Usually, eCommerce sites use the custom structure because of lots of categories.
Here is an example of a custom permalink used by Hubspot.
An example of post name permalink used by Backlinko.

3. Know The Importance Of SubHeadings (H2, H3, H4, H5…)
Headers represent the key concepts and supporting ideas of your post. It defines the structure of your content, which makes it more readable & organized.

Subheadings like H2, H3, H4, H5 & so on are arranged in a hierarchical manner where H2 is the main subheading followed by H3, H4, H5. For example, if you look at this post, 10 On-page SEO techniques to implement is the H2 tag, and the other subheadings under it are all H3. 

Usually, subheadings don't specifically impact your SEO. However, there are indirect benefits. Like if a visitor could not quickly find what they're looking for in your content just because it's not well structured, they'll probably exit and look for another one. That is why text structure and heading use also impact SEO as Google lowers the ranking of pages that has a high bounce rate & less session duration time. 

You can also add LSI keywords in your subheadings to make your content more optimized. 
4. Optimize Your Meta Description
A meta description is an HTML element that describes and summarizes the contents of your page for the interest of users and search engines. It appears just below the post title in Google search results but, sometimes, a snippet of text from the main body of the page is shown instead.

While meta descriptions don't hold much importance in SEO, they are good to attract visitors to have a better click-through rate. That's the reason make sure to write a compelling description for all your pages that encourages readers to click your post.

To write a good meta description, include your main keyword & address the benefits that the readers will get while reading the post.
5. Importance Of Content SEO
Content SEO means optimizing the content for your target keywords so that it ranks on the first page. A website having high-quality content has better chances to rank compared to low-quality or thin content. Here, the quality content means those content that hits the right user-intent and provides answers to every question related to the targeted keyword.

Before writing any content, its necessary to do keyword research to find your main keyword. These keywords, also known as search terms, are what users type into the search engine to find the content. So, targeting them while writing a post to satisfy user intent is what you really need to do. 
For new websites, it's necessary to target long-tail keywords that have low competition so that you can easily rank them on the first page. For this, keyword research tools like KWFinder

,

Ahref

 can save a lot of time. Being paid tools, they can help you find low competition keywords within a few minutes that would normally take more time. If you can't afford such paid tools, you can use the 

Google keyword planner

 instead.

Once you found your main keyword, you can create a list of related keywords known as LSI keywords, and use them in your titles, descriptions, headings, and page content along with your primary keyword. Adding LSI keywords makes your content more relevant to the topic. 

To find LSI keywords, you can use any keyword research tool. Another way to find them is by typing your main keyword in Google search, followed by a space to view all the auto-suggested keywords. Note the relevant ones that make sense and add them to the subheadings within your content. You can also include "People also ask" questions in your subheadings.
Write original, actionable content free from plagiarism. It should be well formatted with subheadings, bolding to make the page easy to navigate.

You can also use a list to put up your points to make it more pleasing to the eyes while reading.

Add images and videos wherever necessary that helps in explaining your points.
6. Optimize Your Images
Images make content more understandable and appealing. Imagine content with no image v.s content with several images. The latter makes it engaging to the readers.

Whenever you download an image for your content, ensure to rename it properly with your focus keyphrase. That's because you want Google to know what the image is about without even looking at it. For example, if your image shows a baby playing with toys, the file name should not be DSC47836.jpg, but baby-playing-with-toys.jpg.

Use JPG for larger photos as it gives good results in terms of colors and clarity with relatively small file sizes. PNG is best to preserve background transparency, and it's better when there are small text & pictures in the images.

The loading time of a page is necessary for UX and SEO. The faster it loads, the better it is to visit and index a page. However, uploading images larger than the width of the content area will only increase the loading time. For example, instead of uploading an image of 2500×2500 px on a fixed-width content area of 800 px (depends on your theme), you can resize it to 700×700 px to reduce both its size & file size. That's why scaling the image as per the content width area is necessary to kill unnecessary loading time.

After scaling, its always a good practice to compress your images before uploading them to your WordPress dashboard. Trust me, it will reduce a lot of page size, thus making it load faster. You can use TinyPNG or TinyJPG site for the same,
Add alternate text to your images as it is the way to tell Google bots what is inside it.
7. Start Interlinking Your Posts
Linking to pages within your website is known as internal links that hold a lot of importance in SEO. By linking to other pages within your site, you are making sure that the Google bots discover your other pages so that it gets indexed.

Whenever Google bots visit a page, they follow links they find on that page (both internal and external links). If they don't find any links, they will read the page and go. That's why its necessary to interlink your posts.

Internal links not only help in boosting your rankings but also increases the user session time and decrease the bounce rate.

To do interlinking, always link a relevant post that makes sense. For example, if I am writing a post about how to start a blog, it makes sense if I link it to another post that talks about blogging tools, ways to increase blog traffic, best web hosting for starting a blog, etc.

You can also improve rankings of your important pages by making more internal links pointing to them. This will help in boosting their ranking on the SERPs. For example, if I want to let Google bots know that "How to start a blog" post is an important post on my blog, I can create several internal links from other relevant posts pointing towards it to boost its ranking.
8. Add a Few External Links
If possible, try to link to high-quality posts from other authority websites that are relevant to your topic. You can link to any research papers, statistics, high authority websites within your niche while writing a post. This will increase the trustworthiness of your content, which is good for SEO.

Make sure to use the rel=sponsored link attribute on your affiliate links so that Google can understand its a sponsored link.
9. Improve Your Site Speed
In 2010, Google announced that 

site speed

 is going to be one of the ranking factors in Google's algorithm. It means the ideal load time of any website should be 3 seconds or less, whereas, for an eCommerce site, it should be 7 seconds. So, ignoring your site speed can impact your rankings on SERPs.
There are many things you can do to improve it which includes
Changing your web host to a better one like

Siteground

,

A2 Hosting

.

Changing your WordPress theme to a more fast loading theme having minimum codes. For example, 

GeneratePress theme

.

Scaling and squeezing your image size so that it takes minimum space.

Use a content delivery network (CDN) such as Cloudflare to improve site performance and decrease loading time by using their multiple data centers located around the world.

Reduce your plugin usage because a lot of them can slow down your website.
10. Make Your Site Mobile-Friendly
In May 2019, Google declared mobile-first indexing is going to be enabled by default for all new & old websites. It simply means Google bots will first crawl your mobile version site, followed by the desktop version.
It has also found that 58% of searches in Google are done from mobile devices. So, optimizing your site for mobile devices is really needed to get it ranked on the SERPs. You can 

click here to check

 whether your website is mobile-friendly. 

To make your site mobile responsive, use themes such as 

GeneratePress

 that makes your site mobile, tablet, and desktop responsive. It is also a lightweight theme that makes your site load faster.

Don't block Javascript, CSS, & image files on your site as it is against Google's guidelines. You should ensure they are visible to the search engine bots. For this, you can use Fetch as Google through the Google Webmaster tools to check whether your website's CSS, Javascript, and images are completely crawlable.