This post contains affiliate links. For more info, you can read my
Disclosure
page.
Are you struggling to do On-Page SEO?
Even if you have implemented it, Are you seeing any desired result?
Well, I have seen many bloggers who are blogging since one-year but couldn't drive enough organic traffic to their blog.
No doubt, they are getting a good amount of traffic from other sources such as Pinterest, but what if one day Pinterest gets shut down or they deactivate your account?
Well, I pray that it doesn't happen but you need to make sure that you have multiple sources of traffic so that if one fails, you have some other backups.
Organic traffic is considered one of the best traffic in the blogosphere because it is highly targeted and you don't have to work your ass off to promote your content every day.
However,  in order to drive such traffic, you need to implement SEO which is not that difficult if you know the do's & don'ts of it.
If we look at it, SEO has various divisions that should be taken care of. There is On-Page, Off-Page, Keyword research, backlinking etc. Out of them, here I will be concentrating on On-Page SEO.
The best thing about On-page SEO is that you have full control over it, unlike others. But before implementing it, you need to have a bunch of targeted keywords with you.
Well, if you don't know proper keyword research, then you can read this step-by-step guide to find long tail keywords that can be ranked.
You know, what's the point of doing On-Page SEO if you don't have your target keywords with you?
On the other side, if you are already having a list of keywords, then why should we wait?
Let's just begin with On-Page SEO.
>>Read On: How to do effective keyword research that ranks on the first page
BEST ON-PAGE SEO TECHNIQUES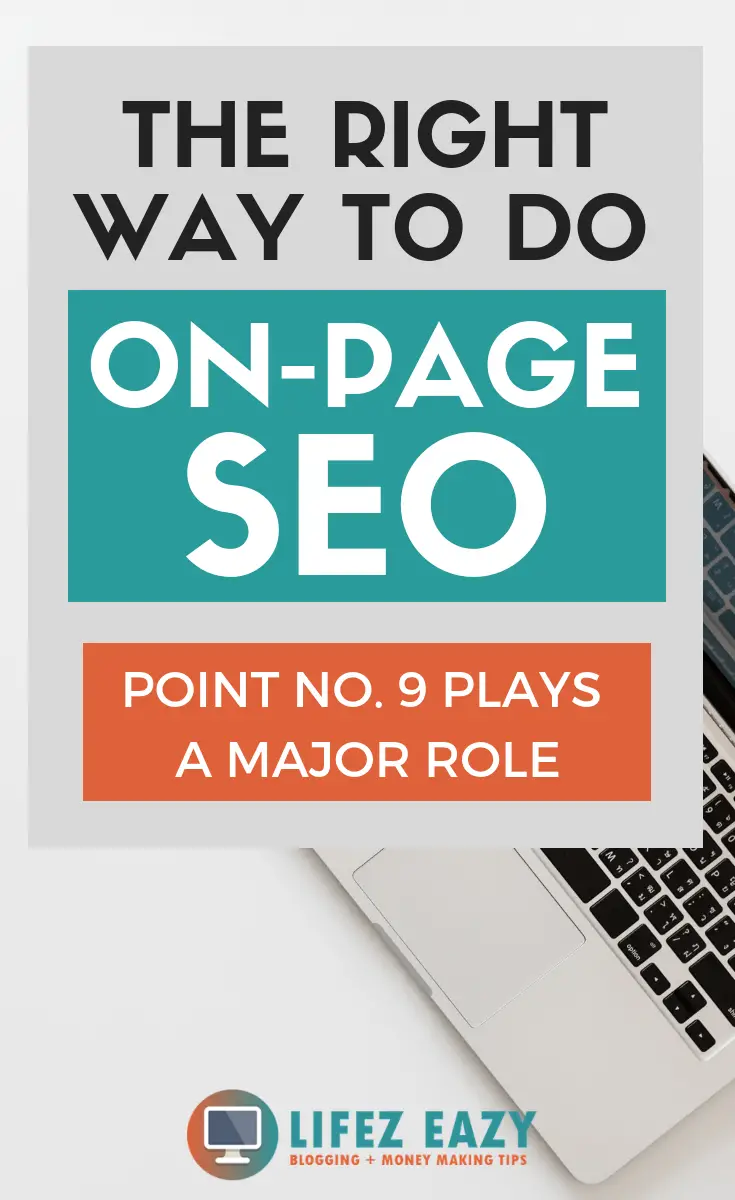 Before beginning, I want to notify you that you should implement the following steps in a natural way. As Google is very strict against spamminess, if you over optimize your content, this may result in a negative impact.
You already know that too much of something is not actually good. So, try to implement it in a natural way as much as possible. Doing so will let Google know that your site isn't spamming.



1. OPTIMIZE POST TITLE THE RIGHT WAY
Post Title is the first thing that readers will see before visiting your post. Many bloggers don't pay much attention to it and simply write boring & un-optimized titles.
Think about it, as a reader, would you click that title? Obviously not. As there are heaps of blog post targeting on the same topic, so it's a very rare case that you will get some clicks.
To solve this problem, you need to be different from the rest of the crowd in terms of naming the title. Make it sound unique as well as optimize it for SEO.
Now, if you are new to this and doesn't know how to create a compelling title, you can try Coschedule Headline Analyzer
For example, I checked a generic title on this website & you can see, it gave me a score of 62 along with some tips like I am missing Power & uncommon words.
So, I tweaked my title a little bit and you can see the below result.
Now, tell me which title are you likely to click? Obviously, the second one. The above title looks unique and at the same time targeting the keyword "On-Page SEO".
Additionally, here are some more tips:
Always try to put your main keyword at the beginning of the title. For example: If your article is about weight loss and your main keyword is "Lose Weight Fast & Safely". Then try to put that in the beginning because

search bot tends to read from left to right. Inserting

your keywords

at the beginning

 of

your title

tag

will

enable them to crawl those words faster. 

Here, the final result would be like "Lose Weight Fast & Safely: 10 Killer Ways to do so". 

Add a compelling or catching phrase in your title such as Best, Top, Effective, Ultimate, Incredible etc to get more CTR. In my example, I choose the "Killer".

Try to include "list" tags in your title if it suits your content. For example, "10 Best Weight Loss Tips". Readers tend to check out list post more often as they are easily consumable.
2. OPTIMIZE PERMALINKS
Permalinks are the URLs of your blog post. The basic purpose of permalinks is to provide information about the page content to bots and humans.
Now, WordPress provides different permalinks structure as you can see below: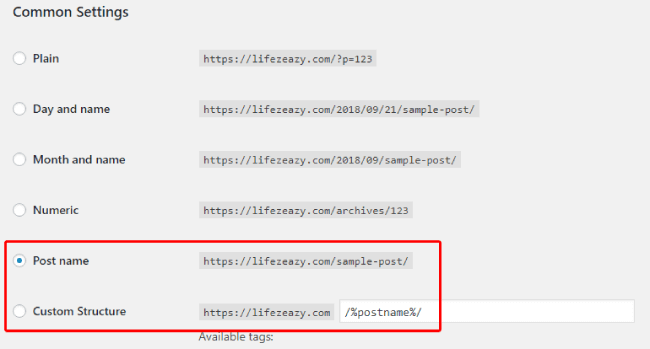 Out of all this, the widely used permalink structure is the "Post Name" & Custom Structure. Using custom structure, you can place the category in the URL.
This is useful for those sites that deal with lots of categories such as e-commerce sites. Hence, it helps them to categorize the URL which is great in the eyes of SEO & aids them to crawl faster.
You can choose any one of them depending on your site or follow the permalink structure of bigger websites as a reference. If you look at Hubspot, they use category based permalinks.
If you check out Backlinko, they use post name permalinks.
It's up to you to decide which one suits best for your website. Additionally, if your site is old, then don't bother to mess up with the permalinks structure as this will result in broken links.

3. HEADERS
Headers define & structure your content. It is a way to tell Google bots & human about the different sections of the content and what a particular section is all about.
Nobody wants to read a content that doesn't have a section and has all the words piled one after another. That's how much important is headers.
It consists of basically H1, H2, H3, H4 tags which is quite helpful to split up your long content. Think of them as a hierarchy based on importance, the above being more important than the below.
As a general rule, your content page must have one H1 tag followed by multiple H2, H3 and so on tags.
To boost SEO, you should include LSI keywords or relatable words in your header tags which makes your content more meaningful & thus avoid the problem of keyword stuffing. 
Now the question is how to find relatable or LSI keywords.
To find them, you can refer to Google as they provide some bunch of relatable keywords related to your main keyword.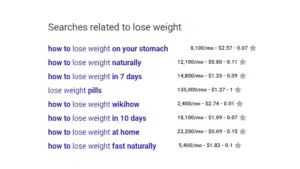 You can use these keywords in your headers to make your content more optimized.
There is also another way to hit these relatable words by using LSIGraph website. Simply enter your main keyword and it will show a list of relatable keywords that can be implemented in your content.



4. META DESCRIPTIONS
Many readers click a web page just by reading the meta description. This is how much important it holds. Usually, it doesn't provide much SEO value but can influence readers to get a nice CTR.
A meta description basically consists of 160 characters & it's a great place to give your visitors an idea what your content is offering.
You can usually place LSI keywords here to define your topic. Additionally, describe your meta description in such a manner that results in a good Click Through Rate.



5. CREATE IN-DEPTH CONTENT
CONTENT IS KING. You have heard this phrase a million times & it is absolutely true. Even if you optimize your title, meta description etc for SEO, you won't be ranking in a search engine until & unless the content is valuable and in-depth.
If you check out the first-page ranking websites on Google, you will find that all the content are long and provides valuable information that solves a problem.
It is because Google wants to provide the best result in front of its readers that are in-depth and answers all their query.
Think about it, why a well-known search engine will put a short & low-quality content on the first page when it doesn't answer the reader's query?
If you want to write a good in-depth content, you need to avoid following things.
A. AVOID LOW-QUALITY CONTENT
Writing Content that is generic and low quality should be avoided if your intention is to attract organic traffic. Aim for unique content which helps your readers.
Writing a great content includes understanding the problems of your audience. But, the question is how? Usually, there are many things you can do to find those questions.
Following are some of them:
Use your e-mail and ask your subscribers what are the problems they are facing.

Check out forums and Question-based sites such as Quora, Yahoo answers and search questions related to your topic. You will get a bunch of questions that you can target in your content.
You see, when I searched about Off-Page SEO on Google using a Quora tag, I get to know many questions & problems which readers want to know. Thus, targeting these questions and answering them will make my content more valuable.
Additionally, you can refer other top-ranking blog posts as well to get some ideas. However, do not copy them.
Writing a good content is a long process because you need to do a lot of research and invest much time in writing it. But, it is definitely worth the time. Bloggers like Neil Patel, Brian Dean only publish 1-2 content per month. Because they believe in quality rather than quantity.
B. AVOID THIN CONTENT
Thin content is a big No when it comes to ranking. If you don't know what it is, thin content means having only 200-300 words.
Whether these 200-300 words article is of high quality or not, it still won't help to rank on the Google if it isn't in-depth. I will recommend going for more than 1500 words article having different headers with LSI keywords sprinkled over it.
Obviously, I know its a lot of writing but trust me it is definitely worth the time. If you go to big authority sites, 90% of their content is more than 1500+ words.



6. OPTIMIZE IMAGES
How could we forget images? Images make your content more appealing and readers tend to spend more time on such pages that are visually attractive.
Therefore, Including images in the content is a good practice. However, during the process, we tend to forget about optimizing it which results in more loading time.  
I have seen many bloggers who don't optimize their images for SEO which is kinda wrong. Bots and spiders can't visualize pictures so they rely on codes & text.
That's why you need to make crawlers understand what your images are about.
How do you do it?
If you click an image in WordPress media, you can find a text box with the title "Alternate Text". Whatever you write here will let spiders and crawlers know what your image is all about.
Suppose, you uploaded an image of a Nikon D3400 camera. So the Alternate text would be  "This is a Nikon D3400 camera". It's that simple. You can also include LSI words if it matches the image.
Additionally, whatever is your preferred image size on your blog post, resize it before uploading it to your WordPress dashboard.
In my case, all my images are of 650px width. So, if I have an image of 900px width, I would resize & compress it to 650px before uploading.
For compression, you can install the Smush Plugin which will compress all your images & reduces its size. Last but not the least, rename your images before uploading it. If you have an "iPhone 5s" image, then rename it as "iPhone-5s-smartphone" having a "-" in between every word.
7. UPDATE YOUR CONTENT REGULARLY
I wrote an article on a Youtube SEO tool 8 months ago, it is currently ranking on 3rd spot on Google. But last month, the rank got dropped from 3rd to 6th position.
As I faced this problem earlier, So I Googled to find out the suitable solution. That's when I came to know about Content Updation.
Recent studies have shown that Google prefers to serve its users with fresh updated contents.
As time passes, the information in your content gets outdated & you may see a sudden drop in your ranking as well. If at the same time, there is another content on the same topic with updated information, Google will prefer it more over yours.
This doesn't mean that updating the publish date of a blog post will make your content fresh. It may work, but it's a black hat SEO and must be avoided.
Instead, include new pieces of information on your content such as researches, statistics etc to keep it updated. You can also update the existing content as well & republish it.
Doing this will bring back your ranking once again. That's what happened to me.
After I updated the content, my ranking again came back to 3rd position & then on 1st position. That is why updating your content after 3-4 months on a regular basis is very important to enhance the ranking.



8. IMPROVE SITE SPEED
According to Aykira websites research, 47% of visitors expect to load a website within 2 secs. This is actually true because if your site is slow, it may result in visitors bouncing back from your websites.
Also, if your site relies on conversion, then slow speed can hamper your conversion by 7%. So, if you are concern about your site speed. you must check out using the following tools. These tools will let you know the loading speed of your pages.
If your page takes a lot of time to load, then try to improve it. A few suggestions that will work are:
Uninstall plugins that don't have much importance.

Opt for a CDN that will dramatically increase your site speed.

Compress images before uploading it to your blog
If you want to improve the site speed dramatically, you can refer this guide
9. IMPROVE CRAWLABILITY
If you don't know what it is, Crawlability is the ability of search engine bots to crawl your entire content of the website without encountering any dead end.
Crawlability ensures that your website is easier to crawl and each individual pages get indexed by the search engine.
But, if bots can't crawl your website properly, then this will affect your ranking. There are certain ways you can do to improve the crawlability of your site.
A) INTERLINK YOUR INTERNAL PAGES
Spider bots use links to crawl your site. So, linking the internal pages within your content is a good way to let them crawl your entire website. This improves the crawlability & bounce rate as well.
As a general rule, whenever you write a new piece of content, try to interlink it with your similar older post. Also, do the other way around.
In the end, you need to make sure that if a bot visits a page on your blog, it should be able to crawl your entire blog through links.
There are various case studies held by different websites that claim "good crawlable site has a better chance of boosting its search engine ranking".
Just think about it, Google will index your page quickly as soon as they are found (through internal linking), But, if they can't find your page, then there will be a delay in indexing which thus leads to delay in ranking as well.
B. REPAIR YOUR BROKEN LINKS
As discussed above, bots crawl through links. But what if these links are broken?
They wouldn't be looking for other ways to crawl that specific page. Instead, they will just stop crawling which signals Google about the crawlability error of your site. This may lead to poor performance.
Usually, a broken link results in a 404 error. So, it is a good practice to fix these broken links. I wouldn't be stressing this too much because I already have an article where I discussed how to detect & fix these broken links. You can have a look.
So, when your broken links are fixed, you will observe that your pages are getting indexed quickly. Also, more organic traffic will be rolling on its way.
10. MOBILE OPTIMIZATION
Google says 61% of users are unlikely to return to a mobile site they had problems accessing. If you see the below chart, every year mobile users are increasing by 2-3%.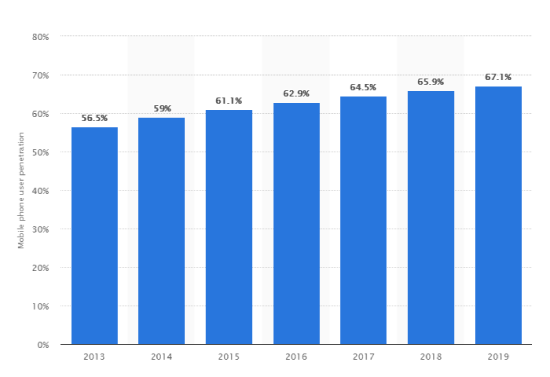 It is very much important that your site should be mobile optimized. Readers landing on your site shouldn't have trouble accessing it.
Nowadays, Google ranks those websites well which are mobile responsive. If your site is currently ranking well on Google, but it isn't optimized for mobile, then this may hamper your rankings sooner or later.
So, how to check whether your site is mobile optimized or not? You can visit  Google's mobile-friendliness test tool to check it out.

However, if you get a negative result i.e. your site isn't optimized for mobile, then you can do the following things.
A. USE RESPONSIVE THEMES
One big reason why most of the sites aren't mobile optimized is that they aren't using the correct theme.
Now, there are many themes available on the internet which are responsive. Themes from Elegant, Genesis etc are damn good to use.
However, if you aren't ready to purchase one, then you can try Colorlib's Dazzling or Sparkling theme. They have clean code and are mobile responsive.
B. IMPROVE MOBILE SITE SPEED
Before I knew how much important mobile traffic was, I use to drive all my attention towards the traffic coming from PC & laptops. No doubt, I was getting a nice traffic from it. However, my mobile traffic sucked.
It was having a lot of bounce rate and less session duration. So, one day out of curiosity, I tried to find the cause of such failure. I checked my site via smartphone. You won't believe it, it took me 10-15 secs to load a single page.
That was horrible, but thankfully I knew what should be done to improve my mobile speed.
Quickly, I checked all my pages via Google Analytics having high bounce rate and less session time specifically for mobile.
As a result, I got a bunch of pages that were taking tremendous loading time. Reasons for slow loading were:
Images weren't compressed

Having too many codes in the header section. Usually, when a page loads, your header section loads first and then the footer section. I had an optin sign-up box and few other codes that were placed on top. So, I removed and transferred them to the bottom near the footer. This eventually improved my site speed significantly.

Uninstall unused plugins.
These are some of the tweaks I did and you can see the following result. My keywords started ranking well on the mobile version.
Before, I only had 9-13 keywords ranking on the top 20 positions in Google. But now, I have 82 keywords ranking for the same within a month.
On top of that, 5 of them are ranking on top 3 as shown above. So, you see how much changes I had when my site speed was improved.
You can follow Backlinko's Mobile SEO article to learn more awesome stuff about Mobile optimization.

WRAPPING UP – ON-PAGE SEO GUIDE
Kudos to you for making it till here. I hope you have learned some new On-Page SEO stuff & are ready to implement it on your blog.
However, if you have any questions on your mind. Feel free to drop it in the comment section.
Cheers 
>>Read Next: SEO guide for beginners – Learn how to rank your website