When you click the links and ads on this blog, it helps me to pay the bills & keep this site free for you. Thanks for supporting me! For more info, read the Disclosure page.
Are you jobless or searching for a part-time job to make extra money?
Or
Want to add an extra source of income along with your 9-5 job?
Well, guess what? this post talks about the 10 best websites to find online jobs.
Just like a 9-5 job searching portal, there are many portals that let you find online jobs, part-time jobs, and other ways to make extra money or even full-time income.
Joining one or more platforms is a great way to find your preferred jobs that complement your schedule.
If a job needs a specific skill you lack? You can develop them by taking online video courses on any platform like Skillshare.
So, open a new tab and start searching for your desired jobs on the following websites that I am about to discuss.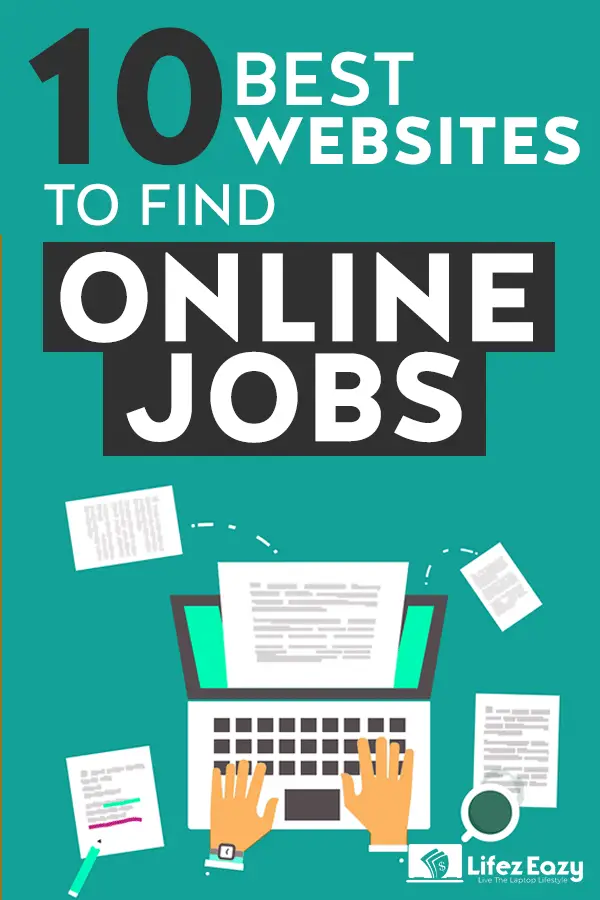 10 Best Websites To Find Online Jobs
1. Steady App
Steady app is a place where people can find work-at-home jobs, part-time & full-time jobs from the comfort of their home.
If you are looking for some flexible jobs and gig opportunities, I think you should sign up for this platform.
Not only you can find many opportunities, but you will also receive financial advice & money-saving offers if you need one.
All you have to do is create a free account, browse gigs that meet your needs, apply, and start working for them to make money online.
You can also manage your gig earnings in one place. 
2. Wealth Earning Guide
Wealth Earning Guide is a platform where you can find home-based business opportunities.
There are many businesses that want to expand their team and are always looking for people who are willing to work from home.
If you think, you are the right person, you can always join this platform to explore such opportunities.
The process for joining is quite simple:
Create an account and introduce yourself.
Based on your profile, they will connect you with up to three no-obligation business opportunities.
Join them and learn how to make money from the comfort of your home.
3. Mom Business Network
This one is particularly for stay-at-home moms who want to do something of their own.
The working model is pretty similar to a wealth-earning guide where they match you with online businesses that are looking for mom entrepreneurs as their members.
When you're selected, you can work on your own schedule and grow your business by being a part of a helpful community.
You can even see how other moms found success which gives you a great opportunity for learning.
4. Upwork
Upwork once known as Elance-oDesk is a global freelancing platform where businesses and freelancers connect and collaborate remotely.
They have over 12 million registered freelancers and 5 million registered clients with over 3 million freelance jobs posted each year.
Being a freelancer, Upwork provides a great opportunity to work with clients from around the world.
However, they charge a fee of 20% for the first $500 billed to the client. Then, it's 10% for lifetime billings with the client between $500.01 and $10,000 & 5% for lifetime billings with the client that exceed $10,000.
It can sound like a lot of fees but it's a great opportunity for you to connect with clients and build a good relationship.
Once they become your regular customer, you can offer your services personally or via your own website which helps you to keep 100% earnings.
5. Indeed
Indeed is a job search engine where you can search for millions of jobs online.
You just have to type a job title, keyword, or company name followed by a location to find any relevant jobs you are looking for.
This is a great platform to find both work-from-home jobs and local jobs.
6. Craigslist
Craigslist is also a pretty good place to find jobs both online & offline.
Apart from housing, for sale, items wanted, services & discussion forums, it has a great job posting section too. 
Most of the jobs listed are those jobs that need to be done as quickly as possible and they are listed under the "gigs" section.
Other than that, there is also a "jobs" section where you can find part-time and full-time jobs.
You just have to join this site and browse through the job listing as per your location.
7. AngelList
AngelList is a great way to work with startups.
If you are someone who wants to work for any startup, then AngelList is the perfect place to go.
The best thing about this website is that there is no middleman & you can directly apply for the jobs for the startups.
Most of the time, the jobs are full time but if you do a search, you can find part-time jobs as well.
To join them, create a strong profile where you can present your skills and experience.
Based on your profile, startups will hire you so ensure that it is up to the mark.
Once, you have a great profile, browse jobs by location, role, market technology, and salary.
Click yes on those companies you're interested in and they will notify you. If they are interested in you, AngelList will introduce you to them via email.
Regarding salary, it depends on the start-up you are working with. If they think, you are a valuable employee, they will definitely pay well.
This is a great way to make money as a college student where you can work from the comfort of your home & even turn it into a full-time job.
8. Linkedln
LinkedIn is a social media platform geared towards professionals where they can network and build their professional portfolios.
There are many people who got a great paying job using this platform.
It is a great place to find jobs either work-from-home jobs or full-time jobs.
To begin, you need to pay a lot of attention to your profile because that's the first thing a professional looks at.
A good profile picture usually a headshot along with your personal,  qualification details, the skills you know, and any certificates will only improve your portfolio.
When you are ready with your profile, you can connect with different professionals you are interested in.
Other than that you can also search for your preferred jobs through the search bar and apply for them.
You will definitely make a decent income if you're hired & if you are looking for a side income, this is definitely a great place to start.
9. College Recruiter
This is the last best website to find online jobs on this list.
If you are a student or a fresh graduate who is looking for a part-time, seasonal, internship, or entry-level job, then you can consider this one as well.
Not only you can start your journey of making money on your own but you will also gain work experience and contacts for future work.
You can search for jobs here based on categories, company, and type which makes it easier to sort out jobs from a long list.
When you are using this portal, ensure you're subscribed to it because this will help you receive a direct job alert in your inbox whenever there is a new job posting.
Overall, this is a great place to find both online and offline jobs and I will prefer this platform more if you are looking for an offline job.
10. Fiverr
Fiverr is basically not a job searching site, but it is a great place to offer your own services for at least $5.
Though you can set up tiers above the base $5 option, it's good if you start from this price as a beginner.
The great thing about Fiverr is that you can offer any service you want. No matter how unique your service is, there will be an audience for you.
I have seen people offering services like "freeing 5 fishes for you" for just $5. This means if you pay $5 for the gig, the person will free five fish for you.
I know it sounds weird, but there are many people happy to pay a small amount for a quick smile.
Likewise, there are many other useful services that Fiverr offers. If you think you have a skill that can help others, you can sign up for a free Fiverr account and start offering your services.
Final Thoughts – Best Websites To Find Online Jobs
I hope by now; you haven't lost your hope of getting an online job. These websites are a great place to browse for new opportunities.
Whether you are a student, jobless, or someone who is finding a 9-5 job and needs a temporary job to carry out your expenses, these places won't disappoint you.
So, now it's up to you to decide which one are you going to try first.
The best thing you can do is join multiple of them so you have better chances of getting a job.
I hope this post has really answered your question and if it does? Don't forget to share it with your friends and colleagues so they too can find such great opportunities. Good luck!