When you click the links and ads on this blog, it helps me to pay the bills & keep this site free for you. Thanks for supporting me! For more info, read the Disclosure page.
In this post, I will talk about 7 best websites to make money online for free.
But before I begin, here's a reality check.
Web is filled with lots of sites that promise to pay a lot of money for trying simple things. It may seem like you finally hit the jackpot, but it is not what it is.
Don't fall for such things because nothing is easy when it comes to making money online.
…Just think about it?
If it was so easy to make money from the internet, everybody would have been making a decent income.
But that's not the case here, because only a few percentages of people are successful and rest of them are still trying to figure it out.
I am not saying this to demotivate you, but I am telling you the reality.
If you have this mindset that "I have to just do this and that to earn big bucks", then you should hit the back button because everything requires work, dedication and patience.
There are no shortcuts and easy ways for making money and even if someone claims, then he is definitely hiding something.
However, if you are willing to work hard every day even for half an hour, then you can expect better results.
So, just try these websites and make a great side income working from home.
7 Best Websites To Make Money Online For Free
1. GoTranscript
Want to make money for typing conversations from an audio file?
That's what GoTranscript offers.
GoTranscript is a thriving online transcription and translation company that offers audio & video transcription, translation, subtitling & caption services.
According to GoTranscript, an average Transcriptionist make $150 per month & top Transcriptionist are making over $1200 per month here.
Being a transcriptionist, your job is to listen to an audio file and type it down on an online text pad to get paid.
For each file you convert, you can make up to $0.60 per minute.
To get started, you need to first pass their assessment & transcription test to get selected.
Once you are a member, you can always find ongoing jobs in your job board which is based on a first-come first-basis.
When you complete a file, Editors will review your files before passing it to the client. If they find any error, you need to correct and send them again.
For this work, you will get paid weekly via PayPal. Here is a screenshot of my earnings from 2016. (I don't do transcription now)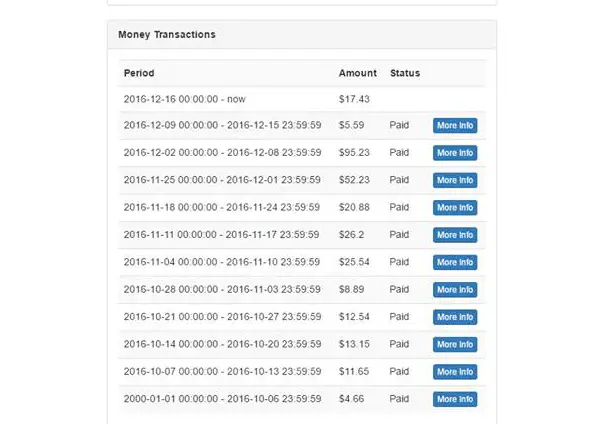 Even though this job sounds easy but really, it's not that easy because the audio files have either background noises or you may not able to understand different English accents.
But it doesn't mean that all the files are like that. You can find clean audios if you dig a little bit.
That's the reason GoTranscript gives you an option to preview audio files before accepting it. This way you ensure you are taking the right files. To know more about them, make sure to read my GoTranscript review.
Also, if you would like to learn the right way to get into this job and make a nice side income every month, then you should definitely read my Transcription guide.
2. Fiverr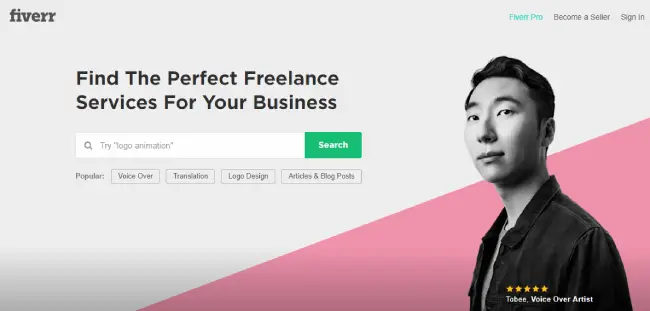 You have probably heard the famous dialogue "If you are good at something, don't do it for free". Well, if you are really good at something, then you should join this website.
Fiverr is a place where freelancers hang out who sell their services for at least $5. If you have a skill that can add value to others, you can surely join this platform.
How Do Fiverr Works?
It's quite simple!
You need to create a gig after signing up which is basically the service you will offer to your clients/customers.
Initially, you may have a hard time to find your first few clients, but if you cross this phase, you won't have much problem getting clients.
That's because they usually look up at customer reviews and ratings before deciding to work with Freelancers.
Being a beginner, you won't have either reviews or ratings to attract them. That's when you can promote your gig on social media platforms to get a kick start.
I suggest you try Pinterest and YouTube to promote your gig because here you can find many people who would love to try your service.
Earn More From Gig Extras
Gig Extras are an extra service that you are providing along with your main service.
For example, if your clients want the final product within 1-2 days and your usual delivery time is 5 days, then you can charge them more.
This way, you can make extra money along with your usual income.
3. Fotolia
If you are really good at photography, videography, template & 3D creation, then why don't you sell them to make some money?
Fotolia (Now Adobe Stock) allows you to sell photos, videos, vector art, templates & 3D you've taken or created for commercial usage.
There are many publishers who are looking for these things for their publication or website. So, if they find your work ideal for their business, then they will definitely pay for its rights.
You just need to join this website & start uploading them. If any publisher is interested, they can use Fotolia to purchase the rights to use them in their business.
For each sale, you'll get 33% commission for photos/vector arts and 35% commission for videos.
You can request your payout via PayPal or Skrill when you have reached at least $25 in royalties.
Related Post:
4. Swagbucks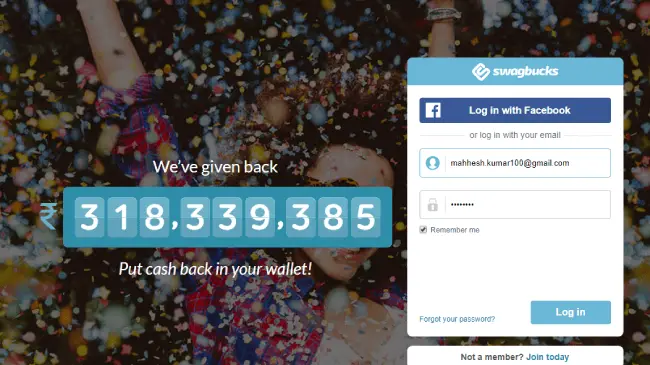 Swagbucks is the most trusted and popular website that pays money for doing activities such as
Watching videos
Taking surveys
Shopping
Web searching
Referral
These activities pay in Swagbucks points (SB) where 100 SB is are equal to $1.
There are also daily activities such as daily poll, daily search, deal of the day, daily activity, daily discover, that gives you extra points.
Once you reach your payout amount, you can redeem it for PayPal cash & attractive gift cards.
Here is my first $5, which I earned a few months ago.
Related Post – Is Swagbucks better than InboxDollars?
5. Skillshare
Do you have a skill that you can teach others, then you can create a video course and upload them on Skillshare to make money on autopilot.
Skillshare is an online learning community with thousands of classes in design, business, tech, and more.
As a teacher, you can sign-up and upload your own video course series to teach your skill to thousands of students. The best part is, you require no teaching degree to get started.
When premium students watch your classes for over 30 minutes in a month, you'll receive a payment for that month.
The more minutes they will watch, the more you will make.
Apart from that, if someone joins Skillshare using your referral link, you'll get $10 as a bonus.
There are many teachers who are making over $300 every month and some top teachers are earning over $1000.
You can learn more by reading my Skillshare review post.
6. Amazon Associates

Amazon Associates is the affiliate program for Amazon products where you can join in and promote their products to get commissions.
Joining them is quite easy and there is no need to have a blog to get started. Even though a blog can do wonders for you but you can get started having a YouTube channel.
Once you join them, you can get affiliate links for any product you like to promote. These affiliate links have your affiliate id in it which ensures that whenever anyone clicks and purchase the product, you get a commission.
Even if the person purchase something else, you'll still get the commission.
Suppose, if you are promoting a camera and the person instead bought a TV by clicking your link, you will receive the commission for the sold product. This gives you enough room to make a great side income.
You can easily make over $1000 per month if you have a high traffic YouTube channel or a blog.
7. YouTube
Obviously, how can we miss this platform?
I think everybody knows how YouTube works and how you can make money from it?
You just have to create a channel and upload videos on it. Once you hit at least 1000 subscribers and 4000 hours of watch time, you can apply for monetization via Google Adsense.
Now, many YouTuber struggles to get views and subscribers which affect their income.
Obviously, to make a decent income, you should get a lot of views per month. For that, there are only two ways to achieve it.
Pray so that your videos get viral, which obviously can get you a lot of subscribers and views.
Rank your videos on YouTube search engine so people can find your videos by typing and searching keywords.
The first one is not much in your hand, but the second one is.
You just got to know the right way to do YouTube SEO that will ensure your videos are getting ranked for keywords.
Once this happens, your views will automatically skyrocket and you can expect better Ad income.
Additional Resource
Join The Survey Companies
Doing surveys can be an annoying thing for many people, but it can definitely help you make extra money.
I know there is a huge problem of getting rejection while taking surveys, but there are people who are successfully completing it.
There can be many reasons for rejection, but it shouldn't stop you from taking surveys because you got nothing to lose.
You will be glad to know that there are many survey companies that appreciate your time and credit your account with points for just trying.
So, even if you get rejected, you will still make a few points, and that adds up to your account.
Companies like Ipsos Panel, Toluna, Lifepoints, E-Poll are a few of them. You can learn more about high paying survey sites here.
So, I hope these 7 best websites to make money online for free will really help you to add a nice side income.
Now, its your turn to try them and see if it is really worth your time. If you know any other genuine website that can be added to this list, let me know in the comment section.