Disclosure: This post contains affiliate links. If you buy or sign-up through one of those links, you won't pay a penny more but we'll get a small commission that helps us in running this blog. Read the Disclosure page.
A web host is the backbone of your website. If your web host is crap, that would directly impact your website.
Today, there is so many web host available on the market. Due to which it becomes so difficult to decide which one is actually worth spending money on.
I have seen many people suggesting Bluehost due to its cheap price & good performance. Bluehost also doesn't leave any opportunity to promote their service.
However, many of the readers don't know the real truth behind Bluehost services which I am going to reveal here.



BLUEHOST VS SITEGROUND VS A2 HOSTING COMPARISON REVIEW 2018
The internet is filled with mostly fake reviews just to make money by fooling the readers. It becomes quite hard to decide whom to trust.
So considering that I will be giving my genuine opinion about three web host that I have used personally.
Thus in this article, I will be comparing Bluehost with Siteground & A2 Hosting. Throughout the article, I will be showing you why Siteground is the best web host than the other two with genuine reasons.
I also included A2 Hosting just because they are also a great option to consider against Bluehost due to some of its features. (You will know why).



WEB HOSTING FEATURES COMPARISON
Now let's get down to the business. I will be comparing some features of all three of them so that you know what are the differences & whom you should trust.
Following features are on my list
Speed
Uptime
Support System
Security
Price Structure
Site Migration/Transfer
Refund Policy
Shared Hosting Plans
Pros
Cons
User Opinion
How to switch from Bluehost to Siteground
How to cancel & get a refund from Bluehost (within 30 days)
Final Note
Infographics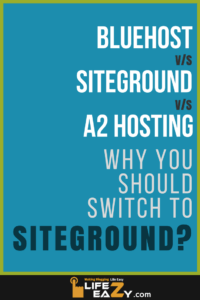 LET'S SEE WHO IS FASTER?

BLUEHOST SPEED
Have you ever visited a website that takes forever to load? I mean, who waits that long?
Eventually, the visitors time is very important. Otherwise, they might click that back button and visit another website & BAM that's how you lost a visitor.
Do you know that majority of visitors wait for 3 seconds to load a page? If it takes more than 3 seconds, they will probably hit the back button.
This was the case when I was using Bluehost. My pages use to take forever to load. Sometimes, it was like 30 secs. Yikes!
Bluehost uses HDD technology which provides average speed. I guess instead of spending money on promotion, Bluehost should work on their speed.

SITEGROUND HOSTING SPEED
Siteground Hosting is whereas quiet better than Bluehost in terms of speed. The reason behind such great speed is the usage of SSD technology (which Bluehost lacks).
SSD stands for Solid State Drives & are more expensive. This technology increases input/output operation speed to 1000x which results in faster loading speed. (sorry for being Lil' techy)
Apart from that it also uses NGINX server speed, Geeky SuperCacher, Free CDN (Bluehost also uses), HTTP/2 Enabled servers, PH7 & HHVM. To be honest, I don't know what they are, but they give lightning speed.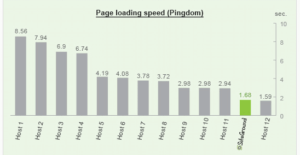 So, that is why it clearly beats BlueHost in terms of speed. The pages that usually took 30 secs to load with Bluehost, now takes mere 1.7 – 2 secs & sometimes less with Siteground.

A2 HOSTING SPEED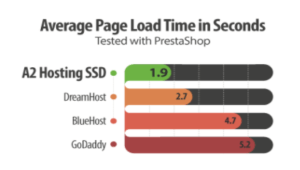 I would say that A2 Hosting is behind SiteGround but above Bluehost in terms of speed.
A2 Hosting also uses SSD technology which boosts its loading speed. Apart from that, they also have Turbo server in their advanced shared hosting plan which promises to increase site speed by 20x.
I haven't used that yet, so I can't comment on it. But, it seems legit.
Who knows, with the help of Turbo server, A2 hosting can beat SiteGround in speed. If you look at A2 Hosting article where they compare their speed with Siteground, they clearly beat them using Turbo server.
So, if you can afford their Turbo shared hosting plan, then I think A2 will be the winner. But for now, I would put Siteground as the clear winner
HOW ABOUT UPTIME?
BLUEHOST UPTIME
Talking about Uptime, there use to be times when my site was down. I use to get the server down emails every week which was quite frustrating.
I don't know what was their problem, but due to that, I lost many precious visitors & sales. You might have read this phrase "The first impression is the last impression".
I mean if I visit a website and it flashes me server down errors. I probably won't visit that site again. Therefore, you have to make sure that you won't face such problems.

SITEGROUND UPTIME

You know what, Siteground has an uptime of 99.99%.
No, it's true.
This means that you don't have to worry about any server down problems and can have a sound sleep.
Actually, Siteground uses Linux containers, proactive server monitoring (I don't know what they are 🙂 ) etc which enables them to keep their uptime up to 99.99% & sometimes 100% as well. (Yes really)
A2 HOSTING UPTIME
If I talk about A2 Hosting, they do have a good uptime. A2 claim on their website that they have 99.99% uptime.
But I had some server down issues on my website. So, I contacted them & they told me that my site wasn't properly optimized.
So, when I researched it. I came to know that few of my pages had so many redirects due to which my website was using all the resources that resulted in 500 error.
However, when I fixed it, I haven't faced any problem yet. My site is running smoothly now. So, I do believe that they also have a great uptime.
SUPPORT SYSTEM

BLUEHOST SUPPORT SYSTEM
Back then, my site had so many issues. I use to contact Bluehost support team trying to figure out what the heck was going on.
And all I did is WAIT. Yup, I use to wait 20-30 mins to finally get an answer from them. Sometimes, they were not able to solve my query & instead offered pricey solutions.
Like, one day when my resource usage exceeded, my site went down.
I finally contacted them about the problem. Now, instead of solving the problem, they suggested me to change my shared hosting to VPS hosting (the same problem where A2 support team suggested me to properly optimize my site to tackle this issue).
Like, I mean what the heck! Resource usage problem can also be solved by properly optimizing the site. There is no need to upgrade to higher plan until & unless you are getting massive traffic.
So, that's one reason why I consider their support system to be trash. 

SITEGROUND SUPPORT SYSTEM
Damn, I just love their support team. They are so quick to answer your problem.
Once, I had a concern about Site migration. So, I just contacted them from their Live Chat. Within 2 minutes, they replied to my query.
If you don't believe me, just visit their live chat and ask a question. They will quickly reply you within few minutes.
Whereas if you try the same with Bluehost, either their team isn't available or you have to wait (not every time). The Siteground team is well qualified and give perfect solutions to your problem.
They don't sound as if they want to sell their service & make more money.

A2 HOSTING SUPPORT SYSTEM

A2 Hosting also has a better support team or I should say, Gurus. Whenever I contacted them, they always provided me with better solutions.
On top of that, to clear my doubt, they also provided me with knowledge-based articles so that I can learn more about the problem.
But on the other side, sometimes whenever I contact them, I had a couple of problems. Either I have to wait in a queue or sometimes their chat service is not available when its overcrowded with other users.
It doesn't happen every time as nothing is perfect. But still, I am quite happy with their team due to their helping nature.
SECURITY

BLUEHOST SECURITY
Sorry to say, but Bluehost security is pathetic. There are many incidents where sites were hacked or malware was detected on the websites. Thus to tackle it, Bluehost provides Sitelock.
If you opt for Sitelock, you will get spam monitoring, business verification, site verification certificate, blacklist monitoring, Malware monitoring, DDoS protection etc.
Sounds great right?
Well, it's a great feature. But here is the catch, it isn't free. You have to pay $1.99/mo for the same.
Also, whenever you encounter any security problem. If you contact the support team, they will always suggest you buy site lock. It is because Sitelock is a third party service where Bluehost earns 55% commission for every Sitelock they sell. Got it?
But a good thing about Bluehost is that they provide free SSL certificate. This basically secures & encrypts information between a browser & user.
Which means the username, password, credit card information will be safe & secure. By the way, this is indicated by a green padlock in the address bar of the browser.

SITEGROUND SECURITY

Honestly, Siteground pays a lot of attention to its security. They have a malware detection system known as Hack Alert which warns any malware detection at an early stage.
They also offer DDoS protection which is awesome. On top of that, they also have sophisticated IDS / IPS systems in place which block malicious bots and attackers.
Like Bluehost, they also provide free SSL certificate from LetsEncyrt.
There are many more security features included in Siteground which ensures that you run a website without worrying about getting hacked.

A2 HOSTING SECURITY

Without a doubt, A2 Hosting's security is also top notch. They use a Perpetual security system which is an advanced security protocol in all their plans.
This includes dual firewalls, brute force detection, virus scanning, server hardening, and more.
You don't have to pay any extra amount like Bluehost for the security. Plus, they also provide Free SSL certificate from LetsEncrypt.
So, you see Bluehost is the only one who charges for extra security which I think is not good.
PRICING STRUCTURE

BLUEHOST PRICING STRUCTURE
Well, you might be thinking that at least Bluehost is cheaper than the other two. Yes, it sounds cheaper, but it isn't. Let me tell you why?
If you have seen Bluehost ads, they advertise that their web host service starts at $2.95/mo. Well, it's true. But not like you are thinking.
If you want to pay $2.95/mo, then you need to purchase their shared hosting plan for 36 months i.e. for 3 years.
Ouch, that hurts. But it is darn true. They are clever with their promotional strategies. If you want to use their service for 12 months i.e. 1 year, then you need to pay $4.95/mo.
On top of that, they enable other add-ons during payment. Due to which, you might end up paying for them as well if you don't disable it. These add-ons aren't necessary.
SITEGROUND PRICING STRUCTURE
Siteground doesn't play any mind games with its customer. They have a clear pricing structure without any bluff.
They charge you $3.95/mo for 1 year & so on. However, they don't offer a monthly web host plan. These are only applicable for cloud hosting & enterprise hosting.
If you want to use their plan, you have to enroll for a minimum 1 year. But. they don't charge any extra money as in the case of Bluehost.
A2 HOSTING PRICING STRUCTURE
Just like Bluehost, they also have a similar structure. They advertise a starting price of $3.92/mo for shared hosting. But in actual, you have to pay for 36 months in order to get that benefit.
If you go for 12 months plan, then you need to pay $4.40/mo. It's actually more than Siteground but less than Bluehost.
If you are paying $4.40/mo, they are worth it due to their speed, service, security system etc. On top of that, they also provide a monthly plan which cost $9.99.
SITE MIGRATION/TRANSFER

BLUEHOST SITE MIGRATION
Bluehost offers site migration which is a great thing for non-tech bloggers. However, Bluehost doesn't want to give away this service for free.
They charge $149.99 for migration up to 5 websites. I think they shouldn't charge for this. I don't know if you have paid for it, but this is complete bullshit.
SITEGROUND SITE MIGRATION
Here comes the best part, Siteground provides this service free of cost. Yes, it's right.
All you need to do is contact them via support and raise a ticket for the same.
Within 24 hrs, they will completely transfer your site to the Siteground for free which is a big relief for bloggers like us.
There are bloggers whose site was migrated within an hour. My other website was transferred from Bluehost within 3 hours.
A2 HOSTING SITE MIGRATION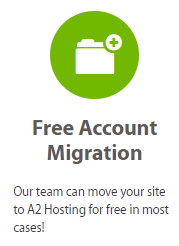 Just like Siteground, A2 Hosting does the same thing. They won't charge you for site migration.
This website was completely transferred from Hostgator India (1st web host I used) within few hours which was amazing.
REFUND POLICY

BLUEHOST REFUND POLICY
Bluehost has 30 days full refund policy. This means that you will get a full refund if you cancel their service within 30 days.
Also, one thing to notice is that you won't get any refund if you plan to cancel their service after 30 days.
I hope you don't go through this phase. I mean to say, opting for Bluehost service.
Even, if you try them, they might give you better service for the 1st month, so that you stick with them. After that, you may encounter problems such as slow speed, downtime etc.
So choose wisely.
SITEGROUND REFUND POLICY
Well, there is not a question that you will cancel their service. But still, I will tell you about their refund policy.
They also have 30 days full refund policy just like Bluehost. Plus, you won't get any refund after 30 days.

A2 HOSTING REFUND POLICY
This is something I like about A2 Hosting. They too have 30 days full refund policy.
But here is the catch, If you want to cancel their service after 30 days, you will get a prorated refund.
Didn't get it? Let me explain to you
Suppose you are planning to cancel your 12-month web host plan after 6 months, you will still get a refund for the remaining 6  months.
Same if you cancel after 2 months, you will get a refund for the remaining 10 months (for 12-month web host plan).
Isn't that great, I mean this is the best thing I like about them. They are so confident & honest with their service which is something I admire a lot.
SHARED HOSTING PLANS

BLUEHOST

Bluehost offers three shared hosting plans. They are
Basic – $2.95/mo for 36 months plan ($4.95/mo for 12 months plan)
Plus Plan – $5.45/mo for 36 months plan ($7.45/mo for 12 months plan)
Prime Plan – $5.45/mo for 36 months plan ($7.45/mo for 12 months plan)

SITEGROUND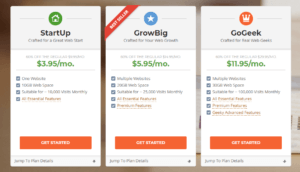 Siteground offers three shared hosting plans. They are
StartUp Plan – $3.95/mo (fixed for all year plan)
GrowBig Plan – $5.95/mo (fixed for all year plan)
GrowGeek Plan –$11.95/mo (fixed for all year plan)

A2 HOSTING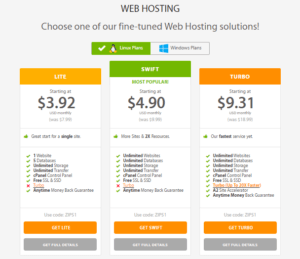 A2 Hosting has the following plans:
Lite Plan – $3.92/mo for 36 months plan ($4.40/mo for 12 months plan)
Swift Plan – $4.90/mo for 36 months plan ($5.39/mo for 12 months plan)
Turbo Plan – $9.31/mo for 36 months plan ($10.28/mo for 12 months plan)
Please note that the starting plan for all the web host is suitable for one website. However, if you have more than one website, then the second plan is suitable.
But if you have a high traffic website or an e-commerce website, then the third plan will be the most suitable one.



PROS
BLUEHOST
Free SSL

WordPress Friendly (Suggested by WordPress)

Unlimited Storage

Free Domain

Free CDN

SITEGROUND
Best speed

Great Uptime

Best Support system

WordPress Friendly (Suggested by WordPress)

Great Security

Servers located in different locations in the US, Europe, and Asia that helps to optimize faster speed

Affordable price

Free site migration

Free SSL

Free CDN

A2 HOSTING
Great Speed

Top notch Security

Good support system

Anytime money back guarantee

Good Uptime

Unlimited Storage

Free site migration

Free CDN

Free SSL
CONS
BLUEHOST
Slow speed

Poor customer service

Lots of downtimes

No free site migration

Bad security

SITEGROUND
Limited Storage (You can optimize your site to tackle it)

No free domain

Default cache plugin isn't great (Use W3 Total cache plugin instead)

A2 HOSTING
Slightly pricier

No free domain
USER OPINION
Please note that there are good and bad opinions for all of them. But what I am showing here are the majority users opinion. Whether they are happy with their web host service or not?
BLUEHOST USER OPINIONS
SITEGROUND USER OPINIONS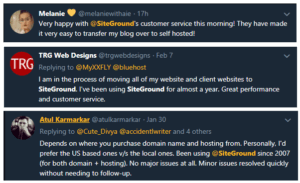 A2 HOSTING OPINIONS




HOW TO SWITCH FROM BLUEHOST TO SITEGROUND
While switching web host, we are all concerned about the temporary problems we are going to face during migration such as downtime.
But thankfully, I didn't experience any downtime during the whole process. Actually, it was pretty straightforward & easy.
If you are too concerned, you can follow the guidelines which I am about to share now. First, let's start by choosing a shared hosting plan from Siteground.
1. Choose a hosting Plan from Siteground
Visit Siteground and purchase any of the hosting plans. You can use my affiliate link to get 60% discount. (I will also earn a little fee)
2. Enter your domain name & other details
After selecting the plan, click on "Get Started".
Enter your domain name & enable "Free website transfer" option. Remember, Bluehost charges $149.99 for the same.
Click "proceed" & review your entire purchase details. Make sure that "Free SSL certificate" option is checked.

Finally, proceed with the purchase.
3. Request for FREE Site transfer
Open your Siteground dashboard and click on "Support" tab on the top menu.
Scroll down to "Request Assistance From Our Team" and click "Contact Us Here".
A tab will open up. Click on "Transfer website".

Now, you need to provide Bluehost and WordPress log-in details. After that, submit your support ticket.

Siteground will begin your web host transfer procedure within 24 hrs. (Sometimes it takes within an hour).

You will receive an e-mail once it is done.

You will also require changing your nameservers to Siteground nameserver. You can do that by visiting your domain service provider. In my case, I went to my GoDaddy dashboard and changed the nameserver.

If you have any problem regarding changing nameserver. Simply visit Google or Youtube & search for it.
HOW TO CANCEL & GET REFUND FROM BLUEHOST (WITHIN 30 DAYS)
So, finally, after you have completely transferred web host. It' time to say "bye-bye" to Bluehost. But, remember you will only get the refund within 30 days of cancellation.
1. Contact Bluehost
The first thing you need to do is to contact Bluehost. To do that, you got these options
Submitting a Support Ticket

Online Chat

By phone (1-888-401-4678 ext. 4)

Requesting a Cancellation Form
2. Request for cancellation
To do that, simply chat with the support team & tell them that you want to cancel their service. Do remember that this refund is not applicable for any extra services such as domain.
3. Verify the Cancellation
Bluehost will send you a cancellation link on your e-mail.

Clicking on that link will take you to the dashboard.

You'll need to verify your personal information, confirm whether you have the backups (Siteground already did that for you) and accept the cancellation terms. You also need to provide a reason for cancellation.

Once you have verified, click on submit. Congrats, you have finally left Bluehost. By the way, your refund will be on the way.



FINAL NOTE – SITEGROUND IS THE WINNER
As you can clearly see, why I was bragging about Siteground. Clearly, Siteground provides top-notch service. I will put A2 Hosting as my second option.
However, please note that this article is based on my personal experience. The results may vary depending on the location.
But as far I see, the majority of people are having problems with Bluehost. Whereas with Siteground, the majority of them are happy with their service. So I may not be wrong.
Well, what you think guys? Do let me know!
>>Read Next: Thinking of buying Siteground – Check out this review
SHARE THIS INFOGRAPHIC