When you click the links and ads on this blog, it helps me to pay the bills & keep this site free for you. Thanks for supporting me! For more info, read the Disclosure page.
Pinterest used to be a puzzle for me because, on one day, I see a hike in traffic, and the other day, I saw crickets. The hike was due to a pin getting viral, but it couldn't last for one day. Though I always enjoyed such traffic, consistency was always my goal.
To figure out what I should do, I tested three strategies that gave me better results. It started giving me consistent traffic, and I stopped chasing viral pins.
If you're dealing with the same problem & want regular traffic from Pinterest? I have listed the three strategies I did to drive more visitors.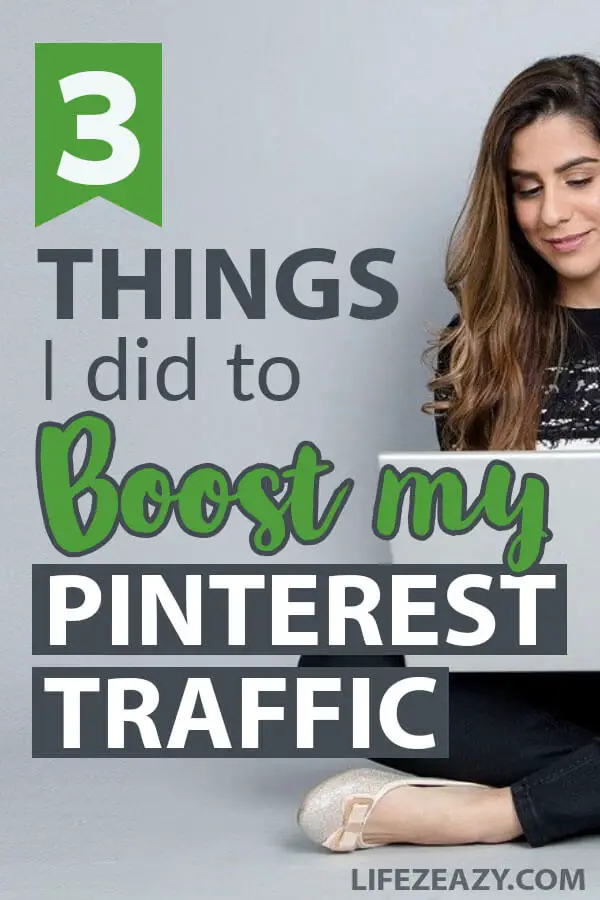 Read More:
3 Strategies I Implemented To Boost My Pinterest Traffic
All three strategies are working well for me, and I am sure it will work for you as well. But before implementing them, make sure you give it at least a month to see the desired result.
1. Create More Niche-Specific Personal Boards
Earlier, group boards were so powerful that everyone wants to join them. It was one of the best ways to get quick impressions on pins because of so many followers & collaborators.
However, the only problem group boards have is that the collaborators can either make or break it. If you don't know, a board performs well, when all the pins saved are related to the board name & description. But if collaborators are saving random pins, it will impact its reach.
For example, if I am saving food recipe pins in a Finance group board, it will only hurt the board. Because of such things, group boards are no longer powerful as compared to niche-personal boards.
Now, it doesn't mean you have to avoid them. In fact, join niche-specific group boards having quality pins. By quality pins, I mean those pins having the same topic as the group board. Once you have enough followers on your profile, you can entirely rely on personal boards, which is a better option.
If I talk about myself, I don't save my pins on group boards anymore. Instead, I am more dependent on personal boards & have seen better results.
2. Create More Pins Targeting Different Keywords
In blogging & YouTubing, you can expect more traffic when you have more content. Likewise, Pinterest also follows the same pattern.
You can't expect a stream of visitors visiting your blog if you have a few pins. You need to push several pins targeting different keywords to see a considerable change.
Till now, I have uploaded over 620 pins on Pinterest that give me over 1,200 visitors daily. Even though it took a great deal of work, it was worth it seeing the traffic.
When you are promoting a post on Pinterest, don't rely on only one pin thinking, it's enough. Instead, create several pins with different headlines and designs to see which one performs the best in terms of clicks.
Based on the successful pins, create more similar pins with little tweaks to increase your chances to drive more traffic. I always make sure I have over 10 pins for each of my posts.
3. Replicate Best-Performing Posts
This is a personal tip that I always follow, no matter which social platform I use.
What I do is, I play around social media to see which of my posts are generating traffic & which one of them isn't.
Based on the information, I create more similar posts that are working and promote them on the same platform to double my traffic.
The exact strategy works on Pinterest. You just have to check your analytics to see the best performing posts. Based on the result, create more similar posts to improve your traffic.
For example, business ideas related posts are working well for me. They give me good traffic as compared to other posts on Pinterest.
So, what I did was, I created more posts on the same topic & promoted them. To my surprise, I could double and even triple my traffic. If you look at my blog, you will find I have targeted "business ideas" keyword thrice. Here are the posts I created.
8 Best Online Business Ideas Without Investment
12 Unique Business Ideas To Make Hefty Cash
6 Part-Time Business Ideas With Low Investment (Make $1000/Mo)
The first post was already a hit for my account. So, I created two more posts on the same topics with a little tweak. The end result is, now I have three posts that are equally doing well.
Final Suggestion to Further Improve Your Pinterest Traffic
These are the few things I did to boost my Pinterest traffic. But honestly, I have been doing other things lately from Pinterest Strategies eCourse that drives over 1,200 visitors daily.
Carly from mommyonpurpose.com is the creator of the course who gets over 200k visitors per month from Pinterest. She teaches you a special manual pinning method that doesn't need any scheduling tool. So, if you're interested in learning more, you can click here.
Besides, if you have any other doubt, ask me in the comment section.