When you click the links and ads on this blog, it helps me to pay the bills & keep this site free for you. Thanks for supporting me! For more info, read the Disclosure page.
Thinking to start an email list but don't have enough budget to spend money on paid tools? This post will teach you how to start building an email list as a beginner.
As you might know, email marketing has the highest conversion rate among all the marketing channels. As per the HubSpot, it has an average ROI of $38 for every $1 spent.
That's why many blogging gurus put more emphasis on building an email list right from the beginning.
If you haven't started yet? This guide will explain a general roadmap on how you can capture email addresses of your readers without spending a dime.
So, without any further ado, let's first understand why an email list is necessary.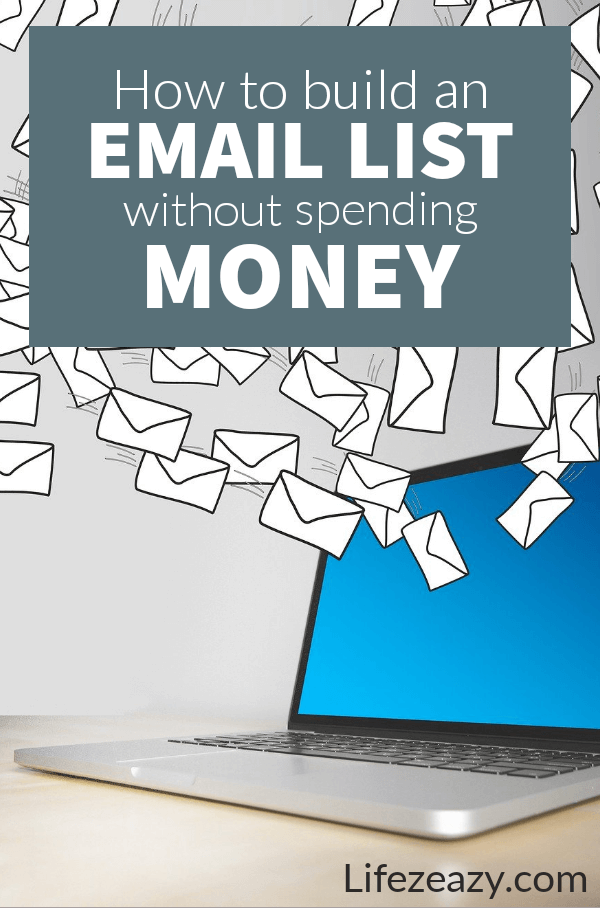 Read More:
What Is An Email List?
An email list is a collection of emails that an online marketer has collected through their blog or website. It is used by an individual or online business to send marketing-related emails to the subscribers.
Why Building An Email List is Important?
1. A More Personal Way Of Communication
With an email list, you can directly land into your reader's inbox.
Unlike blog posts where you have to rank them on the search engine to deliver your message, the email list doesn't need any sort of ranking system. Thus, making it a better way of communication.
It is like having your subscriber's contact number where you can send them SMS anytime you want. Because of this fact, an email list provides a more personal way of communication.
2. Email List Helps To Reach Potential Buyers
When a reader joins your email list for receiving the lead magnet, you already know what they like.
For example, joining an email list for downloading an SEO ebook (lead magnet) shows that the person is interested in learning SEO.
So, when you know their interest, you can send them more relevant offers in the future to get better results. This includes recommending affiliate products, and your own products.
Thus, building an email list helps you to reach out to those users who can become your potential buyer.
3. Nothing Can Influence Your Email List
Whether it is your social media campaigns or SEO, it does get affect when there is an algorithm update or change in policies. Thus, impacting your business as you can't control either of them.
However, with an email list, you don't have to worry about any algorithm update and policies as it doesn't get influenced by them.
4. Everybody Has An Email
Many popular social media platforms have millions of visitors per month. But do you know, more people have access to the emails compared to any platform?
As per the study conducted by Radicati, over half of the world population used email in 2019.
That's quite a big number & one of the main reasons why many businesses are running behind capturing email addresses of their readers.
They already know that email marketing is the best long-term investment with a much higher return.
What Do You Need to Start Building an Email List?
Till now, you know why having an email list is so necessary for a business. 
Now, you must be thinking about what tools, or resources needed to start building an email list?
Well, usually, you only need three things.
A website or a blog

An email marketing service

High-converting opt-in forms
All of them are simple to set up. As this post is regarding the email list, I will discuss the second and third options i.e, email marketing service, and opt-in forms.
For creating a blog, you can follow my guide on how to start a blog from scratch.
How to Build Your Email List
Step #1 – Sign Up With An Email Marketing Service
Email marketing service tools are the software used in email campaigns. They are used to design, build, send, and optimize emails along with features to measure email metrics & generate email reports.  
Now, there are several email marketing tools available online, and all of them are honestly great. However, if you don't have a big budget but still want to enjoy the features, I recommend Mailerlite.
Mailerlite offers free services up to 1,000 subscribers, where you can send 12k emails per month. Once you are off the limit, you can subscribe to their basic plan at just $15 per month, up to 2,500 subscribers. 
If you look at the price, it is quite affordable for beginner bloggers. Moreover, with the free plan, you can enjoy all the features without paying money until you hit the limit.
Step #2 – Create a Compelling Lead Magnet
Once you have signed up for Mailerlite, you have to create a Lead Magnet.
If you don't know what it is? A Lead Magnet is a freebie offered to the readers in exchange for their email address. A freebie can be anything from an ebook, checklist, email course, video course, etc.
While creating them, you just have to make sure it is something valuable that clicks with your readers. Your lead magnet will only perform better if it solves a problem. If somehow, you don't know what to create? Just refer to other blogs within your niche to have an idea.
For creating ebooks and checklist, Canva will help you a lot.
Step #3 – Create An Opt-in Form for your Lead Magnet
Once you have a lead magnet, it is time to create an opt-in form where your readers can provide their details to download it.
You can follow the below steps to build an opt-in form in Mailerlite.
A) Create A Group
Go to your dashboard and click the Subscribers option located at the top.

Select groups and then click Create a new group option.
Enter the group name and click Create button to create your group.
Once done, the next thing is creating an opt-in form where your readers can enter their name and email address.
B) Create An Opt-in Form
Click on Forms in the navigation menu.
Select Embedded forms and click Create Embedded Form button, as shown above.
Give a name to this form and click Save & continue.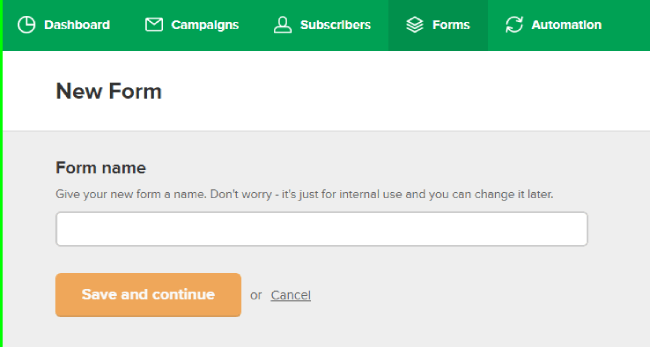 Now select the group created earlier and click Save and continue button to link your newly created opt-in form with the group. As an example, I am using the Freebie group.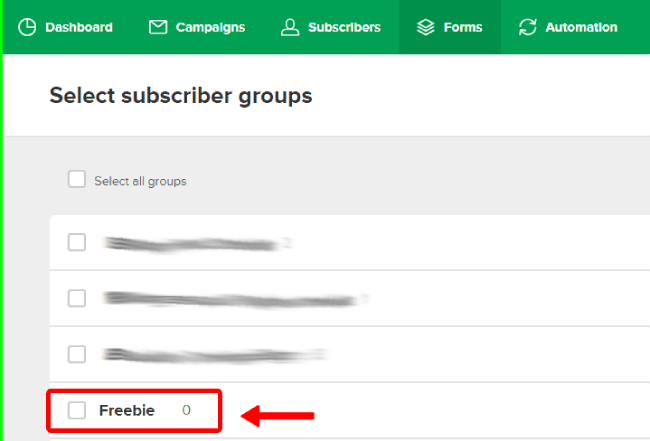 Once done, you will get automatically directed to the form builder page where you can design the form as per your liking.

Click the Done editing button once you have built your form.
Step #4 – Create An AutoResponder
An autoresponder is an email that is sent automatically to your subscriber as soon as they join your list.
Usually, it is a welcome email where you not only give them the promised lead magnet but also introduce yourself & your blog to the subscriber. This way you can build a connection with your subscriber right away.
Now, there are several welcome email templates available online. You can take inspiration from them and write your own.
Apart from the welcome email, you can also create a series of emails to send them via. automation. It can be anything like
Blog post updates

Emails about your products

Affiliate product promotions
Generally, these emails are created to sell a product to the subscribers. 
For example, when you download a freebie (let's say a keyword research ebook), you will get a series of emails that talk about the problems on the same topic. 
Then, as a solution, the blogger will pitch a paid keyword research tool in the last email. Thus, converting the subscriber into a buyer. 
Now, to create automation on Mailerlite, follow the below steps.
How To Create Automation On Mailerlite?
Click the Automation option in the navigation menu & then click the Create a new workflow button on the next page.
Enter your Workflow name (lead magnet name) followed by selecting the trigger reason. Here, choose when a subscriber joins a group option. With this setting, your automated emails will be sent to individuals who join your list.
Once done, you will see another option popping up just under it. Choose the group you want to link with the automation & hit save. In your case, select your earlier created group.

After saving, you can see a plus sign on the main screen. This is the place where you will control which emails will be sent to your subscribers at what interval.

Click the plus sign & choose the delay option where you can set the delay time for sending emails. For example, your automated email will be sent to the subscribers after three days of joining if the delay period is set to 3 days.
Once the delay period is set, click the sign again under the delay box and select email. This will add an email window.
Click the window and enter the subject name on the right side. Here, you also need to design your email that will be sent to your subscribers.
Repeat the same process again, depending on how many emails you are planning to send your subscriber.
You can use the automation feature to send an email series or an email course to your newly joined subscribers.
Not only it reduces a lot of manual work, but it also helps to nurture your list essential for building a relationship.
Step #5 – Include Your Opt-In Form in Your Blog
After creating an opt-in form, you have to place them on your website. Now, there are two ways to do so.
Use a text link –

 When a text link is placed, anyone clicking it will be directed to a landing page having your opt-in form. To get the link, go to your form settings page on Mailerlite, copy the URL and use it anywhere on your website. 
Use a complete opt-in form –

With this option, you can place the opt-in form in your post, page, or sidebar. To do so, copy the form's HTML code from the settings page and paste it where you want to see them.
The following are some of the best places to put your opt-in forms.
Below content area
Between your posts (inline)
Your homepage featured section
You're about page
Your footer area
Final Thoughts – How To Start Building An Email List
Whatever I have shown here is just a general way to get started with email list building without spending any money.
However, if money is not an issue, you can join Convertkit for email marketing service and Thrive Leads for opt-in forms.
Besides, there are many more strategies involved in email list building that will take you one step further. But for now, following this simple roadmap is enough for you to get started.
If you have any further queries or doubts? Let me know your thoughts down in the comment section.