When you click the links and ads on this blog, it helps me to pay the bills & keep this site free for you. Thanks for supporting me! For more info, read the Disclosure page.
Landing pages are responsible for converting your website visitors into customers and leads. But often time, creating a landing page turns out to be expensive because of high-priced paid tools.
In such a case, you can still create beautiful pages without paying a dime. In this article, I will show you how to easily create a landing page on WordPress for free.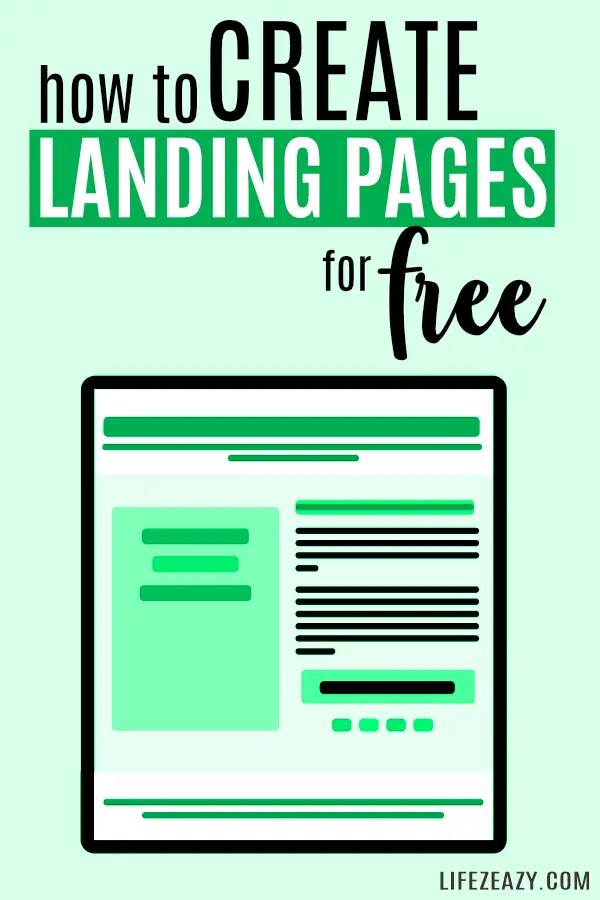 Read More:
What Is A Landing Page?
A Landing page is a standalone webpage designed to improve sales and leads for a business. Whether it is a product, service, or grabbing email addresses of your visitors, a landing page does its job pretty well.
Generally, it has a heading, subheading, a compelling description along with supporting videos & images. Most importantly, it has either a form or a CTA button.
A form is used when businesses want to collect the email address of their potential customers whereas the CTA button is used to direct the customers to the transaction page of a product or service.
How To Create A Free Landing Page On WordPress?
You might know that there are many landing page services online, which are quite costly to afford if you are running your blog on a budget. A few examples are Lead Pages, GetResponse.
In such a case, using a free landing page service, which almost does the same job, is the better choice. Gladly, there are a few WordPress plugins that make it possible for you to design beautiful landing pages for free. One such plugin is Elementor.
What Is Elementor?
Elementor is a freemium WordPress plugin that has a simple drag & drop interface used to design beautiful pages.
It requires no coding so anyone can make professional-looking pages with just a few clicks. Moreover, pages created from Elementor are mobile-responsive, which is the best thing considering most of the visitors come from smartphones.
Talking about the plans, Elementor offers four plans
Free Plan
Personal Plan
Plus Plan
Expert Plan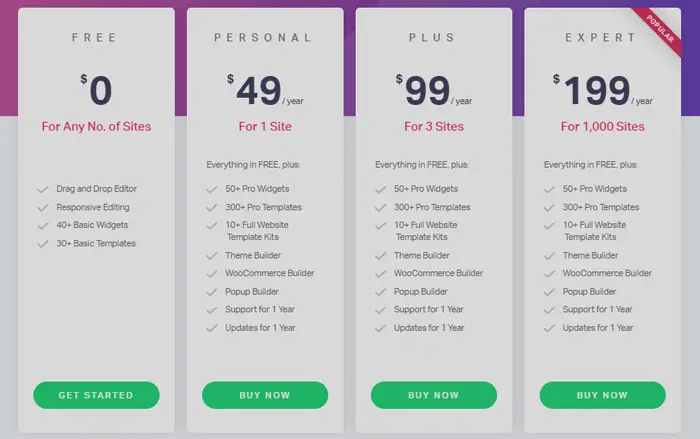 With the free plan, you can create a basic landing page. But if you want to add more elements and need access to more templates, a pro subscription is required, which is just $49/year.
Overall, Elementor is one of the best tools for creating landing pages on WordPress for free.
How To Use Elementor To Build Landing Pages?
To get started, you need to install the plugin. To do so, go to WordPress's Plugins page > Add New > Search for Elementor > Install > Activate.
Once it is activated, start a new page where you want to create a landing page. Here, you can see an extra Elementor tab, as shown below. That's where all the magic happens.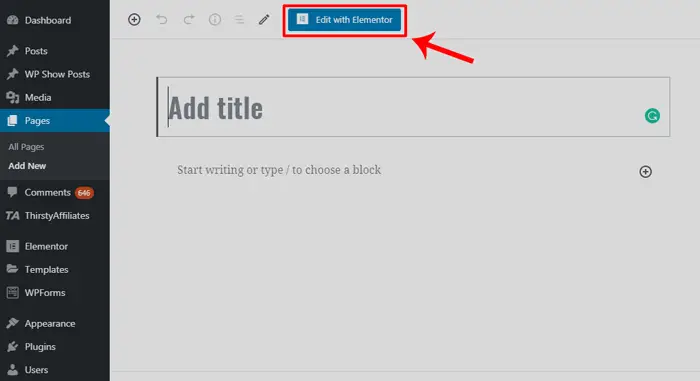 Now when you click the Elementor tab on WordPress editor, you will see a Page Builder dashboard that will look like this.
On the left side, you can see many elements like heading, image, video, etc. Using them, you can create your page by dragging and dropping them on the primary interface as per your liking.
If designing is not your skill, you can also use pre-made Elementor templates, which makes your work simpler. To access them, click on the folder icon on the page, as shown below.
Then, you can see the template library where you can find templates for both blocks and pages. Following is the screenshot of the blocks templates.
And here is the screenshot of the page template which you can use to create your landing page.
Now, the guidelines to create a landing page on Elementor gets clearer, when you visually watch it. That is why I am linking a step-by-step guide video from the official Elementor YouTube channel where you can see how this page builder gets into the action. 
It is an 11-minute video that explains everything you need to know about how to use Elementor. It shows how you can create a basic subscribe page within a few minutes.
If you want to learn more, you can explore their YouTube channel. Here is a sample landing page using the pre-made template.
Wrapping Up
So, this is how you can use this free plugin to create engaging landing pages for your products, freebies, and services.
Elementor is an excellent tool for all the beginner bloggers who do not want to spend money yet want to create a landing page.
Just like Elementor, there are other plugins like SiteOrigin Page Builder (great alternative) & Beaver Builder, which also does the same thing. So, if you did not find Elementor convincing, then you can surely try these alternatives.
Let me know what you think.