When you click the links and ads on this blog, it helps me to pay the bills & keep this site free for you. Thanks for supporting me! For more info, read the Disclosure page.
A logo is a symbol used to identify a company, organization, product, or brand. Being such an important part, usually, logos are costly if you want to have one.
A professional logo designer can charge you from $100 to over $500 depending on the logo you need. Though it's not a problem for brands, it can be a problem for an individual having a tight budget.
In such a case, you can try DesignEvo, which is a budget-friendly platform to create beautiful clean logos.
With a one time investment of a few dollars, you can create several logos at your fingertips and use them anywhere you want.
Now how much does it cost? What are its features? If you're eager to know more, I am going to cover all the things in this DesignEvo Review post. So, make sure you stick till the end.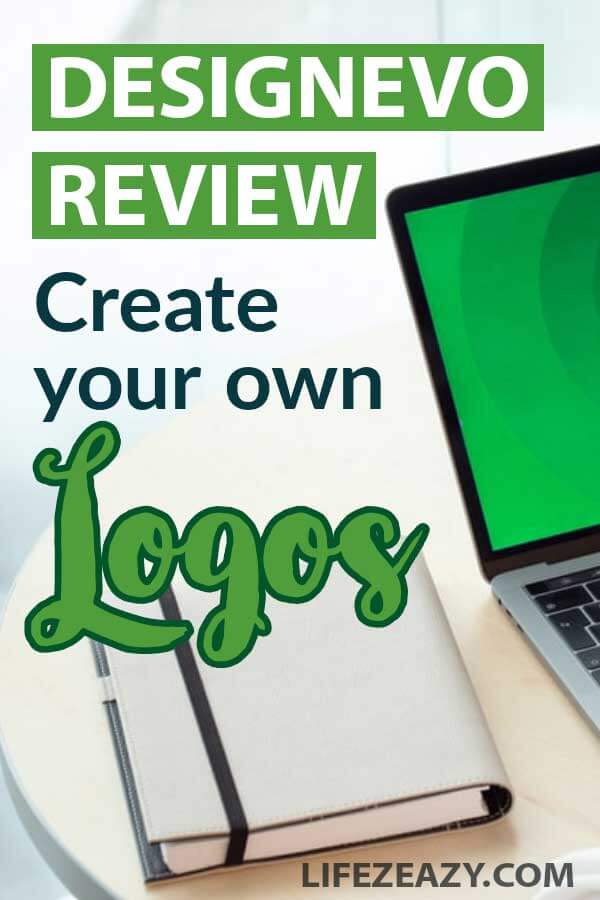 Read More:
Designevo Review 2020
Name: DesignEvo
Website: www.designevo.com
Founder: PearlMountain Limited
Price: Basic plan starts at $24.99, Plus plan starts at $49.99. There is also a free plan.
Overall Rank: 80 out of 100
What is DesignEvo?
DesignEvo is a freemium web-based custom logo builder platform managed by Pearl Mountain Limited, where you can create beautiful logos with just a few clicks.
They offer lots of features that help businesses and individuals to make amazing logos without any prior designing knowledge.
With over 10,000+ pre-made logo templates, thousands of icons & shapes, designing logos with DesignEvo is definitely a friendly & funny experience.
Who is This Tool For?
DesignEvo is targeted for those individuals who want to save money on logo designing. If anyone needs a simple logo for their blog or business but don't want to spend $100 or $500 on a professional logo designer, DesignEvo is for you.
Where Can You Use DesignEvo Logos?
You can use their logos for 
Company or Organization
Software or App
Social Media profile
Brand
Wedding
Business
DesignEvo Pros & Cons
Pros
Over 10,000 pre-made templates
Free to use
User-friendly interface
Lots of icons and fonts to customize your logo.
Cons
You can't upload your own images.
You need to give credit to use the free logo.
Free logos are only 300 x 300 px.
Benefits of Using DesignEvo
1. Save Money on Logo Designing
If you're on a tight budget and couldn't afford to pay $100 or $500 for a logo, DesignEvo can help you.
For a one time fee of $24.99, you can create and download beautiful logos for your business or blog.
If you compare it with buying logos from Logo designers, you can only get one logo for a costly price. However, with DesignEvo, you can create unlimited logos for a one time investment.
2. Customize the Font As You Need
With over thousands of icons, templates, shapes, and fonts, you can easily customize your font according to your taste.
If you like a font template, but don't like the font or color, you can always customize it with your favorite font and color.
DesignEvo gives a lot of flexibility, which makes this platform quite good.
3. DesignEvo is Free to Use
Even though DesignEvo is a paid platform, they have a free plan where you can create or customize logos without paying a penny.
You can use all their features with no limitation to craft your personal logo easily.
The only drawback is that you can't download high-quality logos because you're restricted to only 300 x 300 px. Apart from this, you also have to give credit to DesignEvo while using them.
So, the free plan is only good for testing out their logo builder and if you really created a good logo, you can pay $24.99 to use it.
Features Of DesignEvo
DesignEvo packs up with lots of features that help you create beautiful logos easily. Here are the top features.
1. Logo Templates
Designevo provides over 10,000 templates in 34 categories where all you need to do is add your business name and tagline to create a logo.
I really like how they categorized every template based on the niches, which makes it easier for anyone to choose them.
Also, if you don't want to spend time searching for your favorite template, you can search for them using the search bar.
Overall, DesignEvo has a lot to offer and you can probably create a logo for any niche using their template.
2. Logo Fonts
Talking about the fonts, DesignEvo offers two types of fonts, namely classic & art.
Under classic, you can find over 100 fonts in categories like Bold, Handwriting, Modern (Sans), Traditional (Serif), Funny.
Whereas in art, you can find customized creative fonts in different colors. With so many fonts in all shapes & sizes, you can use them to give a unique look to your logo.
3. Save Logos on Cloud
With DesignEvo, you can save your newly created logos online without any difficulty. This means you don't have to worry about losing any of your creation as you can open or re-edit them anytime you want.
Whether your PC got turned off, or you faced some other interruption, you will not lose any of your data as all the information is stored on the cloud.
4. Preview Your Logos
Often when you create a logo, you need to imagine how it looks on different products.
If you are creating a logo for a T-shirt, you can't imagine how it will look unless you have printed it on a real T-shirt.
Because of such problems, DesignEvo offers a preview mode where you can see how your logos look in different scenarios.
You can view it on a website, T-shirt, visiting cards, or on a book cover. This way you will exactly know how your logos will look in real scenarios.
5. Download Logos in Different Formats
Not only you can download logos in JPG and PNG formats but also SVG & PDF files that can be easily scaled to any size without pixelating. This helps when you want to print logos or use it online without having distortion or blur.
Apart from this, you can also download them with and without background (transparent).
How to Get Started With DesignEvo?
The first step involves choosing a template that represents your business. You can either go with the categories or simply search for a keyword related to your niche.
Enter your company name and Slogan in the box.
DesignEvo will add your details in the logo template and from there, you can either download it or customize it.
For customization, you can change colors, fonts, add more shapes & icons to make it more attractive. If your business has a fixed font and color, you can use them in your logos.
Once you're satisfied with the final logo, you can preview it using the preview mode before downloading it.
If you are using the free plan, you're only allowed to download your logo in 300 x 300 px. However, with the premium plan, you can download in different formats with up to 5000 px.
DesignEvo Pricing & Plans
Basically, there are three plans.
1. Free Plan
With the free plan, you get the following features
Low resolution files limited to 300 px (PNG, JPG)
Edit and Re-download is limited
Credit is required while using the logo
2. Basic Plan
The basic plan will cost you a one time fee of $24.99 having the following features.
Credit is not required
High resolution files up to 5000 px (PNG, JPG)
Transparent PNG
Edit and Re-download is not limited
Lifetime support
Print-ready
3. Plus Plan
Plus plan is the costliest plan among others which charges a one time fee of $49.99. Not only it has all the features from the basic plan, but it also provides additional features such as.
Download logos in Vector files (PDF, SVG)
Download font files
Copyright ownership
To give you a clear idea, here is a comparison table among different plans
| | | | |
| --- | --- | --- | --- |
| Features & Plans | FREE | BASIC | PLUS |
| No need to give credit | No | Yes | Yes |
| Low resolution files (JPG, PNG) | Yes | Yes | Yes |
| High resolution files (JPG, PNG) | Limited to 300 px | Up to 5000 px | Up to 5000 px |
| Transparent PNG | No | Yes | Yes |
| Edit and re-download | Limited | Yes | Yes |
| Lifetime support | No | Yes | Yes |
| Print ready | No | Yes | Yes |
| Vector files (PDF, SVG) | No | No | Yes |
| Download font files | No | No | Yes |
| Copyright ownership | No | No | Yes |
Final Verdict – DesignEvo Review 2020
If you're a small business owner or a blogger who wants to have a decent logo at an affordable price, DesignEvo is for you.
If you're a professional logo designer or want to become one, you can use their service to explore logo design ideas & even revamp it into a better version.
To conclude this review, I definitely suggest DesignEvo who wants to create their own logo to save money.