When you click the links and ads on this blog, it helps me to pay the bills & keep this site free for you. Thanks for supporting me! For more info, read the Disclosure page.
YouTube is a Google-owned video network & considered the second largest search engine in the world. It has more than 1.3 billion users.
According to Fortune lords, almost 5 billion videos are watched on Youtube every single day & the average number of mobile YouTube video views per day is 1,000,000,000.
Having such a huge audience is a great way to promote your business, talent or anything. There are many people who became a celebrity just by posting videos on YouTube and now earning in millions.
So, you can imagine how much potential it has. I know you too wanna start a Youtube channel and wants to connect with millions of people. And probably, that's why you are here.
In this article, I will walk you through the exact steps on how to create a YouTube channel from scratch.
Ready? Let's jump into it.
How To Start A Youtube Channel
TABLE OF CONTENTS
1. How to start a Youtube channel using Google account
2. How to add a YouTube channel icon
3. How to add YouTube channel description
4. How to add a YouTube channel art
5. How to include links to the YouTube channel
6. How to add a business e-mail to YouTube channel
7. Optimize YouTube Videos while uploading
8. Basic equipment to run a YouTube channel
How To Start A Youtube Channel Using Google Account
The first important thing required to start a YouTube channel is a Gmail account which is obvious because Google owns YouTube. I know, most of you already have it. But, if you don't, then it is quite simple to create one.
Now I assume that you already have a Gmail account and are ready to get started. The process is quite easy and it only takes a few clicks to set up a channel. To begin with:
Go to YouTube and click "Sign in" on the top right side
A sign in box will appear. Enter your Gmail & password.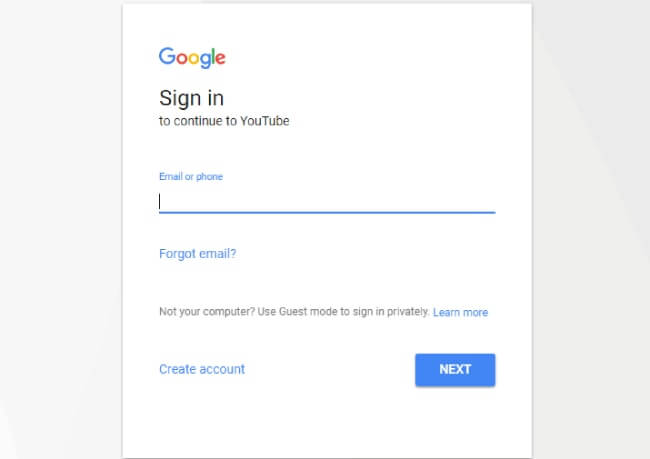 Now that you are logged in. It's time to set up your channel. For that, select the channel icon and click settings as shown.
This will open an overview page which shows some bunch of options. Here, click "Create a channel".
Youtube will ask whether you want to create the channel with your "name" or "brand/business" name. If it's your name, then enter it and click "Create Channel".
However, If you want to have some other name, then click "Use a business or other name" option.
You will be directed to a Brand Accounts page. Here enter your desired channel name and click "Create" button.
That's it. Congrats your channel has been created.
You see how simple is to create a YouTube channel. Just a bunch of clicks & BAM done. However, this is the first step that you have just covered.
Now you need to fill out channel details, update channel art & icon etc which you will see in a couple of minutes. For now, let's just see how to update the channel icon (Profile picture) which is pretty simple.
How To Add A Youtube Channel Icon
Channel icon is just like the profile picture of any social media. This icon is displayed next to your videos whenever someone watches it.
Though, it appears very small, so make sure the icon picture is pretty crisp at a smaller resolution. Normally, you can add your brand/business logo here.
But, if you don't have one, you can create the same with a photo editor tool such as Photoshop. While creating, make sure the icon is 800 x 800 pixels with one of the following formats:
JPG
PNG
BMP
GIF (No animated GIFs)
To update the channel icon, follow the given steps:
Click your channel icon on the top-right side and select "My channel". This will take you to the channel's homepage as shown below. Click on the "Customize Channel" option.

It will open your channel customization page. Click on the pen near the channel icon on the left side as shown by the red box.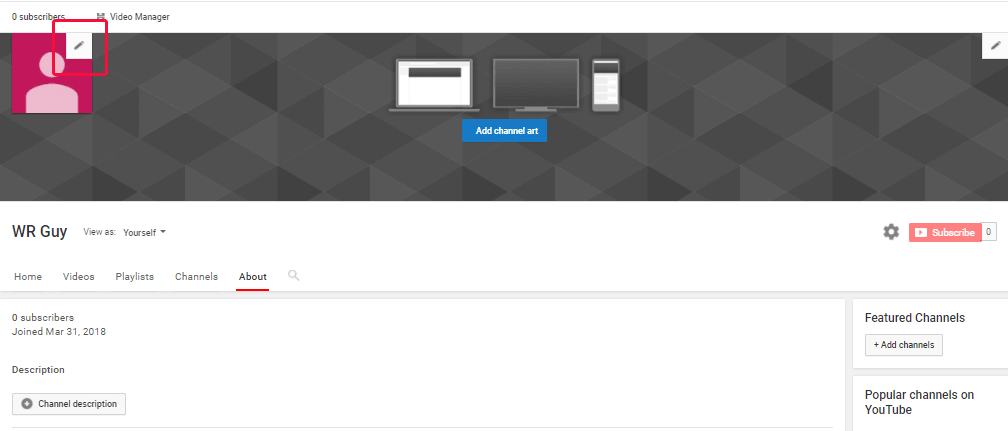 An "Edit channel icon" box will appear. Click on edit.
This will open a "Google About me" page. Click on the upload photo & upload your picture. That's it. You will see the changes within 5-10 mins. Simple isn't it?
How To Add Youtube Channel Description
YouTube channel description is where you can write about your channel and let viewers know about the type of content you create.
While writing a description, make sure that you include quite a bunch of relevant keywords so that YouTube can index your channel based on that keywords.
If your channel is about Cooking, then include keywords related to it. What this does is, when someone watches any random cooking video, chances are YouTube may pop up your videos as a suggestion. This can result in more views & engagement.
Moreover, your channel could also pop up in the YouTube categories as well.
Apart from this, you can also include your uploading video schedule days in the description to let viewers know when to expect your videos.
So, in short, write a friendly description with a good set of keywords to rank your channel better. To do that:
Go to your customize channel page. You can see a "Channel description" button. Click it and update your description here.
How To Add A Youtube Channel Art
Channel art is just like a cover photo or banner that you have on your Facebook profile. Basically here, you can show your personality or show the viewers what your channel is all about.
If you look at TED Talks channel's art, you can easily make out that this channel is about Public speaking where different personalities give speeches to a wide variety of audience.
Similarly, you need to think about your channel art as well. Take time and decide what you want to have in your banner and design it using any photo editor.
The recommended size for channel art is 2560 x 1440 pixel which works great on multiple devices. To make things easy, Youtube themselves provide an example template so that you can design your channel art keeping that in mind.
You can notice that the middle portion is the main part. So whatever is your channel art, make sure the important details are placed in the middle.
Also make sure that if you have a specific logo, try to insert it in the middle so that it fits perfectly in different devices.
Following are the YouTube suggested sizes:
Minimum suggest dimension: 2048 x 1152 px.
Minimum safe area for text and logos: 1546 x 423 px. Larger images may get cropped on certain views or devices.
Maximum width: 2560 x 423 px. This means that the 'safe area' is always visible regardless of screen size. The areas on each side of the channel art are visible or cropped depending on browser size.
File size: 6 MB or smaller.
However, if you are still confused on how to make your banner fit perfectly on every device. Try the following thing:
How To Create A Channel Art That Fits Perfectly
To fit a channel art according to the template, you can use any photo editing tool such as Photoshop. However, if you don't have any of them, then I have a special free online tool for you.
Photopea can be called "Online photoshop" where you can access most of the Photoshop options. It is easy to use and if you are familiar with Photoshop, then you won't have any problem accessing it.
I assume that you already created your banner & are ready to tweak the same using the YouTube channel template. To do so:
Go to Photopea & open the "Channel art template" which you have downloaded from YouTube.
This is how your template will look in Photopea.
Now, open your picture which you want to set as your channel art. The following picture is what I am planning to have as my channel art. (By the way, I am on the extreme left)
Now you have both the picture and channel art template loaded in Photopea. Next, drag and drop your picture into the Channel art template. You can do this by clicking your picture and then dragging it towards your template tab as indicated by red box above. This will open the template window and then simply drop the picture over it.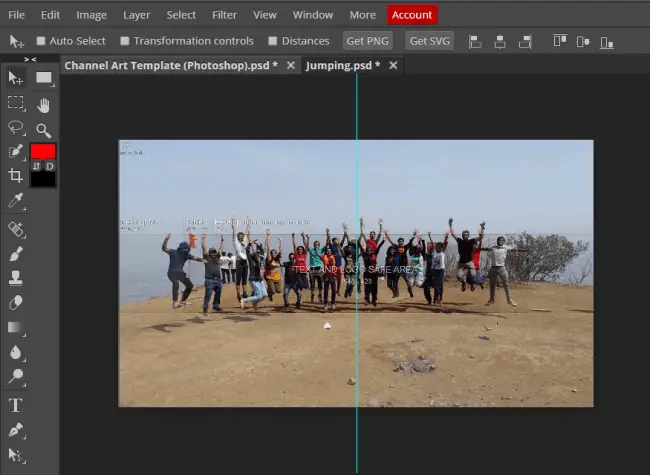 After you are done, you will get something like the above picture. Notice how the template is showing the safe middle section. Make sure that your main picture detail is placed in the middle highlighted section of the template. For me, its all the people jumping that should be placed on my channel art. Now delete both the layers of the template as shown below by red box.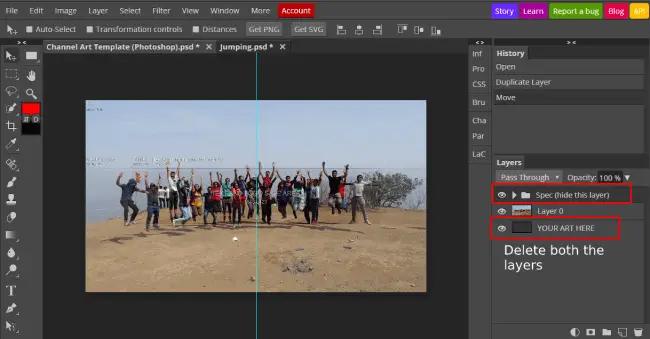 To delete the layer, right-click the same and select delete. That's it. Now save your picture as png by going to "Save as" option under File.
Congrats, you finally have a channel art that fits perfectly on all devices. Next, we will see how to upload the same on YouTube.
How To Upload Channel Art
To upload the channel art, go to your customization page and click on the "Add channel art" button and then upload the picture.
You can see, when I uploaded, it looks perfect on every device i.e. Desktop, TV, and Mobile.
How To Include Links To Youtube Channel
Well, most the YouTubers aren't aware of this fact that YouTube allows integrating your social media or website links to your channel. If you want to build a strong fan base, then you can turn your subscribers into followers too.
You can add any link whether it is Facebook, Twitter, Instagram or your own website. To do so:
Go to your channel homepage and click on the settings icon.
A channel settings box will appear. Enable the customize layout option. This will let you customize all your videos, playlist etc.
Now, go to about page and then click links as shown.
Then, add your required links and click Done.
It will something look like this as indicated by the red box.
How To Add A Business E-mail To Youtube Channel
There are times when someone wants to contact you. It can be either a brand to promote their product or other YouTubers who need to collaborate with you.
So, it's very important to leave the e-mail address that let's other people to contact you. You can do that by going to the About section and then clicking the "e-mail" button as shown below.
Optimize Youtube Videos While Uploading
Only having a channel doesn't mean that you will succeed on YouTube. You need to make sure that your videos are enticing to let viewers like your video & even subscribe to your channel.
Let's consider you made a great video, but how do the people find it? As you know there are millions of videos uploading daily on YouTube. This makes even harder to rank the videos.
But if you follow proper YouTube Optimization guidelines, you can make sure that your videos are more discoverable.
Here are some of the guidelines that must be followed:
1. Title
Make sure your Title is enticing and doesn't sound boring. It should have the capability to attract viewers. This doesn't mean that you include clickbait words.
For this, you can install Tubebuddy which is a YouTube SEO tool that can optimize your channel. Also, make sure that you include your main keyword at the beginning of the title.
2. Description
A YouTube description can be up to 5,000 characters before being cut off. If you look at a video, you will notice that only a few lines of description are displayed while watching a video.
Due to this fact, make sure that you include your important information such as links or any message at the beginning so that it is visible.
Additionally, include your main keywords 2-3 times naturally in the description. This is because YouTube can't visualize your videos. The only way they can identify it is by reading the title, tags, and description.
3. Tags
Tags help to increase the discoverability of videos more. If you have used proper tags, your videos can be displayed in similar kind of videos as a suggestion.
Again, you can make use of Tubebuddy to find good tags that can increase the searchability of your videos. As a caution, never use any misleading tags that can penalize your channel.
Basic Equipment To Run A Youtube Channel
Well, what's the most important thing that is the base of every YouTube video? That's right, audio and video. If your audio is crisp and video quality is good, you are halfway to attract the viewers.
People including me prefer to watch those videos which have a good audio and video quality. Recording a video from your smartphone can take care of the video quality. However, for audio, it just sucks.
So, you need to make sure that you have some basic equipment to run the channel. I would recommend buying the following equipment to have a better experience:
A video camera (Smartphone can also do the job)
Microphone
Tripod
Video Editing Software
A few of my recommendation based on the same are:
1. Video Camera
Having a video camera depends on which type of Youtube channel you are planning to run. If you are going to do Vlog style videos, then a video camera is a must.
But, if your videos are based on screen recordings such as tutorial videos or gameplay, then you require a screen recorder software.
There are many screen recording software available on the internet for free. Personally, I use the free version of TinyTake which allows you to record up to 5 minutes.
For camera's, here are my few recommendations:
A. Professional Video Camera
B. AFFORDABLE VIDEO CAMER
You can check out more Vlogging cameras for every budget here.
2. Microphone
Like I said before, even if you don't have a video camera, you can still manage video recording from a smartphone. However, that's not the case when audio is considered.
Smartphone audio recording has a lot of noise and it's not much audible. You don't wanna make your viewers dislike your videos. Right? So, it is very important to have a microphone.
There are many cheap microphones available on the market. Following are some of my recommendations:
You can find more awesome microphones here.
3. Tripod
Everybody hates shaky videos & I agree with this point. However, if you are vlogging then shakiness can be expected.
But, if you are doing normal videos where you need to sit/stand in front of the camera, you don't wanna experience shakiness. A stable still video recording is a must in such cases.
There are many tripods available on the market which tackles the above problem. You can check out a few of them below:
4. Video Editor Software
When you have all the basic equipment, there is one more thing where the magic happens. Yes, Video editor software.
The software lets you edit your videos the way you want. If you have a great sense of editing, you can make your videos pretty alluring that hooks your viewers.
You can find many software on the internet. They all are great, but some of them are very complicated to use. However, following are some of them that you can try:
Wrapping Up – How To Create A Youtube Channel
You see, creating a YouTube channel is not at all difficult. I have covered all the important steps that are required to start a channel.
However, there are more YouTube settings which will further customize your channel. You can find those while you explore more.
If you need to know something specific, you can drop your questions in the comment section. I will be happy to answer them.
That's it. Thanks for making it till here. Plus, don't forget to share it on social media. Cheers.
>>Read Next: