Whenever we discuss SEO, we have heard the words dofollow & nofollow links. While many newbie bloggers get confused with these terms.
So, If you are new to this or just getting started with SEO, then these terms is a must to know. In this article, I will discuss what are they & how to detect them.
But before that, let's see how Search engine index pages if you aren't aware of it.



HOW SEARCH ENGINE INDEX PAGES?
Usually, search engines like Google, Bing, and others have their own algorithms to scan the web pages across the websites on the internet. They do this with the help of Bots, Crawlers or Spiders
When these bots scan web pages, then this action is termed as crawling. After some processing, such crawled pages are stored in the data centers for their search engine results.
The act of storing these web pages in the data centers is termed as indexing. Such indexed pages will be shown in the search results known as Search engine Related Pages (SERPs). 
You can remove such pages by using Google's webmaster console & that action is termed as de-indexing.



WHAT ARE BACKLINKS?
Backlinks are the external links from different websites pointing to your website. Now backlinks are an important factor considered in SEO to rank your website in SERPs.
But all backlinks are not the same. Some backlinks are important & some are not.
Basically, there are 2 types of backlinks.
Dofollow Backlinks
Nofollow Backlinks
Considering SEO, Dofollow links are important and plays an important role in increasing your SERP as well as Domain Authority.
Whereas Nofollow links are of no use considering SERP, but it can help you to drive traffic to your blog. Nofollow links don't play a role in improving SEO ranking or visibility of your website.
>>Keep Reading: How to find & fix broken links on your blog to enhance SEO



WHAT ARE DOFOLLOW LINKS?
Dofollow links are those links which do not contain Rel="Nofollow" attribute. These links have the potential to improve the ranking & credibility of your website in search engines.
If a webmaster is linking back to you with this type of link, then both Search Engine and Humans will be able to follow the link.
These links allow the search engine bots to index your page and pass the link juice to it. When you are linking to any website or page, use the targeted keyword as anchor text. For example
<a href="http://www.google.com/">Google</a>   (Dofollow Link)
Here the targeted keyword is "Google".
By default, all the hyperlinks are dofollow.



WHAT ARE NOFOLLOW LINKS?
Nofollow links are those links which contain Rel="Nofollow" attribute. These links don't play any role in improving SEO ranking or visibility of your website.
The attributes Rel="Nofollow" clearly instructs search engine bots to not index particular link.
By adding the above attributes, crawlers or bots simply ignore the links & doesn't pass link juice to it. Thus those links are not indexed in SERP.
These links only allow humans to follow the links. Thus, you will be getting traffic but those links are not helpful to rank on the search engine.
For example
<a href="http://www.google.com/" rel="no-follow">Google</a>  (Nofollow Link)
Here you can see the nofollow tag.



HOW TO CHECK DOFOLLOW & NOFOLLOW LINKS?
There are different ways to tell whether the given link is a nofollow or dofollow link.
Whenever you drop your link to blog post or forums. You must be thinking whether the links you dropped are nofollow or dofollow.
Well, there are certain ways to detect them. You can either detect them manually or with the help of an add-on.



DETECT DOFOLLOW NOFOLLOW LINKS MANUALLY
I will be using the Mozilla browser. You can do the same with Chrome also. The procedure will be the same. The only difference will be the tab position which will be on the right side of the screen in Chrome & at the bottom on Mozilla.
Go to any link that you want to check. As shown below, I will be checking below highlighted the link.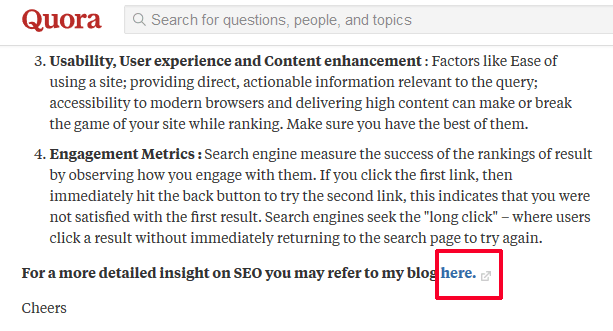 Right-click the same, and select inspect element.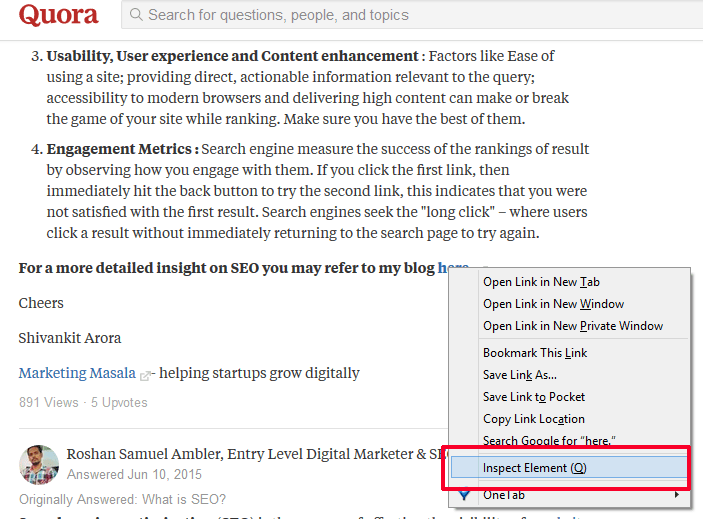 At the bottom, you can see a tab (On chrome, you can see a tab on the right side)

You can check that tab for the link & hence can make out whether that specific link is dofollow or nofollow.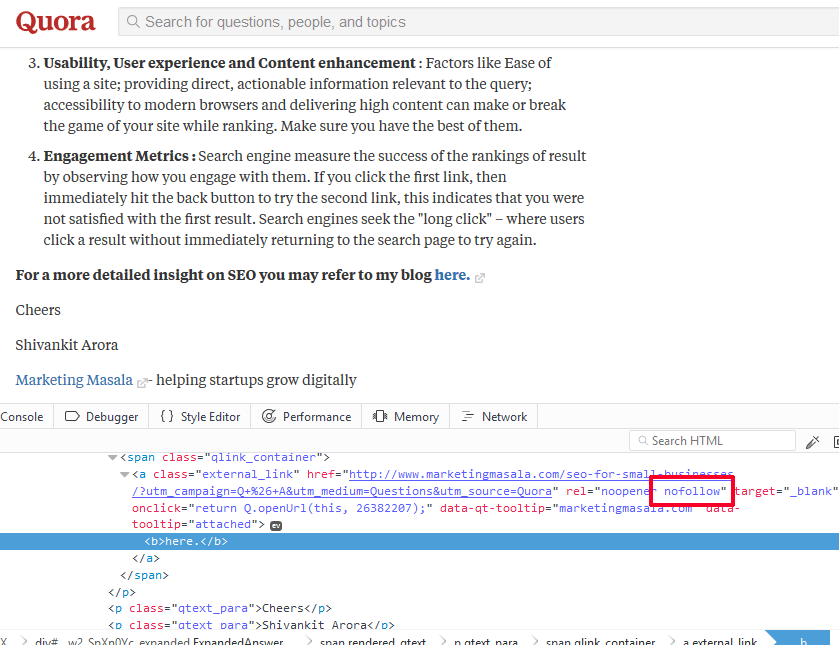 As mentioned above, If you find "nofollow" attribute in that link, then you know what it is.

If you didn't find it, then it's a dofollow link.
DETECT DOFOLLOW NOFOLLOW LINKS USING NOFOLLOW ADD-ON
You can simply install "Nofollow" add-on on Chrome browser. So when it is installed, simply go to any page where you can find links.
This add-on will highlight those links with a red dotted rectangle which means it is Nofollow link.
If the red dotted rectangle is not found, then that link is a dofollow link.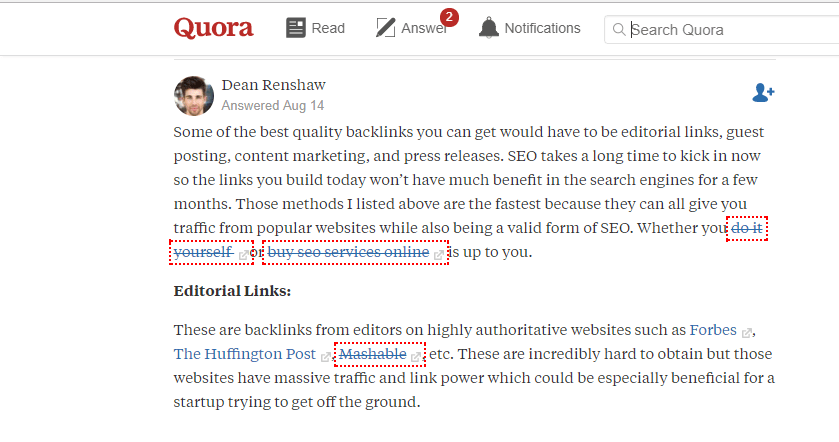 I hope now you know what are these links, how to check them and how much important are these in terms of SEO.
If you find it useful, then don't forget to share. I will be pleased with your feedbacks too.
>>Read Next: How to perform On-Page SEO as a beginner