When you click the links and ads on this blog, it helps me to pay the bills & keep this site free for you. Thanks for supporting me! For more info, read the Disclosure page.
You might have heard the term Dofollow and nofollow links and have no idea what they are? What is the difference between a dofollow and nofollow link? And how can they be identified?
If you are new to SEO and want to know the significance of both the links, this post will help you to understand the difference between them.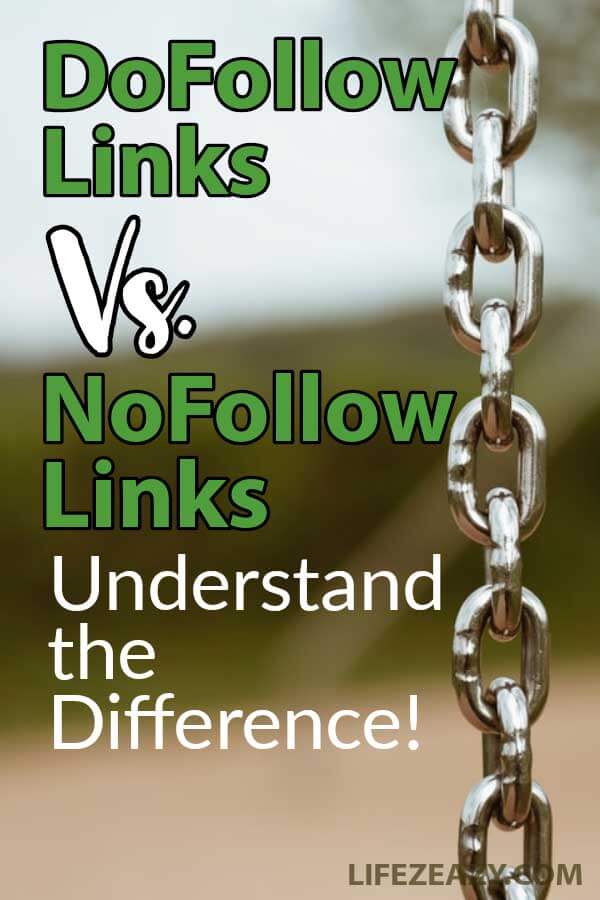 Read More:
What Are Backlinks?
Backlinks are the link created when one website links to another one. It is one of the important ranking factors Google uses to rank a webpage on the search engine.
Usually, when a website links to your webpage, the backlink acts as a vote of confidence for the search engine. So, the more relevant sites link to your webpage or website, you can expect better ranking and visibility.
Moreover, if the linking websites are well known and have the same niche as yours, you can expect better results.
What Are The Types of Backlinks?
There are two types of backlinks.
Dofollow links
Nofollow links
What Are DoFollow Links?
Dofollow links are the natural links that allow search engine bots & humans to follow them. By default, every link is a dofollow link that acts as a vote of quality as per SEO factors.
When one website links to another via a dofollow link, it can pass link juice. The search engine uses such links to analyze the quality of the web page. If a web page is getting a dofollow link from a big relevant website, it is considered best.
For example, suppose my website deals with SEO, and it gets a dofollow link from Moz or Backlinko, which is also an SEO niche site.
In such a case, I can expect a better ranking and visibility on the search engine. That's because these are all well-established sites trusted by Google. So, when they link to a webpage with a dofollow link, Google will consider it as valuable and improves its ranking & visibility.
So, the more I get such links, the better my ranking gets. However, some dofollow links are also considered dangerous. For example, if my site gets such links from porn, gambling, or spam sites, it won't have a positive impact.
Here is an HTML code of a dofollow link.
<a href="https://www.lifezeazy.com/">Lifezeazy</a>   (Dofollow Link)
What Are NoFollow Links?
Nofollow links are opposite of dofollow links that only allows human to follow them. When a nofollow tag is added on a link, it tells the Search engine bots that it should not be followed or counted as a vote of confidence.
Such links don't pass any link juice, and they don't hold much value compared to dofollow links.
Usually, nofollow links are used where we don't want search engine bots to crawl them. Links such as
Affiliate links 
Comment links
Forum links
Anything involving what Google calls "untrusted content"
are some of the places where it is applied. However, the forum or blog owner can disable the nofollow attribute as a reward to its commenters. Here is an HTML code of a nofollow link.
<a href="https://www.lifezeazy.com/" rel="no-follow">Lifezeazy</a>  (Nofollow Link)
What Is The Difference Between DoFollow And NoFollow Links
| | |
| --- | --- |
| DoFollow Links | NoFollow Links |
| They are natural links that don't require any HTML attribute. | Nofollow links need a "nofollow" HTML attribute. |
| Dofollow links allow search engine bots to pass link juice. | Nofollow links don't allow any link juice. |
| It improves the page rank when linked from a relevant established website. | It doesn't have any impact on the page rank. |
| Both humans and search engines can follow them. | Only humans can follow such links. |
How To Check DoFollow & NoFollow Links?
Though there are many ways to identify them, I will highlight only two methods that are easy and requires less effort.
For the first method, I am going to use the Mozilla browser. You can do the same with Chrome as well.
In Chrome, the procedure will be the same except the inspect element window will be on the right side, whereas, on Mozilla, it is at the bottom. Now, let's look at the method.
1. Identify DoFollow NoFollow Links Manually
Choose a link that you want to checkout. Here I will use a Quora link as shown in the below screenshot.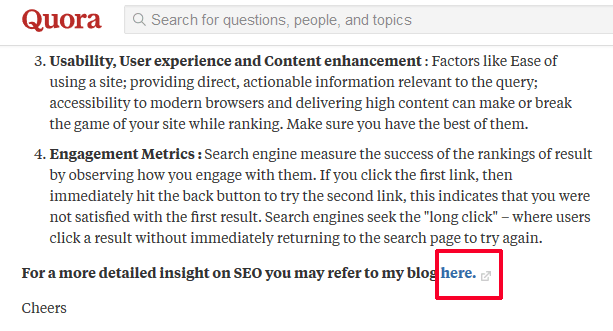 Now, right-click on the web page & select the inspect element option.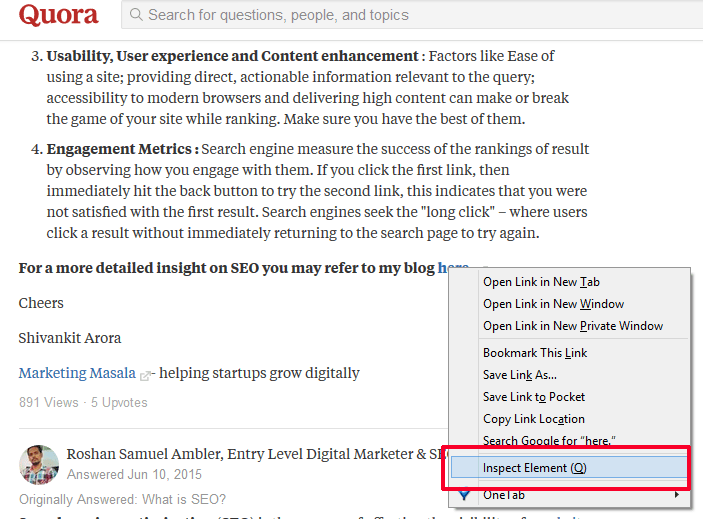 At the bottom, you can see a window (on Chrome, it's on the right side) where you can view the link code by searching. To search, copy the anchor text and press CTRL+F to do a quick search.

Once the link is found, check whether there is any nofollow tag added. If it is added, the link is nofollow. But if there is nothing, it's a dofollow link. Check the below screenshot.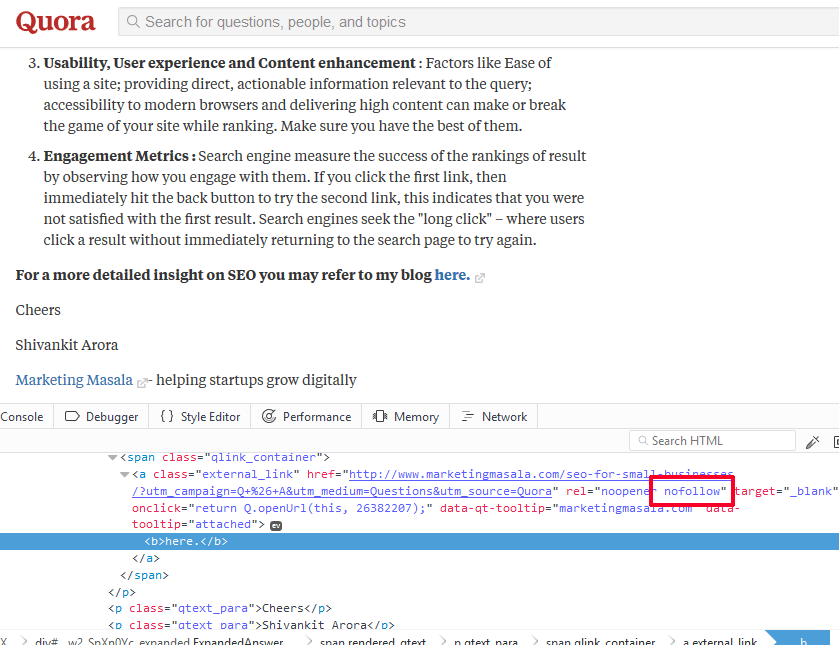 2. Identify DoFollow NoFollow Links Using a Browser Add-On
This method is easier than the manual one. All you need to do is install a browser add-on Nofollow available on the Chrome browser.
Once it is installed & active, go to any web page where you want to check the links. If the link is inside a red dotted box, it is a nofollow link. If you can't find such a box, then it is a dofollow link.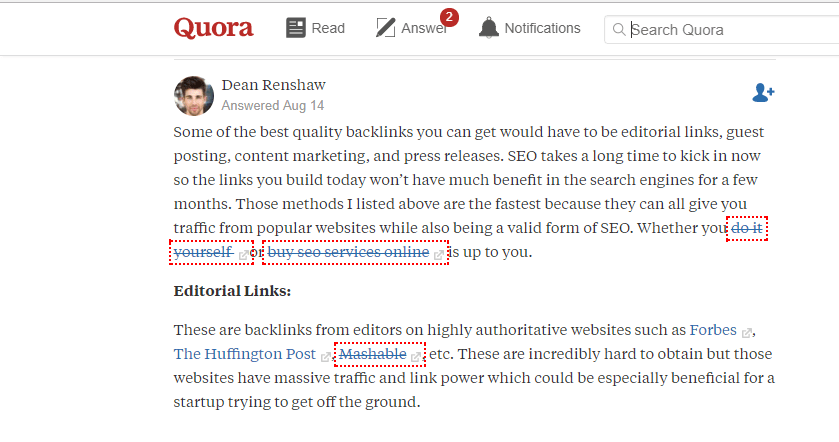 Final Thoughts
I am pretty sure that you have completely understood the difference between dofollow and nofollow links. Both of them are important, and there should be a balance between them for the perfect link profile.
Do follow links are more valuable for SEO, but both deserve a place in your online marketing strategy.
Now it's your time to let me know your doubts? You can comment down below.