Whenever I am traveling or chilling out in my room, I would like to listen to some of the audiobooks to kill the time. Not only that, I also listen to them while doing other activities such as cooking, shaving or while cleaning the room.

Buying Audiobooks from Audible is quite expensive. However, there are few things you can do to grab them either for free or with great discounts.

Today, I will be explaining two methods through which you can get these audible books for free. This will not cost you even a single penny and you can download any of them regarding of its price.

If you don't know, Audible is one of the biggest audiobooks provider having more than 1,800,00 audiobooks in their library. It is owned by Amazon & they have audible books in almost all categories. Also, their library keeps on updating on regular basis with new & popular audiobooks which you can't find in other services.

You can read my Audible Review to learn more about them. Having said that, the following are the two methods I will be focussing on
Download Free Audible Books Via Audible 30 Days Free Trial Plan

Download Free Audible Books Via Amazon Prime Free Trial Membership 
This post contains affiliate links. For more info, check out my Disclosure Policy

Download Free Audible Books Via Audible 30 Days Free Trial Plan

If you are not aware, Audible has a 30 days free trial plan during which you can download 2 audiobooks absolutely for free. I have many friends who took the opportunity of this offer and downloaded 2 of their favorite audiobooks. They also canceled the trial plan once they downloaded them.

The best thing about Audible is that even if you cancel their free trial, you can still keep the audiobooks with you forever. So, I thought why not people take advantage of this scheme instead of spending their bucks on them.

Following is the step-by-step procedure to download free audible books using their free trial plan.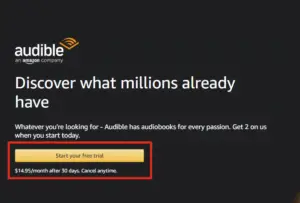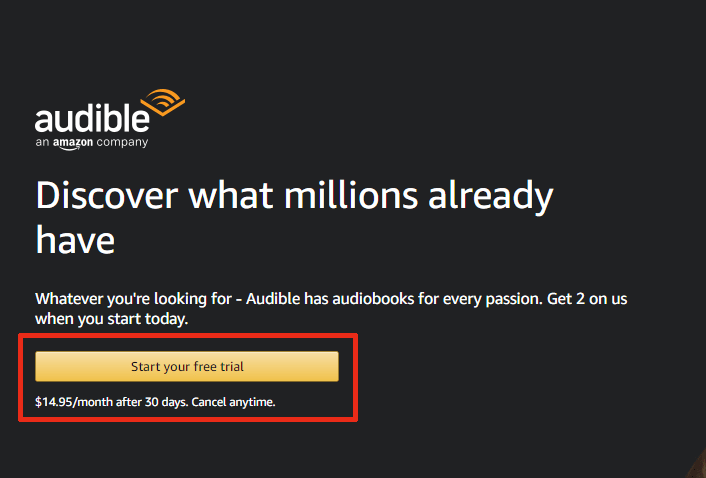 After that, you need to connect your credit or debit card (Don't worry you won't be charged).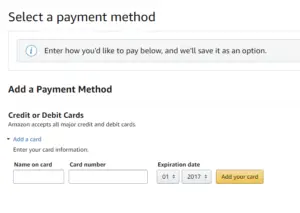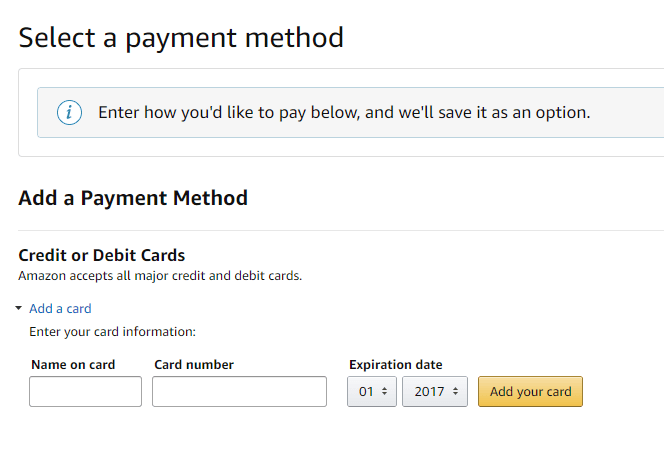 The next page will ask you to confirm your address. Simply click

"Use this address"

.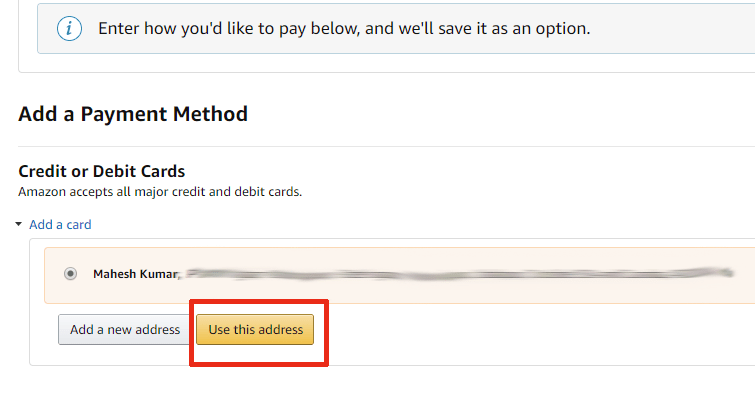 Next will be a review page as shown below. Review it & then click on

"Confirm Your Free Trial" button

.
That's it, you are subscribed to the free trial. You can see below-highlighted guideline.
Now, its time to buy the audiobook for free. Simply search any audiobook using the search bar. I have chosen the 

"Affiliate marketing audiobook"

worth $5.59 as an example. Next, click on

"Buy with Audible credit"

to download the same.
Next, you need to download the

Audible app

. You can find it in your respective app store (Android, App Store & Windows) or else enter your email as shown above and you will receive a download link for the app.
Open your Audible app & sign in with your Amazon account (the same account you are subscribed to Amazon Audible)
After sign in, go to

Library > My Books

& now you can see your selected audiobook that you bought using the free trial credit.
Simply hit download & that's it. You finally downloaded a paid Audible book for free.
You can also do the same by going to the

Audible website

instead of app & repeat the same steps.
---

Download Free Audible Books Via Amazon Prime Free Trial Membership 

If you are already a prime member of Amazon, then you can access these audible books for free. You don't need to do anything extra, except to download their Audible app through which you can access them.

However, if you aren't a prime member, you can try their 30 days free trial membership to test it out. During this trial period, you have the following advantages for free
Access to a rotating collection of 50 Audible audiobooks

Unlimited Prime movies & TV shows (Just like Netflix)

Access to Kindle Books

2 days free shipping if you buy items from Amazon

Also, If you are a student, you can use Amazon prime student to get a 6 months free trial plan which I think is great. During this 6 months, you can take advantage of all the above-mentioned features absolutely for free. Though, you'll need a .edu email address to qualify for the same.

One thing you should remember is that you can't download audible books using the Prime membership. However, you can access them for free which is more than sufficient.
 JOIN AMAZON PRIME FREE TRIAL PLAN 
JOIN AMAZON PRIME STUDENT FREE TRIAL PLAN
---

Audible Categories:

Following are some of the Audible categories. You can check which category audiobooks are suitable for you to decide whether you wanna try Audible or not.

Conclusion

So, by now you know, how to download free audible books. Currently, I am using both, and I have a pretty good experience with it. Not to mention, I am actually a paid member of both of them (my trial periods expired 1 year ago).

As I am a staunch reader, I actually needed their paid membership. However, if you are not like me, you can still take the advantage of their free trial plan and then cancel it out after downloading the respective audiobooks.

So, would you love to try it out? Do let me know in comments. Cheers.