When you click the links and ads on this blog, it helps me to pay the bills & keep this site free for you. Thanks for supporting me! For more info, read the Disclosure page.
Don't want to scroll the entire page? Here is a list of 16 YouTube channels that will make you smarter.
YouTube has now become a daily part of our life. Whether it's watching a show, skit, funny videos or cartoons, everything is available here, which makes it harder for you to get bored.
I never get bored scrolling through YouTube because I love watching videos from my subscribed channels. However, the channels are mostly education-related.
I am subscribed to so many great channels that will make you smart and improve your general knowledge. You can get answers to those burning questions that were always in your mind.
If you're like me who loves to expand their knowledge and want to use YouTube in a constructive way? I have curated a list of 16 YouTube channels that will make you wise,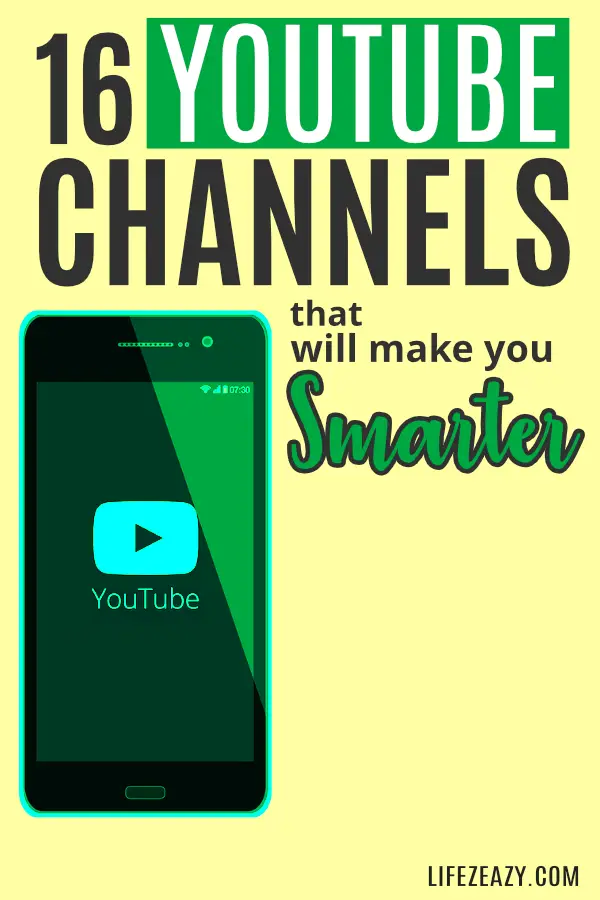 Read More:
16 YouTube Channels That Will Make You Smarter
1. Kurzgesagt — In a Nutshell
This channel is famous for making animated explainer videos related to mostly Science. If you ever thought of curious questions like "What if we detonated all nuclear bombs at once?" or "Could your phone hurt you?" this channel is for you.
Kurzgesagt uses fascinating animation and beautiful voice over for visual learning, which makes it more interesting. As of now, they upload one video every month.
Example – Is Reality Real? The Simulation Argument
2. TEDx Talks
TEDx Talks shares videos of the world's best personalities giving the talk of their lives in 18 minutes or less. The videos come from the collection of TED Conference where you can explore topics related to Technology, Entertainment, Design, and more.
If you want to get inspired, TED Talks is the channel you need to subscribe to.
Example – How to Get Your Brain to Focus | Chris Bailey
3. It's Okay To Be Smart
If you love to find answers to questions that create curiosity, this channel is for you. Whether it is about "Why birds don't lay eggs in a square" or "Do trees talk?" such kinda questions are answered here by Joe Hanson. It's Okay To Be Smart has both animation explainer videos and in-person videos.
Example – Why Do We Laugh?
4. SmarterEveryDay
SmarterEveryDay creates videos related to science. They explain, answer, and perform experiments to explore Science related questions.
Example – Breaking Into a Smart Home With A Laser – Smarter Every Day 229 
5. Sixty Symbols
If you have an interest in Physics and Astronomy, then Sixty Symbols is a place where they explore & answer various topics related to it.
Example – Biggest and Smallest Stars
6. MinutePhysics
Here you can find whiteboard explainer videos about physics and other science-related topics. The videos are both fascinating and entertaining, explaining problems in a simplified way.
Example – Why Do Compressed Air Cans Get Cold?
7. VSauce
VSauce creates videos on topics related to the world where they give great answers to the burning questions. You can explore interesting facts about weird and wonderful things on this channel.
Example – How Much of the Earth Can You See at Once?
8. Clever Programmer
From the name, you can guess that it is about programming language. If you have a desire or currently pursuing to become a high-paying Freelance developer, you can subscribe to this channel. Here, you can find programming lessons, tips, and tricks that will improve your coding skills.
Example – One SECRET to Skyrocket Your Front End Design Skills Even if You Suck
9. Numberphile
Numberphile explores Mathematics, where they talk about various concepts, historic discoveries & latest breakthroughs.
Example – Euler Squares
10. Khan Academy
If you want world-class school and college education-related videos for free, Khan Academy is the place to visit. Students can find videos about Math, Biology, Chemistry, Physics, History, Economics, Finance, Grammar, and many other topics.
Example – Multistep volume problem example
11. CrashCourse
Do you find it hard to understand subjects like Sociology, Computer Science, Film History, and Mythology? Crash Course got your back. Whether you are struggling with topics like 3D structure & bonding or you want to learn about World War II, Crash Course explains all of them through animation.
Example – Alkanes: Crash Course Organic Chemistry
12. ASAPScience
This channel is run by a Gay couple where they talk about Science. They discuss intriguing topics that create curiosity. A few examples are
What if you stopped brushing your teeth forever?
What if you only ate chips?
They convey their explanation by using colored drawings on a whiteboard and voice-over narration.
Example – What If You Are Stressed Everyday?
13. TED-Ed
If you love educational videos and animations that discuss a wide range of topics, you can subscribe to TED-Ed. All the videos are carefully curated, many of which represent collaborations between talented educators and animators.
Example – What can DNA tests really tell us about our ancestry?
14. OpenLearn from The Open University
The Open University is the world's leading provider of high-quality online degrees and distance learning programs. They are serving students across the globe for many years & have a full-fledged YouTube channel.
Here, they share bite-sized learning videos on a variety of subjects such as Philosophy, Economics, History of English, Astronomy, and Religion.
Example – OpenLearn from The Open University 
15. Sexplanations
From the name itself, you can make out that Sexplanations is about sex education. This channel is hosted by Dr. Lindsey Doe, where she shares incredible knowledge about the subject while inspiring the audience to stay curious.
Example – How did we learn there were sperm?
16. HowStuffWorks
HowStuffWorks is an education channel that creates videos on how things work around you. They unmask everything from How Gin is made to how physics help animals to fly. If you have an interest in such kind of videos, you can subscribe to them.
Example – How Contact Tracing Works 
Your Turn 
Now, it's your turn to subscribe to these YouTube channels that will make you smarter. Though these are not the only channels on YouTube that can improve your knowledge, there are many more like these.
That's the reason, I will be updating the list from time to time so that you can discover more. If you have any suggestions? You can comment down below.