When you click the links and ads on this blog, it helps me to pay the bills & keep this site free for you. Thanks for supporting me! For more info, read the Disclosure page.
Have you ever encountered such problems where you clicked a link, and it showed an Error 404?
I am pretty sure you have seen it either on your website or other websites.
Have you ever thought how does this happen and how to fix it? What are the consequences of broken links on your website?
All these questions will be answered in this post. Not only you're going to learn how to find them, but I will also show you a simple method to fix them.
So, if you're interested to know more, read the post till the end. But before that, let's start with the basics.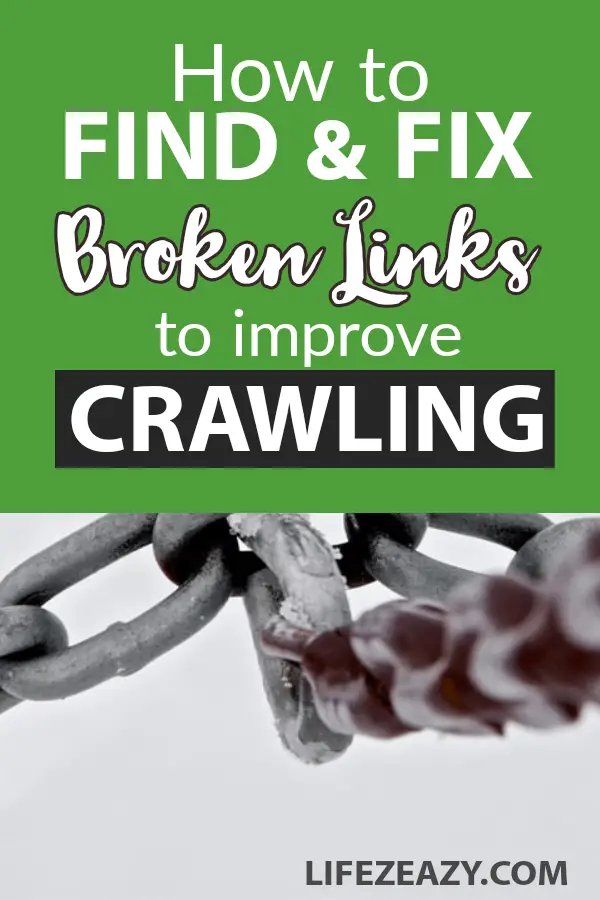 Read More:
What Are The Broken Links?
A broken/dead link is a link on a web page that no longer works because either the linked web page is removed or its permalink (URL) has been changed.
In such a condition, the page shows an Error 404. For example, If you linked your post-A with your post-B and somehow, you deleted or changed the permalink of post-B, then clicking on the link from post-A will show an error.
Here is how an Error 404 looks.
Every website experiences a few broken links which are normal. But an excess of them is dangerous and needs to be fixed immediately.
What Happens When Your Website Has Broken Links?
When the search engine bots crawl your website and encounter a broken link, the search bots treat it as a dead end. This means it can't crawl the destination page, which eventually affects the site's usability and SEO efforts.
Broken links affect your
search engine rankings

sites user experience

customers and revenue
That's why it's urgent to fix them as soon as you find them.
How Do I Find Broken Links (Error 404) On WordPress?
To find broken links, first, make sure you have signed up for Google Search Console. If you don't know how to sign-up, follow this guide.
Login to your Google search console account to go to your dashboard.

On the left-hand side, click 

Coverage

 to view all the error pages.
Under Error & Excluded, you can find all the pages related to Error 404. 
For example, when I clicked on the Excluded section, I can view the Error 404 details along with the total number of pages affected.
When I click them, I can see all the affected links. From here, I can choose which links need to be fixed and which not.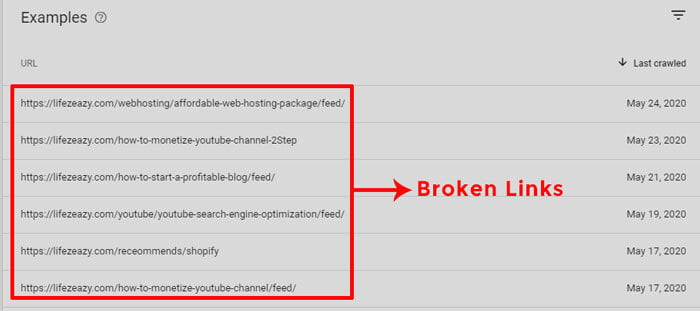 P.S – If you just signed up for a Google Console account, you need to wait for a few days to view all the broken links.
How Do I Fix Broken Links On WordPress?
Now there are different ways to fix this problem. But I will show you a simple method using a WordPress plugin Redirection.  Here's how it's done.
You can follow the below steps to fix your broken links using this method.
Click on the settings option to go to its setting page.
Click on the Redirects option to go to the redirection page.
There you'll see an "Add New" button at the top. Click it to open redirection options.

Now copy your broken link from Google search console and paste it on the source URL text box.
Now insert the target URL on the Target URL text box to redirect it. This URL will be the link to the destination page where you want to redirect the broken link.

Once done, change Group option to Redirections & click Add Redirect button to redirect your link. Your broken link will now show the Target URL.
Conclusion – How To Find & Fix Broken Links In WordPress
That's how I find & fix my broken links. I do this activity every week to make sure my website is crawlable without any dead links.
Even though this method is quite easy to use, there are still different ways to fix broken links. Like you can refer to this Ahrefs article where they showed how to fix dead links using Ahrefs Site Explorer.
Apart from this, once you have fixed all your broken links, you can see a slight improvement in your keyword rankings. Your website will be more crawlable, and Google likes this.