When you click the links and ads on this blog, it helps me to pay the bills & keep this site free for you. Thanks for supporting me! For more info, read the Disclosure page.
When you start a new blog, it is always a good idea to target long-tail keywords instead of the broad ones. Not only they're more targeted but also simple to rank.
But the problem arises when you do not know how to find them, and even if you find them, you are not sure whether you can rank for it.
If you are dealing with the same problem? In this post, I am going to show you how to find long-tail keywords using KWFinder. But before that, let us understand what long-tail keywords are?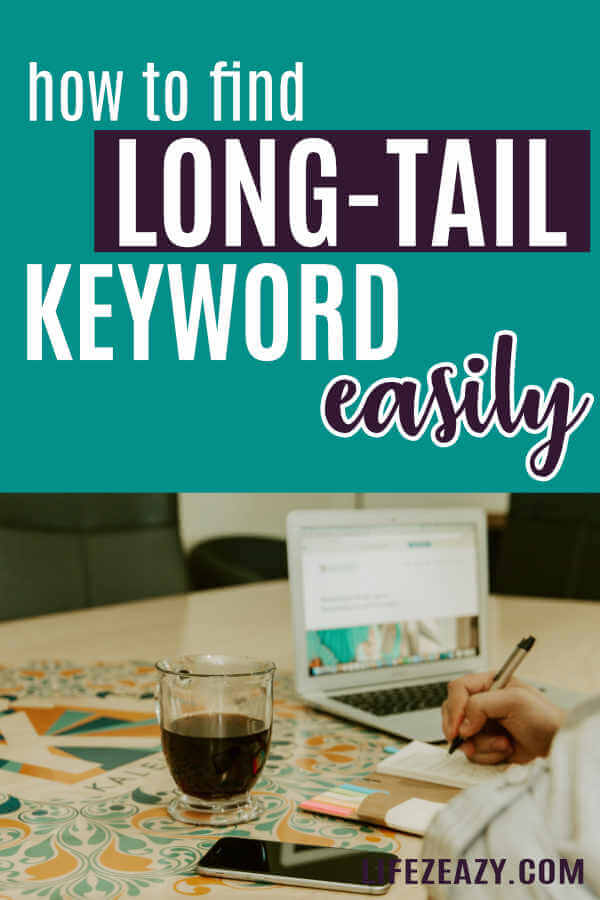 What Are Long-Tail Keywords?
Keywords having more than two words are Long-Tail keywords. They are more specific phrases than regular keywords & have low to average search volume. 
Talking about the keyword difficulty, they are generally simple to rank, but it depends on case to case. A few examples are
Best camera under $500

How to make an Omelette

Top 10 countries to visit
Why Should You Use Long-Tail Keywords For SEO?
There are many advantages of targeting long-tail keywords in your content. But the top 3 reasons are
Less Competition

Better Targeted Traffic

High Conversion Rates
Let us look at them in detail.
1. Less Competition
Less competition keywords are simple to rank on the first page as compared to high competition keywords.
Let's take an example:
Best Car – About 21,13,00,00,000 results (Google)

Best car in USA – About 4,31,00,00,000 results (Google)

Best car for bumpy country roads – About 69,80,000 results (Google)
As you can see, longer keywords have fewer search results, whereas broad keywords have more search results. This clearly shows why targeting them in your content can help you rank on the first page of SERPs.
2. Better Targeted traffic
Let me explain this section with an example.
If you are planning to buy Ray-Ban black Aviator sunglasses, then what should you type on Google to get the desired results?
Obviously, you will search the keyword Ray-Ban black Aviator sunglasses on Google. Tell me, will you search for sunglasses or black sunglasses for Ray-Ban?
No, because these keywords are not specific & it will not show the result you want to see.
In the same way, you can only drive targeted traffic to your content if your main keyword describes what they are looking for, and long-tail keywords do this job pretty well.
3. High Conversion Rates
If there is a person who wants to buy Nike Shoes and there are two shops in front of him. One is a general shoe shop, and the other one is a Nike shop. Tell me which shop that person will choose?
Obviously, Nike shop, because you can trust them.
Now, imagine the general shop as a broad keyword and Nike shop as a Long-Tail keyword.
Do you get the gist?
Targeting long-tail keywords have a better chance to convert your audience for sales and leads. That is because you are giving them the exact information they are looking for.
How To Find Long Tail Keywords?
There are many ways to find long-tail keywords, either using an online tool or Google. You might be thinking about how Google can help you find such keywords?
Well, you must have noticed that while typing anything on it, it guesses your keyword automatically. These keywords are basically the terms that readers use to search for that specific topic. So, using this feature, you can find them.
But there is one problem. You are not aware of the competition, whether it is hard or easy to rank. Thus, this can be tackled by using a Keyword research tool.
I use KWFinder because it is arguably one of the best and easiest tools to find those profitable keywords. Before I show you the actual method, let us take a quick look at this tool.
What is Kwfinder?
KWFinder is a keyword research tool owned by Mangools used to find long-tail keywords. It also offers other wide range of metrics that will ease your work to choose the right keyword.
Nowadays, KWFinder is used by many bloggers and SEO consultants because of affordability & features. If you go for a monthly plan, it is $49, and for an annual plan, it is $29,90/month. 
Gladly, they also offer a free trial of 10 days where you can test this tool before making a decision.
How to find Long Tail Keywords using KWFinder?
1. Start with a Seed Keyword
All you need to do is start keyword researching with a seed keyword (broad keyword) and then look for those keywords that have less competition.
For example, – Dog House is my seed keyword.
When I type this keyword in the KWFinder and search for it (make sure it is in suggestion mode), it shows a lot of keywords related to Dog House along with its metrics.
2. Arrange the keywords from easy to hard difficulty
Currently, all the keywords are jumbled up with random difficulty scores. If you try to find low competition keywords here, it will take some time to sort them out. That is why arranging them from easy to hard will not only make your work simple, but you can also process faster.
For this, click the KD link (as shown by the red box in the below screenshot) for one or two times until you see the KD score from less to more.
Once it's done, you can see the difficulty score denoted by different colors. Each color represents the following.
Green color shows easy keyword difficulty.

The orange color displays the medium keyword difficulty.

The red color shows hard keyword difficulty.
You only need to concentrate on the green-colored ones. Now, by going through the list, I found the following keywords that fall in the same category.
Winter Dog house

Small Iglo dog house

Dog house for 2 dogs

Best dog house
So, writing content around these keywords will surely increase your chances of ranking them on the first page. But please remember to write a lengthy, descriptive content with good On-Page SEO.
3. Find Related Keywords (LSI Keywords)
LSI keywords are conceptually related terms to your main keyword that search engine bots use to understand the content of the page. These keywords are essential, and they should be added throughout your post.
For example, if your main keyword is Apple, Google doesn't know whether you are talking about the company or the fruit. In such a case, adding LSI keywords such as iPad, iPhone in your content will clear the doubt.
On KWFinder, you can also explore LSI keywords related to your long-tail keyword. For this, you can use the Search related keyword feature.
In the below screenshot, there is an arrow in front of Dog house grooming keyword.
Clicking on this will display a set of LSI keywords that you can implement on your content.
If you're still confused with the entire process? Let me summarize it for you.
Search a seed keyword

Arrange them with keyword Difficulty (from easy to hard)

Choose the main keyword (green colored KD) that you think satisfies your goal.

Find LSI Keywords using the search-related keyword feature. 

Use both of them in your content to make it SEO friendly.
Ending Note…
This is how I find long-tail keywords for my content using KWFinder. It is a simple, quick method that will help you find several long-tail keywords within minutes.
If you are interested in trying out this tool, you can click below to start your 10-Day free trial.