When you click the links and ads on this blog, it helps me to pay the bills & keep this site free for you. Thanks for supporting me! For more info, read the Disclosure page.
If you are looking to start a profitable blog but could not decide a niche, this post will teach you how to find a profitable niche in 6 steps.
Now, before I discuss the strategy, let me tell you this post is actually inspired by a YouTube video created by Ryan Moran. So, all the credits go to him. 
I was actually impressed by his method that motivated me to write this post. I feel his strategy is logical, which gives a clear insight into the niche necessary to know the success rate.
So, before I start discussing his strategy, you can watch his video for a clear explanation.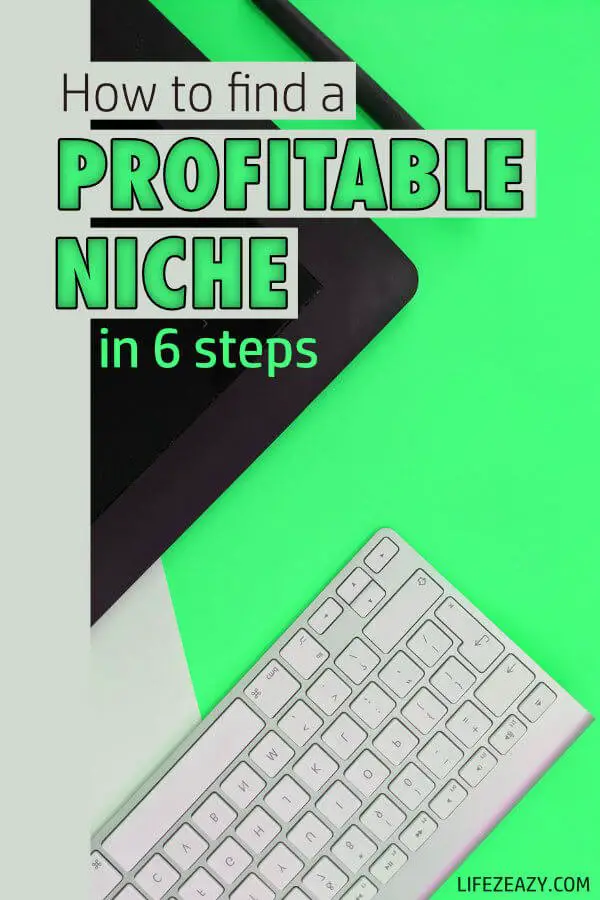 Read More:
6 Steps to Find a Profitable Niche
While selecting a niche, it is necessary to observe certain factors that help to choose a profitable niche.
So, keeping that in mind, I will be showing you a series of steps that exactly lets you know the worth of a niche.
Here is a quick preview.
Make a list of niches that you're passionate about

Search Forums related to your niche

Search questions related to your niche

Check Facebook & Pinterest groups

Look for search volume & keyword competitiveness

Finally, ask questions to decide
I know you are confused by reading all these steps. But don't worry, when you reach till the end, you will exactly know how to choose a profitable niche.
1. Make a List of Niches That You're Passionate About
I know there might be plenty of niche ideas running in your mind that making you confuse. It can be online marketing, fashion, health & so on.
As a beginner blogger, people will choose whatever niche they are interested in and start blogging without doing any proper research. I have done the same thing that resulted in a lot of tweaks until I finally choose my final niche.  
So, while you are looking for a niche, it is necessary to keep the following things in mind.
Huge active audience

Different problems in the niche

Products that can be offered to solve those problems

A lot of topics to write
To begin our process, the first thing you need to do is write down all the niches you are interested in. You can either use a paper & pen or go with a spreadsheet. It can be 10, 20, or even 30 niches that might be running in your mind.
Next, you need to sort them out based on the following questions that leave you only with the top 3 niches.
Will I get bored if I choose this niche?

Can I write in-depth content of over 2000 words if I go with this niche?

Am I ready to invest a little time every day to learn more about this niche?

Is it a scalable niche?
Now, it's all up to you to decide which one makes the top 3 spots. Whatever it is, you need to further analyze them to see their true potential & that's what I will discuss next.
2. Search Forums For Different Sub Niches/Topics
How would you feel if your niche doesn't have enough topics to write? Obviously, you will find it hard to write your next post because you do not know what to write about. 
However, if your niche has an ample amount of topics, you can easily plan out your content strategy for a long-long time. 
But the question is, how do you find them?
In simple words, you can look into several forums related to your niche where you can find many sub-niches & topics. Here is how to do it.
Choose your first niche and open Google. Type "Forum: Niche name" & hit enter. For example, if your niche is gardening, then type "Forum:gardening"
This will show you all the different forums related to gardening.

Open all the first page forums and go through the different topics and discussions to find sub-niches ideas and topics. All these will be included in your content strategy.
Do the same steps for the other two niches as well and record them in a spreadsheet.
3. Search Problems Related To Your Niche
So, you found out that there are a lot of topics to write about, which is a positive sign. Now, the next step involves looking out for various problems in these niches.
When there are problems, it means you can offer solutions to your audience, which not only improves engagement but also make money.
So, to find them, 
Open any niche related forum, and copy its URL. 

Now, open Google and type site:forumURL "Please help". For example: if my forum URL is "https://garden.org/forums", then I will type site:https://garden.org/forums/ "please help"

This will show all the problem-related discussions in the forum, starting with the phrase "Please help".
To find more problems, replace the phrase by the following phrases.
Need help

What are the

Where is the

How is the
You can also visit a forum and type these question phrases in the search bar to find all the problems. Do these steps for all the 3 niches and record them in the sheet.
4. Check Facebook Groups/Pinterest
We all know that Google takes at least six to twelve months to drive traffic to a new blog (if implemented SEO). Until then, Social media is an excellent means to get visitors.
But have you ever thought whether your niche audience is active on social media? Do they post, ask, & share topics related to your niche? Well, that is what you have to check in the fourth step.
Now, Facebook & Pinterest are some of the best platforms to promote your blog. You can easily drive thousands of visitors per month if you are willing to spend some time on it.
But what if there is little to no audience on these platforms? In such a case, you will not get enough traffic from them, and that is not what you want, right?
So, you need to pick a niche that has a big active audience on social media. To do so, you can follow the below steps.
Head over to Facebook and search your niche groups. This will display various niche related groups under the group section. 

Just check out whether these groups are currently active or not. To do so, look at the frequency of the post (shown by the red box) & the number of members. This will surely help you to evaluate the activeness of all the Facebook groups.
For Pinterest, you can look up to all the categories that are popular on Pinterest. You can 

click here

 for the list.

If you got one, it's definitely a good sign. However, if you don't find anything related to your niche, then you have to dig deeper.
Just copy https://www.pinterest.com/topics/yournichephrase  & replace the last word with a sub-niche.
For example, if my niche is education & I can't find any category related to it, then I will look for its sub-niches like
https://www.pinterest.com/topics/special-education

https://www.pinterest.com/topics/art-education
If you got one? You can definitely target Pinterest.
5. Check The Search Volume & Competition
Now that you are aware of different topics, problems & active audiences, next, you need to find out the competition. 
If you don't know, there are a lot of niches with thousands of blogs targeting them. Because of this, it becomes quite hard for you to rank for specific keywords on Google.
Thus, checking out the keyword competition beforehand for each niche is an excellent way to know the competitiveness.
To do so, 
Open

 Google Keyword Planner

 or better use a paid tool like KWFinder & type your sub-niches/topics collected from the forums.

Record their search volume & competition on a spreadsheet sheet shown below.
Repeat the process for the other two niches.
In the end, you can easily compare the competitiveness between them, and hopefully, you can clearly see a winner.
6. Ask Questions To Yourself
So, after you have recorded all the required information in a spreadsheet, compare them. This will help you to decide the best one.
This step totally depends on you because here you need to make a final decision. You need to ask a set of specific questions that will let you decide the final niche. Here are they:
Does this niche seem to be active? (from what you saw in forums & social media)

Are people asking a lot of questions? (Problems)

Is this niche likely to buy products? If so, do these products have a high price point?

Do you think targeting the main niche keyword is easy for ranking, or should you focus on some sub-categories/niches?

Can any of the sub-categories be grouped together? Do any of the topics go hand in hand? Are they complementary?

Are there enough topics within this niche to create a lot of content?

Will you enjoy writing 30-40 pages of content based on this niche?
In the end, you will have a final niche that satisfies all or probably most of the questions. This will be the one you should choose to start your blogging journey.
Not only will the blog have enough topics to write, but you will also have a chance to solve different problems by offering affiliate products. Moreover, you will have an active social media audience to interact with.
Ending Note – Find a Profitable Niche
You see, choosing a profitable niche will make a huge difference if you want to make a steady income from your blog.
Doing all the above steps will give you a lot of confidence and you will have a clear roadmap on what to do next. It may seem like a time-consuming process but worth it.
I hope you liked this strategical approach and use the same for finding a good niche. If you have any other questions, then shoot a comment down below.