When you click the links and ads on this blog, it helps me to pay the bills & keep this site free for you. Thanks for supporting me! For more info, read the Disclosure page.
Are you looking for free stock photos for bloggers that are safe to use on blog/website? If yes, then here is a list of 20 free Stock Photo-sharing websites for both personal and commercial use.
Along with this, I have also mentioned a few points that you should acknowledge while using the images.
So, without wasting any time, lets first look at the dos and don'ts.
Dos & Don'ts While Using The Photos
What You Can Do:
All the photos are free to use, copy, edit, or share.

You are free to use photos both personally & commercially.

While using the images, giving credit to the website or Photographer is not necessary but always appreciated.
What You Can't Do:
Don't redistribute or sell the photos on other stock photo websites.

If the photos have any identifiable person or brand, you cant make them appear in a bad light or in an offensive way.

You should never advertise the photos as your own work or portray yourself as the author of said work. 
20 Free Stock Photo Sites For Bloggers
1. Unsplash
Unsplash is a stock photography sharing website under the Unsplash license. They have a growing library of over 1.5 million photos, along with over 110,000 contributing photographers.
2. Pexels
Pexels is another website where you can find free stock photos & videos for commercial use that do not require attribution. Their database is regularly updated, which means new pictures & videos are added daily.
3. Pixabay
Pixabay has over 1.8 million free stock photos for everyone looking to use it anywhere. Apart from the images, they also share illustrations, videos, vectors, and music.
4. Kaboompics
Kaboompics is one of my favorite sites, where you can find both horizontal & vertical images. If you are a Pinterest user, you should know how necessary is vertical images. Apart from this, they also have a color palette search feature where you can search for images based on colors.
5. FancyCrave
Fancycrave is a stock photo-sharing site, especially for Travel bloggers & other content creators.  What makes this site different from others is that they offer photo packs, which are basically a collection of photos dealing with the same topic. For example, 25 free gorgeous Beach pictures.
Once you are in a process to download the pack, ensure to enter $0 where it asks you for a price before downloading. This way you can download them for free.
6. LibreShot
LibreShot is created by Martin Vorel, where he shares all the pictures clicked by him under CC0 license. You are free to download and use their images on websites, mobile apps, videos, flyers, t-shirts, billboards, or even in teaching materials. The only thing you need to avoid is bulk downloading & uploading them to other similar stock photo sites.
7. I'd Pin That
I'd Pin That provides images to help bloggers and non-designers to create high-quality images for their social media promotion or website. These images are provided by Pixabay & Flickr that you can edit, distribute without any attribution. Their license comes under the GNU General Public License v3.
8. Life Of Pix
Life of Pix is another website that provides free high-quality images for both personal & commercial usage. All the images listed come under creative commons zero licenses (CC0). You can find photos related to topics like people, animals, beaches, objects, nature, and so on.
9. Wallpapers
Wallpapers offer a big collection of free high-quality images that comes under CC0. While downloading them, ensure to look for the restrictions mentioned in each photo. Here are the four restrictions Wallpapers suggest.
Free for Commercial use

– This means that the images may be used for commercial and private purposes.

Free for Personal use

– This means that the images may only be used for private purposes.

Editorial use only –

This means that the images may only be used for editorial purposes. The commercial purpose is not permitted!

Use only on websites

– This means that the images may only be used on websites and apps. Print and other media are forbidden!
Based on these stipulations, you can use their images accordingly.
10. Magdeleine

Magdeleine offers photos in two categories i.e. photos that come under CC0 license, and another one is attribution based.
Images coming under CC0 is free for personal and commercial purpose, whereas the other one requires crediting.
Another good thing about Magdeleine is that you can search for images using the color palette. This helps you to find specific photos in certain colors.
11. Jeshoots
Jeshoots is a place where you can download original thematic photos and mockups by Jan Vasek. Photos are 100% free and don't have any sort of third-party licenses.
12. Travel Coffee Book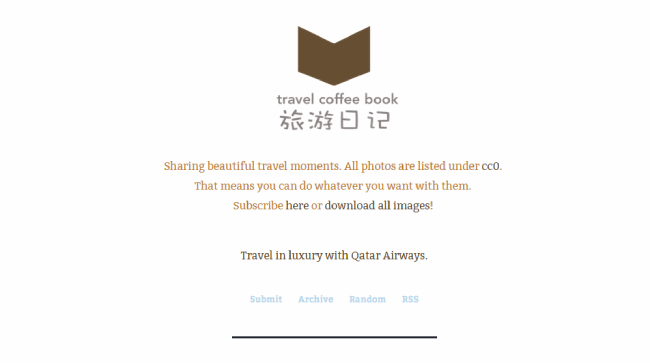 As the name implies, Travel Coffee Book shares travel moments from all around the world. If you are a travel blogger, you can find some amazing nature photos that can be included in your posts. All the photos follow the CC0 license, which gives you the freedom to use it any way you want.
13. Foodies Feed
Food Bloggers can use this site to download high-resolution food-related pictures for their blog. Whether it is cake, coffee, pizza, meat, you can find all the images in one place. However, please note that Foodies Feed photos come under CC0 license.
14. Gratisography
Gratisograph displays free high-resolution pictures from 9 categories that can be used for both personal & commercial purposes. This site is updated every week with new photos. Like other sites, Gratisograph follows the same license where you are free to use & edit their images.
15. Morguefile
Morguefile offers a wide range of stock photos that are free to use. They have over 4,00,000 free stock photos in their database that are ready to be used for commercial purposes. You are also free to do any kind of remix with the images. Apart from this, they also have a pro plan ($25) for a lifelong subscription that gives you additional benefits.
16. CupCake
All the photos found in the Cupcake site are taken by Jonas Wimmerström that comes under the CC0 license. 
17. Picography
Download gorgeous high-resolution free photos with Picography. Here, they share images from 12 categories, which pretty much cover most of the niches.
18. Picjumbo
PicJumbo is another free stock photo-sharing site having high-resolution images from 16 categories. All the photos follow CC0 license enabling it to download and use it for free without giving any credit. You can also create an account to save your personal favorite photos in one place without having to download them all at once.
19. StockSnap
StockSnap has a collection of beautiful HQ free stock photos in most of the categories. They claim to add hundreds of high-resolution images weekly that come under CC0.
20. Good Free Photos
Good Free Photos has a gallery of thousands of free high-quality photos under public domain license. All of them are categorized by location, animals, plants, & types of objects.
Even though all the pictures are free to use for both personal and commercial purposes, they do ask to give credit to goodfreephotos.com while using them.