This post contains affiliate links. For more info, you can read my
Disclosure
page.
In this Grammarly Review, I will talk about everything related to Grammarly like its features, benefits, pros, cons & my personal experience etc.
But before I get started, let me ask you a question.
Are you weak in English?
Are you a Blogger or Writer who makes a lot of grammatical mistakes while writing content?
Well, as you all know, English is a universal language. Being universal, it is the most used language in terms of communicating internationally.
Whether it is writing a post as a blogger or writing an email as a working professional, English is used everywhere & its pretty embarrassing when we make typos & grammar errors.
Now, talking about me, I consider myself as an average English speaker. Neither bad and neither good. Previously, I had problems while writing articles as I was scared of making grammatical errors.
It's pretty embarrassing when people comment on your post and points out the errors. I had been in the same situation before.
But finally, I fixed this problem with an online grammar checker known as Grammarly.
Now, It's been more than 1 year since I am using it & it has continuously made my articles error free & at the same time improved my English grammar as well.
So, I thought why not I review this amazing tool which will help all my blogger & writer friends to write correct English.
But, before starting this Grammarly review, let's know, what is it exactly?
GRAMMARLY REVIEW 2018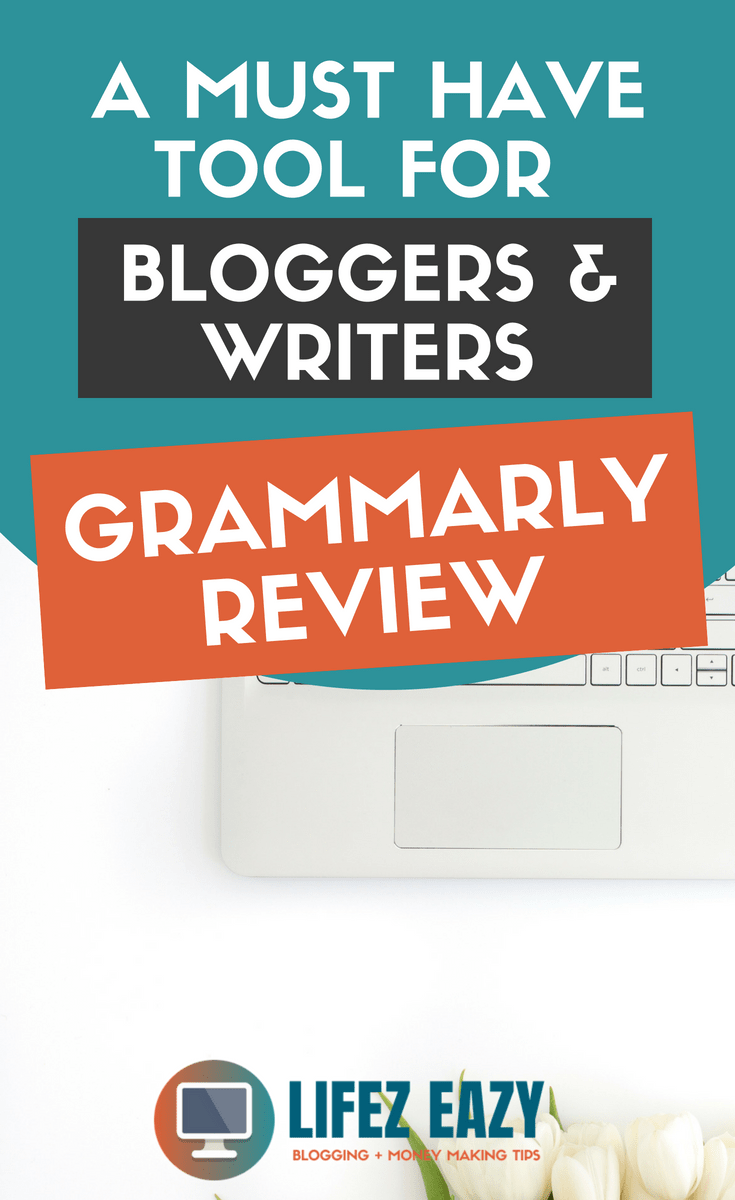 This post contains affiliate links. However, I only suggest those products which are trustable. If you buy or signup anything using my link, I get a small commission which helps me to keep this blog running. For more info, you can refer to my Disclosure page.



WHAT IS GRAMMARLY?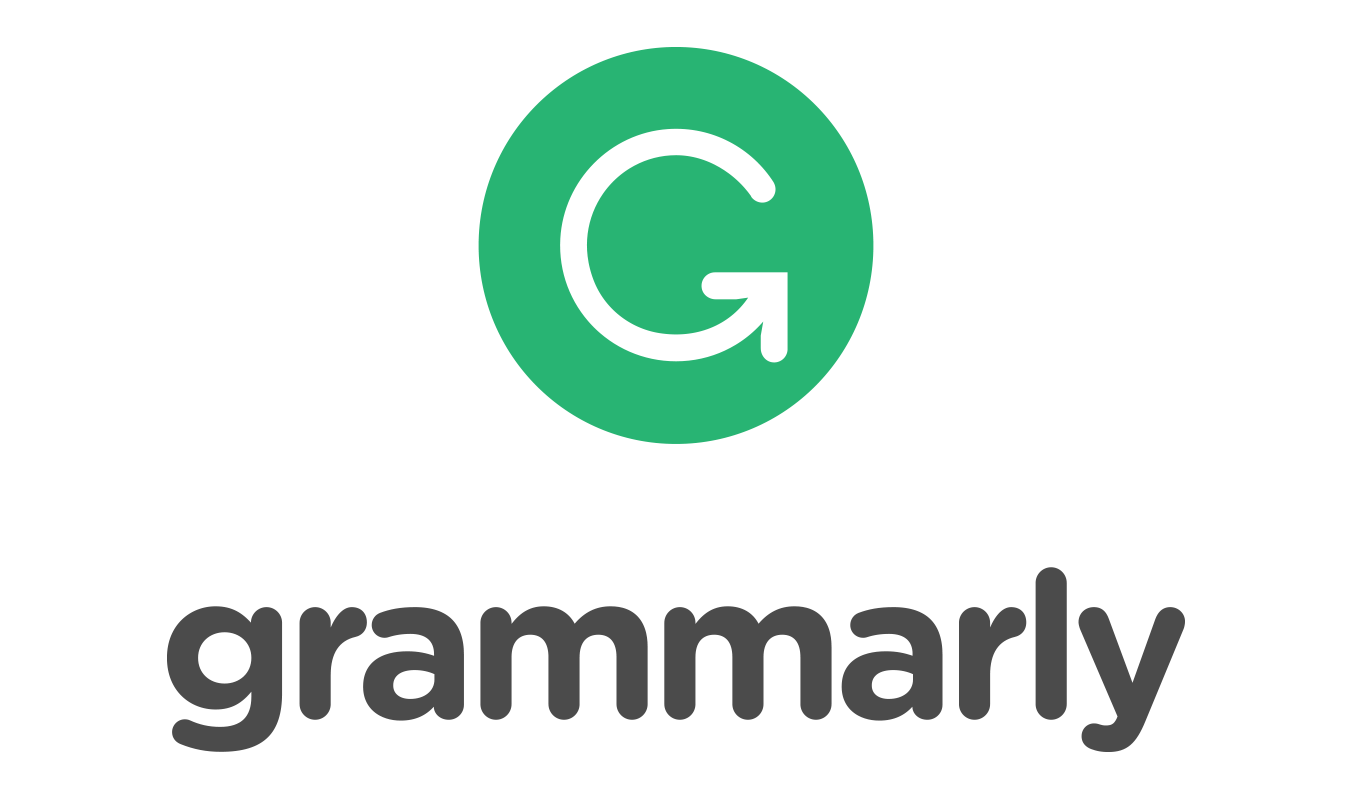 Grammarly is the world's most accurate online grammar checker as proclaimed by their website.
According to Wikipedia,
"Grammarly is an English language writing-enhancement platform developed by Grammarly, Inc., and launched in 2009. Grammarly's proofreading and plagiarism-detection resources check more than 250 grammar rules".
Pretty basically, it will scan all your article text and then points out all the grammatical errors. Along with that, it will also suggest you with the right words. How cool is that?
CLICK HERE TO INSTALL GRAMMARLY




WHO CAN USE GRAMMARLY?
Bloggers & Content writers

Students who write essays resumes, and other schools/college projects

Transcriptionist

Working Professional who writes a lot of emails & reports



WHERE CAN IT BE USED?
Writing articles

In writing Emails & Reports

In writing essays, resumes

Writing social media status whether it is Facebook or Twitter

It can be used while transcribing audio files



HOW TO USE GRAMMARLY?
Grammarly can be accessed in four ways.
As a Browser extension.

Via an application/software

As an Add-in for Microsoft word & outlook.

Using its website



1.  GRAMMARLY BROWSER EXTENSION
You can download Grammarly as a browser extension which is available for Chrome, Mozilla & Safari browser. This is a great tool which works in real-time.
No matter whether you are writing a post, updating Facebook status, tweeting, commenting or doing any other online writing work, Grammarly will instantly highlight grammatical errors and suggest it with the correct words.
How To Install Grammarly Browser Extension
I will be using the Mozilla browser for this demonstration.
Click here to go to Grammarly website.
Click "Add To Firefox". (Whichever browser you are using, it will automatically display its name).
Mozilla will ask your permission for the installation. Click on Allow. This will install Grammarly add-on on your browser.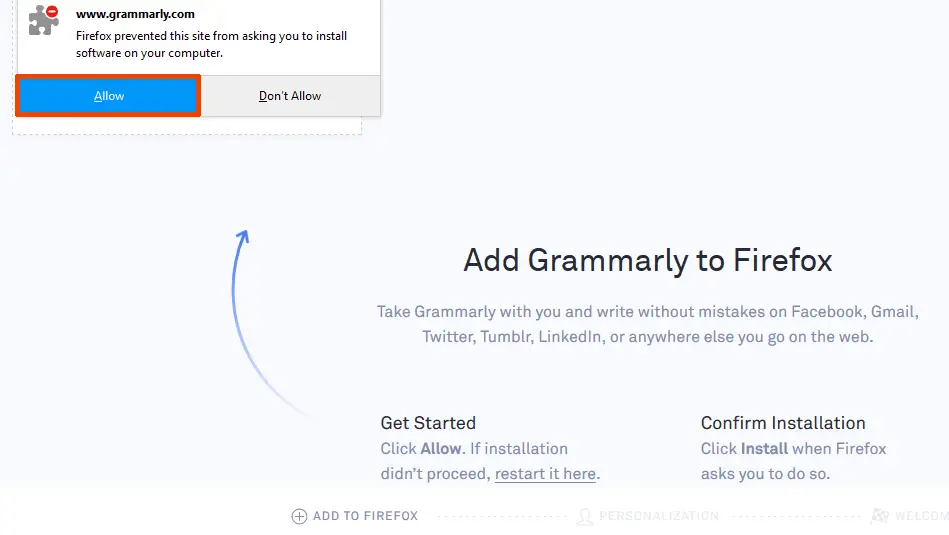 After installation, Mozilla will ask for the permission to add Grammarly on the browser. Simply click allow & it will be added to your browser. At this point, we have successfully added the extension. Now, we need to sign up for an account.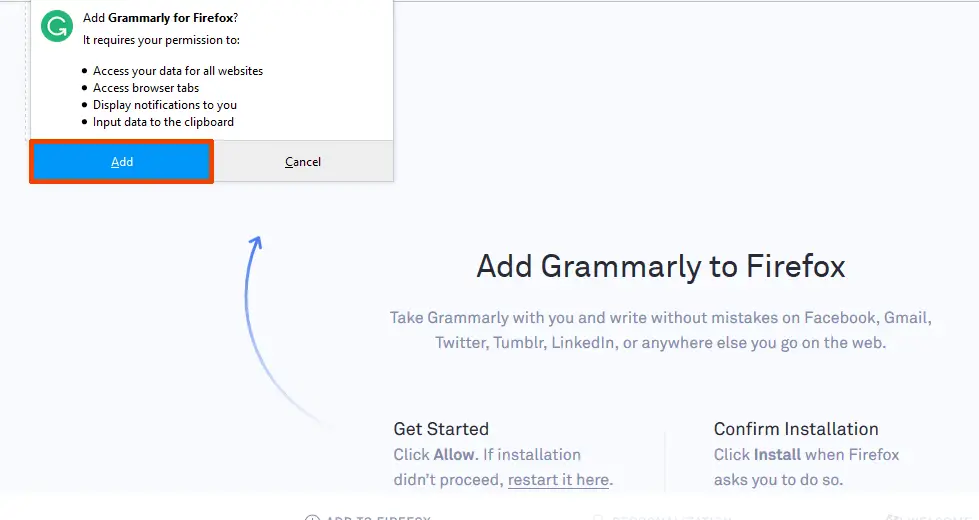 You will see a pop-up message at the upper left side of the screen. Click on Skip.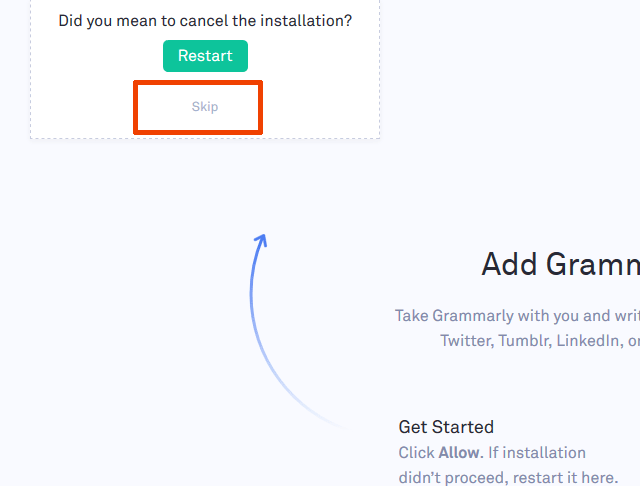 You will be directed to a Personalized Grammarly interface. Here, you need to choose the appropriate option and then, click "Continue".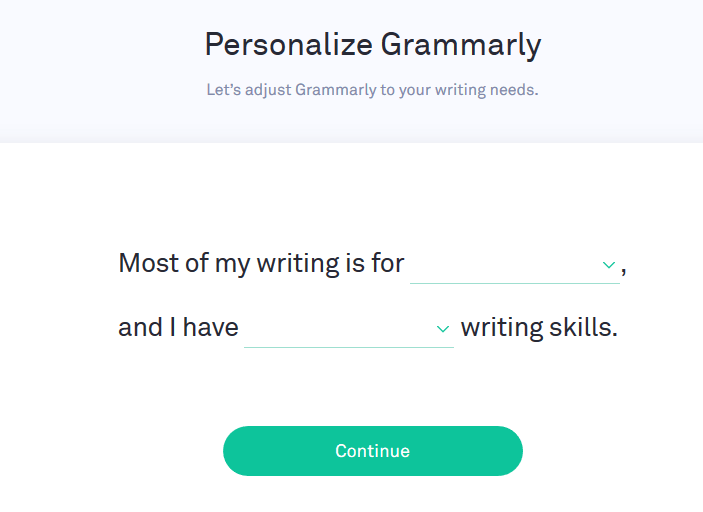 As per your chosen option, it will show you the mistakes statistics. Simply click "Continue to save your settings".
On the next screen, enter your email address, password, name & click "Sign up".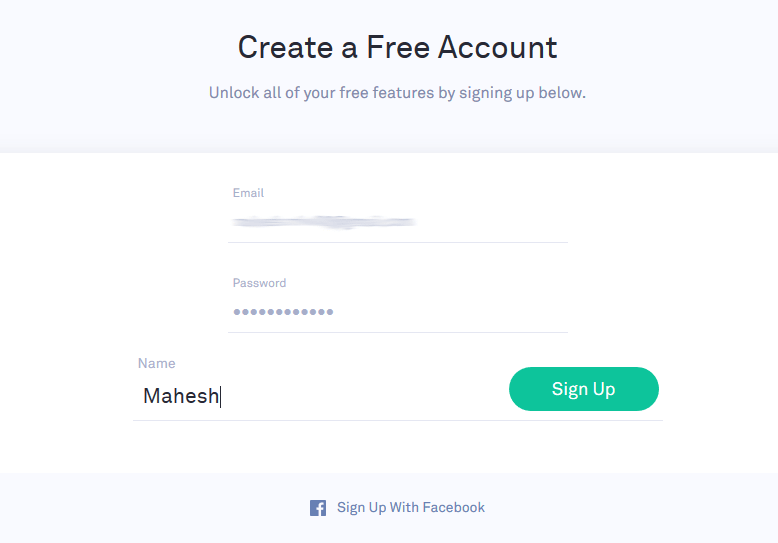 A welcome screen will be opened. Here, you need to choose the plan.  Click on the appropriate plan.
That's it, you are done. Now, you will be directed to your dashboard.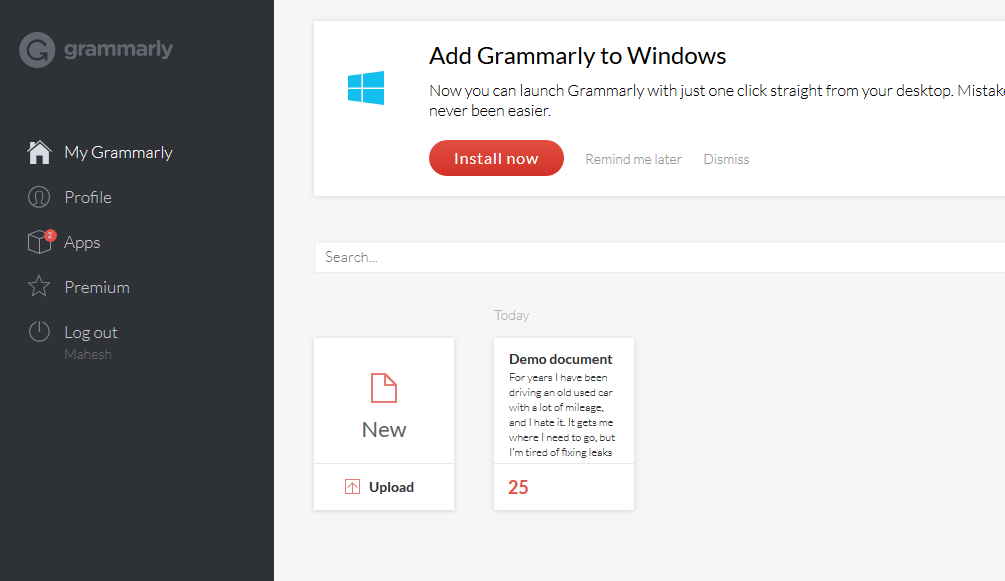 How To Use Grammarly Browser Extension
You don't have to do anything. Simply write your post/article or do any kind of online writing. It will automatically detect grammatical error & highlight it.
When you hover your mouse cursor over the highlighted text, it will suggest you with the correct word.
Simply click the correct word & BAM it's done.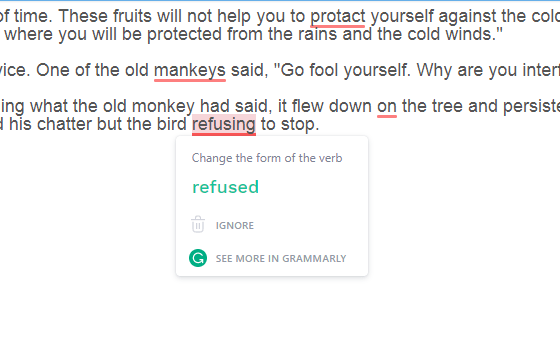 2. GRAMMARLY APPLICATION
Grammarly can also be used as an application. This can be useful when you need to submit articles to someone in a word file or any other format. But before that, you need to inspect it whether it is error free or not.
In that case, you can import word file or simply copy paste the text into its interface. In this way, you can correct all the grammatical errors for the required files.
This can be used if you are making a resume or want to submit articles to someone. Just run & make it error free.

DOWNLOAD GRAMMARLY APPLICATION

How To Install Grammarly Application
Login to your Grammarly account dashboard.
You will see an "Install Now" button. Click it, and the setup will start downloading.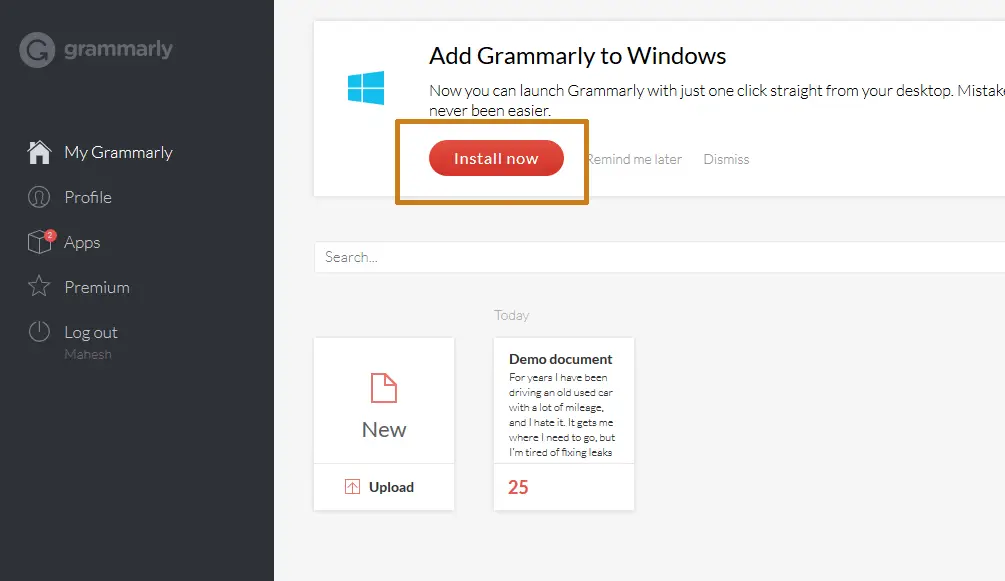 After it is downloaded, run the installation as you would normally do & install it. That's it.
How To Use Grammarly Application
Open it & login with your account email & password.

There are two ways to check the word file. Either you can import your word file or you can copy paste the text in Grammar text box.

To correct the words, simply click on the suggested words as shown on the right side.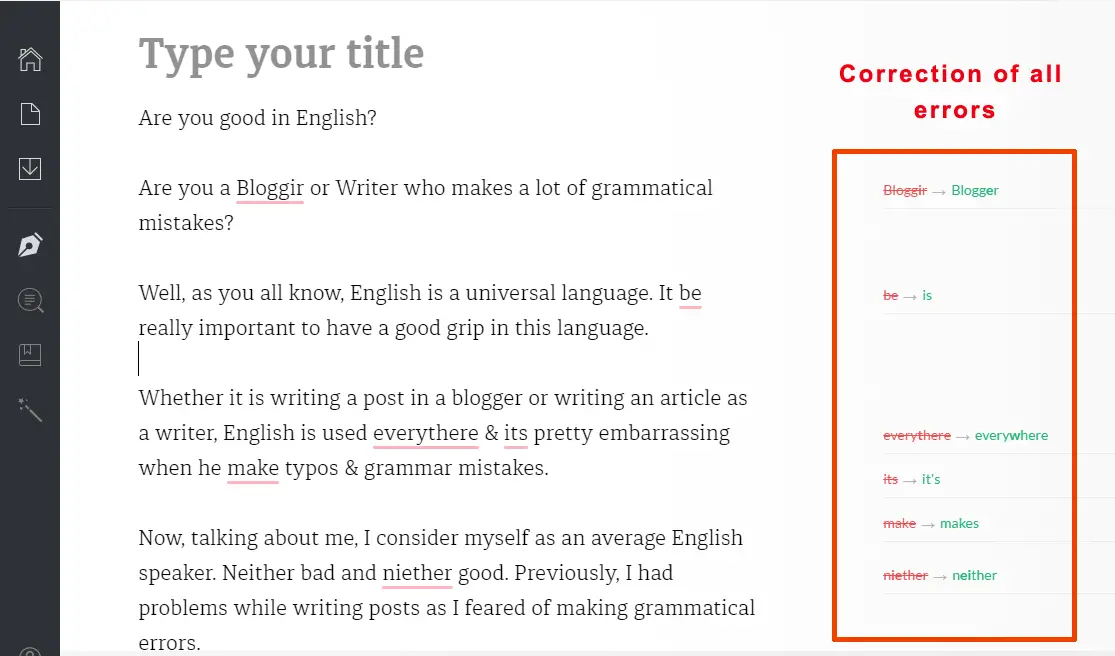 3. GRAMMARLY ADD-IN FOR MICROSOFT WORD & OUTLOOK
There is one more way to use this awesome tool. You can download an add-in which is specially made for Microsoft word & outlook.
After you install it, it will be added as an option on your Microsoft menu bar & thus it can then rectify grammatical errors straight from your word or outlook files.
How To Install Grammarly Add-In
Download the setup.

Open it & a window will pop up where you need to select both Microsoft Word and Outlook. If done, click on install.

Once installed, open word file and you will see the Grammarly icon on the top right side of the menu. Click on it.

Thus, this makes it active & it will start showing all the errors in the document depending on the various options you choose from the menu bar as shown below.
4. USING IT'S WEBSITE
Go to Grammarly website login page.

Log in to your account which will take you to the dashboard.

Simply click on New if you want to type or paste any text. Otherwise, you can click the import option to upload any word file.



FEATURES OF GRAMMARLY FREE PLAN



1. SPELL CHECKER
As from the name, this feature helps you to spot all the spelling mistakes in real time while writing & then suggest the correct word. Spelling mistakes can be too annoying for your readers.
The detection accuracy is too good and there will be no hassle for spelling mistakes.



2. GRAMMAR CHECKER
Now grammar mistakes are embarrassing if you are a blogger or writer. It is also very embarrassing to find out grammatical errors on your resume and on other paperwork.
Thus, Grammarly's grammar checker detects all the wrong grammar in your document and suggest it with the right words.
However, sometimes it suggests wrong words as well, but that is minor and you can detect that if you at least know the basic English language.
Also, if we ignore some errors it will pop back again & that is a little annoying.



3. PUNCTUATION CHECKER
As you all know, full stop, comma, colon, semi-colon etc play an important role in the English language. Improper use of these can totally change the meaning of the sentence.
In order to avoid it, Grammarly introduced Punctuation checker feature where it detects all the punctuation error and rectifies it.



4. CONTEXTUAL CHECKER
In case you don't know, the Contextual error is an error that occurs when the wrong word is used but the word is spelled correctly.
For example, " I want to know" is the correct sentence but if it is written as "I want to no", then the word "no" is the contextual error. Here "know & no" sounds the same. 
These types of error can be rectified using the Contextual checker feature. 



FEATURES OF GRAMMARLY PREMIUM PLAN
Although the premium plan includes all the free version features, they also have additional features which are very useful.
Below are the required features



1. VOCABULARY ENHANCEMENT
With this feature, you won't require any dictionary & you don't have to search for words on the internet for its meaning.
We often sometimes bump into new words while reading an article online.
What do we do?
We either search for the meaning of that word in a dictionary or we search it online.
Now you don't need to do so. Just double tap on the word for which you are searching meaning for and Grammarly will pop up a window with its meaning on it. Now that's a clever stuff.



2. PLAGIARISM CHECKER
As you all know the meaning of Plagiarism, but wait if you don't know then Plagiarism means stealing others work and passing it off as yours. It is mostly found in articles and written stuff.
Thus, with this feature, you can detect plagiarism on any document. Now, this is especially beneficial for bloggers who accept guest post.
You can simply check such articles using this feature and it will show you whether it is plagiarized or not.



FREE VS PREMIUM PLAN
As I already mentioned all the features of the free & premium plan, you can differentiate what all features it is offering.
Still, I would suggest that if you are a blogger or content writer who is daily engaged in writing work,  a working professional who is engaged mostly in writing reports or emails, you can use free version which will do the job.
However, the free version is limited to 100 points of grammar, contextual spelling and punctuation errors. If you want it to be more, then you can upgrade it to a premium plan.
Premium version should be used by those who are mostly engaged in checking others articles or want to enhance their writing skill more. Bloggers who continuously accepts guest post will be a perfect compatible with this version.
Also, it offers 100+ points of grammar, contextual spelling and punctuation errors.
Click below to upgrade it



PROS
Ability to correct spelling & grammar errors

Plagiarism checker & vocabulary enhancement tool is a plus point.

Works with almost all the websites

Basic features are free

It automates the process of proofreading, making it fast & easy.



CONS
Errors, when ignored pops-up again

Premium plans are little costly

It works only online i.e an internet connection is a must



PERSONAL EXPERIENCE
I am using it for past 1 year, and all I can say is "IT'S FABULOUS". It has considerably improved my writing skills as well as vocabulary skills too.
I am not a native English speaker, so my English was just basic. While writing articles, I use to make a lot of mistakes.
So, now being a Grammarly user, it highlights all my grammatical errors and thus I could see where I am doing mistakes.
It also suggests me with the right words which not only helped me to improve my article but also taught me the proper use of grammar.
One more thing, it also offers an improvement report.
Grammarly sends you weekly reports straight to your inbox and you can track your week wise progress.
It shows results based on Productivity, Accuracy & Vocabulary. Thus due to all these features, It made me write this review.
CLICK HERE TO INSTALL GRAMMARLY



FINAL VERDICT – GRAMMARLY REVIEW 2018
Wrapping up, all I wanna say is that, this is the best online grammar checking tool which provides lots of features for free. It should be a must-have tool for every blogger
The reason why I suggest it because it will make your article more approachable & error free which in turns makes your article look professional.
Have you installed it? If not, go grab it.
If you liked this Grammarly review article, don't forget to share it on social media as it will support my blog. 
Cheers.
>>Read Next: Best Websites to take any course for free