When you click the links and ads on this blog, it helps me to pay the bills & keep this site free for you. Thanks for supporting me! For more info, read the Disclosure page.
Do you have a YouTube channel that isn't growing?
Even after creating great videos, are you still stuck with double or triple-digit views?
Well, I know how it feels when we work so hard and don't see the kind of progress we wanted to see.
On one end, YouTube is becoming strict day by day and on the other end, you are expecting a viral video that gives you a lot of attention.
With the new rules that require 1,000 subscribers and 4,000 watch hours for monetization, it's becoming more and more difficult for new YouTubers to have a successful channel.
So, if you want to grow your YouTube channel quicker than ever before? You should start applying these 5 simple tips that ensure you do better than other Youtubers.
Not only will you get new subscribers, you can also drastically improve your views as well.
So, without any further ado, let's get started.
Read More:
How to Grow Your YouTube Channel From 0 Subscribers
1. Create Value-Driven Content
The first thing you should pay attention to is to create value-driven content based on research.
Contents that help & teach people something or even entertain them should be your main priority.
You need to make sure your videos give a reason to your viewers to keep coming back. They should feel that they need to subscribe to your channel after watching your videos.
And how are you going to do it?
By finding out in which topic you're knowledgeable about that you enjoy and then look them up on YouTube to figure out whether people are even searching for it?
Do the videos dealing with your topic have enough views? Does the channel have enough subscribers?
What's the use of taking time to create videos if it will never be found or doesn't have many audiences? You'll be simply wasting your time seeing no result. 
To simply wind it up, choose a topic you love, look it up on YouTube to see whether it is popular and then decide your final topic.
This way not only you are creating value-driven contents that you're well informed about, but you are also making sure that it has a huge audience.
2. Optimize Your Videos
Being a small YouTuber, obviously you don't have a following and neither subscribers. 
When you start from the bottom, it's really difficult to generate views unless you are lucky to have a viral video.
That's because nobody knows your channel exists & it's your duty to make them aware that you are there.
Obviously, you can spend money on Instagram or Facebook ads to get attention, but if you are on a budget or don't want to spend any money, start optimizing your videos.
When you optimize your videos well for specific keywords, you are making it searchable. People can type in keywords to find your videos easily, which is by far the best way to generate views when you are having a new channel.
Note: You can also use Tubebuddy to do keyword research and manage your channel. Read my full Tubebuddy review here.
This also gives you a great opportunity to drive engaged viewers who might become your ideal follower and help to get the snowball rolling on your channel.
If you completely want to dominate YouTube SEO to get to the top of search results in a YouTube friendly manner, my friend David who runs "Out of the 925" blog has a wonderful course that teaches YouTube SEO perfectly. 
It has 8 Modules with over 25 Training videos plus a bonus module on the secrets of going viral.
Being my friend, David is courteous enough to give my readers a small discount. You can use the code LIFEZEAZY to get a flat 20% discount on purchase. Click here to visit.
3. Improve Watch Time & Audience Retention
Watch time is the total amount of time in aggregate (in minutes) that viewers spend watching the videos.
This includes the time viewers spent watching your videos, and the time they spent watching other videos (not yours) on YouTube.
Whereas the Audience Retention rate calculates the time the viewer spent watching only your videos. Whatever videos they watch after yours are not counted.
Basically, you need to improve both of them to improve the visibility of your videos. YouTube likes to promote such videos and channels through search and recommended sections that have high watch time & retention rates.
This really benefits YouTube because the viewers are going to stick in their platform for a longer time, and that's what they really want.
So, to improve your watch time, you can
Structure your video playlist

that lets viewers watch more videos of your channel that ultimately boost watch time & gives you a higher ranking on YouTube. When you have a bunch of videos uploaded, ensure to organize them by putting them on playlist.

(I will discuss this in brief next)

Avoid click-baiting and choose the right thumbnail & titles that accurately reflect the contents of your videos. This will ensure that whoever is clicking and watching your videos, they are there to stay.
Use cards on your videos when users are about to drop off. Cards are basically the suggestions YouTuber want to suggest to their viewers. You can use them to link to other related videos or even playlist. This will ensure they are staying on your channel for a long time.
For improving audience retention, you can
Create high-quality videos that hook your viewers to watch it till the end. Well, that doesn't happen quite often because most of the time they move on to other videos after a couple of seconds or minutes. So, try your best to make your video engaging & entertaining to keep them as long as possible, especially the first 15 seconds.
Keep your intros short, stay on the topic and come to the point as early as possible. This way you can keep their attention. 
4. Create Playlists
A proven way to grown your channel is to get viewers to not only watch one of your videos, but a series of videos that are all related together and that's where playlists come into play.
Many YouTubers think the only purpose of having playlist is to organize videos with similar characteristics. This helps your audience to find what they are looking for.
But little do they know that the same playlist can make those viewers stay on their channel for a longer time.
Before I explain how? You should know that we can create two types of playlist.
Regular playlist allows you to add videos to multiple playlists whereas you can't do the same thing in series playlist. This means you can add a video to only one playlist.
When you watch a video from this playlist, it enables other videos in the playlist to be featured and recommended.
Since the playlist contains relevant videos, people spend more time watching them & thus, this results in more watch time, which is the highest-ranking criterion on YouTube.
Another advantage of having playlist is that you can easily see which playlist is getting more attention from your audience.
This helps you create better content on the same topics that consequently increasing your subscribers.
How to Create a Playlist?
To demonstrate this process, I will use one of my inactive YouTube channels.
Open any video you like to add to a new playlist.

Click on the Save button.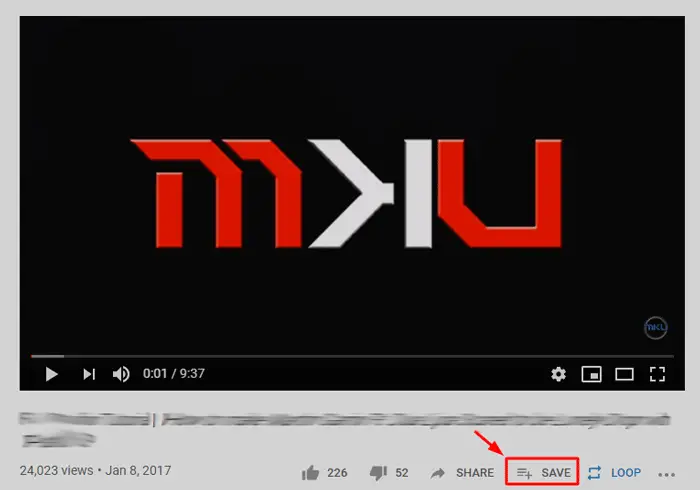 This will open a small box where you can click on the "Create playlist" option.
Enter name, set it to public and click on the "Create" button to create your new playlist.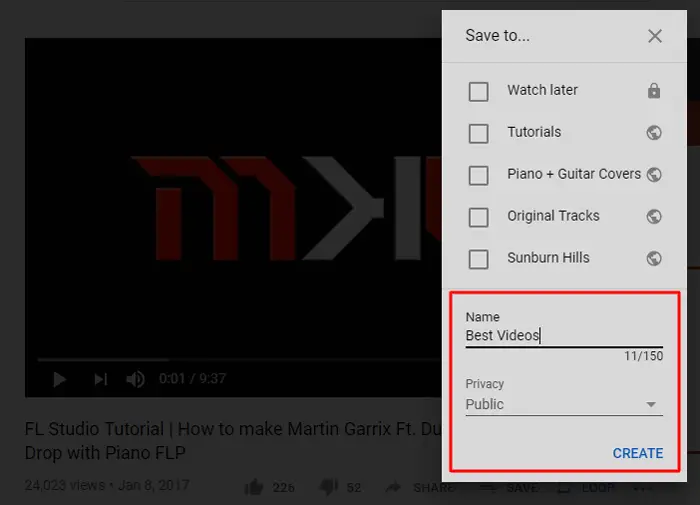 To add more videos, open your video and click on the Save button. Then add it to your new playlist as shown.
That's it. You can then create new videos and add them to your playlist by following the same process.
How to Convert a Regular Playlist into a Series Playlist
Go to your creative studio dashboard and click the playlist.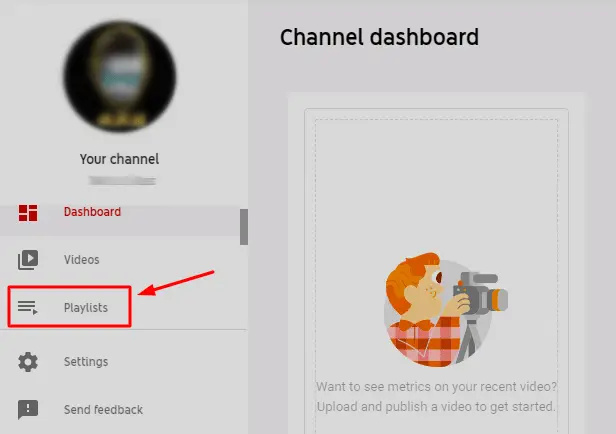 Click on the Edit button on any playlist you want to convert. I will choose my newly created playlist "Best Videos".
Then click on the three dots and select "playlist setting" option.
A box will open where you have to click on the advanced settings.
Then again click on the playlist settings.
Tick the "Official series" option and hit save. That's it, your series playlist is created.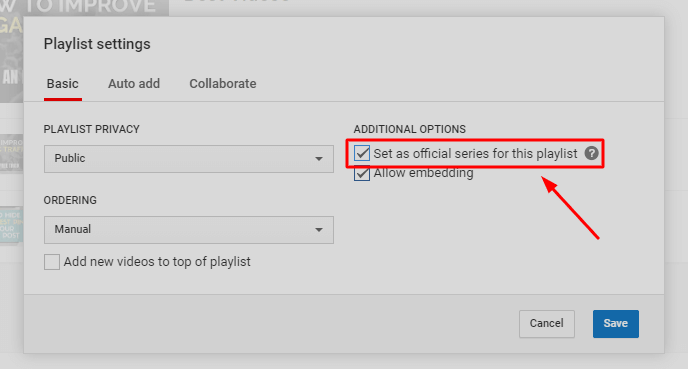 Now, if you watch the video, you'll find the next video in the "Up Next" section.
5. Duplicate Your Success
You should always keep an eye on your analytics and analyze your videos to see how each video is performing & where your traffic is coming from. 
Why you want to do this is because if one of your videos starts to get treated favorably by the algorithm, you want to create similar or follow-up videos as quickly as possible.
That's because you want your new viewers to binge on your videos as long as possible. Keeping them retain and stay on your channel for a long time improves your watch time & retention.
When you know that this particular video is doing well, creating similar videos & adding them up in your playlist and cards is a great way to keep your viewers engaged with your videos.
YouTube is after all a business and they are looking for their best interests. If your channel & videos are going to keep people on their platform longer, then they are going to reward you by showing your channel to more and more people by ranking & suggesting them. Make sense?
If you opt these 5 steps and work on it, days are not far away you will see better results than other beginner YouTubers.
This is how you can grow your YouTube channel quicker than ever before and you can have a look at the YouTube SEO Success course that talks about everything in detail. Good Luck!
READ NEXT: