When you click the links and ads on this blog, it helps me to pay the bills & keep this site free for you. Thanks for supporting me! For more info, read the Disclosure page.
If you don't know how to monetize your YouTube channel, then this guide will be quite helpful for you.
I have been on YouTube for 4 years and I absolutely love it. I have monetized many channels and it was quite easy to do earlier.
But now things have changed & its not an easy job now.
Though the steps are the same but they now come with conditions.
Unless your channel has 1000 subscribers & 4000 watch hours in the past 12 months, you are not eligible for monetization.
So, if your channel is new and you haven't reached this mark, you can skip this post.
But, if you are already eligible and looking for a step-by-step guide for YouTube monetization, then this is the perfect post for you.
Monetize YouTube Channel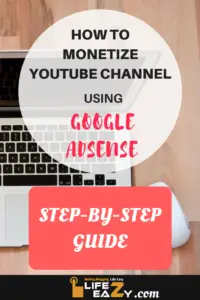 What is Google Adsense?
It is a program by Google designed for website publishers to display text, video or image ads on website pages & YouTube videos.
If your YouTube channel is Google Adsense approved, Google will post ads on your videos and you can make money if someone views & clicks them.
Read More:
>How to increase your YouTube Ad Income (Secret Sauce)
>Top 10 YouTube Hacks & Tricks You Might Don't know
How Does YouTube Monetization Works?
Once you're approved for monetization, YouTube analyzes your uploaded video to check whether you own all the copyrights.
If there is no copyrighted material, then YouTube place ads on your videos. When someone clicks or views those ads, you will earn some money.
To avoid any copyrighted claim, you must know all the copyright & fair use policies. You can visit YouTube's Copyright Center to learn more.
Besides complying with YouTube's copyright policies, videos must also abide by YouTube's Terms of Service and Community Guidelines.
How To Monetize YouTube Channel – Step-By-Step Guide
Sign in to your YouTube channel & click "YouTube Studio".
Now click the Other features > Status & Features option as shown below.
Click enable under Monetization tab.
This will open the monetization page where you need to complete four steps to monetize your Youtube channel. Click the start button under the YouTube Partner program i.e. step no.1.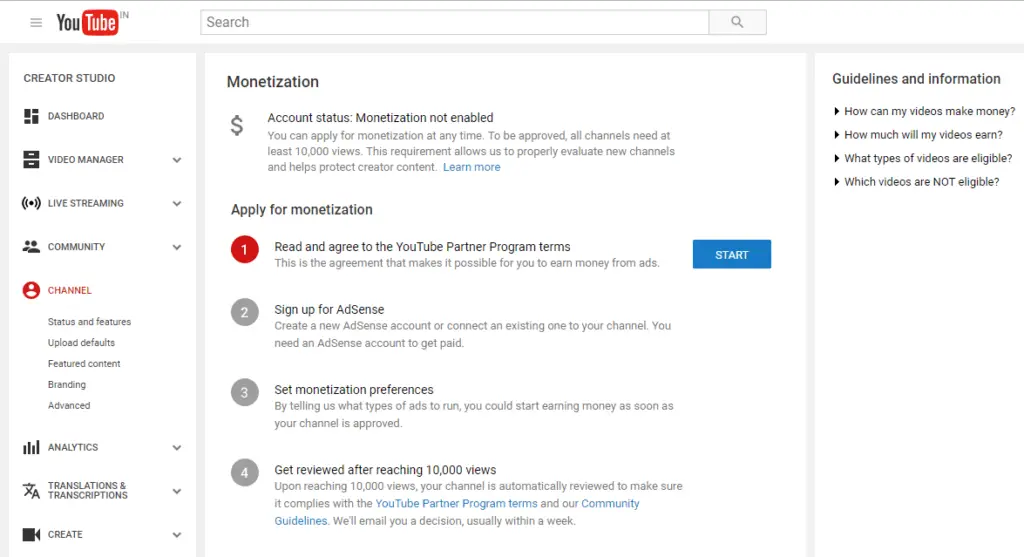 A window will open showing all the YouTube partner program terms. Just check all the terms & click I accept.
As I have completed my first step, you can see a green tick. Next, I will head over to the 2nd step i.e Sign up for Adsense.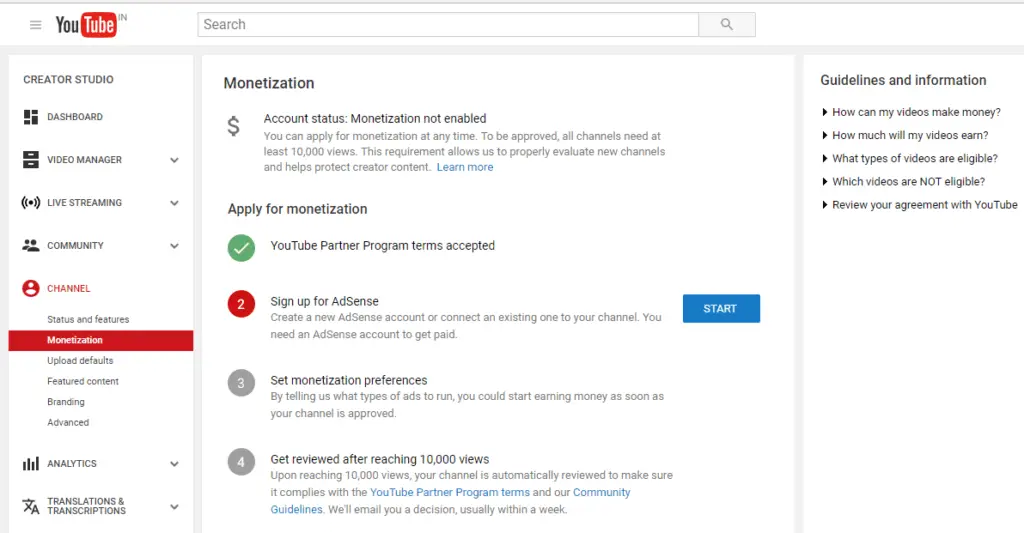 On the next page, click next as shown.
You'll land on the Adsense website where you need to either login or create a new account. I will go with the second option so I'll click Yes.
Fill your personal details & make sure to check "yes" on all the AdSense email preferences before submitting your application.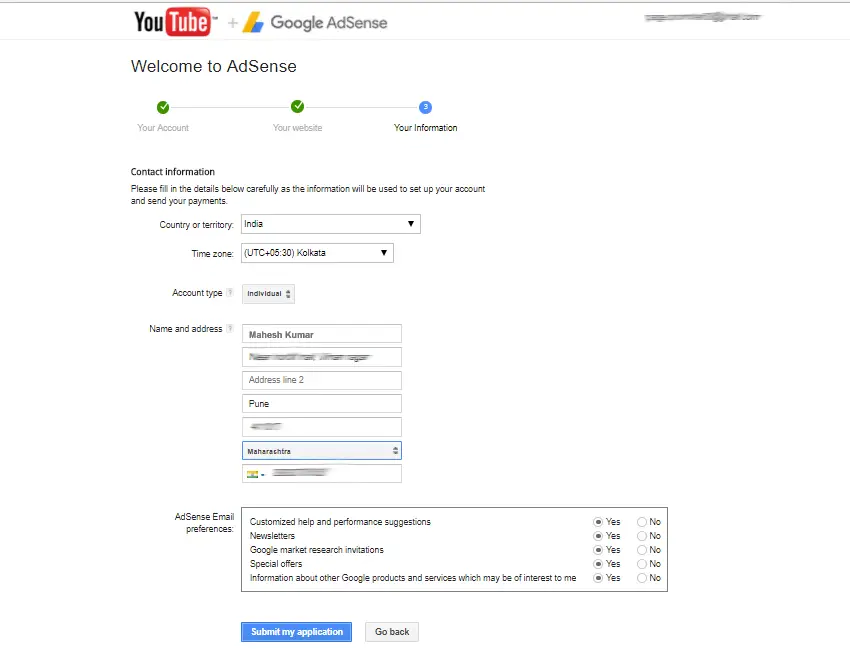 Next, you have to verify your mobile number either by text message or by voice call. Just click "send verification code" after choosing the appropriate option.
Enter your verification code & click Verify.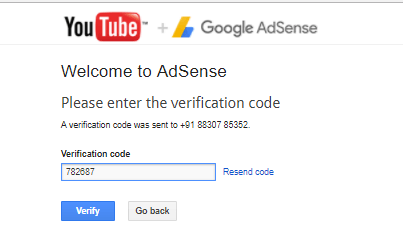 A window will open where you have to accept the terms & conditions. Just check the box and click Accept.
A pop-up message will be displayed. Just click OK and your 2nd step is done.
For the 3rd step, click the start button for setting monetization preferences.
Check all the ad formats and click save. Your 3rd step is done.
The last step is the review process where you need to have at least 10,000 views 1000 subscribers and 4000 watch hours in the past 12 months. So, if you haven't reached that mark, then you can't monetize. But if you are eligible, then submit your channel.
Now, if you will click on the AdSense settings under AdSense requested option (Step 2) shown in the above screenshot, you will get a message that your channel is under review and it will take approx 3 days for approval. During this time, you can check your channel status by clicking on Associated Adsense account option under Adsense Requested.
If they approve your channel, you will receive an email something like this.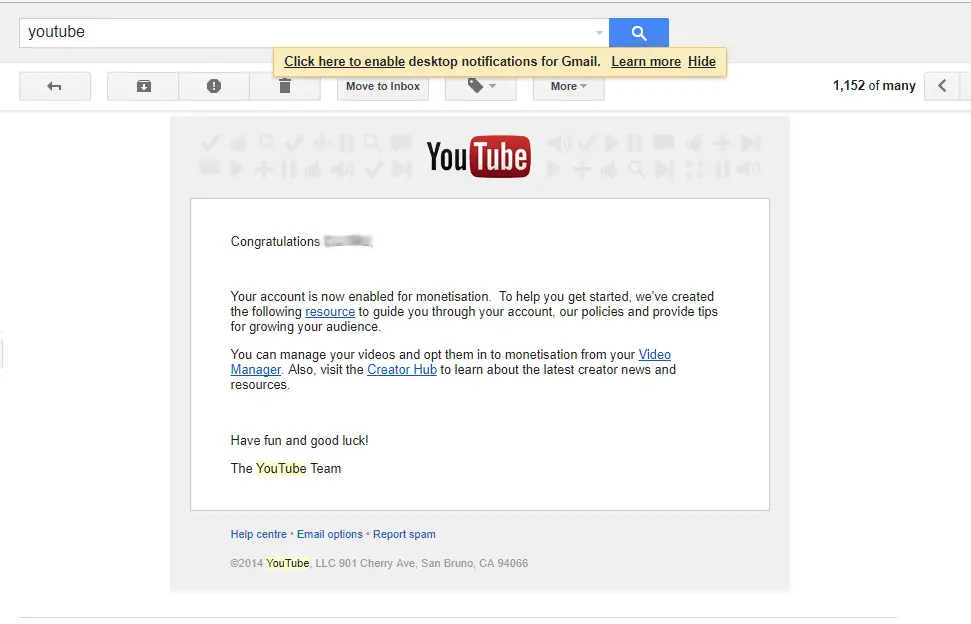 That's the complete procedure to monetize your channel.
How To Check Whether Your Video is Monetized?
To check your video is monetized, go to Creator Studio > Video Manager. You will see a green $ sign which shows your video is monetized.
If you can't find that green $ sign, then click edit video option. (my video is already monetized).
Click the "Monetization tab" as shown below.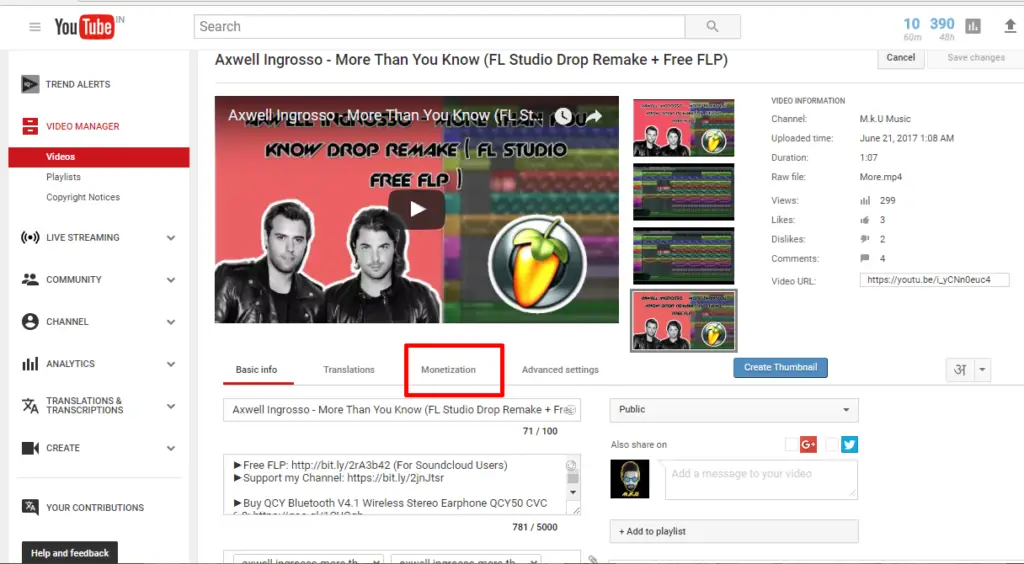 After that, turn ON the "monetize with ads" option and check all the types of ads to save them.
That's all you need to do.
Ending Note…
That's how you monetize your YouTube channel. I am pretty sure now you exactly know what to do.
I know it's darn exciting to get paid online without depending on anyone. So, congratulations on your new journey.
If you have any doubt, you can leave a comment down below & don't forget to pin & share this post.
Cheers.
You Might Also Want To Check Out