If you are having a popular YouTube channel that gains a lot of views, then why not you earn money at the same time.
If you monetize YouTube channel with Google Adsense, you can earn money with your videos. No matter whether it's a review video, reaction videos or something else, you can make some hot cash with it. Many popular YouTubers are earning chunks of money which leads them to do YouTubing as a full-time profession.
But before applying for Adsense, your YouTube channel must have more than 10k views, then only you are qualified to monetize the channel.
If you are struggling to get views, you really need to apply YouTube SEO tactics to your videos to see some good result.
In this guide, I will show you step by step on how to create an Adsense account and link it to your Youtube channel. For the sake of this article, I created a new YouTube account so that I can show you exactly how it is done.
MONETIZE YOUTUBE CHANNEL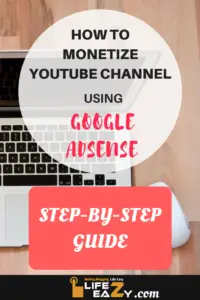 WHAT IS GOOGLE ADSENSE?
Google AdSense is a program by Google which is designed for website publishers to display text, video or image ads on website pages or YouTube videos and earn money when visitors view or click the ads.
If your YouTube channel is Google Adsense approved or monetized, you will allow Google to post ads on your videos and if someone views or clicks the ad, you will earn money.



HOW DOES YOUTUBE MONETIZATION WORKS?
After you have been approved for YouTube monetization, it analyzes your video by checking whether you own the worldwide commercial rights to everything in the video. If your video is eligible, then YouTube place ads on or near your videos. If someone clicks those ads, you will earn some money.
For more information about copyright and fair use, visit YouTube's Copyright Center. In addition to complying with YouTube's copyright policies, videos must abide by YouTube's Terms of Service and Community Guidelines.
The basic factor of earning more money is the type of ads and the prices appearing with your videos. Preroll ads that play at the beginning of the video make more money per 1 thousand views than the banner ads.



HOW TO MONETIZE YOUTUBE CHANNEL – STEP-BY-STEP GUIDE
Sign in to your Youtube channel & click "Creator Studio".
Now click "Channel" which is shown on the left side (red highlighted).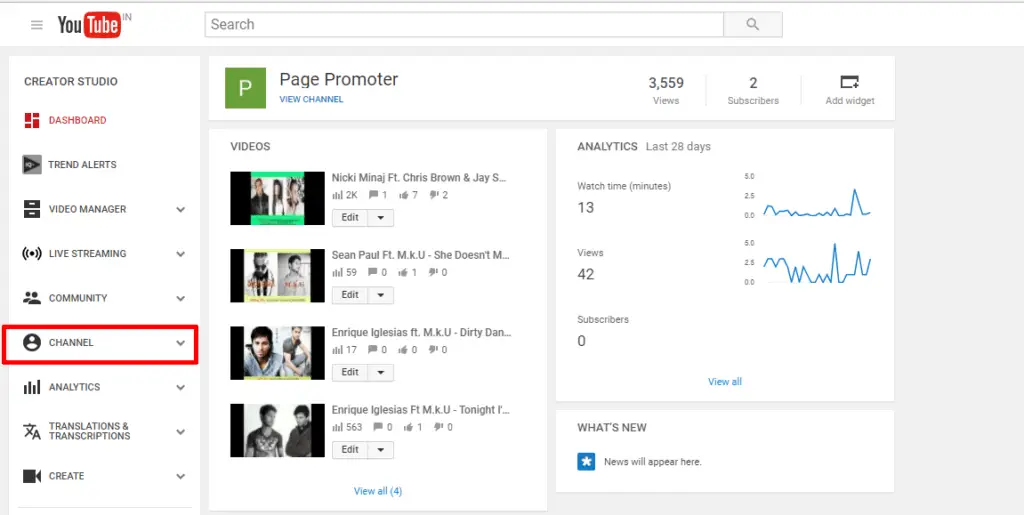 After clicking, it will go to "Status & features page" where you can see monetization column. Just click the "enable button" as shown.
This will open the monetization page where you need to complete four steps in order to link your Youtube channel. The first step is about agreeing to Partner Program terms. Just click "start button" as shown below.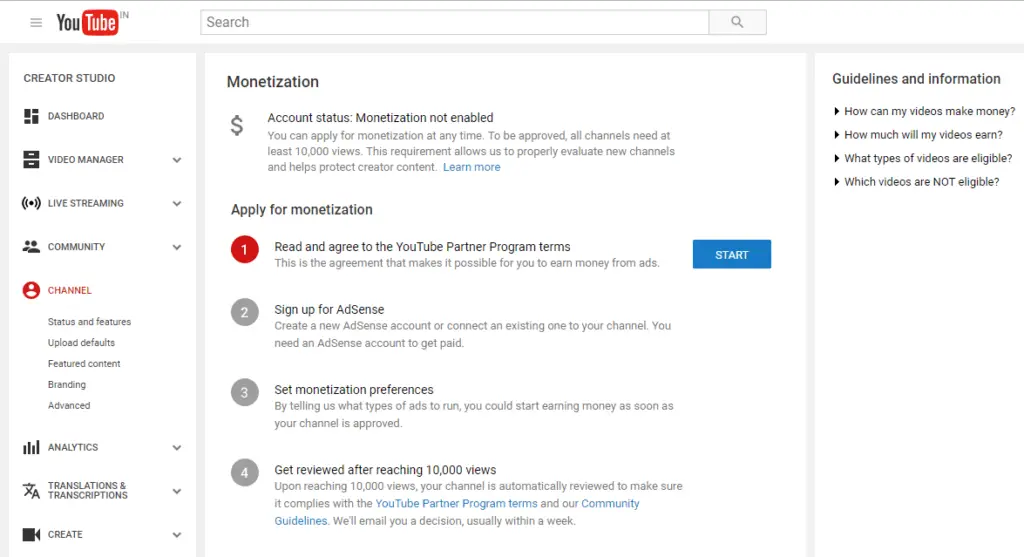 A window will open showing all the Youtube partner program terms. Just check all the terms & click "I accept button".
As we have completed our first step (green tick), we will head over to our 2nd step i.e "Sign up for Adsense". Click "start button".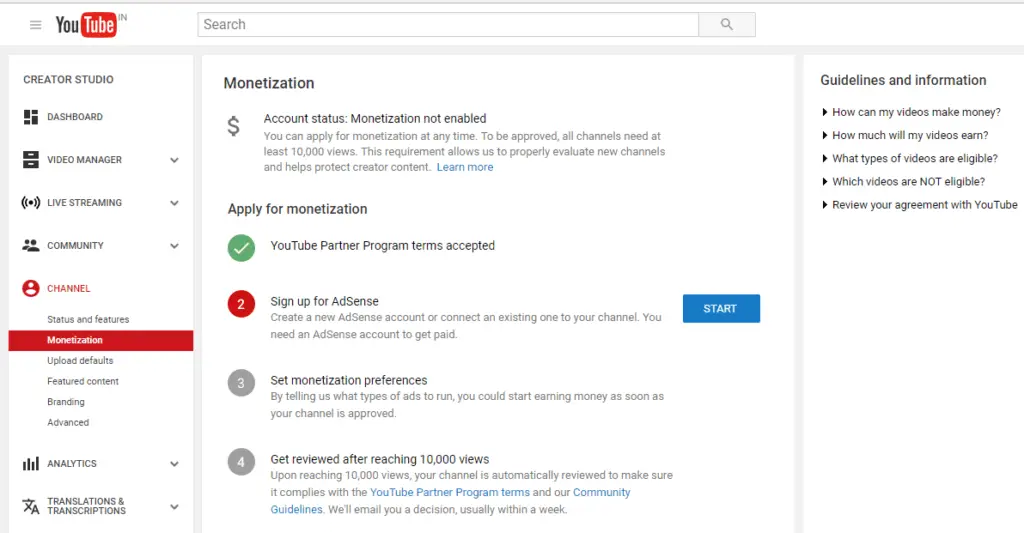 You will be redirected to Google AdSense by clicking the "next button" as shown.
You have now landed on your AdSense page. Here, they are asking whether to use the same email account (Youtube email account) or want to use another email account. Here I will just click "yes".
It will direct you to a page where you have to fill personal details as shown below. Make sure to check "yes" on all the AdSense email preferences and click "submit my application button".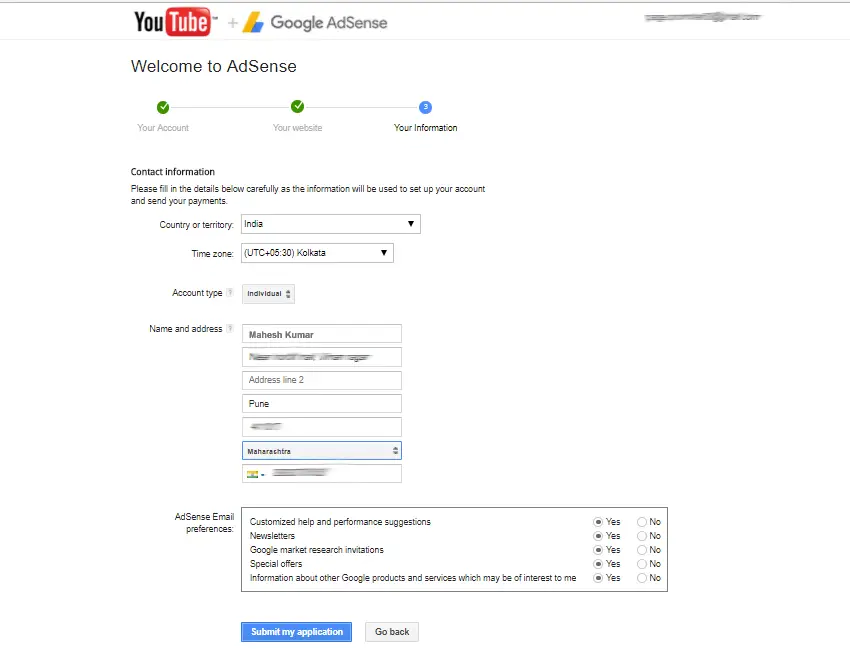 Now you have to verify your mobile number either by text message or by voice call. Just click "send verification code button" after choosing the appropriate option.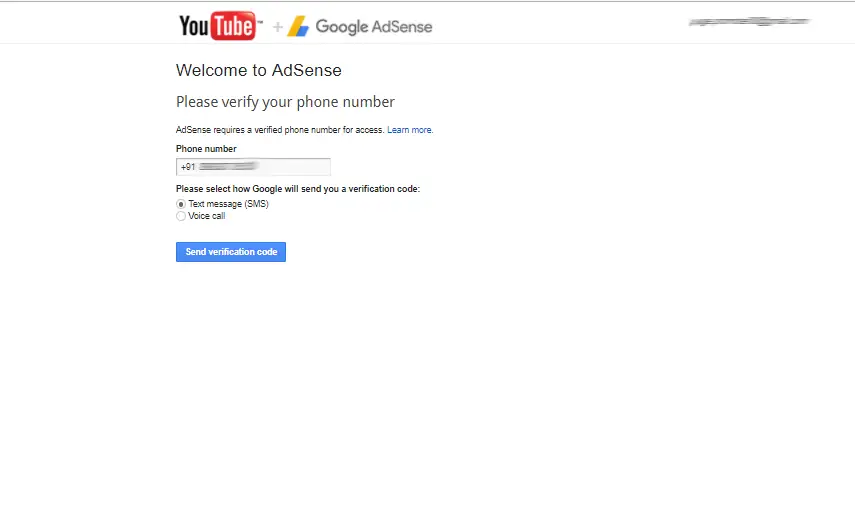 Enter your verification code & click "Verify button".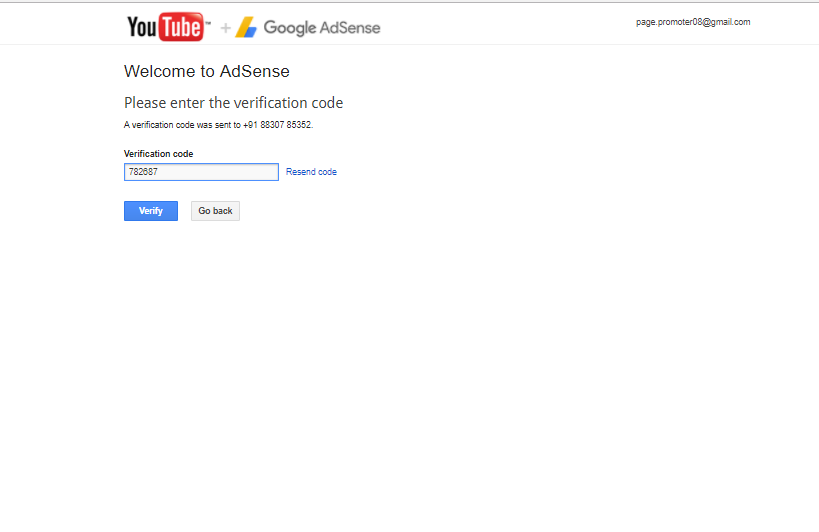 A window will open where you have to accept the terms & conditions. Just check the box and click "Accept".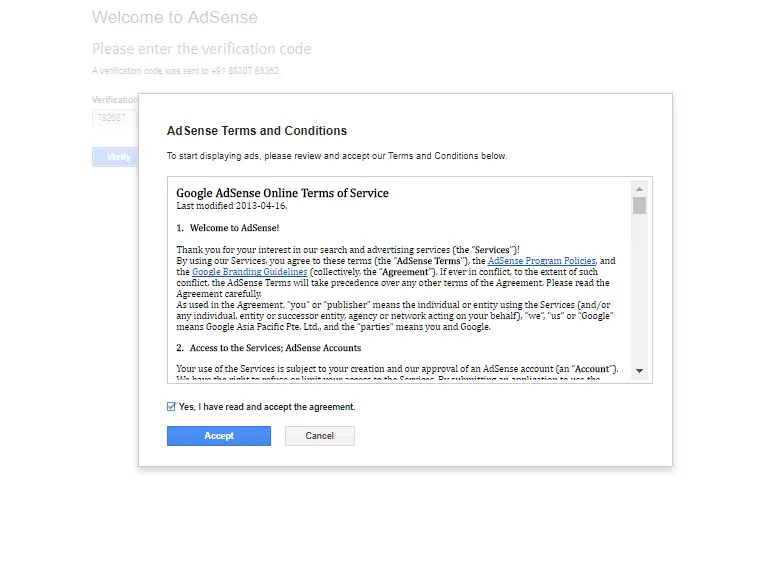 A pop-up message will be shown. Just click "Ok".
Now here comes the 3rd step. Just click the "start button" for "set monetization preferences" option.
You will be headed over to ad formats. Check all the ads and click "save".
The fourth step is to get reviewed after reaching 10k views. This will be not applied to your channel if it has less than 10k views. As I mentioned above, I created this channel just to show you the procedure of Youtube monetization. That is why I have less than 10k views. So I'll just skip this part.
Now, if you will click on the "Adsense settings" mentioned below step 2 (Adsense requested). You will get a message that your channel is under review and it will take approx 3 days for approval as shown below. During this time, you can check your channel status by clicking "Associated Adsense account" option under "Adsense Requested".
So after getting approval, you will receive an email something like this.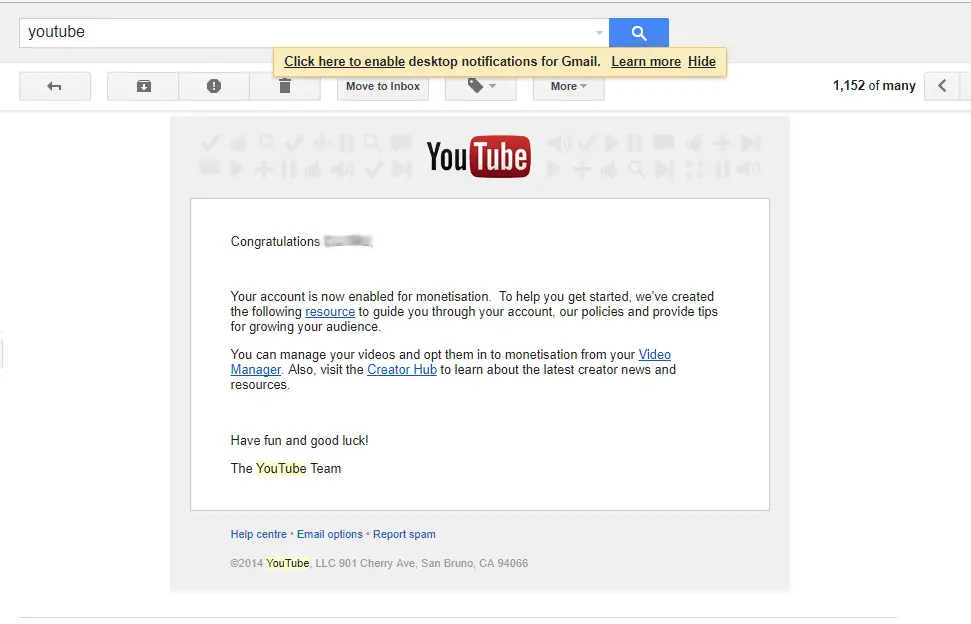 Hey buddy congratulations, you are now eligible to earn money through Youtube monetization.



HOW TO CHECK WHETHER VIDEO IS MONETIZED OR NOT?
In order to check whether your video is monetized, simply go to Creator Studio > Video Manager. If the video is monetized, you will see a "green $ sign" as shown below.
But suppose, you don't see it, then click "Edit" on any unmonetized video as shown below (my video is already monetized).
You are then directed to "Edit post page" where you have to click "Monetization tab" as shown below.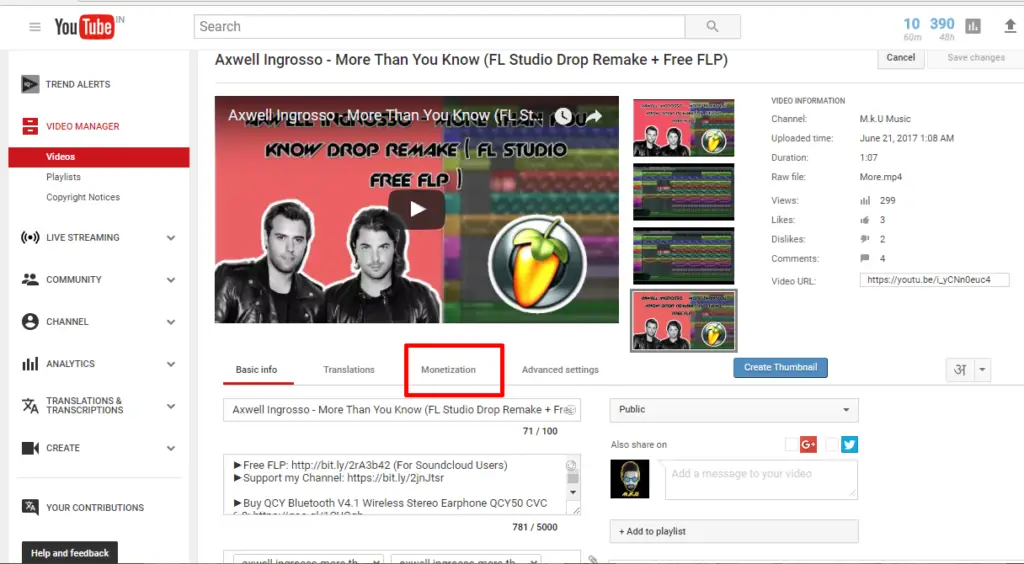 After that, turn ON the "monetize with ads" option and check all different types of ads as shown below & click "Save changes button". Now your video is monetized with ads.
That's it, I hope now you know how to monetize YouTube channel like a boss. So, if you already own a YouTube channel with more than 10k views, then quickly apply for the Adsense program and start making money.
I hope this article was helpful to you. If you like this article, then don't forget to share it on social media. Cheers.
>>Read Next: How to create a successful YouTube channel in 10 minutes