When you click the links and ads on this blog, it helps me to pay the bills & keep this site free for you. Thanks for supporting me! For more info, read the Disclosure page.
So you want to know how to get real traffic to your website for free. I understand it's hard to get traffic, especially when your website is new & no one knows about it.
People are not aware that an Xyz website is there on the web that talks about their interests. With no people coming to your website, you won't even make sales or generate ad revenue. Thus your online business becomes a flop.
Though you can easily get traffic by investing money in advertisements, that's not practical if you are on a tight budget.
That's the reason in this post, I will show you six real & legit ways to get free traffic to your brand-new website. I still use most of them and it's working pretty darn good for me, especially the number one method.
If you have started a new website and not getting enough traffic, try the following methods to see good results.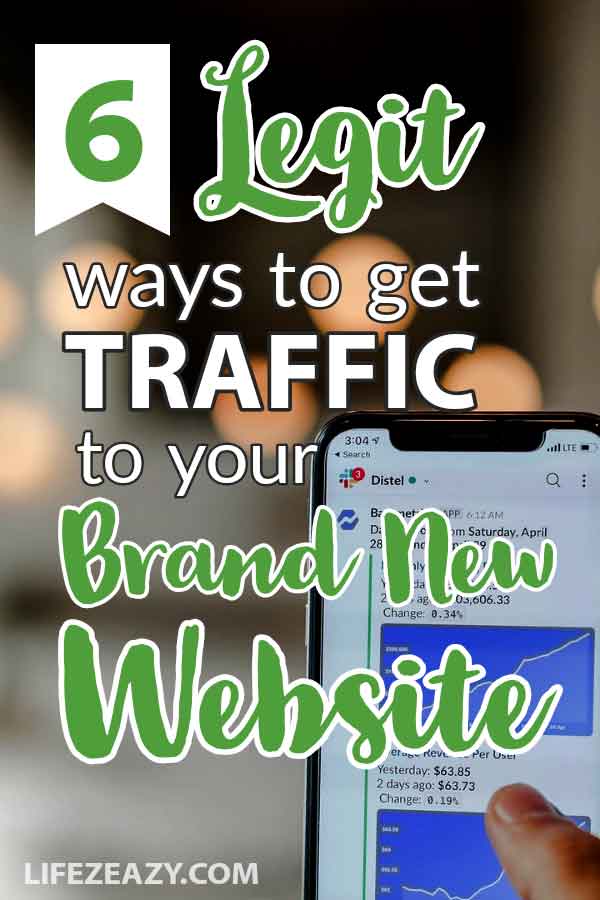 6 Methods To Get Real Traffic To Your Website For Free
1. Pinterest
Pinterest is one of the biggest search engines, having over 335 million users every month. As a blogger, it's like a jackpot of traffic.
Though most of the bloggers are getting wild on Pinterest, some still haven't heard about it. Even if they heard, they don't know how to use it properly which discourages them to continue.
When I started using Pinterest, I struggled for almost one year trying to figure out how it works. After all the efforts, I could only drive 10-20 visitors per day and that was it.
When others were getting hundreds of visitors per day, here I was struggling to get even 50.
But after taking a couple of courses and realizing what works for me, I am getting almost 1000 sessions per day for free by only spending 30 minutes on Pinterest.
Though Pinterest is a big topic that requires a separate ebook, below I summarize how to get started.
How to Get Started With Pinterest
Create several boards around your niche. A board is where you will save your pins that act as a folder. While creating a board, ensure to describe your board thoroughly with relevant keywords. I suggest creating 8-10 boards for each category (sub-niches) of your website.
Fill each board with relevant pins suggested by Pinterest. I recommend pinning at least 30 pins on each board.

(Pins are the vertical images you see on Pinterest)

. 
Once you will see some engagement i.e. getting followers & others saving your pins, start creating your own pins.

Save your pins to your relevant boards and keep on creating new pins every day. (at least 1-2 pins)

You can also create multiple pins for a single post and when you have a lot of pins on Pinterest, you will start getting traffic every day like a snowball effect.

Lastly, make sure you pin 20-30 pins every day whether it's your own pin or third-party pins. Initially, you have to pin third party pins daily to reach your daily numbers. But once you have created enough pins, focus only on yours.
At some point, when you have enough pins, manual pinning can suck up a lot of time. In such a case, using a schedular like Tailwind can save a lot of time.
2. Blog Commenting
Blog commenting is a great way to drive real traffic to your website. It is a traditional method that still works even now.
All you have to do is find websites in your niche and post comments on their post. That's it!
But there are a few things you need to take into consideration while commenting. Let me explain how.
How to Get Started With Blog Commenting?
Go to Google and search for a keyword related to your niche. For example, if your blog is about money-making tips, then I will type & search "make money online tips". 

You'll see a result page listing all the website posts related to the search term. 

Open them one by one and drop a comment in their comment section. While writing comments, ensure it is nice and valuable by mentioning a few points that you liked about the post. 

When someone reads your comment and clicks on your username, they can visit your website and that's how you get traffic.
Please note when you comment, you have to enter your name, email address, and website URL. This allows your website URL to get linked to your name & when someone clicks it, they can visit your website.
Now, some websites turn their comment section off, maybe to avoid spam comments & others don't provide the website link text box. In such a case, moving on to another website is a better option where there is no restriction.
Following this routine will get you a nice trickle of traffic coming to your website and it will build up over time.
3. SEO
Search engine optimization is a process where you optimize your website to get organic traffic from search engines like Google.
Optimizing your websites doesn't take much time, but getting the result from it needs some patience.
On average, you can expect to see the result from six months to 12 months for a new website & the period decreases if your site is old.
For new websites, the best way to get traffic faster is by targeting low-hanging fruit keywords. A keyword is considered a low hanging fruit when it has low competition and low search volume.
Targeting them by writing content on it is much easier to rank on the first page as compared to targeting broad keywords.
But how could you find and use them in your content? Let's find out.
How to Get Started With Search Engine Optimization?
Install & activate the Moz bar on your browser. This tool will show the Domain Authority (DA) of every website in the Google search. The more the DA score is, the tougher it gets to rank on the first page.

Now, go to Google and type any topic keyword. Let's say, I want to write content on survey sites. So, I will search for the keyword "survey sites" on Google.

As this is a high competition keyword (broad keyword), I won't even dare to target it because it is dominated by big sites. Instead, I will look for those keywords (Low-Hanging fruit) that are targeted by low DA websites. For this, you can either use the Google auto-suggested keywords method or scroll at the bottom to find searches related section.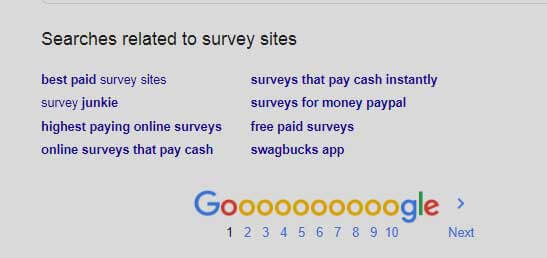 Choose the keyword you feel is good and search them to check whether it is dominated by low or high DA websites. Your goal is to find keywords dominated by low DA websites.

So, after spending some time, I came with the keyword "survey sites with no minimum payout" because I can see a lot of low DA websites in the search result as shown in the below screenshot. 
Now, if I write a detailed content on the same topic by following the basic On-page SEO, I have a better chance to rank on the first page.
That's just a basic procedure of how you could start with SEO to get free traffic. If you want to learn more, you can enroll in this Udemy course.
4. Quora

Quora is a Q&A website where people ask questions and get answers every single day based on specific topics.
It gets over 300 million monthly visits and considered an excellent source of targeted traffic.
Having such a vast audience is definitely a great place to promote your site here.
To get started, find questions related to your website post on Quora and answer them along with dropping your post link.
Just like the blog commenting method, here also, you need to give several answers to drive more traffic.
Another thing is Quora can also drive traffic from Google. Many times when you search a query on Google, you can also see results from Quora related to the same keyword.
If someone clicks those results and finds your answer there, you have a brilliant chance to get visitors.
To conclude, you can get traffic from not only Quora but also from Google as well. Now, the question is, how could you get started? Well, follow the below steps.
How to Get Started With Quora?
Make a list of all the problems associated with your website posts. 

Visit Quora and search for the problem related to your post in the search bar.

Find people asking questions related to your topic & answer them with a good valuable answer. Ensure to leave your post link along with your answer that explains the question in more detail.

Once you have posted a lot of answers, you will slowly see a rise in traffic from Quora.
Now, don't spam your links everywhere. Sometimes, writing an answer without thinking about promotion is also a good practice.
Additionally, don't copy and paste the same answer again and again as this activity might suspend your account.
Follow this routine every day for one hour or at least 30 minutes to see a trickle of traffic.
5. YouTube
Now, number five is something you want to get onto if you haven't done so already and that's YouTube.
YouTube is the second biggest search engine right next to Google having a huge potential to get free traffic to your brand new website.
I know what you're thinking & I completely understand your problem. Most of you are not comfortable showing your face & that's the reason you don't like to be on YouTube.
But you actually don't have to reveal your face because you can create videos without revealing yourself.
Though you can create a video using Powerpoint slides & screen recording software, Lumen5 is something you'll love to use.
Lumen5 is a video creation platform powered by A.I that will decrease your overall work by 50%. They offer a free version with basic features and the paid version starts with $19/month.
Watch this video to learn more about Lumen5. Once you're confident to use this tool, start creating videos for YouTube.
How to Get Started With YouTube?
Create a YouTube channel. If you don't know how to create, check out this post.

Take a post from your website and create a video on the same using Lumen5.

While uploading the video on YouTube, ensure you describe your video pretty well and drop a link to your post in the description section.

If someone views it and would like to explore more, they can click your link in the description to visit your website.
Getting traffic from YouTube is like a snowball effect that will build up over time the more you do it.
So, get on YouTube as early as possible and start working on your channel to get free traffic. Once you have a lot of videos, you can install a tool like TubeBuddy to manage and grow your channel more.
6. Forums
Driving real traffic from Forum or message boards has a similar approach like Quora but it's more about involving yourself.
Forum Marketing is not a new thing. It has been around for years, even when Social media sites were not even popular.
The best thing about forums is that your content stays there forever & you get a nice stream of visitors every day. Also, forums get ranked on Google just like Quora. So, there's your second way of getting traffic.
But unlike Quora, where you can straightaway share your post links from the very beginning, here you first need to become relevant. 
By relevant, I mean getting yourself involved by interacting with other like-minded people. For this, you can get into discussions, start your own threads to engage more people.
You have to follow the routine for like two to three weeks to get noticed. Once you are not a stranger anymore, that's when you should promote your website.
How to Get Started With Forums?
Go to Google and search 

forum:"your niche"

. For example, if my website is about finance, I will type forum:"finance".
You will get a couple of forums in the search results. Make sure that whichever forum you join, it has at least 1000 members & 50-100 new posts per day. That's because there is no point in joining forums that are dead.

Secondly, make sure it accepts the signature. The signature is where you will get the most traffic from. If the forum doesn't allow signature, look for another one.

Before you start posting anything, read all the guidelines, and ensure to follow them. There you will get the actual information about the way & format to post your links. If you fail to comply with their guidelines, you may also get banned.

Create a username related to your website and upload your real photo instead of a logo. Showing your face is a great way to get connected to other users.

Then start interacting in discussions, answer questions & post thread to get yourself active. Ensure you are polite, helpful while helping others. This leaves a wonderful impression.

Once you build good authority, you can then directly market your website on the forums you're in. This means you can drop links in your answers to get traffic.

You can also add a banner ad on your signature to gain more attention. But before adding them, ensure it is allowed.

Over time, you will start getting real traffic to your website for free.
Final Thoughts – Get Real Traffic to Your Website For Free
All the methods aren't a quick way to get traffic to your website, but if you are ready to work hard, you'll definitely see a good result.
I would suggest to choose only one method at a time and work on it. Give it some time at least one month to see whether it's working for you. If you are still not seeing the desired result, move on to the other one.
Personally, I would suggest going with Pinterest & SEO because you will see much better results as compared to others. If I talk about my website, I only pay attention to Pinterest & SEO to get around 1,500 visitors per day.
Though I worked hard for it, you can also get the same result if you're willing to spend time on it. So, choose one method and give it a try.