When you click the links and ads on this blog, it helps me to pay the bills & keep this site free for you. Thanks for supporting me! For more info, read the Disclosure page.
In this post, you'll learn how to do keyword research for SEO.
This is a great way to increase your traffic and if you're looking for affiliate marketing or selling your own digital products or physical products, then this will work for conversion.
I have shown two methods to do keyword research i.e. a free method, and a paid method.
Along with that, I have also shown two steps that ensure your chances to rank on the first page for the targeted keyword.
So, if you're ready, let's get started.
What is Keyword Research?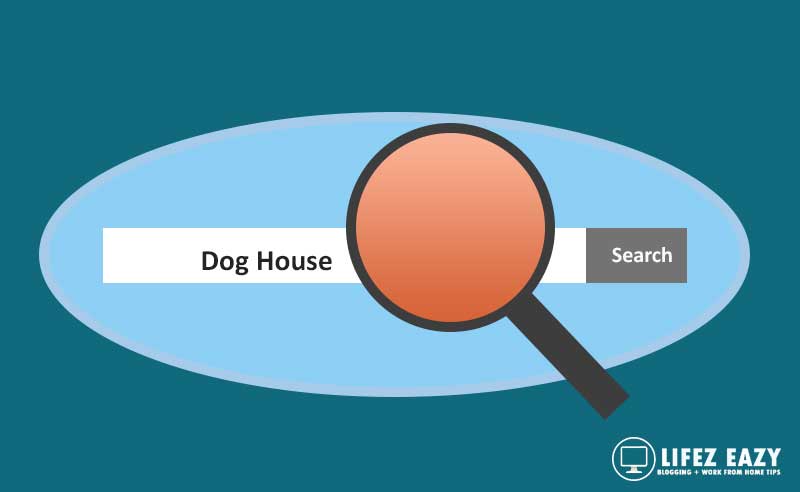 Keywords are the word or a combination of words used to search for any content.
The process of finding those keywords that can drive the right audience to your content is known as Keyword research.
It is basically making sure that your site has the keywords that people are searching for when you're ranking in a search engine like Google.
You just want to make sure you have what they're looking for.
Read More:
> How to start & implement SEO on your own blog
> How to find & fix broken links on your blog to improve crawlability
> Take Online Video Courses on SEO for Free
Types of Keywords
Most keywords are broken down into 4 basic user intents and this really helps you to know what kind of user intent keywords you want to put on your site.
It's really a powerful thing once you get to know and understand this process.
1. Navigational Keywords
This is mainly for branded websites that are already known. If people types in a brand name, it means they are performing a navigational search.
They usually do this to find the correct URL to get to the site.
For instance, when you want to go to Netflix, you simply will type in Netflix into the search results to go there.
Navigation keywords are especially useful for big brands and unless you have a branded site, you're probably not going to see much of that.
2. Transactional Keywords
These are basically keywords that people know what they want to purchase and they're putting that into the search results.
This is like if you know the exact name of a smartphone you want to buy, then you will use terms like "Buy Samsung A50", "Samsung A50 for sale" on Google to go to the e-commerce site for the purchase.
If you have a blog or a small business website or an authority site, you're probably not going to use too much of the transactional keywords because you're probably not selling your own items.
It will become important later on when you will start selling your own products.
3. Informational Keywords
This is very important for bloggers who want to turn their hobby site into a money-making site and if you have a niche or if you have enough authority site, then these keywords are for you.
This is mostly what we all have keywords on. Users use these keywords to search for a solution to a problem they have. This is like answering the questions they have.
Most searches done online nowadays fall into the informational category.
And this is great because if you can answer these questions or if you can solve these problems that people are typing those keywords into, then you will naturally increase your traffic which is awesome.
Informational searches are great because it's telling people how to find the solution to what they're looking for.
These keywords are not great for affiliate marketing or if you're wanting to sell your own item because users searching these keywords don't have that mindset to purchase something.
They simply have the mindset of "they want to fix something".
Example: How to fix an iPhone camera?
4. Investigational Keywords
Investigational keywords fall in between informational and transactional keywords.
These keywords imply that the user is more ready for a transaction but need a little info.
Let's say you are looking for a camera under $500 but you don't know which one to purchase.
At this stage, you are considering for transaction but need more information.
So, if you search keyword such as "best camera under $500", then these are the Investigational keywords.
Most of them are done with modifiers like top, review, best, cheap which shows that people have a buyer's intent.
Informational and Investigational are the two big categories that you want to focus on for your blog. 
Things To Do Before Keyword Research
Now let's do some keyword research.
The first thing that you'll want to do is just brainstorm.
You should know the content about your topic better than anyone.
So go ahead and write down all the keywords you think people are searching for your topic.
But here's where keyword research is helpful for a lot of times.
You know your content better than anyone else but sometimes you forgot a ton of information or a ton of questions that people might ask which you've never thought about.
These all the things get covered while doing keyword research.
How Do I Research Google Keywords (2 Methods)
So now let's cover two methods that you can use to do keyword research.
The first one is free specially for beginners who are starting out and the other one is paid which gives extra details and more accurate result.
1. How Do I Research Keywords For Free
What you want to do is open up your browser and download "Keywords Everywhere".
It is an extension for Chrome or for Firefox that displays details about keywords on the Google interface itself. It extracts data directly from Google Keyword planner.
You just need to install it from here and once you do, you get a little icon with a "k" on your browser's shortcut bar.

So now I can go to Google and type in a keyword say "Dog House" and you'll see all the details under it.
Here you can see the monthly estimated search volume, CPC rate if you're doing Google AdWords & competition showing how competitive the keyword is (For Advertiser).
Over to the right. you can see related keywords section & "People also search for" section.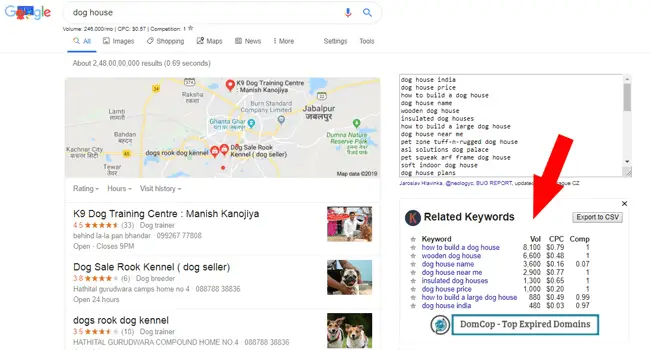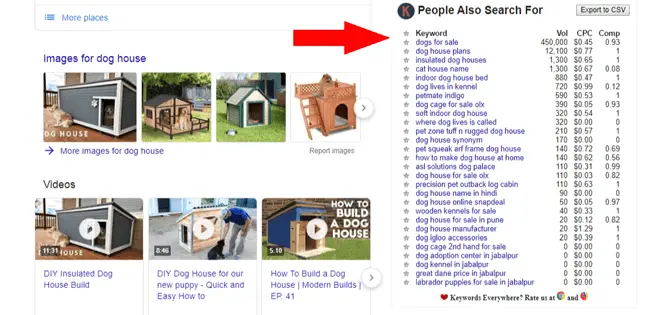 Here also, you can see search volume, CPC and competitiveness.
I believe this competitiveness deals with the CPC so it's not something that you'll deal with.
Our main concern is looking at search volume and the other keywords that it's showing.
This is a powerful method because you can get an idea of what people are searching for in your topic.
The beauty of this is you can export this to a CSV file which can be opened into Google sheets or Excel whenever you want.
This will help you decide which keyword or topic are you going to write about next.
So that's a really powerful way to build up your keyword list of things that you can write about now.
Explore Questions Related To Your Keyword
One of the other things that you can do besides using the keywords everywhere tool is going to the "answer the public" website.
This is a free website that allows you to type in & search a seed keyword to bring questions related to it.
So we'll type "Dog house" again & you can see a lot of questions.
What I like about this is it brings in a lot of questions perfect for your website to do informational keyword research.
And this is great when you're wanting to grow your website, you just need to answer all these questions that people are asking.
Plus, here you can also see the volume, CPC and competitiveness from Keywords everywhere.
This website gets you really excited about your topic and you realize there's so much more than you can write about to help the users on their keyword research journey.
You can also download the CSV to open it up in Google Sheets or Excel so you can create a content flow of what's the next topic to write about.
Okay so that's a really quick and easy way to do keyword research. Next, we will look at a paid method which is more effective.
2. Keyword Research Method Using KWFinder
Apart from the free method, you can get more accurate and additional details regarding keywords if you opt to use KWFinder.
Now, this tool does so much more than just keyword research but for some people just starting out it with this might not be feasible because it's a paid tool.
The good thing with KWFinder is they provide a free 10 day's trial period and you can do quite a bit of research for your website in that period.
You can start by creating an account and once you've logged in, then you will see an interface like the below picture.
What you can do here is simply put in your seed keyword, select your target region and then it'll go out and bring back several keywords that are associated with it.
As an example, I am using the "Dog House" keyword for keyword research.
Here you can see that we get about 74,250 searches a month and you can also see the paid search competition.
I don't really use that to worry about anything.

But you need to look up for KD (Keyword difficulty) that shows how hard its to rank this keyword.
The less the KD is, the better chances you have to rank for that keyword. Usually, green highlighted KD is best whereas yellow is ok and red is a big no.
In my case, the KD for Dog house is 39 and highlighted by a yellow color. This means it has an average difficulty.
You can also see the trend whether its popularity is increasing or decreasing.
As I scrolled down, I found "Heated dog house" & "indoor dog house" to be the easiest one to rank because they have a KD of 28 with a green color.
It also shows a related keyword icon when you hover on the keyword and when you click it, it shows all the related keywords related to your main keyword.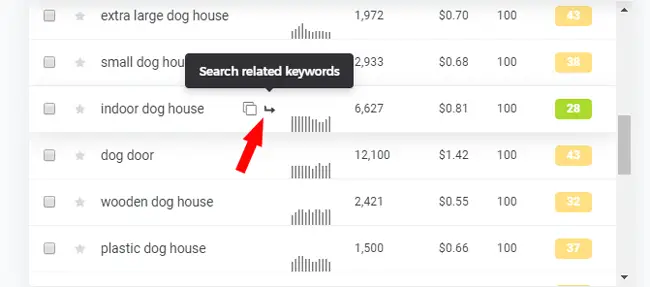 So, this is how you can find low competitive keywords using KWFinder.
Its easy and user-friendly that even a beginner won't have difficulty to find such keywords.
You can read more about how to do proper keyword research using KWFinder by clicking on this link.
However, even after finding low competitive keywords, you're not yet done because there are a few more steps that ensure you have a better chance to rank on the first page.
What are those? Let's see!
Things To DO After Finding Your Target keyword
Finding your target keyword is not enough because there are a few more steps you need to do to make sure you can rank them pretty well.
This involves:
Checking top 10 search results
Checking how many contents are ranking for the same keyword
Let's discuss these in details.
1. Check Top 10 Search Results
For this step, ensure to download Moz Bar which is a free browser extension.
This add-on will show the backlink numbers, Domain Authority and Page Authority for all the search results.
This is especially great when you have to figure out whether ranking the keyword on the first page is difficult or not.
Type your targeted keyword on Google and do a quick search.  This will bring you all the top 10 search results that are ranking on the first page.
As you can see, there is a separate bar under every search result which shows DA, PA, and Backlinks.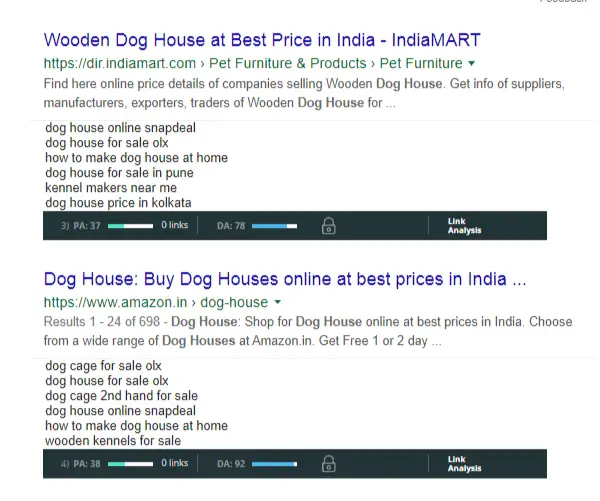 Now you just have to figure out your own sites DA and then look up at the search result to find websites having DA less than yours.
My site has a DA of 26. So, I will look up for those websites having DA under 26 in the search result.
After seeing, the least I can find is 32 which is still hard for me. However, I can still outrank them if I build more quality backlinks.
Well, I personally don't do backlinking so I target only those keywords that have DA less than mine.
Once you know that there are websites having less authority than yours on the first page, you can move on to the next step.
2. Check How Many Search Result Ranking For The Same Keyword
Next step involves checking out the number of search results using the exact same keyword in the title.
To do this, insert your keyword between quotation marks and do a quick search.
Quotation mark ensures that Google is searching the exact same keyword & not including similar keywords.
Now here you want to ensure that the keyword shouldn't have over 100 search results.
This is just to make sure that there is not enough content ranking with the same keyword in the title.
To find out,  you can scroll down and click the last page i.e. 10.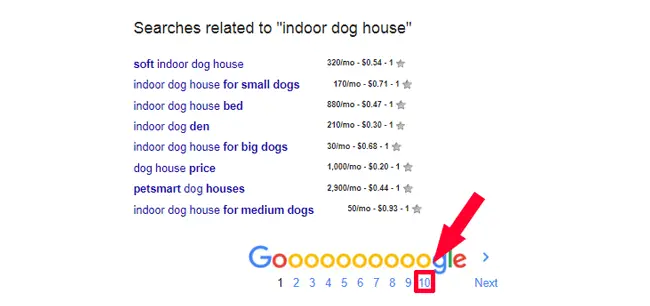 If your keyword has over a 10-page result (1 page = 10 search result), then you can see the next pages i.e. 11, 12 and so on.
However, if you can only see 10 pages or less, then that's a good sign.
In my case, I got 95 search results which are great. So, this shows that there is not enough content with the same keyword in the title.
Ending Note…
So, this is how to do keyword research for SEO.
Using these methods will definitely let you find tons of keywords that you can save for writing future contents.
I personally use KWFinder to find low competitive keywords and then research the first page thoroughly before writing.
While writing, I follow On-Page SEO steps to ensure I have better chances to rank on the first page.
Now, let me know if you have any doubt by commenting down below.
Also, ensure to share and pin this post.
Cheers.