This post contains affiliate links. For more info, you can read my
Disclosure
page.
Do you find difficulty in choosing the right keyword for your post?
That can be ranked on Google and drives the right kind of audience to take action.
Probably yes, otherwise you won't be here. Right?
Keyword research happens to be the first and most important step in any SEO strategy. Targeting a wrong keyword can indulge in the following results:
Low traffic when low traffic keyword is targeted

High traffic but won't take any action such as sign-ups, purchase etc (this happens when wrong keywords are targeted)
So, even if you rank on top for such keywords, you wouldn't be getting any result that you wanted to have. Whether it is intended for selling a product or collecting e-mails.
If you are driving the wrong audience, then all the other SEO steps such as On-page, Off-Page SEO, link building will have no use & you won't see any expected result.
With that being said, I will show you exactly how to do keyword research for SEO. You will get to know the exact right approach for doing any keyword research which drives the right kind of audience.
But before I get to the point, let's see what is actually Keyword research and what type of keywords should be targeted.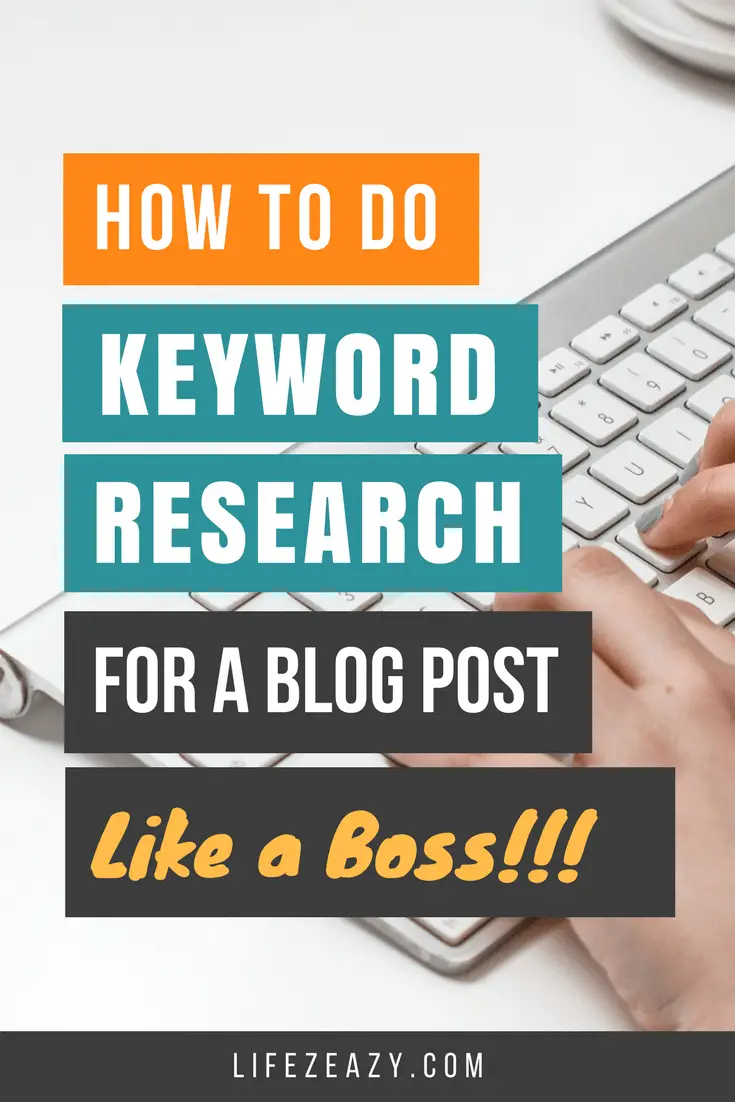 This post contains affiliate links. However, I only suggest those products which are trustable. If you buy or signup anything using my link, I get a small commission which helps me to keep this blog running. For more info, you can refer to my Disclosure page.
WHAT IS KEYWORD RESEARCH?

Keywords are the word or combination of words that are used to describe your content. The procedure of finding such keywords that can drive the right kind of audience is known as Keyword research. It can be classified into the following groups:
Head-Term Keyword – It is a popular keyword having high search volume. Generally, such keywords are very competitive. For example Keyword Research, SEO etc.
Long Tail Keyword – These types of keywords are a combination of 3-4 words. They are specific and considered highly targeted. Usually, it has less competition than head ones.
Navigational Keyword – Such keywords are used to determine a specific brand or website. Example: Amazon, eBay etc.
Informational Keyword – These types of keywords are used for searching for information on a particular topic. It basically starts with a question such as "How to", "where" & so on.
Transactional Keyword – As the name suggests, these are intended to complete some buying action. If you can rank for such keywords, then it will drive highly targeted traffic with an intention of buying. Example: Buy, Subscribe, For Sale etc.
Out of all these, one needs to target long tail, informational & transactional keywords because it can give you a more focused audience, sales & conversions.
Additionally, It is advisable to not target Navigational & Head keywords as they are highly competitive & drives the wrong audience that has no intention of taking any action.
If you look at this article, I have targeted Informational keyword because the whole purpose of this piece of content is to teach something. On the other side, If I wanted to make sales, then I would have targeted any transactional keyword instead.
HOW TO DO KEYWORD RESEARCH?
Till now, you have seen what is actually a Keyword Research and how many types it has. While looking at its different types, one can finally decide whom they wanna target.
So, now I will emphasize more on the steps involved in a successful keyword research. These steps when done correctly can give keywords that can be ranked on the first page. However, to get the desired result, one needs to follow proper On-page SEO & link building tactics as well.
So, without any further ado, the following are the steps I am going to discuss here:
Identify Your Target Audience

Make A Potential Keyword List

Check Search Volume

Check Keyword Competition

Advanced Keyword Research
These 4 steps when done correctly can do wonders. However, if done wrongly can result in attracting the unfocused audience which in turn increases the bounce rate & lowers the On-page time.
So, let's see each step one-by-one.



1. IDENTIFY YOUR TARGET AUDIENCE

Before doing any keyword research, you need to find out who will be your target audience & what you wanna make them do. It can be anything from taking action to just consuming information.
If you have a clear target, then you can solely focus on the keywords that define that target. In my initial days of blogging, I did this mistake. Actually, I wrote an article which was intended to take action.
But sadly, I targeted the wrong keyword i.e. Informational. And all could I see people visiting my content without taking any action.
No doubt, the traffic was good but it wasn't actually converting which was my sole purpose. Hence, it is very important to write for your target audiences that will result in a better conversion.



2. MAKE A POTENTIAL KEYWORD LIST

So now, you have a clear target who your audience is & what you wanna make them do. The next step involves finding those keywords that define the action.
If your intention is to sell something from your content, then you should find those keywords which your target audience would likely to type on Google.
Suppose, if they want to buy a microphone, then I would think of keywords such as:
Buy Microphone (Microphone name)

Best Microphones

Top Microphones

Cheap Microphones
These keywords have a buyer intent & specifically targeted for those people who want to buy a microphone. Actually, I have used the same keyword in one of my content for both microphone & Cameras that has made quite good sales from Amazon. 
Another one is, If your focused audience wants to learn something or just want to consume any information, then I would think of the keywords such as:
These keywords only serve the purpose to teach something. So, if I want to teach people how to take pictures using a camera, then my keyword will be "How to click pictures using a camera" or "Step-by-Step Tutorial on taking pictures using a camera".
Thus, you need to pay attention to such details before making any keyword list. Talking about the keyword list, you can use keyword tools to find a number of keywords. Nowadays, there are many tools available on the internet. However, I would suggest the following tools to collect some good list of keywords.



A. GOOGLE KEYWORD PLANNER
Google keyword planner is a gem when it comes to keywords. You can literally get a whole new idea about different keywords that you can target. This is free to use so you don't have to worry about paying any money.
To use it, simply, type your main keyword which you think readers might search on Google. For example, If I want to write about weight loss, then type the same in the Keyword Planner.

It will show a bunch of keywords related to weight loss along with its search volume & competition. One thing, you must note is that the search volume it shows is in a range.
To get the exact data, you can either go for Semrush, Jaaxy or KWFinder. (These keyword tools are better than Google keyword planner but they provide a limited use as a free version)



B. UBERSUGGEST
Ubersuggest is another tool which I like a lot. It is owned by Neil Patel and gives a lot of new keyword suggestions that you can target. You just need to simply type your keyword and it will show all the related keywords in alphabetical order.
As an example, I searched for weight loss & then exported it to an excel file. You can do that by clicking on "Export To CSV" button.



3. CHECK SEARCH VOLUME
Now you have a list of potential keywords that you can target. However, before choosing any keywords, make sure they have a good search volume.
I would recommend targeting at least 1000 search volume/month. Apart from this, you can also choose other keywords that are closely related to your main keyword.
This will give you some extra set of keywords that also have some additional search volumes. Thus you can hit more traffic by doing this.
To check the search volume, open your exported keyword list and apply a "greater than" number filter and set it to 1000.
Now, it will show all the keywords having more than 1000 search volumes. This will refine your list and removes the unwanted ones. Next, you need to find out the competition for these set of keywords.



4. CHECK COMPETITION
Competition is very vital when it comes to ranking. Suppose, if you want to target a keyword, but the competition is very high for it. Then, it will be a better choice to look for another keyword.
Because having a high competition will probably mean that the big sites might be targeting those keywords and ranking on the first page. Outranking these sites will be kind of impossible if you are having a low Domain authority. Moreover, it will take a lot more time to outrank them.
So, as we are having a list of keywords with all the search volume data. it's time to check out the competition. For this, select the "sort smallest to largest" filter on the competition cell.
This will rearrange the column with low to high competition. You can follow below scale to check where your keywords stand:
0.00 – 0.20 – Easy 

0.30 – 0.50 – Average

0.60 – 0.80 – Difficult

0.90 – 1.00 – Extremely Difficult
Based on this data, you can sort out the keywords which fall under the easy or average scale. Now, choose that keyword which you want to target and write a well in-depth content around 2000 – 3000 words with On-page SEO. This will help to rank in the search engine within 2-4 months.
I know, its a lot of time but growing organic traffic & ranking on the first page is quite a slow process and requires a lot of patience unless you are having quality authoritative backlinks.
Now, if you want to be more precise & confident whether these low competition keywords are easier to rank. You can then further go for Advanced keyword research method.



ADVANCED KEYWORD RESEARCH METHOD
Sometimes keyword tools don't give the exact results. I mean, it gives but its better to check manually to make sure whether the keyword is good or not.
What I am about to tell you is some extra work which takes quite a good amount of time,  but it is definitely worth it. This advanced method will show you whether you can really rank on the first page or not.
It should be implemented when you have a good list of keywords which I showed you above. Now if you follow the below steps, you may get keywords which will either fulfill the criteria or not.
If you don't find any keyword which passes the below steps, then you can choose those keywords that closely fulfill the below criteria. Ok, so, let's see what all the hard work you need to do:



1. ANALYZE TOP 10 RESULT
Yes, whatever keyword you have chosen, make sure to check out who all are your top competitors. You can find them by checking the first search result page of Google for that keyword. Following are the top 10 results for "How to gain weight".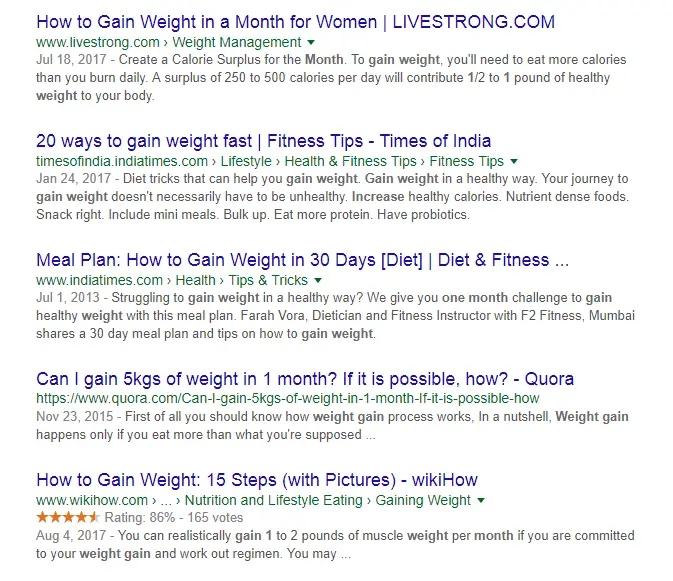 Next, install the Moz bar. If you don't know what it is, it basically shows Page Authority & Domain Authority of each website.

When you install this add-on, your search result will turn something like this.

You need to check PA & DA for all the first-page result. If it has a low score, then it's a nice sign as these sites aren't much authoritative.
However, if you find sites with high DA & PA, then it will be very difficult for you to outrank them. The only possible solution for outranking them is to have quality backlinks from high authoritative sites which are only possible if you have an amazing valuable content.
So, I would recommend targeting those keywords which have low scores.  If your top 10 results have both low & high authoritative sites, then also you can go for the chosen keywords as there is a good chance to replace the low one.



2. CHECK NUMBER OF BACKLINKS
Another factor that you must consider is the number of backlinks that are pointing towards these websites. Now, In SEO, good quality backlinks are preferred more than the low ones.
You may find websites which are having hundreds or thousands of backlinks, but if those backlinks are of low quality, then it doesn't add much value in ranking.
Instead, if the website has only 10-20 quality backlinks from High authoritative sites, then it definitely boosts the search engine ranking.
So, to check backlinks, you can again refer Moz bar. As you can see, the below image shows the number of backlinks.
To analyze it, click on the Link Analysis, and it will direct you to Open Site Explorer.
Here you can see all the backlinks that are pointing to the website. You can check the quality of these backlinks by analyzing the PA & DA. If it has a good score, then that link is coming from an authoritative site.
Your main motive is to check whether the backlinks are from quality sites or not. If it is, then you need to create some good backlinks for your content to outrank them.
However, if it isn't, then you can surely go for the chosen keywords.
3. BONUS TIP
If your top 10 results consist of pages from Quora, Yahoo answers, Ezine articles, Blogspot etc, then it's a good sign as this shows that the competition is very low for that specific keyword and you have better chances to rank here.
For keyword "increase weight in 1 month", I found 2 quora articles which are ranking on the first page.
Now, that's a green signal.

You know, one of my targeted keywords had a Quora result on the first page. This made me write an article for the same keyword as it was a green signal. Today, that article ranks on the first page of Google at 2nd position.
You can check that by searching "How to make reaction videos" on Google. You will find my blog post along with a Quora result.



CONCLUSION – KEYWORD RESEARCH FOR SEO
So, here you go. This is one of the keyword research methods that I use quite often. However, there are also several other ways to do so.
If you are serious about SEO, it's better to invest some bucks in paid keyword tools that will give you more flexibility while doing the keyword research.
In the end, if you find this article helpful, then don't forget to share it. Hope it has helped you to understand some fundamentals about keyword research. Now, it's your turn to try it.