This post contains affiliate links. For more info, you can read my
Disclosure
page.
Because of the popularity of the internet, nowadays many people want to learn new skills that can help them make money online.
It could be because of the less paying job they are doing or maybe they want to add an extra source of income every month. 
So, if you are also thinking the same, then this article is perfect for you because I will introduce a source from where you can learn new skills without even paying any penny.
I know, learning a new skill can be pretty hard if you have a busy life either in the office or home which sucks.
So, what's the solution?
Well, if you are not willing to travel and want to learn the same thing within your home, then don't skip this article otherwise you may miss a gem.
>>Read More:
Wanna Make Some Extra Cash in your free time? Then simply sign-up & start using these programs!
1. Swagbucks (Earning potential – $90/month or more. Sign up and get $5 once you've earned 2500 SBs)
2. PrizeRebel (US) (Earning Potential – $50-$100/month)
3. Vindale Research (US) (Earn $1-$5 per survey)
4. Slidejoy (Earning Potential: $3-$10/month or more. Just activate it on your Android smartphone screen lock)
WHAT IS SKILLSHARE?
Skillshare is an online learning community where students get access to over 25,000+ classes.
These classes are from Creative, Business, Technology & Lifestyle categories. You can see a below screenshot of all the categories which cover-ups on Skillshare.
When you sign-up to Skillshare, you have the freedom to choose any of them from any category you want. They do not restrict you which means you can take unlimited classes.
Now, if you are someone who is looking to develop a new skill in any of these categories, then isn't it great you'll get a complete A-Z video course by just using Skillshare?
I mean, if I knew about this website a long time ago, I would have been crushing on Digital Marketing. *jokes*
HOW MUCH DOES SKILLSHARE COST?
Skillshare cost around $8.25 a month if you go for an annual membership. However, if you want to go for a monthly membership, then you need to pay $15/month.
Although, the best part is you can cancel it anytime you want.
CAN WE USE SKILLSHARE FOR FREE?
I know you might not be confident right now to invest in Skillshare. But hold on, you can try Skillshare for free using their free plan.
When you sign-up for Skillshare, you can access all their free classes.
However, during this free plan, you can't access their in-depth valuable premium classes.
IS THERE ANY WAY TO ACCESS PREMIUM CLASSES?
If you are really interested to access premium classes for free, then there is a way.
However, it is not a permanent solution and is only valid for 2 months.
So, if you're comfortable with the 2-months Freemium plan, then you only need to sign-up with my bonus link.
If you sign up to Skillshare with my Bonus Link, you can get 2-month access to all the premium courses for free.
This means you can take any premium classes you want irrespective of its category.
However, you need to make sure you cancel this Premium trial plan within 2 months before being charged.
As a reminder, you will get a notification email from Skillshare when your plan is about to expire.
So, just sign up with this bonus link and enjoy all the premium courses for the next 2 months. Also, you can cancel it anytime you want if you are not interested in upgrading your plan.
WHAT MAKES SKILLSHARE BETTER THAN THE REST?
Skillshare is not just a learning platform, but also a community which means you can communicate with other students in their online learning group.
Just for a fixed monthly fee, you get access to an unlimited number of classes.
All the classes have several videos chapter wise & You can take them both online and offline on your desktop or mobile devices. 
They also provide free classes which you can take with no subscription and this is a great thing for those people who want to try out their service.
So considering all these points, I think for me, Skillshare is the best choice. However, there are other services as well such as Udemy which is also my favorite.
HOW TO SIGN UP FOR SKILLSHARE  TO GET 2-MONTHS FREE PREMIUM ACCESS?
If you want to access Premium classes on Skillshare for free, then follow the below guidelines.
Click here (my bonus link) to go to the sign-up page & click on the "Start for free today" button.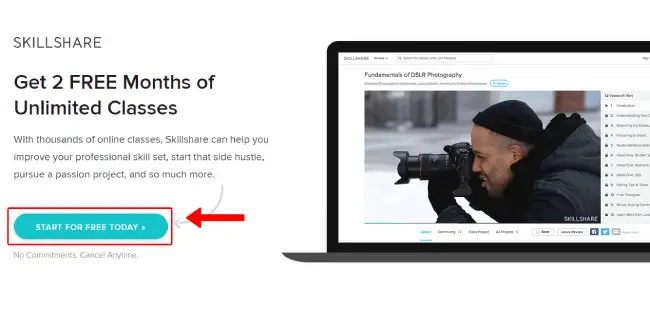 Next, fill up all the details.
Now, you need to enter your credit/debit card or PayPal email address. This is just for the security purpose. However, cancel your plan before 2 months.
I will choose the PayPal option.

Enter your PayPal email address and click "Next".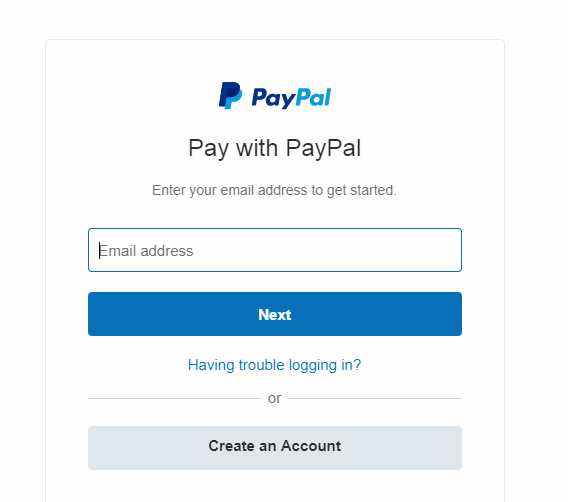 Review your PayPal details and click "Agree & continue".
Congrats, you are now a premium member for 2 months. Enjoy all the premium classes for free.
HOW TO CANCEL FREE TRIAL PLAN BEFORE 2-M0NTHS?
If you really liked Skillshare and want to continue their service, then you can always upgrade your plan. 
However, if you feel you are not ready yet, then you can always cancel your free trial before 2-months.
To do this, go to your "Account settings" page and click the Payment option.
Here, just click on the "Cancel membership" option & that's it.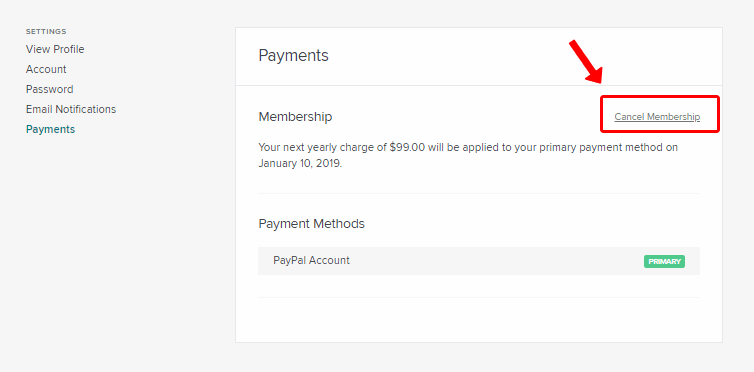 So, that's pretty much you need to do.
Now, tell me down in the comments section which skills or courses you will take on Skillshare?
Also, if you think this article can help someone, then don't forget to share and pin.
You Might Also Like: