When you click the links and ads on this blog, it helps me to pay the bills & keep this site free for you. Thanks for supporting me! For more info, read the Disclosure page.
If you are wondering whether Skillshare is really your cup of tea? Then you have come to the right place.
In this Skillshare review, I will analyze everything regarding all the good and bad side of using Skillshare.
Whether you should invest your money or look for some other platform?
Is it really worth your time, or it's just a waste of time?
You will get all your answers by the end of this review.
Personally, I have been using this platform from the last two years. I have seen all the good and bad side and I exactly know which groups of people will definitely enjoy Skillshare & which don't.
So, what are we waiting for? Let's begin.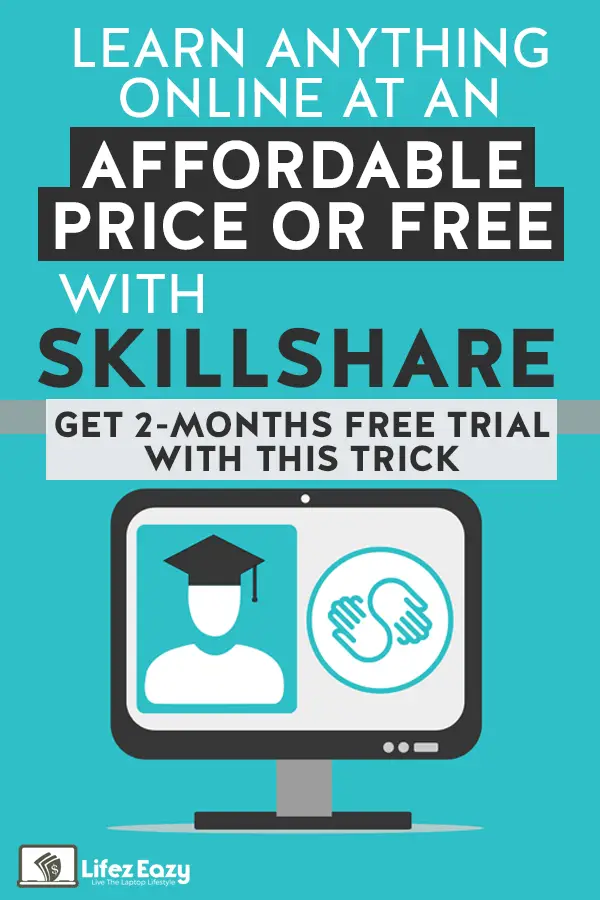 What Is Skillshare?
Skillshare is an online learning community with over 25,000+ classes in Creative, Business, Technology & Lifestyle categories having further subcategories as shown below.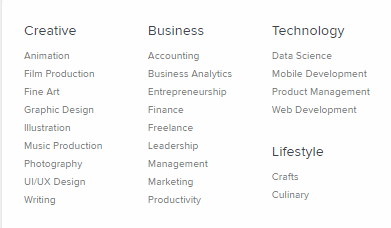 Anyone can join Skillshare and be a member of over 4 million student community to learn cutting-edge skills, network with peers and discover new opportunities.
Skillshare says their purpose is to make the new economy an open meritocracy, where the skills and expertise needed to succeed are available for anyone willing to learn them.
Read More:
> 7 Websites to learn anything online for free
> 17 Cool skills You can learn in your free time
Who Is Skillshare For?
Skillshare is perfect for those people who want to learn or enhance any skill from creative, business, technology and lifestyle category.
Whether you are an entrepreneur or someone who wants to grow his skills, Skillshare is the right platform for you.
In short, it is perfect for beginners whereas people looking for more advanced knowledge may feel a little disappointed. Though, it is case to case.
How Does Skillshare Work?
You can join this platform in two ways.
As a Student
As a Teacher
1. Being a Student
If you join as a student, you need to either pay for their monthly ($15/mo) or annual plan ($8.25/mo) which gives you access to unlimited courses with no restriction..
2. Being a Teacher
If you join as a teacher, you can upload your own video classes on any topic which are then watched by the students.
You'll be also paid monthly for every premium student who watches your classes forever.
Thus, it can be a great source of Passive income for you.
How Much Does a Teacher Make On Skillshare?
If you go through Skillshare handbook, you will see that an average teacher earns around $1400 in their 1-6 months. Some top teachers make over $100K a year.
Now, this is all estimated, and it doesn't mean you'll also earn the same as soon as you sign-up and upload classes.
You should first know the business model and the ways you can make money from Skillshare. Then only, you can predict how much you're capable of.
Basically, you need to focus on two things.
1. Royalties
Royalities are paid to a teacher based on the number of minutes his/her courses are watched by premium students.
It is calculated as a percentage of the total number of minutes watched by all premium students across all courses.
Skillshare pays the royalties from 30% – 50% of Skillshare premium membership earning which goes into the royality pool for teachers.
But to get paid, you must get a minimum total of 30 Premium minutes watched across all of your classes within a month to receive a payment for that month.
If I leave referral earning aside, then first-time teachers can earn around $200 in their first month on Skillshare, with top teachers earning upwards of $3,000!
2. Referrals
When someone joins Skillshare using your referral link, you get paid $10 per member. You can also refer to people being a student.
Can We Use Skillshare For Free?
Yes, you can but only for a limited time.
Skillshare provides a one-month free trial plan for any new member who wants to use their service.
During this one month, you can take unlimited courses on any topic you want.
However, if you use my link for sign-up, you will get an extra month.
It means you can use Skillshare straight for two-months completely for free.
But ensure to cancel your plan before 2 months if you are not ready to buy their paid plans.
Pros & Cons of Skillshare
Pros:
30-Day Free Trial Plan for anyone who wants to try their service.
Anyone can join as a Teacher because there is no specific requirement.
Great Passive way to earn money by uploading classes.
Great support network for teachers.
Great community overall for teachers and students.
Quality video editing software available for Teachers via the website.
Cons:
Less popular topics make less money.
The amount per minute of video watched by Premium students will vary from month to month because it depends on Premium membership earning.
How To Sign Up For Skillshare To Get 2-months Free Premium Access?
If you want to access Premium classes on Skillshare for free, then follow the below guidelines.
Click here (my bonus link) to go to the sign-up page & click on the "Start for free today" button.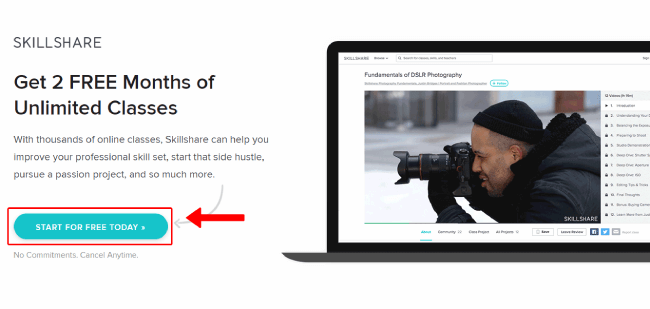 Next, fill up all the details.
Now, you need to enter your credit/debit card or PayPal email address. This is just for the security purpose to avoid any spam. However, ensure to cancel your trial plan before the expiry date if you're not upgrading.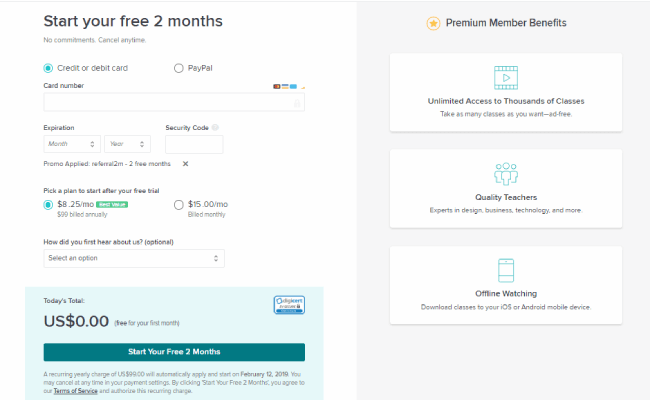 I am going with the PayPal option. Enter your PayPal email address and click "Next".
Review your PayPal details and click "Agree & Continue".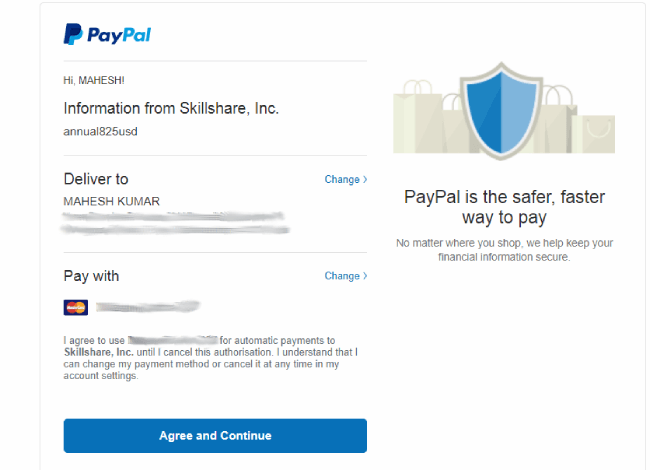 Congrats, you are now a premium member for 2 months. Enjoy all the premium classes for free.
How To Cancel Free Trial Plan Before 2-months?
If you really like Skillshare and want to continue their service, then you can always upgrade your plan.
However, if you feel you are not ready yet, then you can always cancel your free trial before the expiry date.
To do this, go to your Account settings page and click the Payment option.
Here, just click on the Cancel membership option & that's it.
Is Skillshare Worth Your Time?
Yes, it's definitely worth your time if you consider yourself in the following scenarios
You are looking for a platform to learn a lot of skills from a variety of Teachers.
You are interested in lifelong learning which means you are always looking to learn something new.
Why I have mentioned these scenarios?
It's because people falling in these scenarios are going to get great value from a Skillshare subscription.
People who love dipping into subjects and learning a bit about them may feel fortunate with Skillshare.
You can learn how to draw a sketch on one day and on the other day, you can learn how to do animation.
If you like to learn several skills in a month, then Skillshare is definitely worth your time.
However, if you want to learn one topic in-depth, then I will definitely prefer Udemy over Skillshare.
It's not because Skillshare doesn't provide in-depth courses, they actually do. But, it's not common as Udemy provides.
So, now it's all up to you to decide where you categorize yourself.
Ending Note…
So, what are your views?
Did you get all your answers reading this Skillshare review?
Please comment below and let me know what are your thoughts.
Cheers.