When you click the links and ads on this blog, it helps me to pay the bills & keep this site free for you. Thanks for supporting me! For more info, read the Disclosure page.
Do you have no idea how to get started on Pinterest? Or are you struggling to get traffic on your blog?
In this post, I am going to take you step-by-step on 
How to create & set-up your profile correctly?

Where to look for board names & how to create them?

Which tool should you use to create pins?

How you should start your pinning activity & much more.
By the end of the post, all your doubts regarding Pinterest will get cleared & you'll exactly know how to promote your blog.
But before I begin, let's look at a few Pinterest terms that I will mention quite often.
Read On:
Some Pinterest Terms You Should Know
1. Pinterest Pin
A Pinterest pin is a vertical image/video having an aspect ratio of 2:3 representing a topic. The topic can be a blog post or a YouTube video.
A pin usually consists of a title, colors, background picture, & shapes. A right combination of all these things makes a pin attractive and compelling.
While uploading the pin on Pinterest, it is linked with the destination URL so that anyone can visit it. This means if you click the pin, you can visit the URL.
The standard pin size is 600 x 900 pixels, which can be increased further as long as it is in a 2:3 ratio. Here is how a pin looks,
2. Pinterest Board
Pinterest Board is a place where the pins are saved. You can consider it as a folder where board topic related pins are saved.
For example, if I have created a board targeting cookies, then all the pins saved on this board should be related to cookies. This is how Pinterest understands what the board is all about.
3. Pinterest Group Board
A group board is just like a regular board, except that the board owner can invite collaborators to pin on their board. The collaborators can be any user on Pinterest and it's up to them to decide whether they want to be a part.
To identify a  group board, you can look at the following circle shown in the below screenshot.
Earlier, Group boards used to be the main attractive point that can easily increase your pin reach. But lately, Pinterest is paying more attention to the personal boards.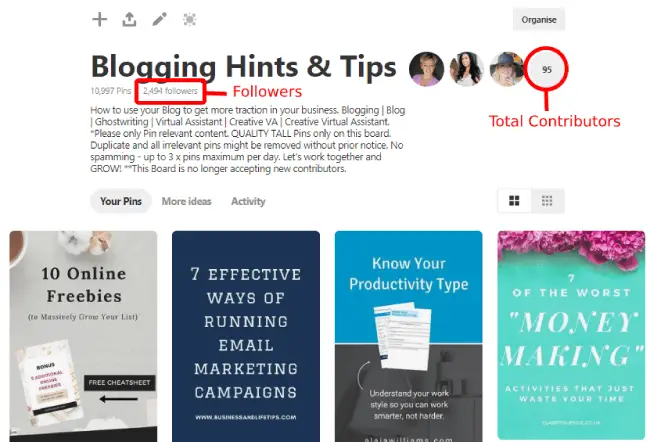 4. Pinning & Third-Party Pins
The process of saving a pin to a board is known as pinning whereas third-party pins are those belonging to other users.
How to Get Started On Pinterest?
Pinterest is not a platform where you start getting traffic as soon as you post something. I use to think the same when I started, but then, I realized, it's all about winning the trust.
If you can win Pinterest's trust, they will start showing your pins to more and more people, which eventually gives you traffic.
But how do you win their trust? From where you should start your Pinterest journey?
If you're new to Pinterest or already using it but have no idea, follow the below steps.
P.S – It will take you at least one-month to properly settle on Pinterest. So, if you're lazy? Pinterest is not for you.
Step 1 – Create Or Convert To a Business Account
To grow on any platform, you should have access to the analytics where you can see every detail. Sadly, personal accounts do not have such an option, but the business account does have.
To get started, you can either
Add a business profile to your existing personal account

Sign-up as a business account
Convert your personal account into a business account.
If you don't know how to do either of them, you can refer to this easy guide. I prefer the second and third options.
Once you have successfully created or converted, you will have access to the following analytics.
Here, you can find out which boards & pins are doing well. You can filter them by clicks, saves, and impressions to know what's working and whatnot.
Step 2 – Fill Your Profile Details
Once your account is created or converted, the first thing you should do is fill all your profile details. This is actually important for SEO because it helps Pinterest to understand which niche you're targeting.
For this, you need to fill up your profile name, description, and upload a profile picture.
1. Profile Name
Your profile name should be either your name or your brand name plus the main keyword.
For example, if you look at my profile name, you can see I have included "How to make money tips" at the end. That's my blog's main keyword, which I want to target through Pinterest.
Likewise, if you're targeting the weight loss niche, you can include keywords like weight loss tips in the end. In short, your profile name should be "Your Name/Brand Name" + Your Blog's main keyword.
2. Profile Description
A profile description is a place where you have to describe your profile in 2-3 sentences, along with targeting a few more keywords. If you look at mine, I have targeted many keywords related to my niche. This is my way of telling Pinterest what my account stands for.
3. Profile Picture
This section is not related to SEO, but it's still important for getting followers. If you are representing yourself, ensure to have a headshot like mine as a profile picture. If its brand, upload your business logo instead.
Step 3 – Verify Your Site
Verifying your account on Pinterest has a few benefits, and it makes your account more legit. Here are the three things you will notice after getting verified.
You will get access to the deeper analytics related to your site.

Your profile picture will appear on all pins from your account.

A small globe icon will appear next to your website's URL on your profile, confirming authenticity.
To verify your site, follow the below steps.
Go to your Pinterest settings.
Under the claim option, enter your website URL and click on the claim website button.
You will receive a meta tag code. Copy it.

Now, visit your WordPress dashboard and go to the social option via. Yoast Plugin. 

(Install Yoast plugin before verifying your blog)
Access the Pinterest tab & paste the

 

meta tag code in the Pinterest confirmation box to save it.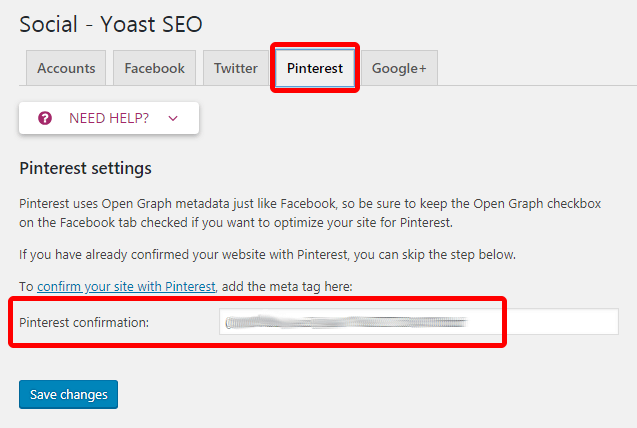 Wait for a few hours, and your blog will be verified.
[click_to_tweet tweet="Learn the right way to get started on Pinterest from scratch in just 8 steps. #pinterest #blogging #pinteresttraffic" quote="Learn the right way to get started on Pinterest from scratch in just 8 steps." theme="style3″]
Step 4 – Enable Rich Pins
Rich pins add extra details to your pins to improve the overall engagement and click rate. It displays additional information to users instead of only the pin title. 
Pinterest has three types of rich pins.
Product Pins –

 It shows the price, availability, and product information.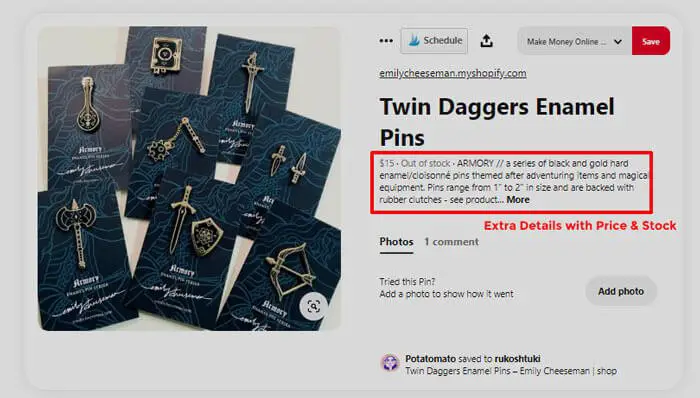 Article Pins –

 It shows the title & description from your post along with the author's name.
Recipe Pins –

 Recipe Pins shows the title, serving size, cook time, ratings, and a list of ingredients.
To enable them, follow the below steps:
Click on the social option on Yoast and select the Facebook tab.

Enable the "Add Open Graph Meta Data" option, which shows the post preview with images and excerpts.
G

o to this link

 & open up the Rich Pin Validator.

Add any post link from your site where it says "Enter a Valid URL" & click validate to see a validation message.

Once done, click Apply now button to see a confirmation message that says "your application is processing". 

Wait for 24 hours to process your application. This will enable rich pins in your account.
Step 5 – Create Boards Targeting Your Site Niche
Till now, we have seen all the steps required to set up your Pinterest account. Now, the next step involves creating personal boards for your account.
As discussed earlier, boards are where you will save your pins. So, it should be related to your niche.
How to Find Board Names?
To find board name ideas, type your niche name on the search bar to see all the suggestions from Pinterest. Based on these names, you have to create your boards.
For example, if my site is about gardening, then I will type gardening in the search bar and hit space to see all the suggestions.
As you can see, I can create new boards with the following names.
Gardening for beginners

Gardening tips

Gardening ideas

Gardening for kids & so on.
Likewise, you can further dig more ideas by using the above suggestion, followed by a space.
How to Create & Set Up a Board?
To create a board, go to your board section on your profile and click the + option.
A popup box will open where you need to enter the name, followed by hitting the create button.
Pinterest will share some pin ideas that you can save on your board.
Once done, go to the newly created board and click on the edit option to set its category & description.
While describing your board, make sure it has keywords related to the board name. To find keywords, type, and search the board name on Pinterest to explore more keywords.
Pick 4-5 of them that you think are a good fit and write a description using them. Once done, click Save to complete the procedure.

Create 5-10 boards for each sub-niche so that you have enough boards to save your pins.
You can check out one of my boards as an example. Here, I targeted the following keywords.
How to make money online
How to make money online from home
How to make money online as a teen
How to make money online as a kid
How to make money online as a mom
Step 6 – Create Pins
Once you have saved 20-30 pins on all your boards, it's time to create your own pins.
Now, you can use any photo editing tool like Photoshop for creation. However, if you don't know how to use Photoshop, you can use an online tool like Canva to create your pins. 
Watch this video to learn how to use Canva.
While designing your pins, you need to pay attention to certain things that will ensure more engagement and clicks. Here are a few tips you must follow.
Use big fonts so that the headline pops up.

Use eye-catching colors that draw attention.

Use free non-copyrighted images on your pins. You can read this post to find out all the websites offering free images.

Use a combination of font style to make your headline attractive. A combination of 2 fonts is enough.

Ensure to drop your site link at the bottom of your pin to avoid plagiarism.
Make sure you are creating new pins every day or at least every week so that you don't have to save the same pin on the same board twice.
I recommend creating new pins for a post every time you have saved the previous pin on all the boards. This way, you'll never have a shortage of pins and you can continue pinning.
How to Upload Pins on Pinterest?
Click create > create pin option located at the top-left side.

Upload your pin on the vertical rectangular grey space. 
Write a title, description, and add a destination link (post link).

Once done, you can either publish it immediately or schedule it in any day or time. Choose any one that is appropriate for you.

Lastly, save it to the relevant board to upload your pin.
Step 7 – Join Group Boards
As of 2020, Pinterest is paying more attention to personal boards over group boards. But it doesn't mean you should totally avoid them. Instead, you should aim to join really engaging group boards that can give you clicks and saves. 
To find them, you can go for two methods.
Search them on Pingroupie.com

Stalk other big Pinterest users within your niche
Search Group Boards on Pingroupie.com
Visit Pingroupie, type your topic/niche name in the description box, and hit enter to see all the group boards.

While joining them, make sure it has at least 1,000 followers, less than 100 contributors, and the updated date should be recent.
Stalk Other Big Pinterest Account
Another thing you can do is find out who are the biggies in your niche and check out the group boards they have joined. Visit those boards and check out the follower and contributor's count. If it has over 1000 followers and less than 100 contributors, join them.
How to Join Group Boards?
To join any group board, visit them and read their description to find out the guidelines. Usually, all you need to do is.
Follow the group board.

Follow the group board admin (the first profile picture shown in the below screenshot)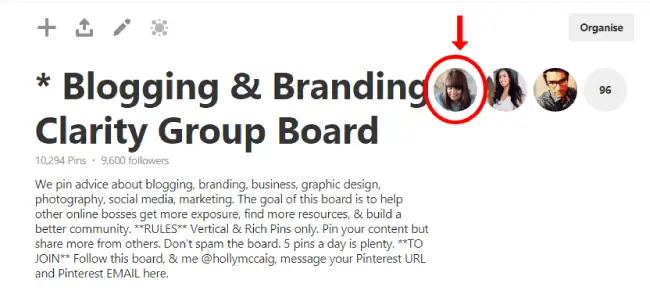 Write an e-mail to the admin expressing your interest in joining their group board. You can find the email address in the board description.

While writing the e-mail, make sure you include the group board name, your profile URL & profile e-mail address.
Here is an example of how it should be written. You can change the wordings as per your convenience.
This is the general procedure to join such boards. But sometimes, you need to follow additional steps as addressed in their description. Like some might ask you to join their Facebook group or like their page.
Step 8 – Start Pinning
Pinning is an activity that you should do daily. Whether it is 5 or 10 pins, make sure you save them every day, especially when your account is brand new.
I have been pinning on Pinterest for over two years, and I have never skipped any day. Sometimes, I save fewer pins when I am feeling lazy but never missed it. In my opinion, pinning every day is the most essential step you need to follow.
When your account is new, start with a few pins. Don't go overboard by saving 50-60 pins per day. Instead, start with 5 third-party pins and then increase your pin count moderately.
Also, have an eye on your analytics to see whether it is going up or down. In case, if it goes down, increase your pin count to 15-20.
Do this for one-two weeks to gain some traction. After that, start creating one or more pins daily & save it to your relevant boards.
Once you have enough pins, you can use Tailwind to automate your pinning activity. Using Tailwind is not necessary, but it can save a heck lot of your time that goes in manual pinning.
Important Points to Consider
Make sure each post pin goes to 5-10 relevant boards. This way you can repin a pin for one week.
As soon as you have saved your pins on all boards, create a fresh one for the same post & schedule it on all the relevant boards.
You need to find your pin count. For me, 15-20 pins per day work the best. You can experiment to find out your sweet spot. However, don't go over 30 pins per day.
If the pinning activity is sucking up a lot of time, use Tailwind.
Boost Your Pinterest Game With Pinterest Strategies eCourse
Just like Google, Pinterest is a search engine that gets algorithm updates every few months. Because of such updates, the strategies working now may not work later.
It's frustrating seeing your daily visitors getting reduced overnight because of such updates. But, you can still regain your traffic if you follow with the latest Pinterest trends.
The way how I deal with such problems is by joining an authentic Pinterest eCourse that updates with every algorithm change.
I am a member of Pinterest Strategies, which is an eCourse teaching you how to win over Pinterest with a manual pinning strategy.
It is created by Carly from mommyonpurpose.com who gets over 200k visitors per month from Pinterest.
As of now, I get around 1,200 Pinterest visitors per day, and a big part of the credit goes to this course.
Final Thoughts – How To Get Started On Pinterest
Thanks for reading this lengthy guide. I hope by now, you know what to do with Pinterest. It may take some time to see the desired result. So, don't give up, or else you will miss a big audience.
If you have any further questions? Please feel free to drop your comment.