Not getting enough traffic?
Not getting enough subscribers?
Don't worry Pinterest is there for you. As we all know that there are many social media platform where you can promote your blog and drive traffic.
But let's be honest you haven't seen much traffic using all these platforms, right?
It's because promoting your content on social media has a very short life. And you need to keep on promoting them to see some good traffic.
But if I talk about Pinterest, it has a different story. The average life of a pin on Pinterest is about three months.
Now that's a lot in comparison with other social media platforms. Moreover, it takes only one month to see some good result from Pinterest, unlike search engine.
That is why it is very important to use Pinterest to see a good traffic from the very start. However, there are many people who don't know how to use this platform.
This is the reason why I am creating this newbie guide so that you can start from scratch. I will explain all the stuff in a sequential manner so that you will exactly know what you must do to use this platform efficiently.
>>Read On: 13 tips you must always follow to drive Pinterest traffic
HOW TO USE PINTEREST FOR BUSINESS AS A NEWBIE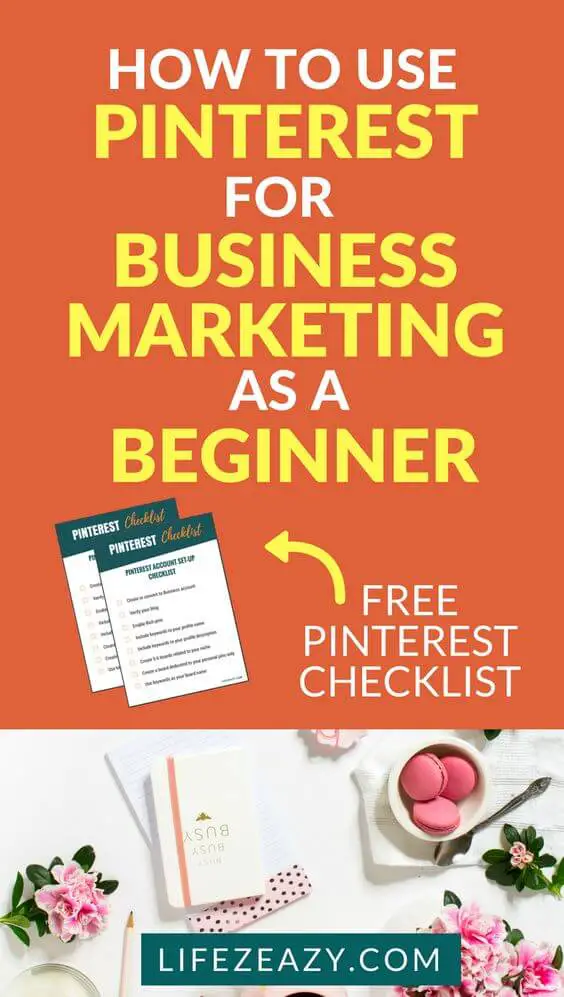 This post contains affiliate links. However, I only suggest those products which are trustable. If you buy or signup anything using my link, I get a small commission which helps me to keep this blog running. For more info, you can refer my Disclosure page.
STEPS TO START PINTEREST FOR BUSINESS
To get started with Pinterest you need to do these 8 steps:
Set up a business account

Fill out your Profile name, description & upload a profile picture

Verify your blog

Enable Rich Pins

Create different boards related to your niche

Join different group boards related to your niche

Create pins targeting your blog post

Start Pinning
We will see each one of them one by one. But before we start, I want to explain few things related to Pinterest that will be used in this article frequently.



PINTEREST TERMS



A. PINTEREST PIN

 

A Pinterest pin is a vertical image that represents your blog post. These are in the aspect ratio of 2:3 and have a compelling headline that describes your blog post topic. Also, it has a background image as well.  
When these pins are uploaded to Pinterest, they are linked to the original blog post.
So, if someone finds your pin attractive, compelling and they want to read your blog post. They just have to click it and they will be directed to your blog post.
That's how a Pinterest pin works.
B. PINTEREST BOARD

Pinterest Board is a place where these pins are saved. You can consider board as a folder that we use in a desktop to save files.
A board represents a single topic or can also represent multiple topics. For example, if my board is about cookies, then I will only save pins related to cookies. Boards also represent your different interest on your Pinterest profile.
So, if someone visits your profile and they look upon your boards. They can make out what your interest is & if that person also shares the same interest, he or she can start following you.
Last but not the least, if you want to make these boards more attractive, you can add board covers as shown above.



C. PINTEREST GROUP BOARD

Pinterest group boards are different from the normal/personal board. Although, they too share the same purpose of saving pins related to single or multiple topics.
However, a group board can be identified by the users face as shown in the above screenshot. They have multiple users, unlike a personal board where you are the only guy sharing the pins.
It is the same as the Facebook group where people can share anything with other people within that group.
A group board may have 100 or 1000 users who share their pin in this board. Doing so will give their pins more exposure and it can be viewed by other users as well. Thus, they can receive more clicks & traffic.
This was all the Pinterest terms. Now, let's see how to properly set up the Pinterest profile.
1. SETTING UP A BUSINESS ACCOUNT
There is a difference between a personal and a business account on Pinterest. A personal account doesn't give you the option of Analytics.
Analytics is where you can see your profile, pins & boards performance. This analytic information is very necessary to plan out your future strategies on Pinterest.

So if you are using Pinterest to promote your business or blog, then setting up a business profile is a must.
Now the question is how to set up a business profile? It's very simple and there is no need for explanation. However,  if you don't know how to create a business profile or convert your existing personal profile to business, you can refer to this easy guide.
2. FILL OUT YOUR PERSONAL INFORMATION
After creating your Pinterest profile, you need to fill up your profile information. Here you need to pay attention to three things.
Your profile name

Your profile description

Profile picture
In profile name, you can either add your blog or your personal name. I would suggest that if you are representing a brand then it's better to include your brand name.
But if it isn't, then you can add your personal name that would be much better. Now adding just your brand or your name isn't enough.
You need to include at least 1-2 keywords that represent your blog.
For example, if your blog is about fitness & fitness diet, then you can include fitness & fitness diet as your keyword along with your name. Like, if your name is Angelica, then your profile name will be "Angelica | Fitness + Fitness Diet tips|"
Next, while writing your profile description, it's better to include 2-3 keywords related to your niche & also make sure to provide a link to your freebie or any e-mail course you provide. Doing so will let people sign up for your blog.
At last, you need to include a profile picture. If you are representing a brand, then add your brand logo and if you are representing yourself, then upload a nice picture of yours which must be a headshot.

3. VERIFY YOUR BLOG
After creating a business profile & filling up your information, the next thing you need to do is verify your blog/website.
Now the question is why should you need to verify your website with Pinterest? 
As you all know when you apply for a business account, you can access Pinterest analytics. However, it doesn't show your blog performance analytics.
You can only see your Pinterest profile & People reach analytics but can't access the analytics related to the activity from your blog as shown in the below screenshot.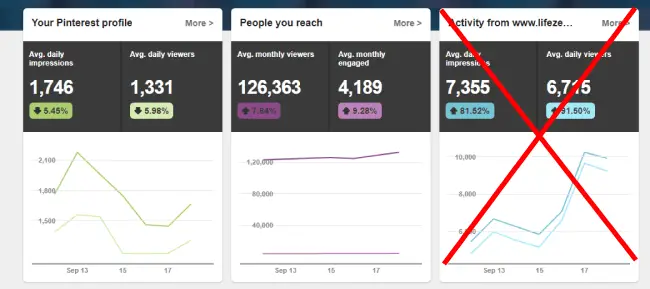 You can only view them after verifying your blog.
So, in order to verify it, go to your Pinterest settings and click on claim website option. Here you need to enter your website URL and click on "claim website" button.
After doing so, you will receive a meta tag code. Copy it and then go to your WordPress dashboard. There you need to go to your Yoast plugin (Install Yoast plugin before verifying your blog) and click on the social option.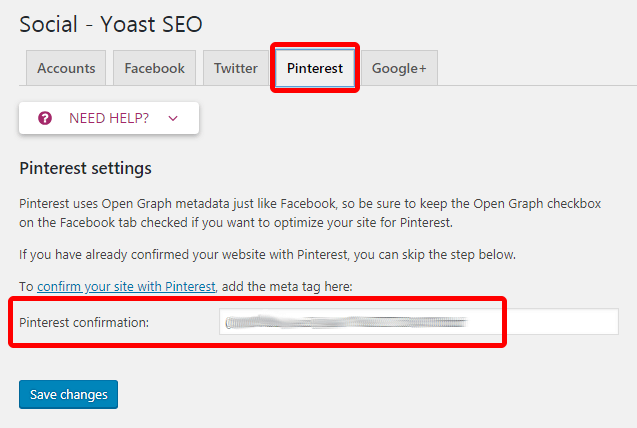 It will open a page where you can find the Pinterest tab. Click it and paste the meta tag code in the Pinterest confirmation box & then save it.
It may take some time before getting approval. When you get the approval, you can view activities from your blog on Pinterest.



4. ENABLE RICH PINS
Rich pin adds extra details to your pins straight from your website. There are 4 types of rich pins:
Product Pins – Product Pins shows the price, stock status and product description on Pins from your website.
Article Pins – Article Pins shows the headline or title, the description and the author of your blog post.
App Install Pins – App Pins feature an Install button that takes iOS users to the App Store to download your app.
Recipe Pins – Recipe Pins adds a title, serving size, cook time, ratings, and a list of ingredients to recipes from your site. 
To set up rich pins, follow the below instructions:
Install the Yoast Plugin.

Click on the social option and select the Facebook tab.

Make sure to enable "Add Open Graph Meta Data".
Now go to this link & open up the Rich Pin Validator.
Add a link to any post of your site where it says "Enter a Valid URL".

Click Validate & you will see a validation message along with a "Apply Now" button. Click it.

You will see a confirmation that your application is processing & it will take a few days before you'll be notified by Pinterest.
Here is how Rich pin looks.
4. CREATE BOARDS
The next thing you need to do is create different boards related to your niche.
Like in my case, my blog is related to online marketing. So the boards which I am going to create will be about blogging, SEO, Email marketing, Social media marketing, Content marketing etc.
You can also create multiple boards targeting the same topic. Like if one of my board names is blogging, then I can make other boards such as blogging tips, blogging ideas, blogging for money etc.
To create a board, go to your board section and click "+" button as shown below.

Now, before you start creating your boards, you need to do a little research regarding board names. You already know what all boards you need to create, but you should name it as per how Pinterest users search it.
I mean, if somebody is searching boards related to SEO, then I want to make sure that my SEO board must pop up in the search result.
Makes sense??
So, to do this, type your board topic name on the search bar, you will see a few names popping up. Pick each name and create a board with it.
For example, if I type gardening then I can see gardening, gardening ideas, gardening for beginners, gardening ideas DIY etc.

Using these names, I can create different boards. Make sure to create at least 10-15 of them when you are starting out.
Also, create an additional board titled "Your blog name" where you need to save only your personal pins.
Plus, when you write board description, you need to include 2-3 keywords in each of them which must be relatable to your board topic. You can use the same search method to find such keywords.



5. CREATE PINS
Now after creating different boards, you need to create different pins for your blog post. Make sure whenever you want to promote a blog post, you need to create at least 3 pins with different compelling headlines.
So that you can promote the same blog post over and over again. However, if you only create a single pin and promote it to different boards, it may look spammy as nobody wants to see the same pin pop up in their feed every time.
I sometimes create around 6 pins for each post so that I can promote my article to more people without being spammy.

NOW, HOW TO CREATE BEAUTIFUL PINS??
There are three things you must pay attention to creating beautiful pins:
For colors, you can incorporate your brand or blog color in your pin.
For fonts, you can choose anyone from Canva. Just go to the text option and play with different fonts until you find one or two of them that matches perfectly.
Now, images don't play much role if your niche isn't dependent on images. For example, Online marketing isn't much dependent on images. I would rather focus on keywords, headlines & other stuff over pictures.
On the other hand, if your niche is related to food, DIY or other niches where you must show the end product. Then, you must pay attention to pictures.
There are many websites where you can download free images such as Pexels, Unsplash, AllTheFreeStock etc. You can also click your own photos and use them in your pins background.
However, in the case of free images, many of them are already being used on Pinterest. In such cases, you can buy premium images from Shutterstock, Depositphotos
6. JOIN GROUP BOARDS
Now pinning your own pins on your own boards doesn't give you much traffic if you don't have enough followers. In such cases, it is very important to join several group boards related to your niche.
For example, if a group board has 1000 users then sharing your pin on such group boards can help you reach 1000 users which means if they repin your pin, then it will be shared to his/her followers & the cycle continues.
This means you have better chances to drive more traffic.
So, I will recommend that you join at least 10 to 15 group boards to share your content.



HOW TO SEARCH GROUP BOARDS
There are two ways to find them:
Search them on Pingroupie.com

Stalk other established Pinterest users in your niche
The first method is using Pingroupie website. This website is used to search different group boards on Pinterest. Simply type your topic name in the description box and click filter.
This will show different group boards related to your topic and then you can join them. The only disadvantage it has is that the Pingroupie isn't much updated & has chances to show outdated information about group boards.
So, if by chance you joined a group board which isn't much active. You might not see results as expected.
A much better option which I found is the most suitable one is to stalk other Pinterest users. Just find out who is the one that is well established in your niche and visit their profile.
Look at their group boards and join them. That's it. It's quite simple.



HOW TO JOIN GROUP BOARDS??
To join any group board, just visit them and read their description. You can find the guidelines there. Normally, all you need to do is:
Follow the group board

Follow the group board admin which is the first profile picture as shown in the below image.

Mail the owner (email address will be provided in the description) and let them know that you wanna join their group board.

In the email, you need to provide board name that you want to join & your Pinterest profile URL.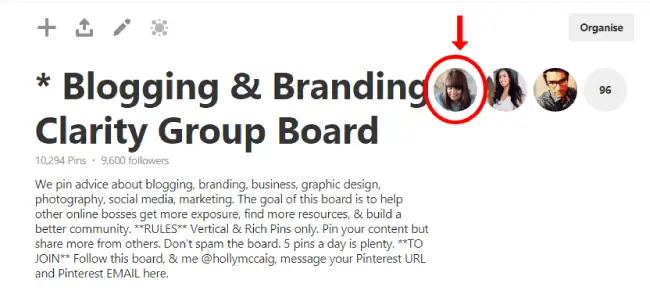 This is the basic procedure to join any Pinterest group boards. However, there might be some additional steps that will be addressed in the group board description. Like some might say to join their Facebook group first or like their page etc.



8. START PINNING
You need to pin others content more over yours when you are starting out with Pinterest. It's because currently, you don't have many pins that belong to you. And it will take some time before you have them.
But before you start repinning others pin, make sure you have done all the following steps that I have previously explained:
Switch to the Business profile

Fill out your profile name & description

Set up different personal boards related to your niche and fill description with keywords
After you have set up this much, you can start repinning others pin. Make sure to fill each your personal boards with at least 10-15 pins. Also, start creating your own pins and start saving them on your personal boards as well.
After you have done this much, start joining different group boards. When you have joined at least 5-10 of them, start repinning your own pins to these group boards.
Whenever you do so, make sure to save 1-2 pins of others from that group board into your personal board.
With time, people will start repinning your pins and you will see traffic rolling to your blog. Also, make sure to pin at least 15-30 pins on a daily basis to keep your Pinterest account active.
As pinning daily can be a quite hectic problem for those people who are busy in their life. In such scenarios, you can automate your pinning process using schedulers.
Tailwind is considered one of the best Pinterest scheduling tool that is used by millions of people. It offers a free trial plan which can be used for 100 repins.
After using the trial plan, if you like it, you can purchase their monthly or annual plan which is quite cheap. I will suggest that you should do a combination of both manual & automate pinning.
CLICK HERE FOR TAILWIND TRIAL PLAN

You can do manual pinning whenever you are free like while watching TV etc and rest of the pinning you can automate using these schedulers.
In this way, you can save a heck lot of time and can concentrate on other work as well.
Also, these schedulers have their own group boards where you can share your pins to gain more traffic. Tailwind has Tailwind tribes & BoardBooster has BoardBooster tribes just like Pinterest have Pinterest group boards.
That's it, guys. I hope by now, you are not a newbie anymore. Well, if you want to learn more advanced stuff regarding Pinterest, then check out the following articles. Cheers.
>Read Next: