Pinterest is considered one of the best traffic source by many bloggers. The specialty of Pinterest is that even if your blog is one month old, you can still drive huge traffic if done correctly. Unlike Google which takes at least 6 months to do so.
While browsing Pinterest, I always peep into income reports of others to see their traffic source. And all I could see is Pinterest. This really excited me to try my hands on it.
Well, hearing all this seems very easy, but simply pinning pins won't drive much traffic. I use to do the same thing, but all I could see is only 10-15 people visiting my blog on a daily basis. That kinda hurt.
So, I started experimenting with Pinterest and saw some good improvement in my traffic. It wasn't quick & it took a little time to finally figure it out.
Here, I will mention some of the Pinterest marketing strategies that I used to improve my traffic. It worked for me & I am sure it will work for you as well. If you follow these steps, I am pretty sure that you can get a boost in your blog traffic.
Alright? Ready, let's start.
>>Read More: 3 Things I Did That Increased My Pinterest Traffic
PINTEREST MARKETING STRATEGY TO BOOST TRAFFIC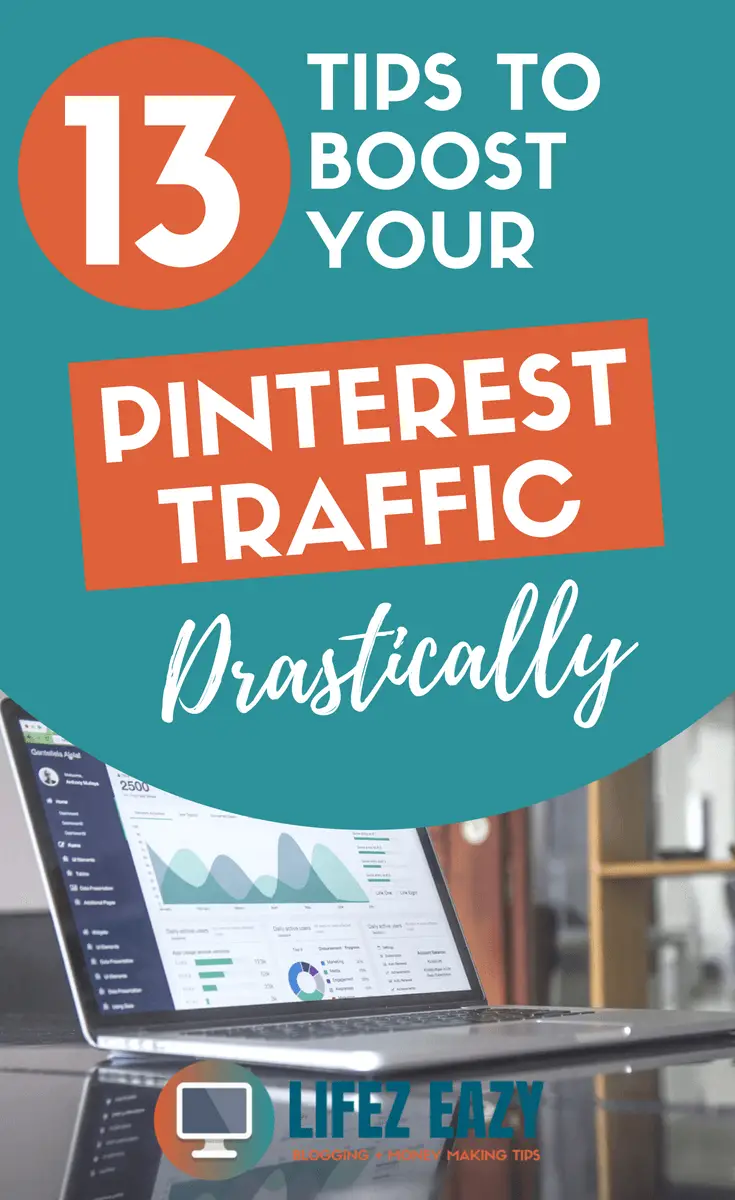 1. CHOOSE "PINTEREST FOR BUSINESS" ACCOUNT
This is the first thing you need to do. You see, when you sign up with Pinterest, you can either go for personal or Business account.
If you go for a personal account, you will miss the analytical features which are very crucial. A personal account is good if you only want to just browse Pinterest,
However, if your sole purpose is to drive traffic from it, then you should definitely go for Business account.
It gives you the power of analytics through which you can measure the condition of your profile. Also, you can track which pins are doing well & which isn't. Same goes for boards as well.
So, that is why I will suggest that you change your account to Business. You can check out this article on how to set up a business profile. 
2. CREATE SEO RICH PINTEREST PROFILE
Many bloggers don't put up much work in describing their profile. They are mostly concerned about pinning.
Yeah, pinning does matter. But a well-described profile is also a must to build trust among users. This will also help you to gain followers as well.
You may have noticed that while searching for anything on Pinterest, there is a filter for "people". If you click that, You can search for users instead of pins.
For example, if you search for SEO tips, you will see pinners who are sharing the pins on the same topic. As you can see below, I am ranking on 3rd position for "SEO tips" keyword.
Also, I am ranking on 2nd position for "Work from home tips" keyword.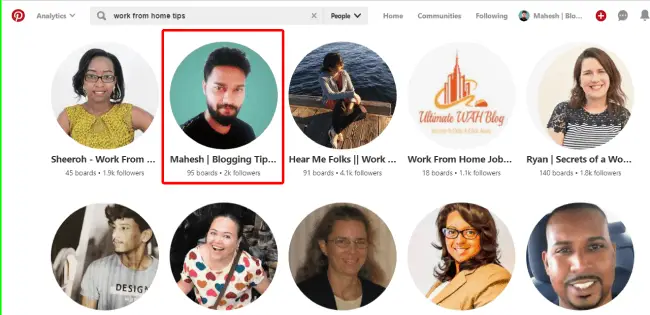 Thus, if you customize your profile according to your niche/topic, then your account may also pop up in the search results which enable other users to connect with you.
You can do the following things to make your profile SEO friendly.
Profile Name – If you look at my profile, you can see that my profile name is well optimized for keywords such as Blogging tips, SEO tips & Work from home tips.
Profile Description – My profile description is also optimized for other keywords such as start a blog, SEO, make money online etc.
So the point is to choose keywords that you wanna get ranked for and insert it into your profile name & description to make it SEO optimized. Pretty simple.
3. CREATE  SEO OPTIMIZED PINTEREST BOARDS
I have seen many bloggers create boards & simply name it without even doing any proper keyword research.
For example, if you are creating a board about Traveling. You might be naming it as "Travelling" or "Travelling tips".
Though there is nothing wrong with it. But while naming the board, you need to do some keyword research that will let you know what other users are typing to search for that keyword.
To find out, simply type the keyword in the search bar and you can automatically see the suggested keywords.

Using these keywords, you can create different boards. So, with the above search term, I can create 5 new boards such as:
Traveling tips

Traveling tips for men

Traveling tips International

Traveling tips road trips

Traveling tips for men packing lists
If you want more board name, simply use different keywords and create different boards with the suggested search term.
Also, writing a good description of the combination of these keywords can do wonders. You can install Grammarly which will make sure that your description is grammatical error free.
In addition, make sure you have created at least 5-10 boards having 30 high-quality pins in each of them before getting started.
4. DESIGN PINTEREST BOARDS
Well, Pinterest is all about visual stuff. If you can attract readers visually, then Pinterest is for you. With that being said, Pinterest boards should also be made visually attractive. Though it isn't necessary, it will surely attract followers as per my experience.
Speaking of design, If your blog has its own theme color, then you can integrate those into your board cover design. As you can see, my board covers have the same color theme which looks quite eye-catching and neat. 
You can create such board covers using Canva or Photoshop. The ideal size for the same is 500 x 500 pixel.
 



5. ARRANGEMENT OF BOARDS
Have you ever thought about which board of yours are doing well & which isn't? Which board contains the most repinned pins and which boards describe your business well?
The idea here is to attract the right kind of audience and turning them into your followers. Let me ask you one question. Whenever you visit someone's profile, do you scroll and check out all their boards?
Probably not. I am sure that you only check out the top two rows before deciding to follow them. You need to implement the same thing on your profile too.
Fill up the top two rows with such boards that describe your business well and have some of the best pins of yours. You can also use the showcase feature through which you can have a slideshow of your favorite boards. You can learn more from here.
Thus, this will enable you to connect with such people who are really interested in your business/blog.



6. CREATE A WEBSITE BOARD
Make sure that you create a new board having only your website pins in it. You can name it something like "Best Of WebsiteName".
I have seen an increase of repins when I created such board. Also, it is the most repinned board on my profile.
You see, if a board does well and is quite engaging with users via repin, then Pinterest improves the visibility of such boards. Thus, pinning on such boards will also improve the visibility of your pins as well.
If your pins are more visible, then it has a higher chance to drive traffic to your blog. So next time, whenever you design a pin, make sure to repin it on such boards.
7. CREATE PINS HAVING BIG TEXT
Most of the Pinterest audience is mobile users. In such a case, if your text appears to be small in size, they will probably ignore it & you don't want to let that happen.
As a mobile user, I simply ignore those pins which have small fonts and are quite difficult to read. Whereas big font pins always grab my attention. Thus, it has higher chances of getting repin.
Therefore, I would recommend designing your pins with big fonts so that your pin can't be ignored. This will also improve your CTR as well.
You know, I have seen a considerable rise in clicks when I implemented the same.
8. USE COMPELLING WORDS THAT IMPROVES CTR
If your pin headline is boring or simple, don't expect to see the traffic. Even, if you apply the best Pinterest strategies, you won't see much traffic if your headline is plain.
I suggest you try to create headlines that can increase CTR. Whenever you design a new pin, put yourself in the shoes of your audience and see whether the pin lure you to check out the post.
If it does, then the headline is great. Another thing, you can do is ask others whether they feel to click your pins. If they say yes, then it's a great pin and you have more chances to drive traffic to your blog.
Now, it doesn't mean that you write anything to sound it compelling. Obviously, you need to make sure that your articles deliver the exact information which you are portraying in your headlines.
9. INCLUDE WEBSITE URL ON YOUR PINS
If you don't add URL on your pins, nobody will know that it belongs to your blog.
Suppose, you have a good amount of audience that likes your content & they are active on Pinterest. So, whenever they see a pin having your URL on it. They will surely recognize it and are more likely to check it out.
Therefore always, mention your blog/domain name on your pins so that people can recognize it. Also, it acts as a trademark so that others can't steal your pins. 
One thing to note is that make sure you are not using free platforms such as Blogspot or Wix, I mean nobody wants to click on such pins having domain names such as  "yoursite.blogspot.com".
If you are really serious about driving traffic from Pinterest, I suggest you should buy a domain name. You can try GoDaddy to buy one.
10. THINGS TO CONSIDER WHILE DESIGNING PINS
Before starting, I wanna let you know that if you are not into graphics designing or don't have much time to do all the design stuff, you can always hire me to create engaging pins.
I will design it for you in a cheap price & as a bonus, you will receive a "keyword rich pin description" as well for each pin.
However, if you want to do it by yourself, you can consider certain factors. As per researches are done by Curalate, they suggested the following factors which are considered good practice while designing the pin.
Pin Size – Make sure that your pins are vertically longer as vertical pins are best for Pinterest. Ideally, your pin size should be 735 x 1102 as per the standards. But you are free to adjust its vertical length. In addition, remember that the pins should be in 2:3 or 4:5 aspect ratio.
Pin Color – Research suggests that reddish orange images do better than other colors such as bluish images. So make sure you are using such colors.
Number Of  Colors – Pins having multiple dominant colors such as red, pink, orange does better than single dominant color. So make sure that you are not stuck with a single color.
Lightness Of Pins – Medium lightness pins are pinned more than the dark pins. So try to have a pin that is not dark and has a medium lightness.
Pin Saturation – Images having 50% saturation are considered good in comparison with desaturated images.
Background – Images having a background are pinned more than images having a plain background. So try to choose free stock images having a good background. You can download free images from Pexels.
Texture – Smooth texture pins are pinned more than rough texture pins.
11. SEO OPTIMIZE PIN TITLE & DESCRIPTION
As I explained previously, you need to find out what keywords people are searching regarding your blog post via the search bar on Pinterest.
Include those keywords in your pin title and description. This will improve its searchability.
So, next time if someone searches the same on Pinterest, your pin has more chance to pop up during the search result.
Suppose, If your pin is about Blogging tools, then type the same keyword in the search bar and look what all keywords are being suggested related to that keyword.
Include 1-2 relevant keyword in your title & description. Also, don't forget to include a call-to-action in your description as well so that users know what they have to do.
As you can see below, if I search the term "Google Adsense Alternatives" on Pinterest, my 2 pins pop-up at the top. These pins are giving me a good traffic from both search & other pinning activities.
All I did is optimize it for certain keywords and bang, you can see the result.
12. BE CONSISTENT WITH PINNING
Well, if you want to drive traffic from Pinterest, you need to be consistent. It doesn't matter how many pins you pin… what matters is the consistency.
I have seen Pinterest traffic rolling to my website when I pinned fewer images & also saw the same result when I pinned more images.
Now it doesn't mean that you repin only 3-5 pins on a daily basis. Doing so will give your pins less exposure. I will say that you at least repin 20-30 pins every day.
This is a great number and works well. However, make sure you don't do the bulk pinning at once because its a bad practice. Instead, divide your pinning schedule throughout the day to see the maximum result.
If you don't have time to do so, then you can always use any scheduling tool. I use Tailwind to schedule all my pins.
This is because I live in India and my audience is mostly from the US. They are more active during my nap time. So, that is why I need to schedule my pins. But not to mention, I also do manual pinning as well.
However, if you too have the same problem or don't have enough time to do pinning, then you can also try this tool.
Talking about Tailwind, it is a scheduling tool for Pinterest & Instagram. There are some major features why the majority of pinners are using it
Free – You can try this tool for free up to 100 pins. After that, you need to buy their monthly or annual plan.
Price – It is less costly than most of the other scheduling tools.
Unlimited Pinning – For just $10/month, you can access to have unlimited pinning for a month which is actually good because other scheduling tools have a limit.
Best Scheduling Times – Tailwind will suggest you the best times throughout the day when your audience is most active. Pinning in these times will result in more engagement.
Tailwind Chrome extension – You can install Tailwind browser add-on for free. Using this tool, you can pin images from any website. When you hover the mouse cursor over an image, a Tailwind icon will pop-up. Clicking on that will take you to Pinterest and thus you can pin it.
Analytics – Tailwind also has its own analytics feature where you can track followers and engagement. This is actually good for a Pinterest strategy.
Tailwind tribes – Tailwind tribes are just like group boards but are owned by Tailwind. You can simply join them and share your pins there. Not to mention, you will need to repin others pin as well. You can also schedule your pins by selecting pins from these tribes as well. Tribes are free to use even if you are using Tailwind trial plan.
That's it if you wanna give it a shot, then sign up for its free trial plan & schedule 100 pins for free.
13. REPIN YOUR MOST REPINNED PINS
Repinning your best pins to any relevant board is the best thing you can do to boost your engagement. Just choose 5 best pins of your and repin it.
To do that, you can go to your analytics option which can be found on the top-left side and then click overview.
Then, access to your website analytics i.e. "Activity from blog-name" & click more.
Organize the result according to clicks and repin the top 5 pins into your relevant personal or group boards. Make sure to do this activity twice or thrice a week.
Doing so will help you to grow your pins which are already gaining engagement & thus you can have a better chance to drive more traffic to your blog. 



HELPFUL RESOURCE
If you are really serious about Pinterest traffic and want to master it, then I highly recommend "Billionaire Blogging Pinterest Manual".
This is a great e-book on Pinterest with around 165 pages of worth information. I have just started using it and already started seeing the result.
Have time? then check out his page by clicking below. As a bonus, you can see his manual pinning strategy video.
FINAL NOTE – PINTEREST MARKETING STRATEGY
I hope by now, you have learned something new about Pinterest Marketing Strategy. These tips have worked for me & I am pretty sure that it will work for you as well.
Pinterest is about consistency. If you are consistent, you will definitely see the result. But if you are not doing it regularly, then the result may fluctuate.
So, now my question is what are the strategies you have been using to drive traffic to your blog using Pinterest? Do let me know.
>>Read Next: Newbie Guide – How to start using Pinterest to drive massive traffic