When you click the links and ads on this blog, it helps me to pay the bills & keep this site free for you. Thanks for supporting me! For more info, read the Disclosure page.
Are you trying hard to attract Pinterest traffic but not seeing any results? You're pinning every day, but all you see is crickets?
Maybe you're unknowingly making some mistakes that are hampering your overall effort. But the question is, what are those mistakes?
In this post, I am going to discuss 5 common Pinterest mistakes to avoid. These mistakes can hinder your Pinterest growth, and you won't see much traffic until its fixed.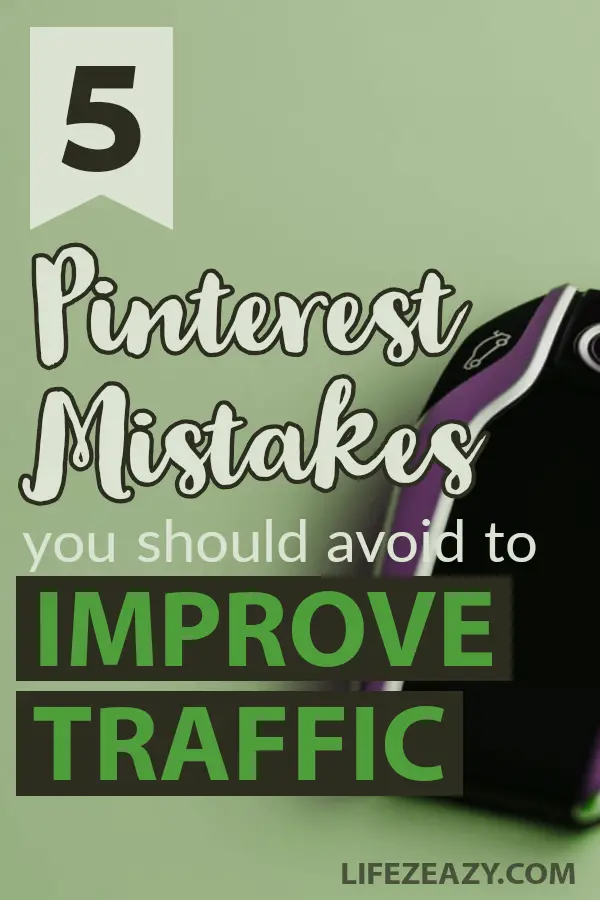 Read More:
5 Pinterest Mistakes That Must Be Avoided
1. You're Relying On Only One Pin
When I started promoting my post on Pinterest, I always relied on only one pin, and I did the same with all my posts.
Did I see any significant traffic? Both yes and no.
It actually gave me traffic when it went viral, but most of the time, I can only see a few clicks, and that was it. And the funny part was, I was still repinning the same pin to several other boards and group boards even if it didn't give me any result.
So, what I am trying to say is that don't rely on only one pin. Instead, create multiple pins with different designs, colors, and titles.
Test them to see which one is doing better and then create more pins with the same title. But this time, change the background, color & font to have a variety. This way, you will have several pins having higher chances for clicks, which accounts for more traffic.
Talking about myself, all my post has over 15 pins scattered all over on Pinterest, which gives me continuous traffic every day.
2. You're Not Pinning Consistently
If you're getting started on Pinterest, you have to pin every day. It doesn't matter whether it's your pin or third party pins. Just make it a habit to pin every day.
Pinterest usually doesn't trust new accounts, which means they won't show your pins to others until they consider you a legit one.
And how do they verify it?
When they see that you are regularly engaging in their platform. Even if you're pinning just 5 or 10 pins, just make sure you do it daily.
Regarding the pin count, I believe everyone has a sweet spot, and it's up to them to decide which number clicks better with their account.
For me, pinning 10-20 pins daily is my sweet spot that works pretty well for me.
3. You're Using Small Fonts On Your Pins
The third mistake which many Pinterest users make is that they design pins having small-sized fonts. Well, it's not a problem when you access Pinterest on desktop, but it can be a problem on smartphones.
According to Pinterest, 85% of users use Pinterest on mobile. This means the majority of the users are mobile-based, and they may ignore your pin title if the font is small. That's why you should design your pins with thick fonts that can easily catch the attention.
If you look at the below pin, you can see how I used thick fonts for powerful words and small fonts for the general one. This way, you can easily catch the attention of users on smartphones, and you have a great chance to get clicks and saves.
4. You're Depending More On Group Boards
Earlier, group boards were considered the best place to get saves and clicks. This is where your pins get exposure immediately because of several followers. Though it still is, lately, Pinterest is giving more attention to personal boards.
If you are trying to join big group boards instead of creating personal boards, you should drop that idea. Instead, create your own boards and have 7-10 of them for each category so that you have enough place to repin your pins.
For example, if I have blogging and SEO as two categories, I will create 7-10 boards for both of them. Though it doesn't mean you entirely avoid group boards, what I mean is pay more attention to your own boards.
Today, my personal boards give more impressions to my pins as compared to group boards.
5. You're Avoiding Keyword Research
For continuous Pinterest traffic, it's essential to rank your pins. Pinterest is a search engine just like Google, where you should focus on ranking your pins for specific keywords. If you're not paying attention to this simple practice, you are missing a great opportunity.
For example, if you create a pin on how to start a blog, then your goal should be to rank it at the top for the keyword that discusses the same topic. It can be how to start a blog or how to start a profitable blog.
If you can achieve this goal? you have done a great job. Rest all depends on your pin design & title to get clicks.
I have many pins ranking at the top for several keywords, which gives me continuous traffic daily. Apart from ranking, my pins also appear on the "More Like This" section, which gives it more exposure. Sometimes, Pinterest also suggests my pins to other users.
All this is possible because I targeted the right keywords for my pins. To find keywords, you can use the auto-suggested feature via the search bar.
Over To You
If you're not following any of these mistakes and still not seeing any results, you can check out Pinterest Strategies that will teach you how to succeed on Pinterest through Manual Pinning.
However, if you're already doing these mistakes, it's time to change your strategy. Do what I have mentioned here and give it a month to see how it goes.
If you have any further questions, you can leave your comments down below. Best of Luck!