Are you happy with your Pinterest result?
Are you getting enough traffic to your blog through Pinterest?
I know your answer must be NO. Otherwise, you won't be here.
We all know, Pinterest is a great platform to drive tons of traffic to your blog. Using this traffic, you can get e-mail subscribers, affiliate sales, clients as well.
But there is only one problem which many of them (including me but not now) lack, "how to attract Pinterest traffic to your blog". I always sucked on Pinterest. If you watch my earlier pins, you would probably laugh.
I always thought that Pinterest isn't for me cause I was desperately trying my hands on Pinterest for almost 6 months without seeing any progress. Yes, for 6 months.
All I got was 3-4 visitors per day. Sometimes it went up to 10 visitors, but that was it. During all these struggles, I learned a few things about Pinterest.
Firstly, if you share your pin with your followers or group boards, all of them won't see your pin. It's not like the Facebook group where sharing your content can be seen by all the members.
Pinterest is a different thing which totally works differently. 
Secondly, you must know what works and what not. You should know what mistakes must be avoided & what actions must be taken.
I have already shared 3 tips to increase your Pinterest traffic. You can check that out. But here, I will only talk about the mistakes that must be avoided if you are planning to use Pinterest for a long run.
If you are willing to fix these mistakes, you can surely boost your Pinterest traffic. Now, it may look negligible mistakes and you might think "who cares". But trust me, you need to completely avoid them if you are not seeing any result.
So without talking any further ado, let us explore these Pinterest mistakes.
>>Read On: A Step-By-Step guide on how to use Pinterest to drive traffic to your blog
5 PINTEREST MISTAKES THAT MUST BE AVOIDED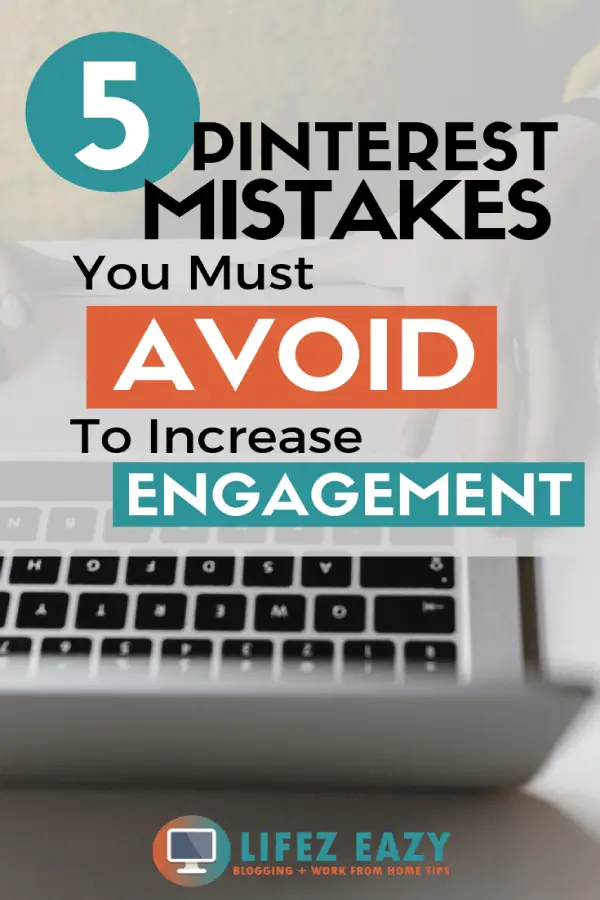 1. DON'T JUST RELY ON ONLY ONE PIN
Pinterest is unpredictable. You can't say which version of your pin can go viral at any time.
If you are creating a single pin for each of your articles and expecting Pinterest traffic to roll in. Then, you are missing a lot of Pinterest views.
Let me give you an example, why people who advertise through posters create a lot of them? Obviously to reach out to a wider audience. They can't do the same if they publish only one of them.
Same is with Pinterest. You can't expect to drive traffic to your blog if you rely on only one pin per article. You need to create at least 3-5 of them to see the maximum traffic.
You must also need to have different compelling headlines & different keywords attached to all of them so that if one doesn't work maybe the other one will do the job.
For example, I created these 3 pins which are pointing to the same blog post. Each pin has a different title but conveys the same message.

I don't know if you can clearly see but only one of them is doing well (red box one) & others are just being average.
This definitely gives me an idea about the type of pins that are doing great for that specific blog post. So, my next step will be to create another pin with the same headline (but with a different design) and with the same keyword. 
But I won't copy the same pin description. Instead, I will write a new description for the same keyword & start pinning it into Pinterest. This is known as strategic planning.
I have also seen some people who create 10 pins for a single blog post. Having so many pins gives them the chance to reach out to a wider audience. Plus, they can promote the same article for a longer time.
Thus, if you are missing this strategy, then start creating multiple pins for each of your blog post. Make a habit to create at least one new pin every week & start promoting it. You will surely see a difference.
2. NOT BEING A CONSISTENT PINNER
Consistency is very important if you want to see Pinterest traffic on a daily basis. No matter how much pinning you do, if you are not consistent, you won't see regular traffic.
Let's say, if you are pinning 10,20,30 or 50 pins per day, you need to maintain the same frequency every day. You can alter your pinning number if you can't see much traffic. However, it should be done slowly and not suddenly.
It shouldn't be like one day you are pinning 50 pins and the next day you are pinning only 10 of them. You need to maintain that frequency at least for one week to see the result.
Because if you are using a new pinning strategy, you won't see the result within a day. Pinterest at least takes a week to show some result. Therefore, you must have at least one week of patience before changing to a new pinning routine.
Being consistent also indicates Pinterest that you are an active user which itself is a plus point.
3. AVOID USING SMALL FONTS ON PINS
If you don't know, most of the users use their mobile to access Pinterest which means they will be checking out your pins on a smaller screen, unlike your desktop.
Therefore, in such case, you need to use thick and big fonts so that whatever headline you write on your pin, it should be viewable on mobile.
I have seen so many pins with smaller fonts which are even hard to read on a desktop. Such types of pins have a higher chance to be completely ignored on mobile as well.
If you are doing this mistake, then its time to create new pins with bigger & simple fonts. I guarantee that you will start seeing some better click-through-rate on your pins.
Secondly, use such colors that are eye-catching so that even if there are a bunch of pins, your pins stand out from the rest of them. You can go for Pink, red, orange or any bright color that attracts the eyes.
This is one of my pin which I shared on Pinterest some 2-3 days ago. You can see how eye-catching this pin looks. Due to the nice bright color with a nice background & thick fonts, this pin has got 28 saves & 2.4k impressions within just 3 days.
Also, credit goes to the keywords I targeted through this pin due to which it appeared in front of the right pinners.
So in short, a combination of all these factors can do wonders for your blog traffic.
4. LEAVE UNENGAGED GROUP BOARDS
You might be pinning a lot of pins in different group boards but still didn't saw any engagement. Right?
The reason why it happens is due to joining unengaging group boards. If you don't know what does it means? Then, sharing your pins in such group boards won't get you clicks or repins.
Unengaged group boards also bring down your average repin rate & it hurts your profile badly. Pinterest loves to share those content that gets a lot of repins, from other pinners.
Bad performing group boards lower your repin rate which impacts your Pinterest account health. So, it's very important to leave such group boards which aren't engaging.
To know the activeness of the group boards, you can check out the Tailwind's virality score (how many times a pin is repinned within that board), as well as the repins you're getting on your own pins.
Another way to analyze group boards is to look at your notifications. Whenever you see your own pins getting repinned, always check the board name.
After clicking it, you can see all the saved pins as shown below. Here, you can figure out which boards are showing engagement.
If you can't see your group boards in the notification even after pinning a lot of content into it, then this shows that the group board isn't engaging with your pins. (Same method can be applied for personal boards as well)
Now, if your pins really look bad, then please don't blame the boards because it might be your pin that isn't captivating.
So, you see, it all depends on certain conditions. But hey, you got the point. right?
Additionally, while joining any group boards, make sure to follow below points:
Join group boards that fit your niche and avoid general one.

Go for such group boards having less than 100 contributors.

It must be an active board i.e. there must be ongoing activities such as clicks & saves. 

Avoid group boards that are way too much active because while pinning your pins in such group boards, it can get lost immediately. Due to which others can't see or repin your pins. A good sign is to avoid group boards having thousands of contributors.

It must have at least 3k-5k followers.
That's it. If you can join such group boards, you will definitely see more engagement to your own pins which result in more traffic.



5. IGNORING KEYWORD RESEARCH
First of all, always keep in mind that Pinterest is just like Google which shows the result in image form. If you accept this fact, then you will start using Pinterest in a more strategical manner.
Now many of you think that the traffic which Pinterest drives to your blog is due to pinning. Sure it is, but there are other ways as well which it uses to drive more traffic to your blog.
Like it drives traffic through:
Search

"Picked for you" pins

"More like this" pins
But before I discuss it, let me tell you how to find keywords using Pinterest. 
Just type your pin topic in the search bar and see what keywords Pinterest recommends. Add any 1-2 relevant keyword in your pin description along with hashtags. This is how you should search keywords.

Now coming back to the traffic, all the above-mentioned ways have one thing common. Do you know what? It's keywords.
Wanna know how? Let me show you
A) TRAFFIC THROUGH SEARCH
This type of traffic can only be achieved if your pin is ranking for a keyword. For example, one of my pins is ranking for a broad keyword "Paid courses". 
Now the keyword "Paid courses" is searched a lot on Pinterest and whoever is doing this search will eventually see my pin and I have better chances to get clicks to my blog.
Due to which this pin alone is driving more than 100 visitors per day on my blog. Even if I don't promote it, its still giving me traffic as long as it is ranking at the top.
How I did it? By targeting a specific keyword in my pin description.
B) "PICKED FOR YOU" PINS
"Picked for you" pins are those pins which Pinterest recommends to the pinners by the boards they create, the pins they save or the pins they click.
It analyzes all these activities and recommends them pins which resonate with their activity. I have heard that this type of traffic accounts for the majority of Pinterest traffic.
For example, if someone has a board about SEO and you too share pins related to SEO. Then, there is a chance that Pinterest will recommend your pin to them if your pin is perfectly optimized.
In this way, you have the chance to drive more traffic to your blog & this can only be achieved by targeting right keywords & pinning those pins on the right boards.
C) "MORE LIKE THIS" PINS
"More like this" pins are those ones which are displayed under other pins. When you view a pin, you can see many other pins under it.
All these pins share the same topic. For example, if I am viewing a cookie pin, then I can see other cookie pins under it.
Think about it, what if your pins pop-up in this section when others are viewing certain pins?
You have more chances to increase your engagement. right? And this can only happen if you add keywords to your description. 
So, you can see how much importance keywords play in your Pinterest strategy. So, stop ignoring it and start implementing it in your description.



OVER TO YOU
So, here it goes. These are some of the Pinterest mistakes you need to avoid. If you are already not doing such mistakes & still isn't seeing much traffic to your blog. Then, you just need to change your Pinterest strategy.
Pinterest manual ebook has really helped me a lot to double my Pinterest traffic. Whatever I have shared here is just a small chunk of information from this ebook. 
Anyways, If you really liked this article, then don't forget to share it.
>>Read Next: 13 Pinterest Marketing tips for newbie bloggers