When you click the links and ads on this blog, it helps me to pay the bills & keep this site free for you. Thanks for supporting me! For more info, read the Disclosure page.
I am guessing you might have heard about Quora somewhere, and you want to know how to get targeted traffic from Quora?
If you are nodding your head, I will be sharing with you a complete roadmap on how to get started.
You will get to know
The right way to create a profile.

How to choose the best questions to answer.

How to write answers that get upvotes.

How to make Quora visitors click on your post link.
If you're looking for answers to these questions? Ensure to read this guide until the end. But before we begin, let's look at what actually is Quora?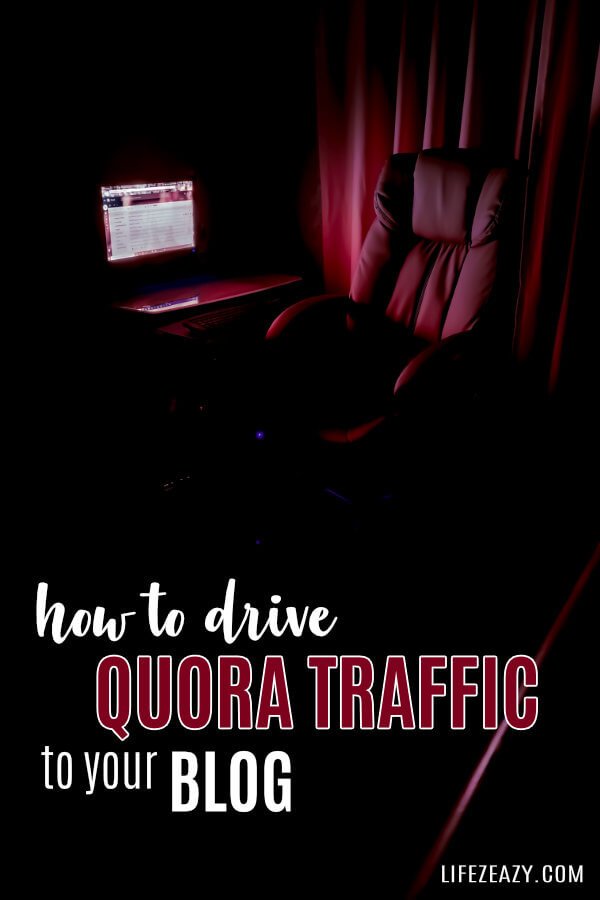 Read More:
What is Quora?
Quora is a question & answer platform created in 2009, having over 190 million unique visitors every month. Just like Yahoo answers, here also users ask & answer different questions.
Most of the traffic on Quora comes from the US (37.7%) & India (18.3%). So, if your target audience resides in these countries, it can be a great platform to drive traffic to your blog.
3 Benefits Of Using Quora
I know maybe you might be thinking, is Quora traffic worth the time? Will the traffic engage with my blog content?
Well, here are the three benefits of Quora traffic that will clear the air.
It is known to be highly targeted traffic as most of the time, users are only interested in solving their problems by going through the questions. In such a case, directing them to your post that deals with the topic will not only give good engagement, but it can convert into affiliate sales as well.

When you answer questions on Quora, it will stay there forever unless Quora decide to delete it. This means your answers will keep on bringing visitors to your blog even after one or two years. I still get traffic from my responses written one year ago.

Quora is an excellent place to build authority, which itself can give you a lot of credibilities and followers. You can even be listed in Most Viewed Writers section within your category if you are good at writing answers and solving problems.
6 Steps You Must Follow To Drive Quora Traffic
Simply writing anything won't drive Quora traffic to your blog. Instead, you need to follow specific strategies to do the whole thing in the right way.
Below I have listed all the steps from start to finish that not only help you to build an excellent profile but will also drive visitors to your blog.
Step 1 – Create Your Quora Profile The Right Way
To use Quora, obviously, you have to create a profile. But just signing up and answering the question will not give you the results you want.
You have to set up your profile in such a way that makes you appear like an authoritative person in your niche.
Now how would you do that?
Obviously, by filling details in your profile. Here are the places you need to concentrate the most while setting them up.
A. Fill Your Credentials
Credentials are nothing but a headline of your profile. These credentials will appear below your profile name. So whether you answer any question or ask any question, these credentials will be visible to all the Quorians.
So, what should you write in Credentials?
Mention your expertise in whatever field you are in. Suppose, if you are an SEO expert, then mention something like this.
SEO Expert at yoursitename.com

SEO Consultant | Blogger |
This will let other Quorians know who you are & what is your interest area. If people have the same interest as yours, they will surely follow and interact with your answers.
B. Fill Your Description
A description is a great place to add additional details about you and what you can do for them. 
Many users don't take advantage of this section and simply fill it randomly. That's wrong & it must be avoided.
Besides details, you can also add your blog domain name and even links to your popular posts to showcase your expertise.
To conclude, here are a few things you must include in your profile description.
Experience

Expertise topics

Include your blog domain name

Include your social media link

Include links to your most popular blog post (this will drive traffic to them)
You can also look at the above screenshot for reference.
C. Select Topics In "Knows About Section"
In this section, you have to choose the interest topics that you want to interact with. For example, if your expertise is in online marketing, you can select SEO, Blogging, Affiliate marketing, as your topics.
Based on whatever topic you choose, Quora will show all the user questions related to it in your feed. This way, you don't have to search for questions as all the latest and old ones will be right in front of your eyes.
You can find this section at the bottom right corner of your profile page.
Step 2 – Make a List Of Blog Post
After you have set up your profile, it's time to make a list of all the blog posts that you want to promote on Quora.
While making the list, ensure to pay attention to the following points.
Add popular posts ( having lots of views & shares)

Include guide style posts (valuable & helpful for readers)

Lastly, add posts with lots of interlinking to your other post.
Now you might be thinking, why all this?
I want to ask you one thing. If you visit a blog for the first time and read a post that is not engaging and does not solve the promised problem. Will you ever visit the blog? I guess, No.
However, if you visit another one that hooks you right from the start and answers all your problems, I am pretty sure you would like to explore the blog more.
The same principle you need to apply in Quora as well. You want first-time visitors on your blog to land on your best posts to have a good impression. This way, they can trust your credentials and your opinions.
Step 3 – Select Questions To Answer
After you have made a list of your best posts, it's time to find questions related to them.
You need to find & target only those questions getting a lot of attention & views. This way, when you answer them, you can see the results much faster.
Below are some ways to find them.
A. Search On Google
This is my favorite method to find popular questions related to any topic on Quora. These questions not only has a lot of views, but it also gets traffic regularly.
Answering such questions with a post link is a great way to get those targeted visitors on your blog.
Here is how to find them.
Go to Google & search your post keyword with a Quora tag on it. In other words, type your keyword & add Quora at the end. For example, if my keyword is

ways to increase blog traffic

, then 

ways to increase blog traffic Quora

 will be the search term.

Once you hit the search button, Google will show all the top-ranking Quora questions related to your search term. These are the questions you need to target to drive Quora visitors to your blog.
B. Questions For You Section
There is a section in Quora where they suggest questions in your feed according to your listed interest. 
If these questions match with your post topics, answer them. However, if they are not relevant to your topic, still answering them will increase your credibility. (we will discuss it shortly)
To find this section,
Go to your Answer tab and click on the "Questions for you" option on the left side.

On this page, you can find questions that Quora is suggesting to you.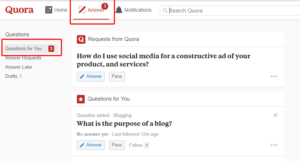 C. Answer Requests Section
Quora has an Answer Request feature where a user can ask a question to 15 different people. If you have questions in this section, this probably means that someone has requested you to answer.
If you are just starting out, you won't see any questions here. But as soon as your authority increases, you will slowly see questions popping up in this section.
These questions may or may not be related to your interest, but when you answer them, you can improve the overall authority of your profile.
You can find this section by going to the Answers tab and clicking on the Answer request option on the left side.

Step 4 – Sorting Out The Best Questions
Till now, you have created your profile, made a list of blog posts you want to promote & learned all the methods to find questions. 
Next, you have to sort out the best questions that will give the maximum exposure to your answers. 
Answering each and every question is time-consuming, and I am sure you do not want that. You need to work smart rather than hard so you can give time to other things as well.
That is the reason you have to set priorities to answer only the best questions. To find them, you can do the following steps.
Check out how many followers does the question has.

 If a question has thousands of followers, it's a great sign because answering them means reaching out to all those followers. When you reply to a question, all the followers following that question get a notification. Thus, when they click it, they land on your answer.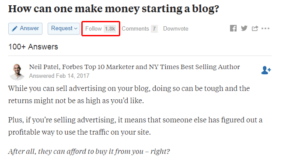 Ensure, there are a lot of views on the question.

The views show how popular the question is. If it is having thousands or millions of views, then dropping your answer will be a great way to get the eyeballs. You can check the views by clicking a question and finding the stats in the bottom right corner.
To conclude, answer only those questions that have over 1000 followers and have thousands or millions of views. This will ensure your answers are reaching out to more and more people.
Step 5 – Answer The Questions
Once you know which questions to target, it is time to answer them.
Now, if you look at the answers to these questions, you can find lengthy descriptive ones as well as short ones.
Just go through them and look at what they have answered. What points they have mentioned, and what kind of images are supporting the answers.
Here, the idea is to write a better answer that can get the most upvotes (likes). The answers having the most upvotes are placed at the top by the Quora algorithm, where it gets more exposure. 
More exposure = More views = More Traffic
The following are some tips to follow while crafting your answer.
Write long and helpful answers that discuss the problem thoroughly.

It is good practice to answer the questions in small paragraphs. This way, it will not look like a big piece of text. Also, you can bold the main points to make it stand out.

Besides small paragraphs, you can also include bullet points to make it more readable.

Include images in your answer to make it more presentable. You can also include infographics if it makes sense.

Most importantly, drop your blog post link naturally within your answer or at the end.

Do not give away everything. Otherwise, the users will not even bother to check out your post. (we will discuss this in a couple of minutes)
What You Should Avoid:
Avoid writing boring answers. People usually don't read such answers if it is lengthy. Try to include humor, storytelling, or personal experience in it.

Avoid spamming the answers with your blog post link. Sometimes, it is a good practice to avoid including the links to some answers. This will make you appear as a helpful person rather than someone who is just on Quora for promoting his blog.

Do not copy & paste the same answer in other similar questions as this activity looks spam, resulting in a ban.
A. How To Drop Links
Quora moderators are quite strict. If they see something suspicious, they will straight away ban your profile without giving any warning.
Quora banned my first profile just because I was unnaturally promoting affiliate links. I was copying & pasting the same answer on all the similar questions, which resulted in banning.
That is why you need to be careful while dropping your links, whether it is a blog post or an affiliate link.
So, now the question is, how do you drop them?
You can drop it naturally within your answer, just like you interlink your post by an anchor text while writing a post.

Another way to include them is by writing something like this 

"To find a more detailed answer with more insights, you can check out this post on my blog"

 and then link your blog post.
You can sometimes link other websites as well to show that you are not here to only promote your content.
At last, just remember that you are answering questions to help others. It shouldn't sound as if you are selling your content.
B. Don't Give Away Everything
Suppose you answered a question with all the information needed to solve the problem. Now tell me, will the users be bothered to check out the linked post when they got all the info just by reading the answer?
Probably NO!
Because you already gave away everything, and that is not what you have to do if you are promoting your blog post.
You need to apply a few tricks that not only give them the answer but also encourage them to check out your post. Here are a few of them.
Suppose you are promoting a post that lists 5 ways to cure anxiety. So, while writing an answer, you can give away 3 methods while letting them know two more additional methods included in your post. 

Another way to get clicks is by writing a summary of your post & telling the users that they can find more detailed information when they check out your post link.
Both the methods work quite well, which will ensure a better click-through rate to all your posts.
Step 6 – Improve Your Answer Ranking
Most of the users like to read the top 3 answers on any question. So, if your answer is not ranking in that spot, you will miss a huge chance to drive traffic.
To rank them, you need to do some follow up work that can probably improve its ranking. Now, Quora considers some factors while deciding which answers to place at the top. Here are they:
Answers having the most upvotes (likes) & views are ranked better.
Quora gives an advantage to those users, having a lot of views and upvotes to their overall profile. (Credibility)
How To Improve The Overall Credibility Of Your Profile?
If you have been around on Quora for a long time, your answers will be given more importance compared to other new users. Other things you can do to improve your credibility include.
Always try to answer popular questions shown in your feed. These questions may or may not be related to your topic, but answering them gives you an excellent chance to increase your profile views & upvotes.
Try to answer some questions without dropping your post link. This is a great practice to be followed because it makes you appear as a genuine user.
Avoid using any affiliate links in your answers because Quora doesn't want such users who are there to make dime instead of helping others.
Final Thoughts – How To Get Targeted Traffic From Quora
First, give yourself a tap on your back because you made it till here. It is not everybody's cup of tea. So congratulations on that.
If you follow all the steps, I discussed here and write at least 1-2 answers daily, you will definitely see an increase in your traffic every month.
Moreover, your answers will be staying on this platform for a long time, driving visitors to your blog regularly.
Now, let me know, have you ever heard about Quora or used it before? Drop your comments down below.