When you click the links and ads on this blog, it helps me to pay the bills & keep this site free for you. Thanks for supporting me! For more info, read the Disclosure page.
If you own or just created a new YouTube channel, you might be thinking how to rank your videos on top?
Or how to rank YouTube videos fast?
Well, if you really want to know the right strategy, then you should read this post till the end.
Here, I will discuss all the factors which the YouTube algorithm looks to rank videos.
If you follow all of them, you've got a pretty good chance to rank on top.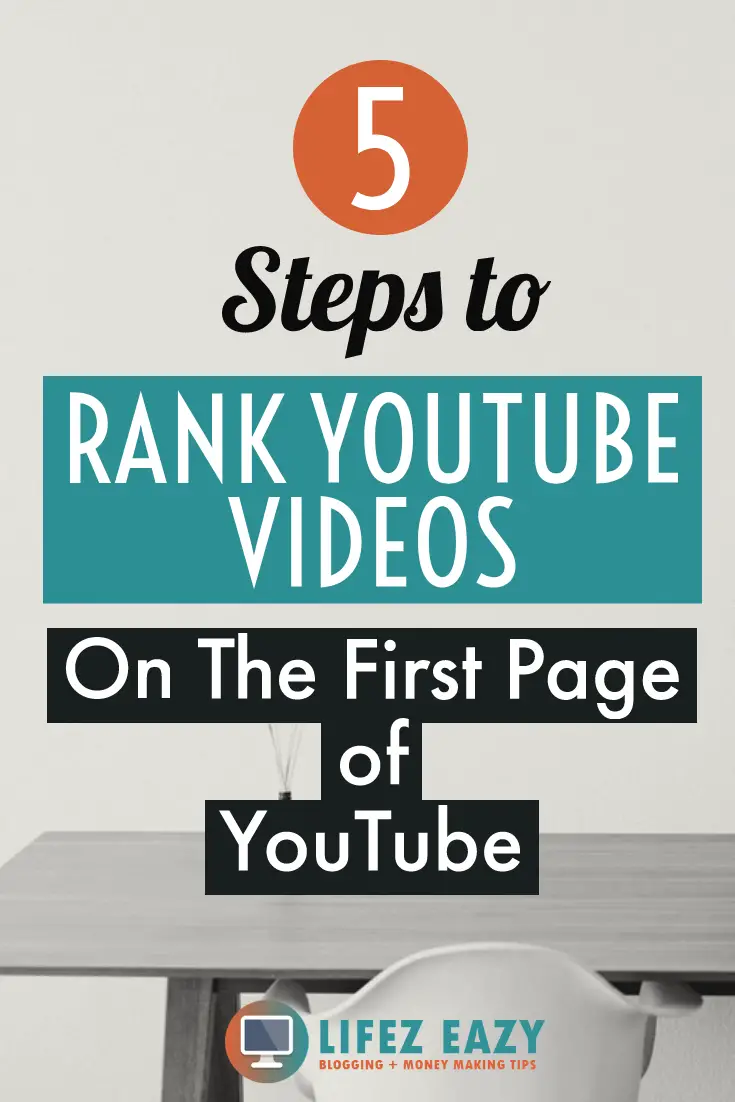 How to rank YouTube videos fast?
1. Check Metadata
Metadata includes your title, description, tags which are considered an important factor for ranking.
If you can optimize it in the right way, you're more likely to see a better ranking.
But the question is how to do it?
Well, it's pretty easy which only takes a few minutes. Let's see
A) Find Right Keywords
Many YouTubers first make a video and then think about ranking it.
Well, that's fine if you're already having a lot of subscribers or your channel is quite popular.
However, if your channel is new or you don't have enough subscribers. You need to think in the opposite direction i.e. first think about a keyword that has less competition and is easy to rank on YouTube.
Then, make a video on the same topic that is more likely to rank.
For example, if I want to make a video on a paper airplane so it gets ranked on the first page for the keyword "how to make a paper airplane".
Will I able to do it?
Yeah, I can! But it involves a lot of factors which I will discuss after a couple of minutes.
But, for now, you need to hit a search query that is easier to rank. Otherwise, if you target a keyword that has high competition, you're not likely to see your videos on the top.
To find those easy keywords, I use TubeBuddy (free tool) keyword explorer tool.
In this, I will just type my keyword in it and do a quick search. As you can see, it is showing Poor score which means the keyword is hard to rank.
As you can see on the right side, it is showing auto-suggested keywords which can also be a good keyword.
So, after digging for a few minutes, I came across the keyword "how to make a paper airplane boomerang step by step".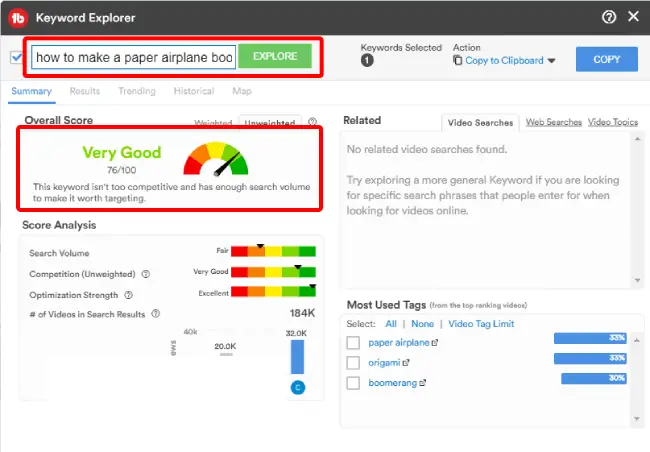 This keyword has a fair search volume as shown in the screenshot but most importantly, it is easier to rank.
So, now if I make a video on the same topic, I am more likely to rank on the top.
But, you shouldn't stop just here. You need to work on other factors as well which is coming up next.
Read More: TubeBuddy Review – A tool to grow your YouTube channel
B) Create a video on the same topic
This section is up to you.
If you're good at making & editing videos, it will be a piece of cake for you.
However, make sure your video should be engaging and not boring because engaging videos plays a large part in ranking which I will discuss later.
C) Insert your keyword in the Video File & Title
After creating the video, you need to rename your video file with your main keyword which we found earlier on TubeBuddy.
Also, while uploading your video on YouTube, make sure to add the same keyword in your Video title.
You can also include some other Curiosity words along with it for more clicks.
D) Insert the keyword in Video Description
This is a place where you can add a lot of things which can further help to rank your videos.
Usually, you should aim to write a description of about 250 words having your keyword sprinkled 3-4 times in a natural way.
Along with that, make sure to add the following points as well.
Insert a Call-to-Action which tells your viewers what they need to do. You can ask them to subscribe to your channel or visit your website, etc
Use synonyms of your main keyword.
E) Insert your keyword in tags
Tags help users find your video when they search for a topic on YouTube.
When users type keywords related to your tags, your video will appear in their search results.
That is why make sure to include your main keyword and other related keywords as your video tags.
Here is a quick trick to find the best tags.
Make sure TubeBuddy is installed on your browser and then search your main keyword on YouTube and open the first video.
In the below screenshot, you can see Videolytics on the right side where you can see the tag section.
Just copy the right tags and insert them in your video. Also, make sure to include your channel or company name as the tag.
2. Improve Watch Time
YouTube has stated that
We've started adjusting the ranking of videos in YouTube search to reward engaging videos that keep viewers watching. The experimental results of this change have proven positive – less clicking, more watching. As with previous optimizations to our discovery features, this should benefit your channel if your videos drive more viewing time across YouTube.
So what is watch time?
It is the amount of time in aggregate that your viewers are watching your videos.
For example,
if 100 users watch a 2-minute video till the end, this means they watched 200 minutes.
Now, if 100 users watch 50% of a 5-minute video, this means they watched 250 minutes.
If you compare both cases, you'll see that the watch time is much better in the first case than the second one and that video has a higher chance of getting ranked better on YouTube.
Now, you can only improve your watch time if you create entertaining and engaging videos which hook your viewers till the end.
3. Improve Session Watch Time
Let's understand this with an example.
Suppose a user comes into YouTube to watch a Football video and he clicks on your video.
Now, you have optimized that video pretty well i.e. you targeted the right keywords in your title, description, and tags.
Because of proper optimization, that user can see other similar videos on the right side (yours or someone else) and if they click any video from the suggested list, you will get watch time credit.
In this way, you can improve your session watch time and it will definitely benefit your video in the ranking.
4. Likes, Comments & Share
Other factors that account for ranking are Likes, comments and shares.
You may have noticed that YouTubers always ask to like comment & share their video because they know that if their video gets good engagement, their ranking will improve drastically.
And it is true because YouTube pays attention to these factors while ranking them.
So, make sure to always tell your audience to like, comment and share your videos as much as possible.
5. Add a Clickable Thumbnail
Thumbnails directly won't help in ranking but they definitely help your videos to get clicks.
Always remember that all the factors I discussed earlier will only work if viewers will click your video.
If your videos won't get any clicks, you'll have a hard time ranking those videos.
So, always make Clickable thumbnails that will attract visitors.
You can take inspiration from your competitors or you can put yourself in your audience shoes and see whether or not your thumbnail are really clickable.
If you are using TubeBuddy, you can create thumbnails in your YouTube dashboard itself as shown below.
Conclusion
So, now you know the secret to rank YouTube videos fast!
If you start applying these tips on your videos, you're likely to see some positive result.
However, please keep in mind you need to have the patience to see the desired result.
If you're expecting to see the result within one day, then it might disappoint you because that's not how it works.
You need to give at least one week time before seeing any positive change.
So, now it's your time to take some action. Good luck!
If you liked this post, make sure to pin and share it.