When you click the links and ads on this blog, it helps me to pay the bills & keep this site free for you. Thanks for supporting me! For more info, read the Disclosure page.
If you want to sell physical products online, launching a Shopify store is one of the best options available.
In this guide, I will outline all of the steps required to start your own Shopify online store from scratch.
But before we begin, let's have some introduction.
What is Shopify?
Shopify is an e-commerce platform that allows you to create an online store and sell products. 
You can use them to sell both digital and physical products, as well as services and consultations, memberships, ticketed experiences, classes and lessons, rentals, and so on.
Whether you are a large or small business, whether you sell on social media or elsewhere, Shopify is for everyone who wants to sell items without any HASSLE!
Want to Create Your Own Online Store?
Start making money by selling products and services by signing up here!
How Does Shopify Work?
Shopify works on a monthly subscription model where you pay for one of their plans before starting to use their platform.
Once you've joined, you can easily create a storefront, display products, interact with customers, and accept payments. Shopify provides all of the necessary tools needed to manage your online store.
Believe me, it will be a piece of cake!
The Benefits of Starting an Online Store With Shopify
You can easily set up your shop without breaking a sweat.
Customers will be glued to your store because you can create a visually appealing online store without the assistance of designers and developers.
With their app integration feature, you can easily add new features and functionalities to your store.
Say goodbye to slow-loading online stores because Shopify stores load faster as a globally hosted solution.   
It supports SEO parameters such as custom title tags and meta tags, which help your product pages rank on Google.
Shopify support experts are available 24/7 via email, live chat, or phone to answer any questions and keep the store running smoothly at all times.
How Much Does it Cost to Set Up a Shopify Store?
It depends on which plan you choose.
Shopify basically offers five plans and a 14-day free trial that doesn't require connecting your credit card. You can simply sign up and start using their platform for free.
But once you have consumed all 14 days, you need to choose any of the below five plans before continuing with them.
| Plan | Price | Description |
| --- | --- | --- |
| Shopify Lite | $9/month | It's a low-cost plan that lets you sell products on an existing website. If your website isn't hosted by Shopify, you can sell with a Buy Button without using Shopify's hosting. |
| Basic Shopify | $29/month | Best for beginners who are just starting out. |
| Shopify | $79/month | It's best for people who already have a customer base for their products and services. |
| Advanced Shopify | $299/month | This plan is best suited for large businesses that require advanced reporting. |
| Shopify Plus | Starting at $2,000/month | It is designed for larger businesses or those looking to expand. It includes advanced reporting features, priority customer support, the ability to handle higher order volumes, and other benefits. |
How Do I Publish My Shopify Store?
Step 1: Sign Up For Shopify
Click here to try their 14-day trial plan. Once the page has loaded, enter your email address and click the "Start Free Trial" button.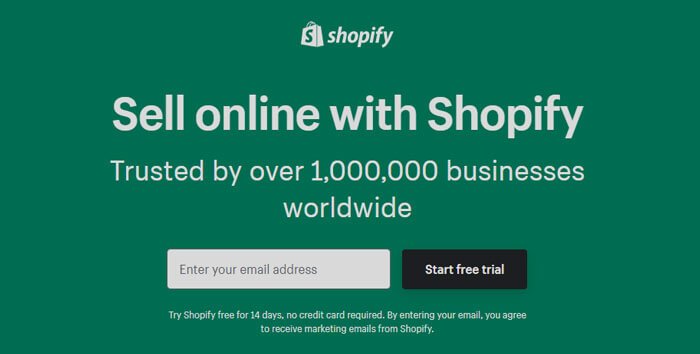 On the next page, enter your email address, password, and, edit the name of your store (if desired). After that, click the "Create Your Store" button to proceed.
Next, you must enter some additional information about yourself, such as whether you are new or already in the store business, how much revenue you generate, and so on.
After that, enter your personal information, such as your name, address, phone number, etc., and click the "Enter My Store" button.
That's all! Your store has been created. Now we'll look at how to add products, install a theme, and add payment methods, among other things.
Step 2: Add Product
First, we'll start with how to add a physical product and then move on to how to add a digital product.
How to Add a Physical Product
After you've signed up with Shopify, you'll be taken to your store's admin page. From this point, you can begin customizing your store and uploading products for your customers.
To add a product, simply click the "Add" button and follow the steps below.
1. Add The Product Title & Description
This is where you can entice your customers to take action, especially in the description. You simply need to write a compelling product description that will persuade your readers. 
For example, adding different qualities to your product can make the description sound unique and helpful.
Also, if you are targeting a specific keyword, make sure to include it so that it can help you rank in the search engine.
Consider the title and description of a cap below as an example.
2. Upload a High-Quality Photo of Your Product
Consider a good description of your product accompanied by a low-quality photo.
Will anyone buy your product? Most likely, no.
People do not want to buy something that is unappealing. Even if your product is excellent, presentation is crucial. 
Uploading a low-quality photo of your item reduces your chances of making a sale.
So, try taking a picture with a better camera and proper lighting. If it has a distinctive feature, try clicking on it as well to make it more appealing.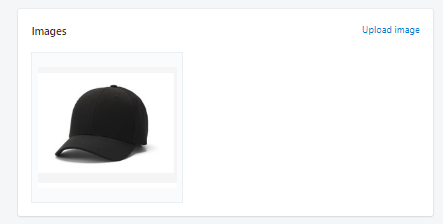 When uploading the image, make sure to fill out the image alt section for SEO purposes. Here, you can describe the image in 6-7 words, including any relevant keywords.
3. Set Your Price & Inventory
In this section, you must enter your product's pricing and inventory information. When filling them out, make sure to select the "charges taxes on this product" option.
Furthermore, set the inventory policy to "Shopify tracks this product's inventory" followed by entering the quantity.
This allows you to know the numbers, making it easier to calculate how many products have been sold and how many are still available.
4. Enter Shipping Details
If you are selling physical products, you must enter the required details while checking the "This is a physical product" box.
Once completed, Shopify will be able to calculate an approximate shipping cost based on the customer's location and the weight of your product.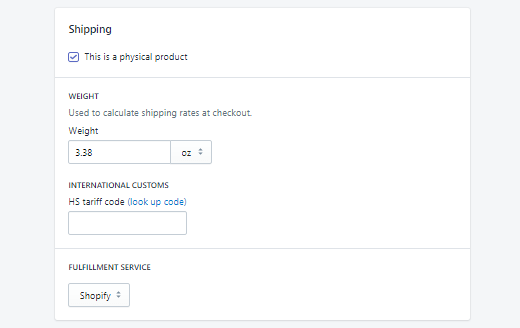 5. Add Variants
If your products come in a variety of sizes and colors, you can include them by using the variant options.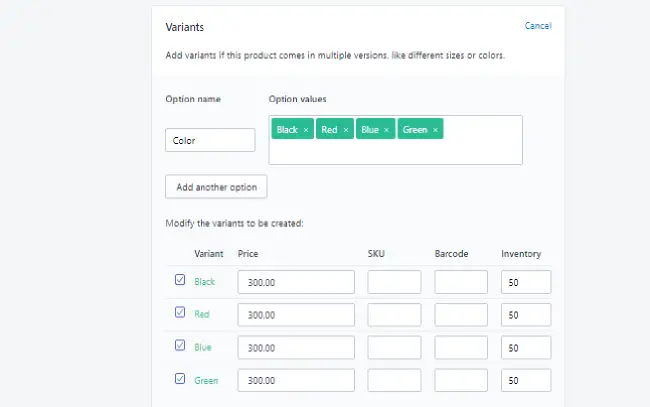 Using the cap as an example, I can add color as a variant. If you're selling T-shirts, you can also include the size and color.
6. Search Engine Listings
If you want your product page to appear high in search results, you can use this section to target a specific keyword.
To begin with, use a keyword research tool to find a relevant, low-competition keyword. Including such a keyword in the description, title, and URL can boost your chances of ranking.
How to Add a Digital Product
You've already seen how to add physical products to your Shopify store. So, what about digital products now?
The majority of the steps are the same for digital products as well. However, you must install an additional app that allows you to upload digital products such as ebooks and printables to your store.
To install the app, follow the steps below.
Go to the left navigation menu and select Apps.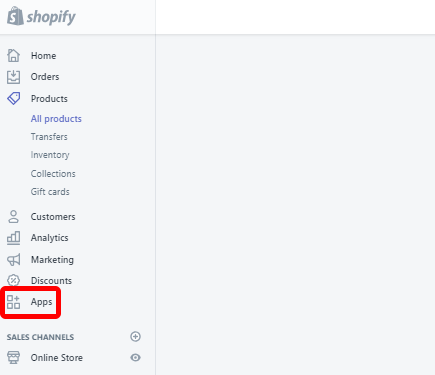 Visit the Shopify App Store by clicking the "Visit Shopify App Store" button.
To find the app, type "Digital Download" into the search bar.
To install the app, click the "Add App" button.
Once installed, go to your product page and add a new product.
Enter all of your information and uncheck the "This is a physical product" option.
When everything is in order, you can upload your digital product by selecting More Actions > Add Digital Attachment.
Step 3: Install a Theme
You'll be glad to know that Shopify has its own theme store with hundreds of free and paid themes. 
These themes not only make your online store look professional, but they also come with full customer support from the designers.
I know you might be thinking that because you aren't a coding expert, you won't be able to handle all of the design work.
Well, don't worry because the themes include a plethora of customization options that make your job quite simple.
If you still don't want to get your hands on it, you can always hire a Shopify expert to do all of the work for you for a small fee.
Anyway, you won't need them because I'll be guiding you through the entire process.
Go to your homepage and click the customize theme button.
Click the "visit store" button to enter the theme store. Alternatively, you can go to themes.shopify.com.
Once you're in, you'll be able to browse through beautiful themes from all of the categories.
Choose a theme you like and install it by clicking the "Add Theme" button. That's all you need to do.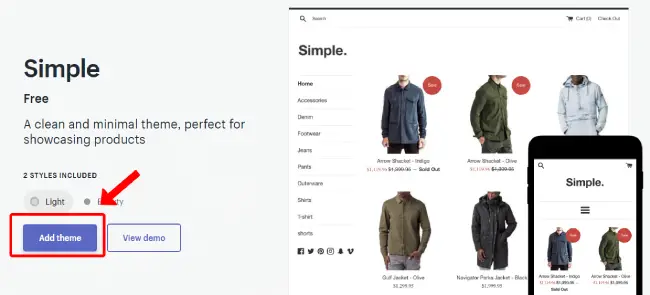 Here are some tips to follow while choosing a theme.
Choose a theme based on the category and filter it by free or paid. You can also sort by price, popularity, and most recently purchased.
Because the majority of your audience will be using a smartphone, make sure your theme is mobile responsive.
After you've chosen one, finalize the theme by viewing it in preview mode. You can do so by selecting the "View Demo" option.
P.S – You can always change your theme at any time. So, don't overthink it when picking one.
Step 4: Customize Your Theme
After you've installed a theme, it's time to customize it to your liking.
To customize it, go to the left navigation menu and select Themes to access the theme manager page.
There are two buttons here. The first is the action button, and the second is the customize button.
You can do the following things with the Action button.
Rename
Create duplicate
Download theme file
Edit code
Edit languages
The customize button allows you to perform the following actions.
Upload logos
Change color schemes
Customize fonts
Add slides to a homepage carousel
Add related item functionality to product pages
Choose how many items appear on each line of the collection pages
Allow repositioning of elements on pages
Display social share buttons
So, get creative and design your store with these options to make it look more professional and appealing.
Step 5: Add a Domain 
By default, your domain name will look something like this: storename.myshopify.com.
Although it is good, it does not look or sound professional. As a result, customers tend to avoid purchasing products from such stores, which can hurt your sales.
So, to avoid it, you can either purchase a custom domain name from Shopify or connect a domain name from another platform, such as GoDaddy.
If you're serious about your business and want to do it for a long time, I highly recommend you invest in a domain name.
Still, it is entirely up to you to decide whether to go with storename.com or storename.myshopify.com. The choice is yours!
To buy or connect one, go to the domain settings by clicking the Add domain button on the homepage.

Step 6: Set Up Shipping & Delivery
Now you must setup all of the shipping and delivery details. The sections you must complete are listed below.
Shipping – You can specify where you want to ship to and how much you want to charge for shipping during the checkout process.
Local delivery – Deliver orders to local customers directly.
Local pickup – Allow local customers to pick up their orders.
Packages – Add a package to see accurate shipping costs at checkout.
Packing slips – Personalize the packing slips you can print for orders.
Carrier accounts – Enable third-party calculated rates at checkout.
Custom order fulfillment – Include an email address for a custom fulfillment service that will fulfill orders for you.
Step 7: Configure Your Payment Method
An online store would be incomplete without a payment gateway to accept payments from customers.
Fortunately, Shopify offers a total of 27 payment methods, including credit card, Paypal, Amazon Pay, Mastercard, Union Pay, etc.
To choose your preferred method, follow the steps outlined below.
Click the Settings option on the bottom left-hand side of the navigation menu.
Then click the payments option to view all the payment settings.
Select payment providers by clicking the "Choose a Provider" button. You can also select the manual payment methods by choosing "Add manual payment method".
F.A.Q
Q1. Do You Need a Business License For a Shopify Store?
The simple answer is no. In order to sell on Shopify, you do not need to have a business license.
Q2. What Does Shopify POS Do?
Shopify POS is a point-of-sale app that allows you to sell your products in-person. You can track orders and inventory across retail locations, online stores, and other sales channels. The app even lets you manage your store's orders.
Q3. Is There a Setup Fee?
There are no setup fees on any plans.
Want to Create Your Own Online Store?
Start making money by selling products and services by signing up here!
Read Next:
Pin it for Later