Disclosure: This post contains affiliate links. If you buy or sign-up through one of those links, you won't pay a penny more but we'll get a small commission that helps us in running this blog. Read the Disclosure page.
In this guide, I will show you the exacts steps to start an online store using Shopify.
If you don't know, Shopify is a platform from where you can sell your products to your target customer. You can either do this as a side hustle to make some extra money or as a full-time job.
Whether it is a craft, paintings, fashion gallery or printables, you can sell them all using this platform & setting up all these things merely takes a few minutes.
As a beginner, it might be kinda difficult for you to figure it out all at once. But don't worry, after reading this guide, it will be like a piece of cake for you.
So, if you are darn excited to start your own online store, then let's just begin.
WHY SHOULD YOU GO FOR SHOPIFY?
You know that building a website from scratch means buying a domain name, web host, installation of WordPress & much more which is kinda lot of work as a newbie.
And who knows, you might end up hiring someone to do this all for you which may cost some extra money.
Last year, when I was thinking to create this blog, I was pretty much lost. I didn't know what to do or how to do all the website related stuff.
That's why I invested a lot of time reading multiple articles & watching videos related to website creation.
Now with Shopify, you don't have to worry much because creating an online store on this platform is much easier than creating a website & you can save a heck lot of time.
You don't need to look for any web host or any technical aspect because Shopify themselves will manage all these things for you.
This means you can concentrate more on selling your products rather than managing your online store.
Now, tell me, don't you think, choosing Shopify will be a much easier option?
If your answer is yes, then its great. However, If you are still not convinced, then let's look at other benefits that you will get with Shopify.
BENEFITS OF STARTING AN ONLINE STORE USING SHOPIFY
Shopify gives you the choice of more than 180 beautiful themes which are either free or paid
It will host your entire store which means you don't have to worry about web hosting.
If you want your online store to sound more professional, it gives you the option to add your own customized domain name.
You don't have to learn any coding to manage your online store.
With a Shopify store, you don't have to worry about payments, processes & tracking as this is all managed by them.
IS SHOPIFY FREE TO USE?
Well, they do give you a 14-day trial plan during which you can set-up your own store for free. This is actually great because it gives you the full freedom to test out this platform before making any decision.
However, the only thing is, you can't sell your products. Even though you can build your store during this trial plan but you won't be able to sell your goods to your customers.
This can only be done if you are ready to invest in their monthly plans which are cheap.
However, the great thing is, you don't have to enter any credit card details to use their trial plan. You just need to sign-up & that's it.
STEPS TO CREATE YOUR SHOPIFY STORE
Till now, we have seen what is Shopify & how it can benefit your online business.
So, if you have decided to give it a shot, then let's look at all the required steps to create a beautiful Shopify store. Don't worry its pretty easy than creating a website & merely takes 30 minutes.
STEP 1 – SIGN UP FOR SHOPIFY
Click here to go to Shopify & then click "Get Started".
A window will appear in front of you where you need to enter your email address, password & store name. Once done, click on the "Create your store" button.
In the next page, you need to tell about yourself whether you are new or already into store business, how much revenue you make etc.
As an example, I have filled the basic details for starting an online store from scratch as shown below.
Next, you need to fill out your personal details which include name, address, phone number etc.
After all, is done, click on the "Enter my store" button to enter your dashboard.
STEP 2 – GETTING READY FOR CUSTOMIZATION
After you have signed up for a Shopify store, you will land into your dashboard. This is the place where you need to start customizing your store by
Choose a theme
Customize your theme
Add a product (physical or digital)
Choose a domain name
Set-up payment provider
If you are pretty much confused reading all this, then let's see each step one by one.
STEP 3 – CHOOSE A SHOPIFY THEME
You will be glad to know that Shopify has its own theme store. As I said earlier, here you can find hundreds of themes either free or paid.
Using these themes, you can give your online store a professional look which makes it more appealing to your audience.
Along with that, you will also get full support from the designers whenever you encounter certain theme-related problems.
With these themes, you don't have to worry about the code modification because they already provide a bunch of options that let you customize your themes as per your needs.
Premium themes come with more modification setting than the free ones which have limitation. But, this doesn't mean that you can't create a great looking store using the free one.
If you want any further changes to your theme which you can't do by yourself, then you can always hire "Shopify experts" to fully modify your store.
I hope by now you won't be having any confusion related to themes. If you don't have, then let's see how you can install these beautiful themes on Shopify.
To do that, go back to your dashboard & choose the "Customize Theme" option.
Here, you can see a bunch of options. Just select the "Visit Theme Store".
Here you can literally find beautiful themes for all categories. You can also visit directly to this page by entering "themes.shopify.com".
Now, don't just randomly choose any theme for your store. There are a few things that you must do before finalizing one. If you are confused, then let me help you with that.
A) FILTER THEM
To choose any theme, first, choose a category and then filter them out by either free or paid. You can also sort them by price, popularity & most recent.
B) LOOK UP FOR THE POSITIVE REVIEWS
Once, you visit a theme, make sure to check its reviews. By reading all the reviews, you can make out whether the theme is actually good or not. So do your analysis and choose one.
C) CHECK WHETHER IT IS MOBILE RESPONSIVE
Make sure your theme is mobile responsive because most of your audience will be browsing your store within their mobile.
D) PREVIEW YOUR THEME
Lastly, check the theme in preview mode. You can do this by clicking the "View Demo" button. If your theme has different styles, you can preview them as well.
E) INSTALL THE THEME
Once you have finalized a theme, it's time to install it. Click the "Add theme" button and it will be installed.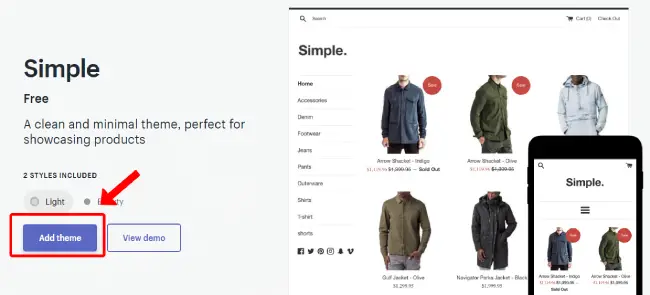 Once it is installed, you will be directed to the Theme manager screen. Here you can see your published theme & your other previous themes as well (if any).
Do remember that you can always change your current theme whenever you want. So, don't think too much while choosing any of them.
STEP 4 – EDIT YOUR THEME SETTINGS
Once you have chosen your theme, it's time to customize it according to your preference.
Go to your left navigation menu and select Themes. You will be headed on your theme manager page.
Here you can see two buttons. First one is "Action" and the second one is "Customize".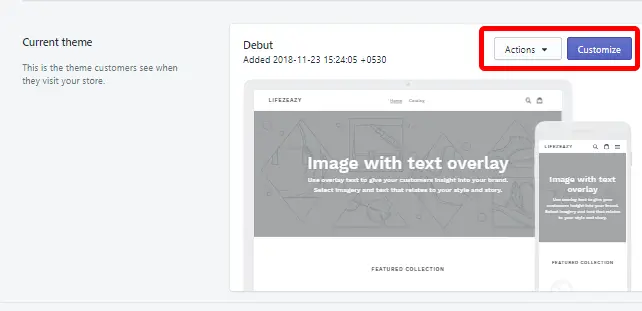 With the Action button, you can
Rename
Create duplicate
Download theme file
Edit code
Edit languages
Make sure to duplicate your theme before customizing it. This is because if you don't like your customized design, you can always delete it and start over again.
Now with the second button, you can customize all the options of your existing theme.
Here you can
Upload logos
Change color schemes
Customize fonts
Add slides to a homepage carousel
Add related item functionality to product pages
Choose how many items appear on each line of the collection pages
Allow repositioning of elements on pages
Display social share buttons
So, be creative and design your store in such a way that it looks professional & eye-catching. This section is all up to your creativity.
STEP 5 – ADD A PRODUCT TO YOUR SHOPIFY STORE
Once you have designed your store, navigate back to your dashboard and click "Add Product" button.
Here you need to enter your product details such as Product title, description, price, photo, Inventory etc.
Just for an example, I will be adding a product so that you can have a clear idea.
A) ADD PRODUCT TITLE & DESCRIPTION
As the title says, here you need to add title & description of your product. This is the place where you can entice your customers to take action, especially in the description.
You just need to write an awesome description of your product that can convince people to take action. To do this, you can add different qualities that make your product unique.
Also, if you are targeting a specific keyword for your product, make sure to include them in your description as well so that it can show up on the search engine.
As an example, I will be selling a "cap". So, my title and description will be something like this.
B) UPLOAD A HIGH-QUALITY PHOTO OF YOUR PRODUCT
Imagine having a great description along with a poor quality photo of your product.
Will it convert? Umm, most likely No.
People don't wanna buy something if it looks bad. That's the first turn-off for them. So, to tackle this, you just need to upload a high-quality photo of your product.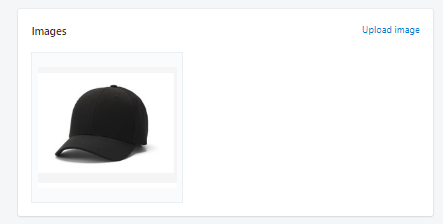 If it has a special feature, make sure to capture it as well while taking a photo. This will make it more appealing.
After you have done uploading it, make sure to fill "image alt" for SEO purposes.
In image alt, you just need to explain your photo within 6-7 words. If you have a specific keyword, make sure to include them as well.
C) SET YOUR PRICE & INVENTORY
Enter details such as price, SKU, quantity etc and make sure the "charges taxes on this product" box is checked.
For SKU (stock keeping unit) which is a unique identification code, you can always enter any number that can identify your product.
Also, make sure that the inventory policy is set to "Shopify tracks this product's inventory" & enter the quantity of your product.
In this way, you will always know the quantity which lets you interpret regarding how many products have been sold & how many of them are left?
D) ENTER SHIPPING DETAILS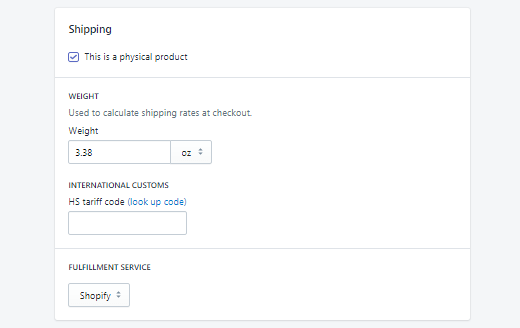 If you are selling physical products, then you must enter these details. While filling this section, make sure "This is a physical product" option is checked.
When you have completely filled it, Shopify will be able to calculate a rough shipping price based on the customer's location and the weight of your product.
E) ADD VARIANTS
If your products have different size, color etc, then you can add all those using variants options. For example, as you can see I am selling a cap, so I will add "color" as a variant.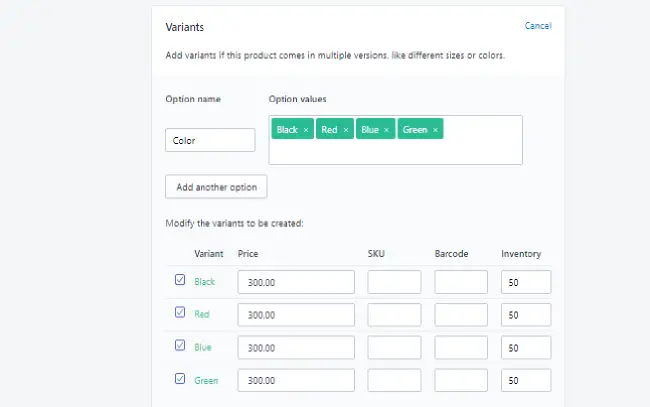 If you are selling a T-shirt, you can include size, color as the variant. I hope by now you the idea.
F) SEARCH ENGINE LISTINGS
Here you can edit your Page title & description if you want to rank them on the search engine.
To do this, you need to do keyword research in order to find those keywords that have less competition & moderate to high search volume.
Using such keywords in your description, title & URL, you have a chance to land on the first page of Google which could drive more targeted traffic to your store.
STEP 6 – ADD A DIGITAL PRODUCT
Till now, you have seen how to add physical products to your Shopify store. So, now what about Digital products?
Well, most of the steps mentioned for the physical products are the same for digital products as well.
However, you need to install an app which gives you the option to upload digital products like ebooks, printables etc. You can find that app by following below steps.
A) INSTALL "DIGITAL DOWNLOAD" APP
Go to your left navigation menu and click on Apps. You will land on the apps page.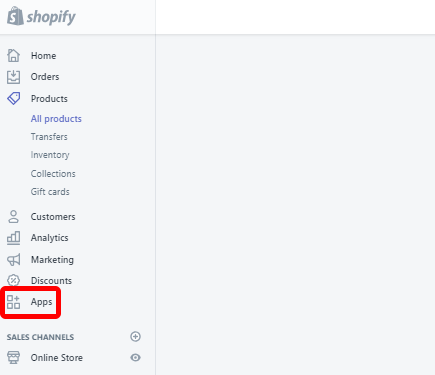 Here, click "Visit Shopify App Store" button.
A new tab will open where you need to type & search "Digital Download" app.
Once the app is shown, click it and then click "Add app" button.
This will open a new page where you can install this app.
Once it is installed, go to your product page & add a new product. Then, enter all the details related to your digital products as we did for the physical product i.e. cap.
Make sure to uncheck the "This is a physical product" option under shipping section because you are not going to ship a digital product. Am I right?
After everything this done, its time to upload your digital product. For this, click "More actions" option, & choose "Add Digital Attachment".
With this option, you will able to upload the file and once done, hit the save button.
STEP 7 – CHOOSE A DOMAIN NAME
When you have set-up your products & themes, go back to your navigation menu and click the "Add domain" button.

Now, this is a place where you can either buy a new domain name from Shopify or can transfer your existing domain name to Shopify.
If you are not interested in buying or transferring any domain name, still you can use the default Shopify domain and it is completely free.
The only problem is that it won't have a professional touch because it will appear as "storename.shopify.com".
However, if you buy a domain, then it will appear as "storename.com" which looks more professional. So, its all up to you to decide whether you wanna invest on a domain name or not.
STEP 8 – SET-UP YOUR PAYMENT PROVIDER
This is where you will set your Payment gateway to receive payments from customers via your Shopify store.
To do this, click your settings option which is located in the left-bottom of the navigation menu.
You will see a page where you can find "Payment providers" option.
Here you need to set-up your Payment method which your customers will use to buy your products.
You can see a bunch of options for Credit card payments, Paypal, Alternative payment method & even Manual payment method as well.
So, choose accordingly and save it.
ENDING NOTE
That's it. This is the basic step-by-step process to start an online store using Shopify.
If you have followed all the steps, then congrats, you have created a great looking and functional store within 30 minutes. And surprisingly, you did all this without any help from any website expert.
However, if you haven't yet started, then go and try Shopify.
>>Read Next: 7 Online business that can make $1000/month