When you click the links and ads on this blog, it helps me to pay the bills & keep this site free for you. Thanks for supporting me! For more info, read the Disclosure page.
YouTube has become the new official TV on the internet where you can watch anything you like.
But do you even know there are many hidden YouTube tricks that you are unaware of?
These hacks are pretty useful for using YouTube and you can use them in your daily YouTube activity.
So, if you are eager to know what I am talking about, then let's just look at them.
Top 12 YouTube Hacks
1. Download Any YouTube Videos
If you want to download your favorite videos in no time without using any software, then this trick is especially for you.
The great thing about this YouTube trick is that you just need to add two letters in the video URL to download it.
Still confused? let's see how you can do it.
Visit any video you want to download.
Then add "pp" (without quotes) after YouTube in the URL & hit enter. For example, www.youtubepp.com/videodetails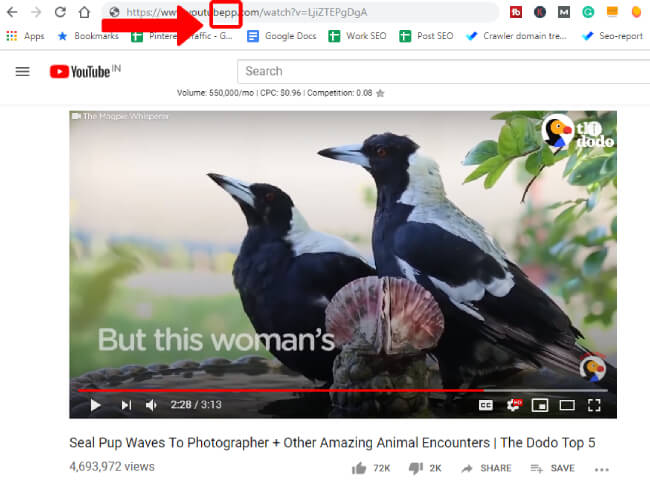 This will take you to a website youtubeconverter.io where you can choose the quality of the video before downloading it.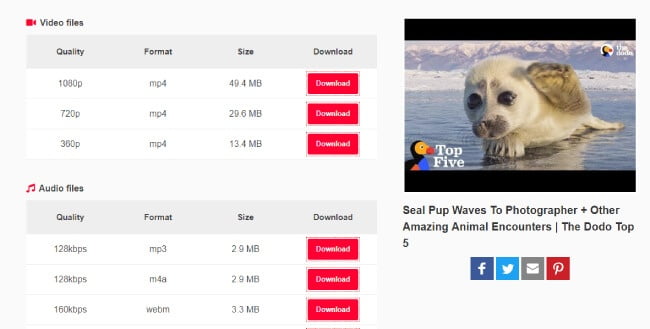 2. Keyboard Shortcuts
If you want to control the interface of YouTube without using a mouse, you can do that with the help of a keyboard.
There are several shortcut keys you can use to operate YouTube easily.
Here are some of them:
k – to play/pause
l – Fast forward video by 10 seconds.
j – Rewind video by 10 seconds.
m – Mute the video.
c – Turn ON the caption or subtitle
Num 0 – Jump to the beginning of the video
Num 1-9 – Jump to 10% to 90% of the video.
i – Launch the mini player
Read More:
> 5 Websites that offer free music & tracks for YouTube videos
> 5 Steps to rank your video in YouTube within a month
3. Convert YouTube Videos To GIF
If you want to convert a part of YouTube video into GIF, you can easily do that with a secret YouTube trick.
Creating GIF by using this trick can help you in making memes for social media sites & you can also use them in Online marketing.
Here is how you do it.
Go to any video and add "gif" right before YouTube in the URL.
This will take you to  gifs.com where you can convert a part of a video to GIF. In the below screenshot, the red rectangle depicts the total length of your video and the blue region shows the selected GIF length.
Once you're satisfied with your selection, click on create GIF button to move on to the next page.
You will land on a page where you have to enter the title, tags & other details before proceeding for the next step.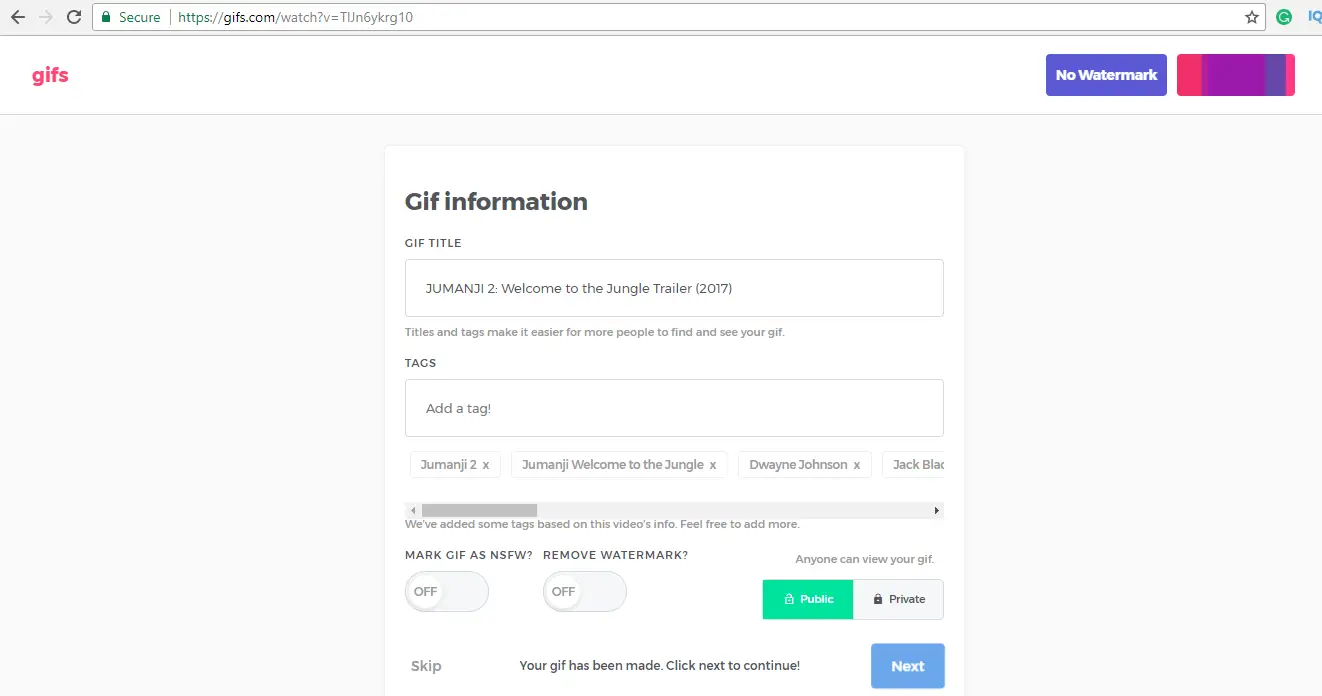 Now click on "download gif" to download your file. Ensure you're signed in or else you can share it on social media.
4. Start Any Video At A Specific Time
How would you share a video with your friends where you want to show them a specific part?
You copy & share the video URL and then tell them to watch at a specific timestamp. Isn't it?
Well, guess what? Here is an easy way to do it.
You just need to add this small code at the end of the video URL.
#t=XmYYs
Here,
X = Minutes
Y = Seconds
So, if I want to share a video that plays at exactly 1 minute & 30 seconds, my code will be #t=1m30s
Suppose, if I want to play a video at a timestamp of 50 seconds, I will add "#t=50s" (without quotes) at the end of the URL as shown below.
If you don't want to use this method, pause the video at the time you'd like to share it at, then right-click and choose Copy video URL at current time option.
Now, if you share this copied video URL, it will play at the same timestamp.
5. Play Video In Slow Motion
Want to play YouTube videos in slow motion?
You can easily do that by pressing & holding the space bar button.
6. YouTube TV
If you want to play YouTube on your Smart TV, then instead of the default interface, you can switch to TV mode that gives you a larger viewing screen without going into the full-screen mode.
To do this, you just need to visit www.youtube.com/tv and sign-in with your Google account.
Then you must verify your account information with an on-screen code. Once done, you can watch videos in HD for the best viewing experience.
7. Check Stats For Any YouTube Video & Channel
Do you want to explore additional stats of any video like
How many social shares did it get?
What tags did they use in the video?
Total views of a channel?
Compare stats of any two videos?
Then you can do that by installing a browser addon "Tubebuddy".
It's a free addon especially good for YouTubers which will add additional features in your YouTube interface.
You can use this addon to grow & monitor your YouTube channel which is essential if you want to know your audience.
You can learn more by reading my TubeBuddy review.
8. Disable AutoPlay
You may have seen that as soon as your video ends, it starts loading another video. This happens because of the AutoPlay feature turned ON.
If you don't want to move on to the next video automatically, you can simply turn it OFF by clicking on the AutoPlay slider as shown below.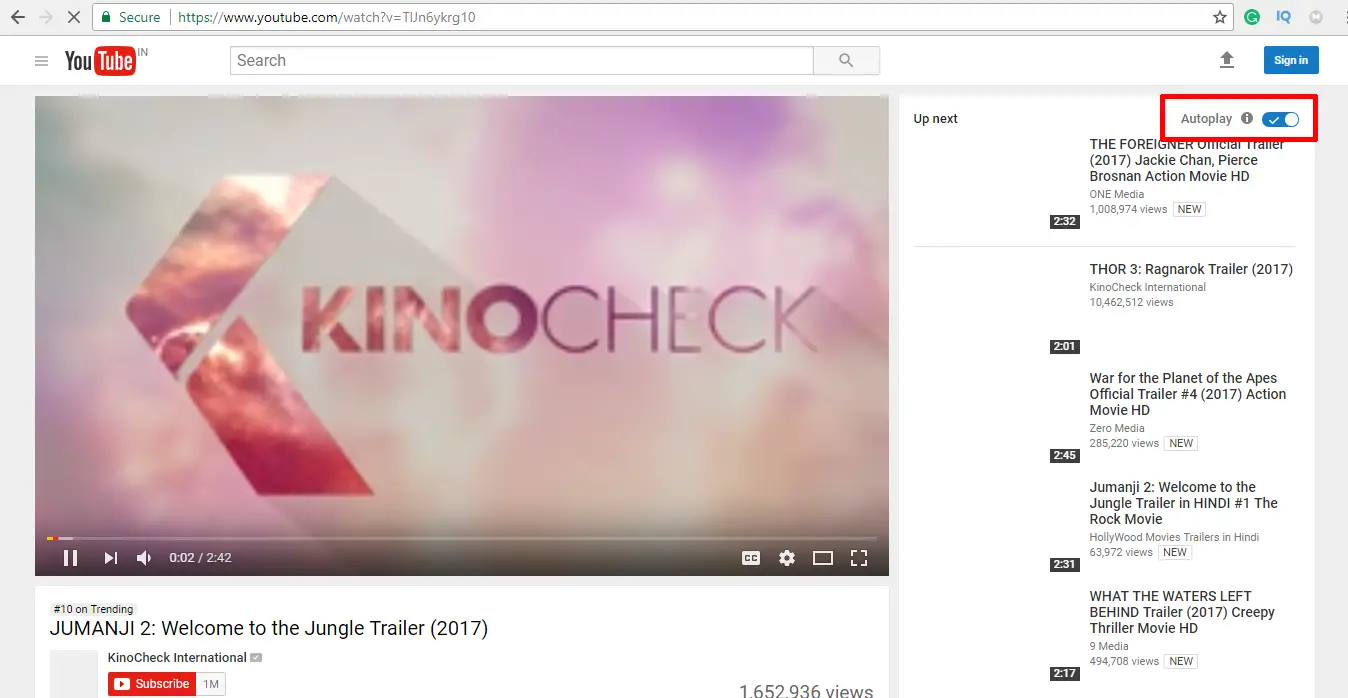 9. Loop a Video
Do you find it annoying when you want to watch or listen to a video repeatedly but there is no loop feature on YouTube?
I know it sucks when you want to listen to your favourite track on a loop & all you can do is manually playing it over and over again.
But, don't worry, there is a YouTube trick to solve this problem.
You just need to add "repeater" after YouTube on the URL.
For example,
www.youtube.com/videodetails will become
www.youtuberepeater.com/videodetails
When you change your URL and hit enter, you will direct to youtuberepeater.com where you can play this video infinite times on a loop.
10. ByPass Age Restriction
Sometimes you can't watch a video because of an age restriction.
The only possible way to watch this video is to sign-in with an account.
But what if you don't have an account or don't want to create an account?
In such a case, you can do a small YouTube trick which will let you watch this video with no hassle.
You just need to add "gen" before youtube on the URL and you're good to go.
For example,
www.youtube.com/videodetails will become
www.genyoutube.com/videodetails
When you edit the video link and hit enter, you will land on genyt.net website from where you can watch these videos with no restriction.
11. Watch Videos Only From Your Subscribed Channels
There are many times when you see unwanted videos from channels you haven't even subscribed.
If you find it annoying and want to see only those videos which you have subscribed, then there is a small trick you use.
Just go to
http://youtube.com/feed/subscriptions
to watch all the newest videos from your subscribed channels.
12. Download Thumbnails From Any Video
Using this YouTube trick, you can view thumbnails of any video in high-quality.
For this, all you need to do is visit this link
http://img.youtube.com/vi/[VideoID]/maxresdefault.jpg
where
[VideoID] = Video ID of your YouTube video
Suppose, if your video URL is
https://www.youtube.com/watch?v=xyz
then, xyz is the Video ID
So, your final video link will become
http://img.youtube.com/vi/xyz/maxresdefault.jpg
Once, the thumbnail loads, you can right-click and save it on your desktop.
Ending Note…
So, now you're aware of these hidden YouTube tricks that you can use while running YouTube.
Let me know if you want to know anything more by commenting down below.
Also, ensure to share and pin this post.
Cheers.
READ NEXT: