When you click the links and ads on this blog, it helps me to pay the bills & keep this site free for you. Thanks for supporting me! For more info, read the Disclosure page.
Is Google Adsense one of your earning source that generates less money? Are you desperately looking for tricks to improve your Adsense earnings? If you are nodding your head, I think I can help you.
Knowingly or unknowingly, many newbie bloggers did not even realize that they are functioning way below their maximum ad earning potential. They never pay attention to things that can either increase or decrease their ad income. If you know what are the things that can impact your earnings, adjusting them can give you positive results.
In this post, I am going to discuss a few points that you can work on to grow your Adsense income. It requires some dedication, but surely, you will see the result.
However, before you proceed, read the Adsense Program Policies, so you do not violate them.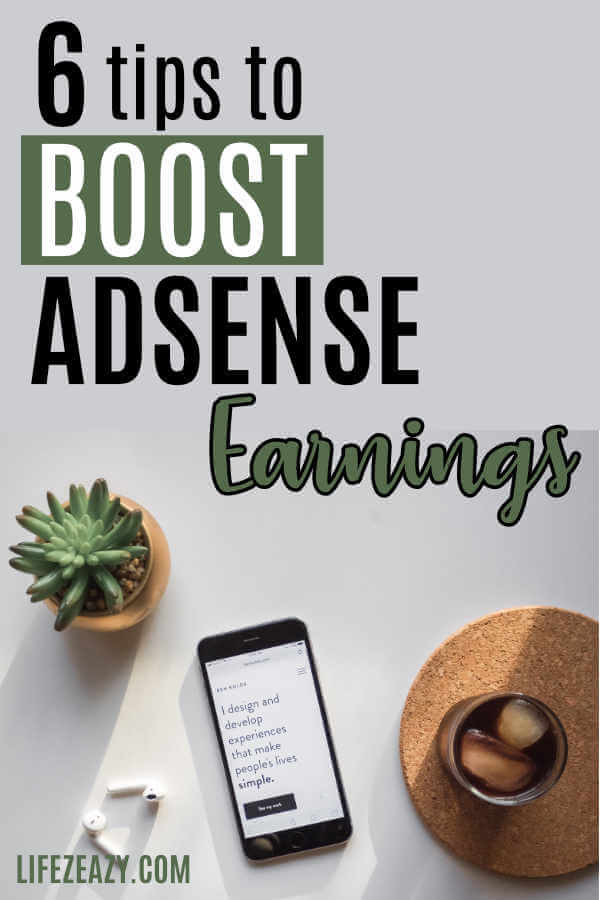 Read More:
7 Tricks To Increase Adsense Revenue
1. Create More Long-Form Content
The next time when you write content, make sure it is lengthy descriptive instead of short. A post having 1,000-2,500 words produces better results for ad revenue compared to other word counts.
The reason is simple. Long-form content provides more value, which results in more engagement. When the engagement is high, visitors scroll farther, thus viewing and engaging with more ads resulting in more earning.
Every blog has a sweet spot for word counts. But what I have seen till now is that the contents over 1000 words perform better.
For example, if you look at my ad analytics from Ezoic, you can see 1,000-2,500 words lengthy content has generated more money compared to others.
In a nutshell, long-form content gives you more opportunities to insert ads, whether those are anchor ads, in-feed, or sidebar units, which results in better Adsense revenue.
2. Improve Your Engagement Metrics
It is not a secret anymore that user engagement is directly related to the ad revenue. This means the more time a visitor spends on your blog, either reading content or visiting multiple pages, the better earnings you can expect.
For example, if a reader spends more time engaging with a single page on your blog, it will have a positive impact on your earnings. Similarly, instead of spending time on a single page, if the reader engages with multiple pages, it will even produce better results.
So, to sum it up, improving your blog's session duration and pageviews can result in an increase in your Adsense earnings.
Now, you may be thinking, how could you improve them? What steps should you take to fix these metrics? Well, follow these steps.
Write long-form content to make your readers spend more time on your blog.

Embed relevant videos within your content to make your visitors stay longer.

Write how-to guides with images and videos within your niche to have more engagement.

Install a clean ad-friendly blog theme like 

Generatepress

 to improve the engagement. When I started using this theme, I have seen an improvement in my bounce rate, session duration & ad income within a month.

Interlink relevant content together so that your readers can visit more pages while scrolling.
3. Target High CPC Keywords
Targeting high CPC keywords is another best way to increase your Adsense revenue. If you are not aware of CPC, it stands for Cost per click where publishers are only paid based on the number of ad clicks. The higher the ad click rate is, the more will be your earning.
For example, an $8 CPC ad will give better results compared to a $1 CPC ad. I know many questions might come in your mind. So, let me break it down for you.
Find high CPC keywords using a keyword research tool like 

Google Keyword Planner

.

Target them by writing in-depth content 

following On-Page SEO

.

Rank them on the first page of Google by creating quality backlinks.

Get organic or social traffic to these contents to see a better ad income.
However, targeting such keywords doesn't mean Google will display high CPC ads on your page 24/7. They do display them but also you get to see other ads. The following are the types of ad targeting Google does.
Contextual Targeting –

 Ads are targeted based on keyword analysis, word frequency, font size, and the overall link structure of the web.

Placement Targeting –

 Ads are targeted based on what your users are interested in and what they have to offer. They may not be precisely related to the content of a page.

Personalized targeting –

 Ads are targeted based on the user's interests, demographics.

Run of Network targeting –

 Advertisers target all sites in the AdSense network, except explicitly excluded websites, according to available inventory.
The high CPC keyword method is suitable for contextual targeting. Targeting such keywords gives you another chance to improve your overall Adsense revenue.
Example of High CPC Keyword
When I did a Google search for the Insurance keyword having a high CPC rate of $17.42, I found an article from moneycontrol.com. When I visited this page, I saw ads related to Insurance, as you can see below. This is contextual targeting ads.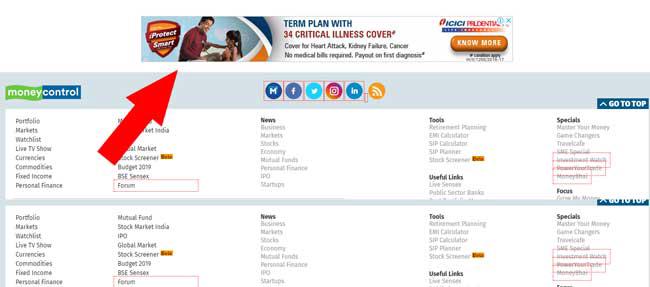 How To Find High CPC Keywords?
To find them, you can use any keyword research tool like Semrush, KWFinder, or Google Keyword planner. Just open the tool, and search for a seed keyword within your niche. This will give you a list of keywords along with its CPC rates.
Filter them from high to low, and you got all the high CPC keywords in front of you. Now, choose any keyword you need to target and start writing content. 
Though it is not easy to rank them on the SERPs because of high competition, it is better to target low competition keywords with average to high CPC rates. This way, it will be much easier to rank them.
4. A/B Testing With Different Ad Sizes & Placements
A/B testing is another thing many bloggers do when they are not satisfied with the ad earnings. Correct Ad sizes & placements can have a dramatic impact on your Adsense earnings. It can literally boost your ad income by a few percentages.
But, it also depends on your site layout because every site is different. The ad size and placement working on one website may not work well on the other. That is why it is best to do A/B testing.
There are a few favorite Google Ad units that work well with most of the sites, and you should use them for your testing purpose. The following data is a reference to the WP Beginner's ad size post.
300 x 250 (Medium Rectangle) –

 It fits perfectly in the sidebar and inside the content area without annoying users. Also, it is mobile friendly.

336 x 280 (Large Rectangle) –

 It works well in between content paragraphs. It does not fit in narrow sidebars & is not mobile-friendly.

728 x 90 (Leaderboard) – 

This is a header ad ideal to be placed on top of the website because of which it gets more ad impressions & better ads for your website. Sadly, it does not support mobile ads.

300 x 600 (Half-Page) –

 It is a wide vertical banner that sits in the sidebar or next to the content. It tends to give more exposure to brands, which means better-paying ads.

320 x 100 (Large Mobile Banner) – 

It is a mobile ad format that works well when placed on top just below the header. It is also a great alternative to the Leaderboard ad format for mobiles.

320 x 50 (Mobile Leaderboard) –

 It is another mobile ad format that works well when placed between post title and content.

160 x 600 (Wide Skyscraper) –

 It is a vertical banner ad that is designed specifically for narrow sidebars. However, it is less effective than wider half-page banner ads.

300 x 1050 (Portrait) –

 Portrait is a slightly wider and longer vertical banner that sits next to the content or in the sidebar. Because of its size, it attracts brand-centric advertisers.

970 x 250 (The Billboard) –

It is a wide horizontal banner ad that can be ideally placed on top or bottom of your pages. It manages to get better ads because of the space it offers to the advertisers, but it has a smaller ad inventory.

250 x 250 (The Square) –

 It is best for 

minimalist WordPress theme

 as it fits beautifully. But it has a smaller ad inventory, which could result in low paying ads. 
You need to do A/B testing with all of them to see which one works well with your site layout and theme.
Usually, vertical ads perform pretty well compared to horizontal ones because it stays longer on the screen while scrolling. But, it does not mean you have to ignore horizontal ones because they grab the most pageviews when placed on the header.
Additionally, if you are using Ezoic, throw A/B testing into a dustbin because Ezoic's A.I system will perform everything for you on autopilot.
5. Target Better Traffic Location
Traffic from American countries pays more compared to Asian countries. If your blog gets 1,000 U.S visitors and 1,000 Indian visitors in a day, you will make more ad earning with the U.S traffic. 
That is because multi-national companies spend more money on online and inbound marketing in American countries as they have better purchasing power. So, getting traffic from them is always considered high-quality.
Now, it is not just limited to them. There are other countries as well, that offers high CPC rates. Here is a list of the top 10 countries having the same.
If I talk about my traffic, 60% of it comes from the U.S, 30% comes from India & the rest 10% are from several countries. The U.S traffic makes most of the ad income, whereas Indian traffic is only giving me a few dollars. Other traffic coming from countries like U.K, AUS, CAN are performing better than Asian countries even though they are less. 
If you look at the below Ezoic's analytics, Iceland is giving me the highest ePMV, followed by Eritrea & United States. While the traffic for the first two countries is less, the U.S traffic plays a huge role in making most of my earnings.
To conclude, if you can drive traffic to your blog from these countries, you did see an increase in your Adsense revenue.
How To Get Traffic From Major Countries?
Use 

Pinterest to drive traffic

 to your blog because a large portion of Pinterest traffic is from the U.S, U.K, CAN.

Target keywords based on the location. For example, when I do keyword research on 

Semrush

, I set the database location for the United States. Thus, this gives me a list of keywords U.S readers are searching for. (you can do this with any keyword research tool)
6. Try Ezoic Tool
This tip is not going to improve your Adsense income. But instead, it will let you earn from over 1,500 advertisement companies that pay better. In short, you will make 50%-150% more than your Adsense earning. Yes, I am talking about Ezoic.
Ezoic is a free Google Adsense certified tool that uses the A.I system to manage ads on your site. It analyzes your visitor's activities from different countries and customizes the ad placements/sizes accordingly to increase clicks and impressions.
I have been using this tool for a year and have seen much better results. My ePMV (earnings per thousand visitors) has increased up to $12, which is way more than I use to get with the Adsense.
Here is a comparison of my Adsense & Ezoic earnings with the same page views one year ago.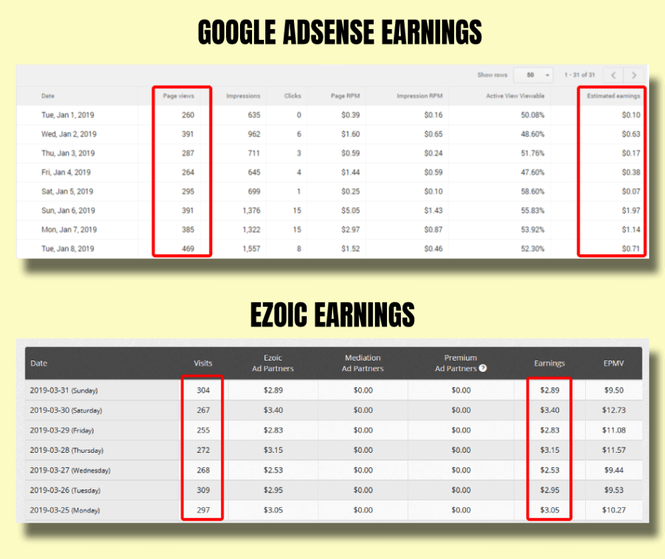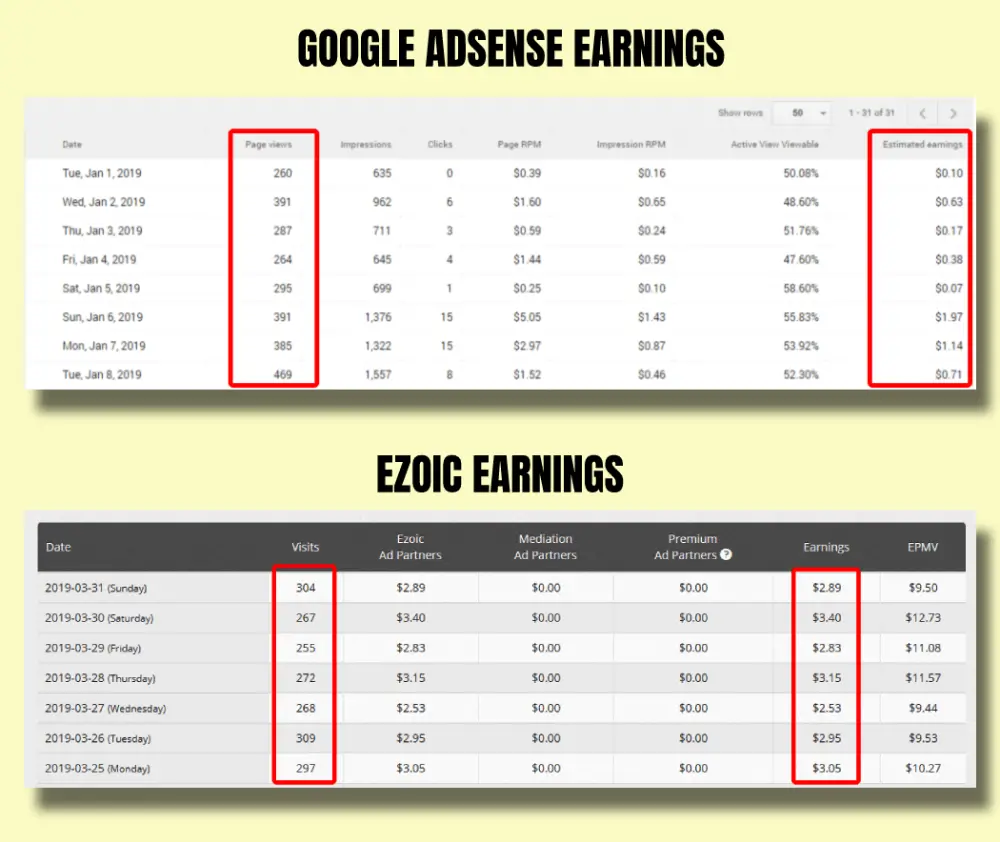 As you can see, with the same page views, I had better success with Ezoic having ePMV between $9-$12.
From November 2019 till February 2020, my Ezoic earnings were at the top with a maximum ePMV of $16.69.
There were days where I made $32.28 with just 1,394 page views, which are definitely not possible with Google Adsense.
To conclude, if you rely a lot on ad income, you can try Ezoic to give a push to your earnings. To know more, read my Ezoic review.
Final Thoughts
These were the 6 tricks to increase your Adsense revenue. All the tips come under the Adsense policy, so you do not have to worry about it. If you got any doubts related to any of these tips, comment down below to let me know. Good Luck!