When you click the links and ads on this blog, it helps me to pay the bills & keep this site free for you. Thanks for supporting me! For more info, read the Disclosure page.
Having an idea that can make money for you is always the beginning of your journey to start your online business.
But the problem arises when you don't know how to get things done in a proper manner?
What steps are involved, and which steps should be prioritized?
In this post, I will talk about how to start an online business from home the right way.
I will discuss nine major steps that you should focus upon while planning and launching your online business.
These steps are very crucial and shouldn't be neglected as they are the backbone behind launching your business.
So, without much further ado, let's get started.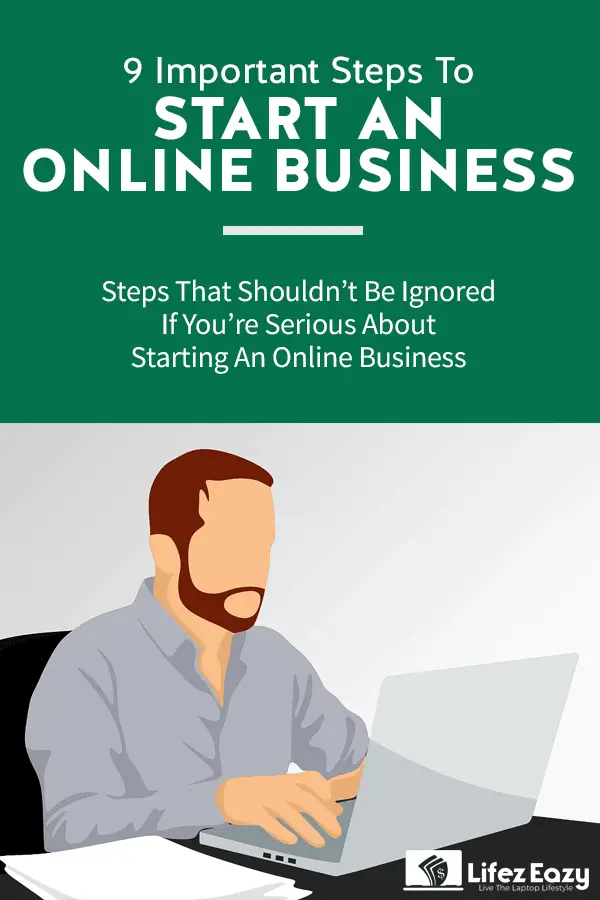 How to Start An Online Business For Beginners
1. Have An Idea & Passion
My first step is, of course, to have an idea you're passionate about . 
That's really important because when you simply have an idea with no passion, you're going to burn out at some point in time.
No matter how good you are and how much money you make with that idea, you're going to get burnt out if you don't love it.
Now, it doesn't mean that your favourite ideas will always make every moment of your business or work amazing. The point is, you have to love what you're doing.
That's what will keep you motivated and will take you further.
Let's take an example of myself. You know blogging is my passion and I really enjoy doing it. When I wake up every morning, I always feel very excited about working on my new blog post. It's like I never get bored with it.
Even in my earlier blogging days, when I wasn't making enough money, I didn't quit it. I faced several failures that let me down, and if anyone would have been in my place, he/she would have definitely quit it.
The only thing that kept me moving forward is my love and passion for blogging, and that's what you need to have when you choose an idea.
2. Branding
I feel many people skip over this, especially when they are branding themselves. 
As a YouTuber, you are your brand or a big corporation has a logo with a color palette. This is what you should focus on. 
Whether it is your YouTube channel, blog or soon-to-be-business, you must have a color palette, specific fonts, and your own logo.
You want your audience to feel the vibe when they come and see your brand or see the products you offer.
That's what you have to decide when you're starting your own business and once you get that down in place, then you'll have a lot of room to grow your business.
Another very important thing is you want to look professional like you know what you're doing. Your logo and colors should look professional & match pretty well.
If you don't know graphic design, you can look up YouTube videos regarding the same. Else, if you want to save your time, you can pay Freelancers on Fiverr to create a professional logo for you.
3. Create a Website
Obviously, you need an online platform where you can promote your business.
If you are only selling online products and don't really want a website of your own, there's Etsy & Shopify for you. 
However, if graphic and web design scares the heck out of you & you just can't imagine yourself choosing colors and moving texts, then you can always hire a website designer.
Obviously, they are pricey like hundreds of dollars for a whole website, but maybe, if you do enough research looking at Freelancing sites like Fiverr, you can always find a website designer that'll give you a discounted rate.
Or…
You can hire me. Well, I am not a website designer, but I can save a few bucks for you. I can create your website at a cheaper price which involves buying a domain name, web host, and installing WordPress.
Then all you need to do is hire a web designer who will design your site according to your business. So, yeah, you can save a little money.
Another option is you can go through my website creation guide if you want to do it by yourself. 
4. Have a Blog Page
According to the Content Marketing Institute, Content marketing gets 3x the leads per dollar spent when compared to paid search efforts.
This marketing strategy is already being used by many brands and businesses to promote their service & products.
A blog section is where you can write content to promote your business, where you can perform content marketing to drive sales and traffic.
No matter which business model you follow, it's always preferred to have a blog section because 
You can keep your visitors for a longer time

If Google ranks your content, you can drive more audience to your business.

You can help your audience through your content which builds trust

Writing quality content enhance your reputation in your niche
For example, if you check the A2 Hosting website which provides web hosting service, you can see they have a blog section.
If you click and go through their content, you will see that most of them have been written to sell their web hosting service in different ways.
Confused?… Let's check one of them.
I came across a post which is a "beginner's guide to Elementor Page Builder".
Now, as I scrolled down, I saw a section with the title "Hosting your Elementor Website". This is where A2 Hosting promoted its web hosting service as shown below.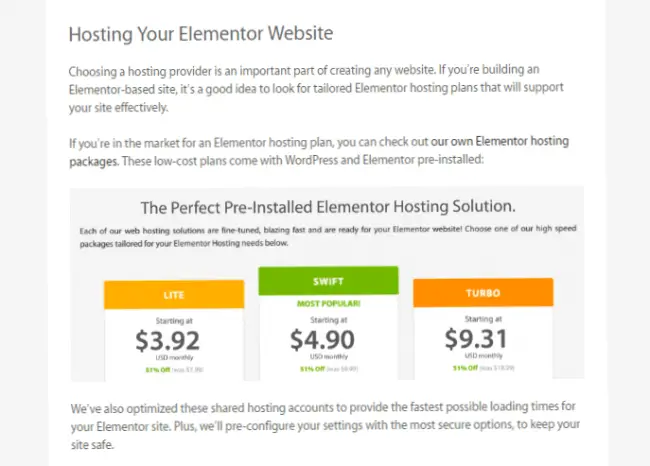 Now, anyone coming from Google to read this content will end up
Learning about their service

Or may consider buying their web hosting in future
That's how you should target your business through your content because it gives you multiple opportunities to promote your business that results in more clients and sales.
I suggest that when you are starting out, write a lot of content around your business.
Pick a problem that your product or service solves & then write a content describing how your business can solve the problem.
This way you can easily bring new clients without paying for any advertisement.
5. Start Capturing E-mail Address
Suppose you want to buy a car and you have two options:
A car shop owned by your friend

A car shop you never heard before
Now tell me where you will buy your car from?
Obviously, you will purchase it from your friend.
…Do you know why?
Because you already know & trust him.
The same goes for your audience.
Your audience won't buy your product or service if they don't trust you. Sure, there may be a few people who will buy, but the conversion rate will be low.
However, if you capture their email address and start emailing them good stuff that could help them solve their problem.
Slowly, they will start trusting you & see you as a helpful friend. This is when you can pitch your product or service to them that is more likely to convert.
This is how Online business implement E-mail marketing strategy & makes money from their customer.
E-mail marketing ensures
Repeated visitors to your site

Your engagement rate increases

Good customer relationship

Repeated customers who buy multiple times
You can collect their email address by offering freebies like
Email course

Content upgrades

Free course

Checklist

Blueprint & Templates
If you don't know what kind of freebies to create, you can always peep into your competitors for ideas.
You can read this E-mail Marketing guide for getting started.
6. Comply With Online Business Legal Regulations
Your online business must comply with your countries legal regulations to avoid getting prosecuted.
Generally, legal regulations include:
General Data Protection Regulation (GDPR)

The Electronic Commerce (EC Directive) Regulations 2002

Privacy & Electronic Communications (EC Directive) Regulations 2003

The Consumer Protection (Distance Selling) Regulations 2000
Now all these depend on the business model you are following. So you need to research about it.
A good way is to look at your competitor's business and check out their privacy policy page to know every legal regulation they are following.
7. Have a Social Media Presence
The seventh step is to have a Social Media presence. This is where millions of people hangout where you can introduce your business to them.
You will need an Instagram, Twitter and a Facebook account. You can have just one of them but I really recommend having all three and if you want to go even more into it, you can have a LinkedIn profile, Pinterest account and so on. 
Social media is the easiest way to advertise for free. You should know how you're going to advertise, how you're going to monetize and you can even make money through your posts.
It's always a great medium to reach new clients, make and build friendships that will eventually benefit your business.
So ensure you have social media accounts that match your website theme.
For the profile picture, you can have your headshot if you are the face of your business or you can have your main logo.
If you have personal social media accounts where you post your personal photos, then I suggest you make a separate account for your online business to appear professional.
Another important thing is to ensure to add an email address in each of your social media accounts.
This is where your audience can always contact you if they either have a doubt or want to know more about your business.
I really suggest that you focus on building your social media presence in the first few months of your online business.
8. Have a Plan & Schedule
The eight step is to have a plan & schedule for your business. 
This is very important where I have always lacked while starting my blogging business. I didn't have any proper plan and schedule which affected my productivity.
With no plan, I was writing 3-4 posts per month, which is quite low as a full-time blogger. However, when I finally made a schedule and plan, I started becoming more productive, valued my time, that now leads to 10 posts per month.
When you have a proper schedule and deadline, you'll automatically become more responsible. 
Without it, your online business idea will just slip to the back of your mind, things will get in the way and you'll never get to it.
So, you need to sort out all your priorities. Like, if you have to create your new social media accounts, get it done by a specific date.
If you want to have your website done, get it done by this date and most importantly, have a final specific date for launching your online business.
Now while it's still in your head, maybe it's six months from now or maybe it's a month from now, I suggest setting a launch date.
When you have such dates in your schedule, you won't go off track & you're always working towards it.
So, set aside 30 minutes or an hour a day and work on your idea.
9. Get Feedback
This is the last step where you need to have feedback.
So when you're designing your website when you're working towards your ideas or pricing, you want to know what others think about it.
Obviously, for you, it might be perfect, but that's not what others might think.
You need to know feedbacks of your business before launching them, and you can easily do that with social media.
You can do a Twitter poll or an Instagram post about it. You can even ask your family and friends in such a way that they look at your business as if they were your clients or strangers coming to your site for the first time.
Moreover, you can also make a Google Form survey & share it on social media to get proper feedback.
Well, there are a lot of ways you can do to get valuable feedbacks & once you have them, learn from it & adapt them to improve your business.
So, these are the nine main steps I personally think you need to know before launching & starting your online business. 
If you have an idea that you're passionate about, you can really turn it into a reality if you follow these nine steps.
It's really fun and rewarding to have an online business that can supplement your primary income or even it can become your full-time income.
If you have any questions, feel free to leave them down in the comment section.
You can also enroll for free in the below Skillshare video course to know more about starting an online business. (sign-up to get 2-months free access)
Entrepreneurship Bootcamp: Guide to Start an Online Business
Read Next: