This post contains affiliate links. For more info, you can read my
Disclosure
page.
Do you want to buy items at a discount price if you are on a tight budget?
If your answer is yes, then you must read my Wish review till the end.
I know many questions might pop up on your mind whether Wish is a legitimate or a scam site?
Are the products really good & worth the money?
Well, I will answer all these questions in this review which will give you a clear idea about this site.
So, what are we waiting for? Let's begin!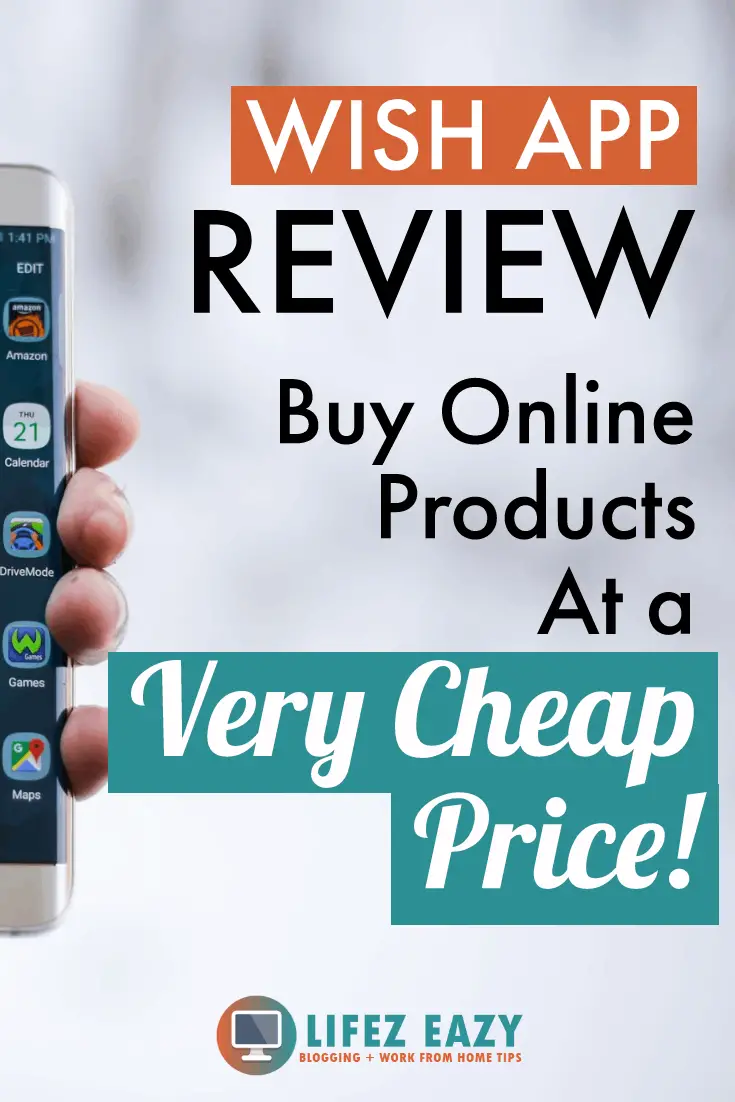 What is Wish App?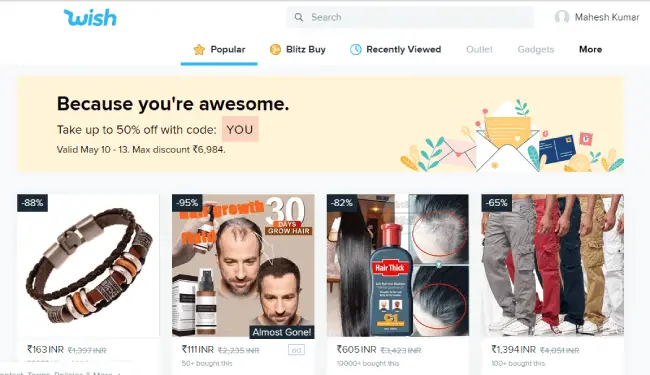 Wish is an e-commerce site where you can find super cheap items for sale.
These items fall in the category of Gadgets, Fashion, Accessories, Home Decor, Watches, Smartphones, Shoes and much more.
You can access this website either from the desktop or from their official app available for both Android & iPhone.
Who is this Website for?
People who are looking to buy items at a cheaper price can always hook on Wish.
But before you invest your money, let me tell you the quality is questionable.
You can either get a good quality product or a cheap knock-off. If you want to buy a product that could last longer, I recommend buying it from somewhere else.
But, if the quality is not an issue, then you can definitely try this website.
Products like accessories, party decoration or other products where quality not required can be a good option to buy from here.
Is Wish a Legit Website?
Yes, its a legit website just like Amazon but there are a few things which make this site questionable.
According to the Better Business Bureau website, Wish has an A+ rating.
But if we look at the customer review rating, it has got 1.3 stars out of 5. That means most of the customers not satisfied with their service.
Also, 1,666 complaints have been closed in the last 3 years. That itself shows people are dealing with so many problems while ordering products from Wish.
Where do the products come from?
All the products come from China. So, if you don't like Chinese product, you can avoid this website.
How can they offer items at such a cheap price?
When you buy products from an e-commerce site like Amazon, you are actually buying it from a retailer & not from the manufacturer.
A retailer is a business/company that buys products from a manufacturer or wholesaler and sells them to the customers at a high price. 
For example, a retailer may buy a $5 product and sell it to you for $15. Thus, making a profit of $10.
With Wish, there is no retailer because they directly connect you with the manufacturer. So, there is no middleman cost and that's why products are so cheap on this site.
Is Product Quality good?
Product quality is something we always look while buying stuff. Most of the products on Wish are Chinese product so you can expect the type of quality it will have.
If you are lucky, you can get good products at a cheap price which will last longer.
But if you are unlucky, you may end up getting cheap knock-offs of common brands which definitely have low quality.
So, I will suggest that if money is not a problem, you can buy your item from other reliable online stores.
However, if you are ready to take risk & quality is not an issue, you can surely try Wish items.
How to get started?
To get started with Wish, you need to sign-up for an account using Facebook or Gmail login. You can also create a new login with your email address.
Overview of Wish features
1. Daily Login Bonus
If you want to earn up to 50% off on products, then you should better start collecting stamps.
You can collect these stamps by daily login to your Wish account where you will receive one stamp per day.
Once you have collected 7 stamps, you can use them to get up to 50% discount on purchases.
2. Wish Cash
Wish Cash is just like a wallet where you can load your money for future purchase. This cash is applied automatically at checkout so you don't have to use your credit or debit card for payment unless you are short of money.
Please note that the money added on Wish cash is not refundable. The only way you can use this money is by purchasing different items.
3. Wish Rewards
When you sign-up, you receive 100 points as a bonus.
These points are used to redeem coupons which can give you a 5%-15% discount on your next purchase.
You can earn more points by doing the following activities
Make a purchase – 100 points

Review a purchase – 10 points

Upload a photo with your review – 10 points
Once you have enough points, you can redeem coupons accordingly
5% Coupon – 200 points

10% Coupon – 600 points

15% Coupon – 1000 points
4. Get Up to 50% off on your first purchase
If you sign up using an invitation code, you can get discount up to 50% on your first purchase.
If you are interested, you can use my invite code: VSGTGBZ
5. Blitz Buy
Blitz Buy is an in-app or in-site game where you can spin a roulette-style wheel daily for special deals and discounts.
The wheel has different numbers written on it and whichever number you win, it randomly shows different products based on that.
For example, if my number is 20, they will suggest me 20 different products at a further discount price & you can buy them before the timer runs out.
Wish Pricing – Is it really good?
1. Inflated Slashed Out Price
When I discovered this site, It amazed me because of the huge discount. They sold products at a cheaper price which otherwise cost more.
If you browse their app/website, you can see slashed out prices (original price) on products followed by a discount price.
I know seeing all this makes you wanna snatch that product as quickly as possible. But, wait there is a twist.
The seller writes all the original prices themselves.
This means if I want to sell any item on Wish, I can literally put an inflated price over there along with a discount price.
Now, whoever finds my product will definitely become happy seeing a huge discount & that's how they attract people like us.
So, I recommend to never trust the original price & instead refer other stores for the same.
2. Check the Price from other sources
If you are planning to buy any product from Wish, it's better to check the price from other sources as well just to see if you are getting a good deal.
You can refer Amazon, Walmart, eBay or any other merchant you know.
There are cases where you buy a product thinking it to be cheap only to find out that the same product is being sold cheaply by other merchants.
3. Don't Forget the Shipping Cost
What will you do if you find a perfect product at a cheaper price?
Obviously, you will purchase it.
But before you do that, also check the shipping price because there are chances that the shipping price may be higher than the cost of the product.
For example, you found a product at $5 whose original price is $10 in the market. So, it's a profitable deal for you.
But if the shipping cost is $8 for the same product. Tell me, is it profitable anymore? 
No, because you are paying $13 for a $5 product. I mean there is no point of investing your money if the shipping cost isn't workable.
That is why you should always analyze the cost before buying anything. If the shipping and product cost is profitable than the actual price, you can definitely go for it.
Wish Shipping & Delivery Time – Is it a Headache?
There are three kinds of situation you may face while expecting a product.
You will receive the product as per the delivery time & if you are lucky, you can expect it way before that.

Second, there is a chance you will receive your product within months which is obviously bad.

Third, your products may not even make it to you or it might go missing.
Personally, I got most of the products within the delivery time.
But sometimes, I order a few items and have totally forgotten I purchased them by the time they arrive at my home.
You can use the notification to know the status of your shipment. But, the tracking system is not that great because sometimes it's you who need to update them regarding the shipment.
They may ask "Have you received that item yet?" and you need to give feedback so they can resolve your issue.
Additionally, avoid getting any birthday presents from here because chances are it may arrive when the party is over.
So, I can't actually say what will be your experience with the delivery time. I don't recommend it if you like on-time delivery.
Wish Return & Refund Policy
You can return your product within 30 days of the date of delivery by contacting Wish Customer Support through the app or website.
If for some reason, the product didn't arrive, you can place your refund request within 30 days of the most recent estimated date of delivery.
You are eligible for a refund in the following cases
If you changed your mind after ordering a product, you can get a refund only if you cancel your order within 8 hours of the time you placed it.

If you received the wrong product, wrong size, color or damaged product, you can ask for a refund. For this, you need to show some evidence such as a photo.

If your product never arrived, you are eligible for a refund.
Unfortunately, they may not cover the return shipping costs for all orders. So, that's a big turnoff.
I know it's great to get a refund for the wrong products. But don't expect that its an easy & smooth job.
There are many negative reviews out there where customers are dealing with the refund & return problems & obviously, bad customer support.
Is Personal Data Safe on Wish.com?
Wish collects your personal data in two ways:
The data you provide while signing up, making a purchase, leaving a review or request customer support.

Wish automatically collects the data when you are using their service such as IP address, location information, Usage Data and much more
They use these data to read the activity & buying habits of the purchaser so that Wish can improve its performance.
They also use it to provide tailored ads on Facebook.
To be honest, all these things are common in every e-commerce site so it's not a problem.
But there is a major concern which many people are complaining i.e. it displays the full user names of the profiles linked to the Wishlist. 
This means your wish list isn't private and anyone can view your list to find out your full name.
Well, I don't have any problem with it but there are people who want to have a private Wishlist feature.
Tips to Buy Products On Wish to avoid getting Scammed
Read customer reviews and get an idea if the product is good. If you find more positive reviews, then you can consider that item.

Look up the photos posted by people who received the product. If the product photo is similar to what you want, then it is a good sign.

Check the merchant/seller rating whether they have good positive feedback percentage. This shows that the seller is good who is delivering the right product within the delivery time.

If you finally liked a product after doing all the above steps, the last thing you can do is check the same product in other online stores for price comparison. This will make sure you are getting a good deal.

With clothes and shoes, look for a conversion chart on Google to find the right size according to China.
Pros & Cons
Pros:
Cheap Price

Lots of products
Cons:
Quality not guaranteed.

Shipping time is unexpected. You can either receive it on time or you need to wait more than the expected delivery time. There are complaints where the customer didn't receive their item.

Sometimes products arrive are not exactly what you saw on the website.

Some people have faced the problem of refund request getting refused.

With clothes, Overseas clothing is always 2 sizes smaller than the U.S or U.K size.
Personal & Customer Experience of Wish
As far as my experience goes, I have a good and bad relationship with Wish.
I have ordered a lot of products and most of them received on time. But, I have also faced situations where I even completely forgot what I have ordered and then it came out of nowhere.
I have never invested money on items which are expensive & I always stay away from electronic items because chances are it may show signs of a problem within a few days of usage.
To be honest, I do a lot of research before buying anything from Wish. That includes reading lots of reviews, checking out the seller, looking up for item photos and much more.
That is the reason, why most of the times I have received correct items. Well, that's just my personal experience.
You can read other customer's experience down here straight from Reddit.
1. Reddit user dome-may-me says
2. Another user rockgoddess750 says
3. michaelkrieger says
4. mediocrefunny says
5. Lalola1970 says
6. Kizzychii says
Conclusion – Wish App Review
You can definitely give a shot to Wish if you like cheap products & doesn't mind late deliveries.
As a first-time buyer, you can take advantage of my invite code VSGTGBZ to get up to 50% off on the first purchase.
Though you need to consider all the negative aspects before you buy anything.
If you can afford to lose a few bucks, try it because chances are you will get your product. But can't say about the delivery time.
Wish is either a hit or miss. The choice is yours whether you want to play this gamble.
I hope this review has helped you to decide whether this e-commerce site is your cup of tea or not.
What do you think? Let me know down in the comments section.
Summary
Reviewer
Review Date
Reviewed Item
Author Rating