When you click the links and ads on this blog, it helps me to pay the bills & keep this site free for you. Thanks for supporting me! For more info, read the Disclosure page.
What if I tell, you can get paid for searching the web?
I know it sounds kinda weird, but it's true.
You can definitely get paid for browsing the internet and the best part is you are already doing it every day.
Only the difference is you are not getting paid for it which is going to change from now.
I have compiled a list of 10 websites from where you can earn money by searching the internet.
Though you won't make a huge chunk of money, but a few dollars each month is better than no money.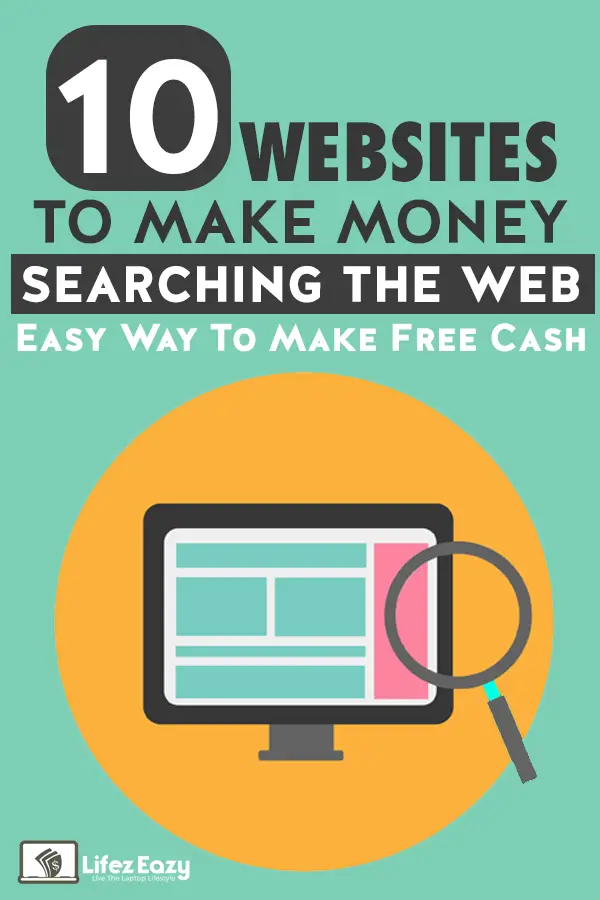 How To Get Paid For Searching The Web?
How do you get paid to search the web?
I know this question might be running in your mind right now & I have an easy explanation for this.
If you want to get paid to search online, then the first thing you need to do is sign up with all the mentioned websites.
Once registered, you need to use the internet normally as you always do. Like you can visit different sites, use the search engine for web searching & other web related things.
For doing these activities, these websites will pay you a few bucks every month.
Some of them will pay you for every search you make and others will pay you occasionally.
How Much Can You Earn?
Well, if you are thinking to make a good side income with these websites, then it will disappoint you.
Always remember, the easier the work, the less you make.
Here, the job is easy so you will only make a few dollars every month.
On average, you can make around 0.5 cents per search. But it doesn't mean that you'll be paid for every search you make.
There are some websites that will pay you for every search but most of them will pay occasionally. Like for doing 4-5 search, you'll make a few cents.
So, if you already use the internet a lot, then you can easily make 20-30 cents per day or even more which makes around $6-$9 per month.
Well, it isn't bad considering the work you always do & you don't even get paid for it.
How "Paid To Search" Websites Afford To Pay To Its Members?
These websites make a lot of money through ads for which they need a lot of traffic.
So, to generate traffic, they offer paid searching schemes for people like us.
Now, who doesn't love free money, right?
Such offers attract more and more people to their sites which results in more traffic and ad revenue.
From this ad revenue, they pay a fraction (few cents) amounts to its members.
So, it's a win-win situation for both of them.
13 Websites To Get Paid For Searching The Web
1. SwagBucks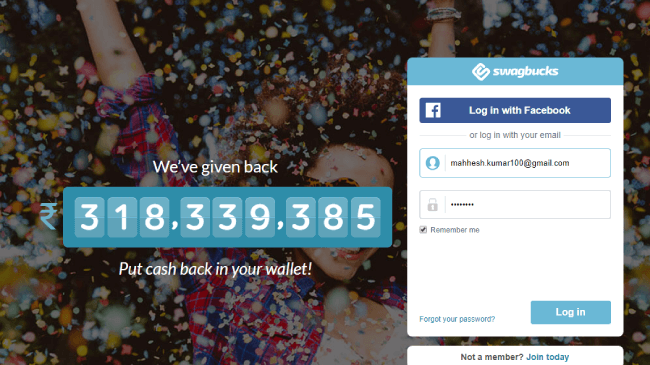 Swagbucks is one of the legit platforms that has been paying to its members for a long time.
They have paid more than $340 million in cash back and gift cards till now.
Now, there are many ways to earn money through this platform but the easiest one is doing web searches.
How To Use Swagbucks To Get Paid For Searching The Web?
Swagbucks uses a Yahoo-powered search engine that pays 4-100 cents to its members for every 15-20 searches.
You can either directly do searches using their website or you can install their browser add-on.
This browser add-on will make Swagbucks your default search engine and then you can use it normally.
How Much Can You Earn?
You can make $1-$10 per month using Swagbucks. However, if you engage with other Swagbucks activities, you can even make more money.
2. Nielsen Digital Voice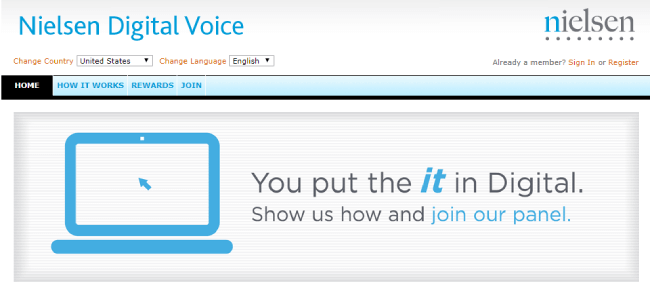 Nielsen Digital Voice comes under by the Nielsen Company which is a market research company.
Earlier, they used to focus its research efforts on audiences who watch TV. But, now they are heavily focused on the internet because of the increase in internet users.
Their main aim is to read consumer behavior while using the internet like what they do while browsing the internet, what apps they use, what websites they visit, etc.
How To Get Paid From Nielsen Digital Voice?
To get paid from this company, you need to register yourself with their website by filling out an online questionnaire.
Then you need to download & install their app.
Once done, you don't have to do anything else. Just use your smartphone as you always do. You can play games, watch videos, surf the web, post photos, use social media, etc.
This app tracks all these activities & internet usage (keeping your personal data safe) to analyze what you do on the web every day.
It then shares this information with people in the industry who need it.
For keeping this app active, you'll earn regular sweepstakes entries into their $10,000 Monthly Sweepstakes!
How Much You Can Earn?
It does not pay you a commission for your service. But gives you sweepstakes entries so you stand a chance to win prizes every month.
3. Inbox Dollar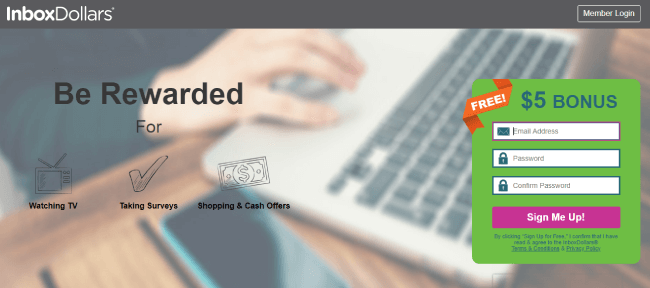 Inbox Dollar is one of the most popular GPT sites that pay gift cards and cash to its members for doing various activities.
It is a legit reward site where you can make money for doing mobile & online activities either from your smartphone or Desktop.
Additionally, you get $5 as a bonus on the sign-up.
How To Use Inbox Dollar To Get Paid For Searching The Web?
Inbox Dollar pays you for doing the following activities:
Taking Online Surveys
Playing Games
Watching Videos
Grocery Coupons
Paid E-mails
Online Shopping
Web Searching
Out of all this, Web searching is the easiest way to make money on this website.
For this, you need to use Inbox Dollar's "rewards club search engine" for web searching.
You can make 1 cent & 3 sweepstakes for every 4 random searches.
Though the pay is not much, you can still fuel up your earnings by taking part in other activities like watching videos, surveys, etc.
How Much Can You Earn?
You need at least $30 in your account to cash out your money.
If you only rely on web search, then you won't make much as the pay is less.
But, if you use a combination of other activities, you can surely reach your threshold amount within 1-2 months (depends how much time you spend).
4. Qmee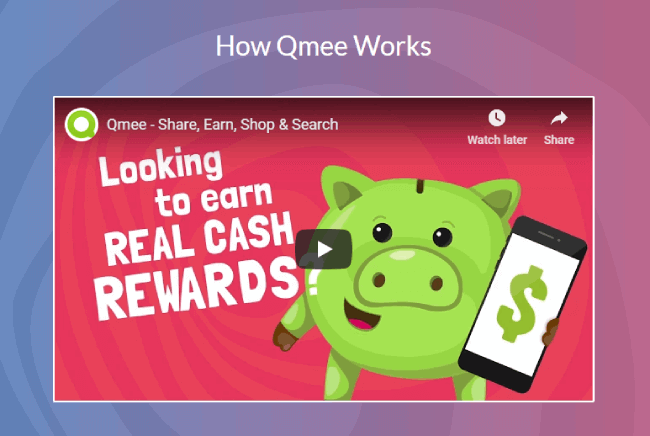 Qmee is an online service that allows you to earn money by doing a combination of searching, shopping, and taking surveys.
It offers a browser extension which increases your browsing experience & rewards you for your daily web browsing.
How To Use Qmee To Get Paid For Browsing The Web?
You need to create an account on Qmee and then install their web browser add-on.
Once installed, you can see additional sidebars on your web browser where ads are displayed related to your search query.
If you click one of those ads, you can make 4-8 cents every time. The same goes for shopping as well only if you buy the suggested product through those ads.
Qmee also offers online surveys that will further increase your pay.
How Much Can You Earn?
You can make $1-$5 or more every month.
5. Microsoft Rewards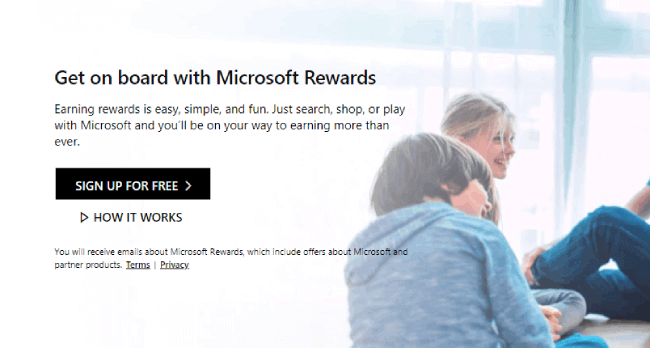 Microsoft Rewards is a free program that rewards you for doing stuff online on Bing search engine.
If you are from these countries, you can surely use their program and earn rewards such as Amazon gift cards, sweepstakes.
How To Use Microsoft Rewards To Earn Money By Searching The Internet?
There are two "status" levels on this program i.e. level 1 & level 2.
Level 1 is the one you start out where you're limited to 50 points per day for performing searches.
Each search rewards you with 5 points ($0.005). This means you can make $0.05 per day & $1.5 per month.
In level 2, you're limited to 250 points per day which means you can make $0.25 per day & $7.5 per month.
To reach level 2, you need to earn 500 points in a month. As long as you continue earning at least 500 points per month, you'll remain at level 2.
Apart from searching, you can also earn points from
Using Microsoft Edge for browsing to make up to 150 points per month.
Complete fun offers
Get Points for Shopping at the Microsoft and Windows Stores
How Much Can You Earn?
You can make $1-$10 or more per month.
6. InstaGC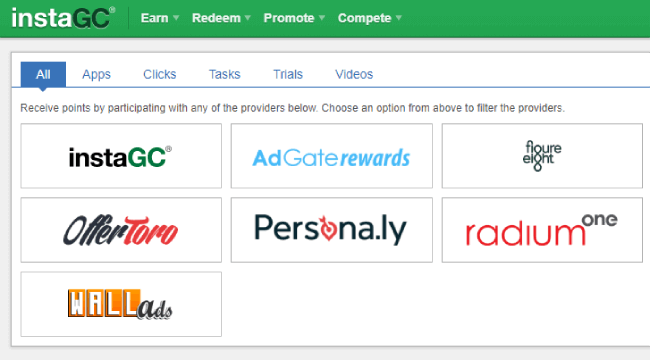 InstaGC is a GPT website where you can perform a variety of tasks to earn points that can be redeemed for instant gift cards or cash.
Each point in InstaGC is equivalent to one cent.
How To Get Paid For Searching Using InstaGC?
InstaGC pays you points for visiting and browsing websites suggested by them. The rewarded points for doing this activity varies but is usually around 1 point per 10 searches.
You don't get points for every search you make as it is rewarded randomly. So, don't get surprised if you don't make any points on the first search.
To increase your points, you can also use other ways such as
Install apps
Complete tasks
Signing up for trials
Watch videos
You can read my InstaGC review to check out my payment proof.
How Much You Can Earn?
You can at least earn $5 in a month. Some users even make over $100.
7. iRazoo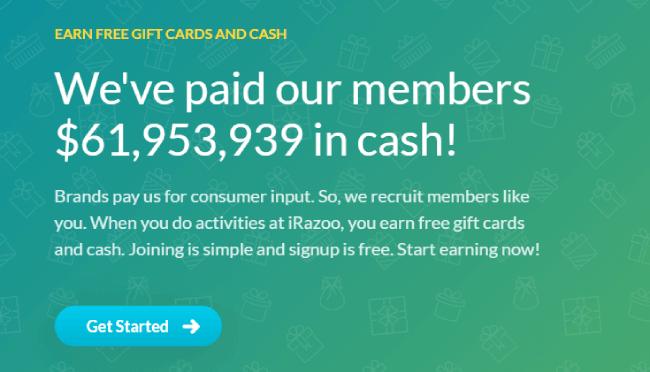 iRazoo is a GPT (get-paid-to) rewards website where members can earn gift cards & cash by taking part in various tasks.
It's been featured on many top sites like CNN and The Wall Street Journal.
How To Get Paid For Searching Using Irazoo?
There are many ways to get paid from iRazoo such as
Survey polls
Search & earn
Watching videos
Playing Games
Deals of the Day
Promo Codes
Friend Referrals
Shopping
One of the easiest ways among them is the "search and earn" option.
iRazoo has a search engine powered by Yahoo where you can search and earn iRazoo points.
Members have a chance to earn 1 to 25 iRazoo Points with each unique search they make. These points are given randomly and require a simple click to claim it.
You can also make their search engine as your default search engine so you have more chances to earn more points.
The US and Canada residents can exchange these points for both gift cards and PayPal cash whereas other country residents can only earn PayPal cash.
How Much You Can Earn?
Your earning will depend on your demographics. So, I couldn't say how much exactly you can earn. But, you will need at least 12000 points to redeem for $20 PayPal cash.
8. Ask Wonder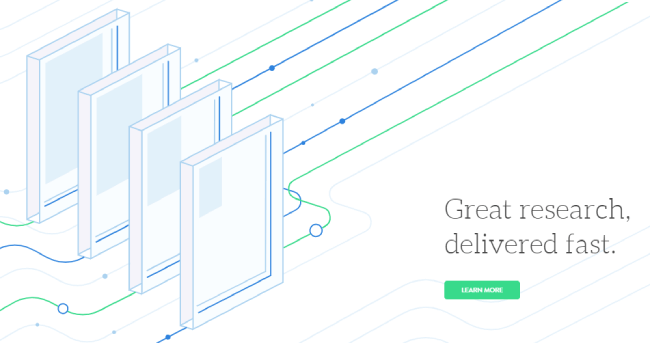 Ask Wonder is a bit different from other websites I  mentioned above.
In Ask Wonder, you need to work as a Researcher whose job is to research a topic and submit the answer.
To do the research, you will need to surf the web to find answers & then back that answer up with sources and data.
How To Get Paid From Ask Wonder?
You have to first apply for this job where you need to show your writing and research skills via a simple online quiz and trial assignment.
Once you clear them, they will hire you.
As a researcher, they provide you with popular research requests such as
Recommend a product or service
Competitive Landscaping
Explain a trend 0r phenomenon
Gather Statistics
Determine the size of a market.
You can choose any of them.
Your job will be to find answers to questions with proper sources and data for which you need to do web searching.
Once you're done with it, you need to submit your answer and that's when your job is completed.
How Much You Can Earn?
The income you make depends on the questions you take.
Simple questions give less money whereas difficult questions pay more.
As an assistant/researcher, you'll get paid anywhere from $8 for answering a question to $35 for answering difficult questions.
You can even make more if they hire you in the review team.
Basically, as a member of the review team, your job will be to review answers submitted by researchers before it goes out to the client.
Review team members get paid an additional $1 for every answer they review.
9. Smart Panel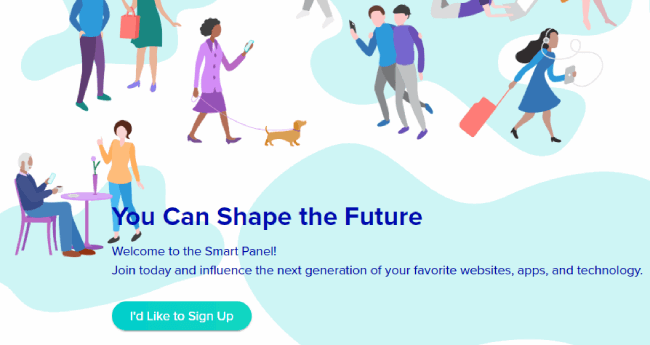 Smart Panel is a research company active since 2014 who likes to research how people behave digitally with internet-enabled devices.
It is backed by Verto Analytics and is one of the popular research company that pays extra cash without doing almost anything.
How To Get Paid From Smart Panel?
You need to sign-up with this site by taking a short survey where they ask you personal details.
Once you submit it, they will let you know in a few days whether you meet their current qualification.
If they hire you, you're rewarded with a $5 bonus.
Then, you need to download and install the Smart Panel app/software on your registered devices i.e. smartphone, PC, Tablet.
The more devices you use, the bigger your reward will be.
How Much You Can Earn?
You can make $5 per device per month if the Smart panel app/software is active on your device.
You can also take part in monthly giveaways and complete surveys to maximize your rewards.
If you keep your devices continuously connected to Smart Panel, you will also receive a loyalty bonus every three months.
10. Perk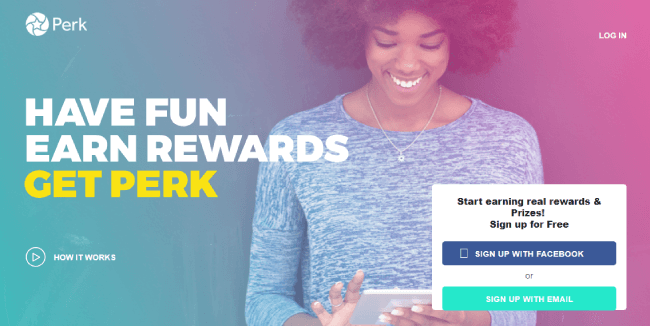 Perk is a website that allows you to earn Perk points that can be redeemed for gift cards & PayPal cash.
You also get the chance to enter into sweepstakes to win prizes, like games consoles and smartphones.
How To Use Perk To Get Paid For Searching The Web?
Click here and sign-up to create an account on Perk.com to receive 50 Perk points as a bonus.
Once you're registered, you can see a search bar at the top which is powered by Yahoo.
Using that search bar, you can perform web searches to earn 1-2 points occasionally which can be redeemed for gift cards and PayPal cash.
You can also download the Perk Browser app on your smartphone from where you can do web searches and earn more points.
Apart from this, you can also perform the following activities to earn points and tokens.
Watch Videos
Complete offers
Take Online surveys
Take Quizzes and play games
How Much You Can Earn?
If you do a combination of all the activities mentioned above, you can make around $30 per month.
There are many users who are making around $4-$6 per day using this website. The only difference is they are using Perk on multiple devices.
So, if you have over one device, you can use this platform to earn more.
Tips To Make Money By Searching The Web
Avoid fast searching. Doing a lot of searches in a short period of time just to earn more is a bad idea. Those websites can penalize you for this activity & you will make less money. Instead, you should search normally as you always do.
Try to stay on the search page for at least 30 seconds so that your activity looks legit. If you are doing 30-50 searches at an interval of 2-3 seconds, it doesn't look natural. So, make sure to avoid it.
Ending Note…
So, these are the 10 websites you can use to get paid for searching the web.
Even though you won't make much just by browsing the web, but its a kind of a job you're already doing for free.
So, a few bucks every month just for surfing the internet is actually not bad.
Let me know what you think about it?
Also, if you loved this side hustle, then don't forget to pin and share this post.
Cheers