When you click the links and ads on this blog, it helps me to pay the bills & keep this site free for you. Thanks for supporting me! For more info, read the Disclosure page.
Isn't it great if there was a tool that could assist you in managing, optimizing, and growing your YouTube channel with minimal effort?
A tool that can increase your productivity, help you better understand your audience, and provide you with access to a plethora of features that can make your YouTube experience easier?
Let me introduce you to TubeBuddy, a tool that is used and recommended by many top YouTubers.
So, why is it recommended? What is its specialty? In my TubeBuddy review, I'll go over pretty much everything. As a result, make sure to read it all the way through.
What is TubeBuddy?
TubeBuddy is a browser extension that integrates directly into YouTube, adding a slew of tools to help you manage your channel more effectively.
It was created in December 2014, but the company has been developing YouTube tools for more than 11 years, long before YouTube was even a name. As a result, they are YouTube-certified tools, which makes them reliable.
Who is TubeBuddy For?
TubeBuddy can be used by anyone who wants to manage and grow their YouTube channel. However, it is geared more toward creators, brands, agencies, and networks. 
What Are The Benefits of Using TubeBuddy?
TubeBuddy provides over 65 features to help YouTubers manage their channel and videos more effectively. 
Some of them are extremely useful, saving not only time but also increasing productivity. The following are some of the most major benefits of using this tool.
1. It is Simple to Find Low-Competition Keywords.
YouTube is a video search engine that allows users to find videos based on specific keywords. Some keywords are so competitive that ranking at the top is difficult due to the large number of videos targeting them. In such a case, focusing on low-competition keywords is your best bet.
But the question is, how to find them?
That's when you can use TubeBuddy's keyword explorer tool. This tool can help you analyze a keyword-based on search volume, competition, and optimization strength.
For example, when I searched "how to make an omelette with cheese" in the keyword research tool, I received an excellent score of 71/100 in the score analysis. 
This means that if I create a video on the same topic and include the keyword in the title and description, I have a good chance of ranking at the top due to the low competition.
If you can't find a low-competition keyword, look for the suggested related keywords that might give you some ideas.
2. Locate Popular Tags for Your Primary Keyword
When uploading videos, you must look for relevant tags to include in the tag section. Though it will take some time to find the best tags, TubeBuddy can help you find some popular tags that will increase the reach of your video.
The suggested tag option can be found on the video upload page, where you can find the best tags based on your main keyword.
3. Video A/B Testing
This feature is only available in their Legend plan because it is one of the best features they have for helping you increase views on your videos.
Basically, it allows you to experiment with different thumbnails, titles, tags, and descriptions for your videos to see which one produces the best results.
I am not subscribed to their Legend plan, but the screenshot below shows how you can compare two thumbnails by looking at click-through rate, watch time per impression, clicks, and so on.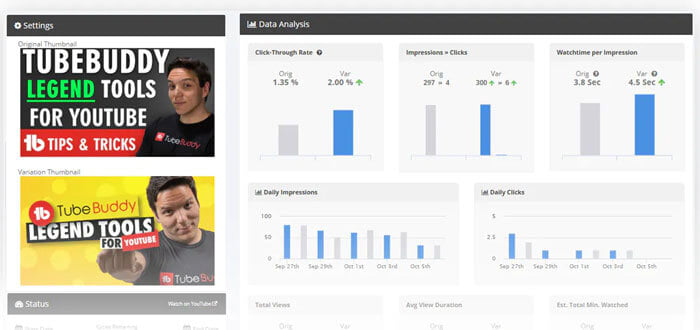 4. Find Out The Best Time To Publish Your Video
When you upload a video to YouTube, you almost never see an immediate increase in views.
That's because you publish them on the wrong day and at the wrong time when your audience is dormant.
Because many of your audience members are from different countries and time zones. It's difficult to predict the best time to publish your videos.
In this case, TubeBuddy's "Best time to publish" feature comes in handy. It not only suggests the best day, but it also tells you when your target audience is most active.
As a result, publishing your videos on the recommended day and time increases engagement.
5. Boost Your Productivity
TubeBuddy offers a plethora of productivity tools to help you work more efficiently and effectively. It will not only assist you in getting your videos ready for posting faster, but it will also help you in avoiding repetitive tasks, which will save you a significant amount of time.
You can use the "Canned Response" tool to automate tasks such as responding to frequently asked questions on your channel and quickly welcoming new subscribers.
You can also avoid creating the same YouTube Card for each new video by using the "Card Template" tool.
In addition, if you come across a lot of new video topics while reading comments or exploring YouTube, you can save and organize them in a queue using the video planner feature.
6. Complete Bulk Tasks Quickly
Bulk tasks can take a long time to complete if done one at a time. This is where TubeBuddy's bulk processing tools come in handy.
You can easily bulk copy/delete cards and screens, add thumbnail overlays such as logos, update the playlist, and so on with just a few clicks. 
Furthermore, you can easily identify demonetized videos on your channel and submit them in bulk for manual review.
7. Make a Channel Backup
It is always a good idea to create a channel backup in case it is accidentally deleted. You can not only use them whenever you want, but you can also keep your data in a spreadsheet.
To create a backup, you can use TubeBuddy's backup feature, which allows you to export your entire channel's metadata to Excel or Google Docs.
8. Examine Your Audience Retention to Improve Your Video
Retention is the amount of time that a viewer has watched a video. It is used to analyze your audience to know which video they love to watch and which they ignore.
With TubeBuddy's "Analyze Retention" feature, you can easily find out which videos are performing well at various time intervals.
YouTubers can easily see if their intro or opening sequence is causing viewers to leave or if another part of the video is causing them to leave.
In short, you can identify what's affecting video retention so you can take action to improve it.
9. Discover Who Is Interested in Your Content?
Another useful feature of TubeBuddy is the ability to track who is sharing your videos on social media.
TubeBuddy's "Social Monitor" feature tracks everyone who has tweeted, posted, or shared your video on Facebook or Pinterest.
This feature will be extremely useful if you want to find out who and where your videos are being shared.
How to Install TubeBuddy?
The steps for installing the TubeBuddy extension on the Google Chrome browser are as follows. You can do the same for Firefox, Safari, and Internet Explorer.
Click the "Add to Chrome" button on the upper right side.
The extension will be installed automatically on Chrome, and you will see the icon shown below in the top right corner of your browser.

Now, log in to your YouTube channel to see the message below, which indicates that you are not logged into your TubeBuddy account.

To sign in, simply click the TubeBuddy icon and then the "Sign in with YouTube" button.

Click "Allow" on the access window.

When you're connected, you'll see a green message indicating that TubeBuddy has successfully connected to your channel.

To see if TubeBuddy is working, open any video and look for a widget on the right side that displays video analytics such as tags, summary, social shares, and so on. You can see an example of this in the screenshot below.
How Much Does TubeBuddy Cost?
TubeBuddy has four plans, one of which is free and the other three are premium with a 30-day money-back guarantee.
1. Free Plan
Aside from bulk processing tools, this plan includes Productivity, Video SEO, Promotion, and Data Research tools.
However, you will not be able to access all of the features within it because some will have limited access while others will have none.
If you just want to try TubeBuddy to see if it's worth it, this plan is ideal for you.
2. Pro Plan
The Pro plan is $9 per month, but with a 20% discount, you only have to pay $7.20. It includes access to more features from all tool categories except bulk processing tools.
Along with all of the features, you will also have free access to all the member perks which I will discuss shortly. Overall, this is a great plan for trying out TubeBuddy and enjoying its key features.
3. Star Plan
The Star Plan costs $19 per month ($15.20/month for a 20% discount) which includes all of the features that the Pro Plan offers along with additional features like bulk processing tools.
This plan is ideal for YouTubers with a good subscriber base who want to gain access to more awesome features. Also, if you have a large number of videos on your channel, bulk processing tools will save you time.
4. Legend Plan
The Legend plan has no limitations because it includes all features for $49/month ($39.20/month for a 20% discount). You will have the ability to use its advanced functionality to achieve maximum results.
If you already have a big channel that generates revenue from a large number of subscribers, investing in this plan is the best option. You can use this premium plan to improve, manage, and grow your massive channel.
What Are The Discounts Offered By TubeBuddy?
If you're on a tight budget, TubeBuddy offers a few additional discounts on top of their 20% annual discount. Even though the free plan is sufficient for testing this tool, you can take advantage of these offers to save money.
If you have less than 1,000 subscribers, you can get a 50% discount on the pro plan.
If you're a company having 20 or more channels, you can fill out their form to contact them about custom TubeBuddy licensing.
What Are The Member Perks?
If you think that's all you can get as a TubeBuddy member, you're mistaken. Purchasing the premium plan can provide you with a slew of benefits that can be used while creating videos.
The following is a list of the perks provided by TubeBuddy for free.
TubeBuddy Mobile – The app is available for both Android and iOS.
Audio Hero – Audio Hero offers 250,000 premium royalty free music tracks & sound effects.
Tuber Tools – They offer high-quality graphics and video effects for your YouTube Channel.
Jukedeck – Jukedeck is a musical artificial intelligence website that creates computer-generated audio tracks automatically. You can use them in your videos.
Epidemic Sound – It provides cutting-edge production music for your YouTube content. You get 25% off on their plans.
YouTube Starter Kit – Get access to templates for channel art, thumbnails, YouTube end cards, YouTube live, guides on how to grow your channel, etc., provided by Awesome Creator Academy.
TubeBuddy Pros & Cons
Pros
Packed with so many rich features.
It enables you to compare your channel with your competitor's.
Affordable plans.
It provides a free plan to use the tool.
Cons
Sometimes it makes your browser laggy.
You need to pay for multiple licenses for multiple channels.
TubeBuddy F.A.Q
Q1. Is TubeBuddy YouTube Certified?
Yes, it is a YouTube-certified tool with over 3.5 million users around the world. Here is a screenshot from their official website.


Q2. Is it Safe To Use TubeBuddy?
Yes, TubeBuddy is perfectly safe to use.
Being a "YouTube Certified" tool means it goes well according to YouTube Google guidelines. Many other similar tools have caused problems earlier, but TubeBuddy has the longest track record of partnership.
Q3. Which is Better, VidIQ or TubeBuddy?
TubeBuddy is better than VidlQ because it has more features and is less expensive. Though VidIQ outperforms TubeBuddy in channel/video analytics and demonetization management, TubeBuddy outperforms in other areas.
Q4. Is TubeBuddy Worth The Money?
Yes! Tubebuddy is absolutely worth it!
With a plethora of tools, you can do a lot of things to improve, optimize and grow your channel without much hassle.
You can also use it to figure out what content works and what doesn't on YouTube. Overall, for a few dollars, you'll get a tool that will benefit your channel in a lot of ways.
Conclusion – TubeBuddy Review
TubeBuddy is an excellent tool for anyone who wants to grow their YouTube channel organically. Not only will it save you time on bulk tasks, but it will also be inexpensive and provide the best productivity tools.
As a beginner, I would suggest you start with their free plan so you can become familiar with it. If you believe the time has come to invest, begin with their pro plan if your channel hasn't yet been monetized.
When your channel begins to generate revenue, you can upgrade to their star or legend plan based on your needs.
Read Next: