Disclosure: This post contains affiliate links. If you buy or sign-up through one of those links, you won't pay a penny more but we'll get a small commission that helps us in running this blog. Read the Disclosure page.
Isn't it great if there was a tool that can manage, optimize and grow your YouTube channel without much hassle?
A tool to improve your productivity, help to understand your audience & give access to so many features that can ease your work?
Well, I introduce you to TubeBuddy used & recommended by many top YouTubers. 
Now, why it's recommended? What's the specialty of it? In my TubeBuddy review, I will answer pretty much everything. You get to know:
What is TubeBuddy?
How it's helpful to you?
How to use it?
Pros & Cons 
& much more
So, if you are a struggling YouTuber, TubeBuddy can definitely become your favorite.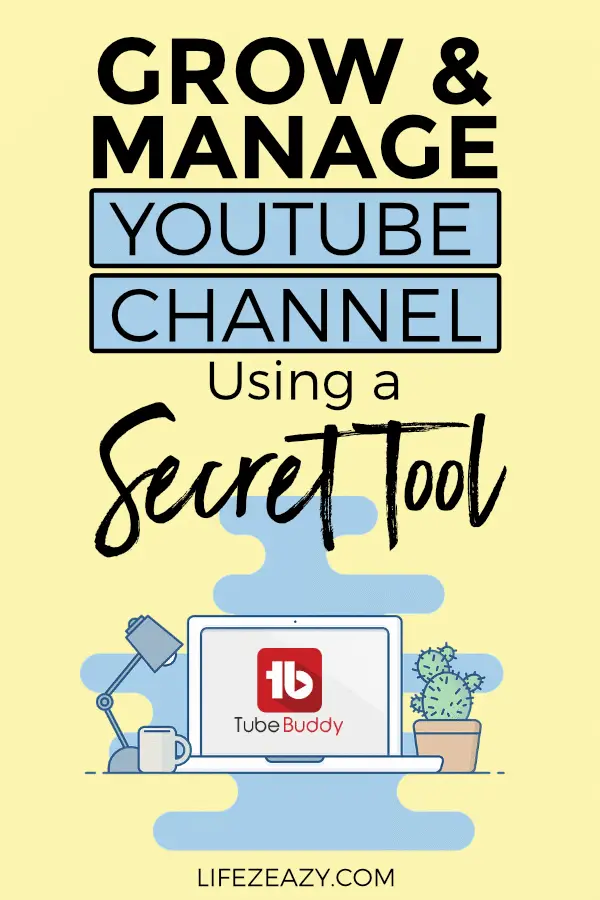 Read More:
TubeBuddy Review 2020
Name: TubeBuddy
Website: www.tubebuddy.com
Founders: Phil, Eric, Jim & Chuck
Price: $9/month for Pro plan, $19/month for Star Plan & $39/month for Legend plan. Also, a free plan with limited access.
Overall Rank: 95 out of 100
What is TubeBuddy?
TubeBuddy is a browser extension that integrates directly into YouTube by adding a bunch of tools to help you run your channel with ease.
TubeBuddy was launched in December 2014 & the company has been making tools for YouTube for over 11 years since before YouTube was even known. So, this makes them even more trustable.
Who is This Tool For?
Creators –

 Creators who want to grow their channels, engage with their audience & streamline their workflow can install it. This helps them to spend more time creating new content.

For Brands –

 Brands who want to focus more on productive work and grow their business on YouTube simultaneously.

For Agencies –

 Agencies can take advantage of this tool by managing their client's channels with ease.

For Networks –

 They can offer TubeBuddy to their partners for success.

 
TubeBuddy Pros & Cons
Pros
Packed up with so many rich features.
Enables you to compare your channel with your competitor.
Affordable plans.
Provides a free plan to use the tool.
Cons
Sometimes make your browser laggy.
Need to pay for multiple licenses for multiple channels.
Benefits of Using TubeBuddy
Though there are several benefits of using TubeBuddy that you can find out by viewing its features, here are some of them.
#1 Find Low Competition Keywords
With a built-in keyword research tool, TubeBuddy helps you to find low-competition keywords that rank your videos higher. This ultimately gets you more views and reach.
For example, when I searched for a keyword "how to make an omelet" on the keyword research tool, I got a poor score of 15 out of 100.
A poor score means I will have a hard time ranking for this keyword on the first page of YouTube.
However, when I searched the keyword "how to make an omelet with cheese", the keyword tool showed a very good score of 71 out of 100.
So, if I create a video on the same topic and add the same keyword in my video title and description, I have a better chance to rank on the first page.
That's the first benefit you will get using TubeBuddy.
#2 Improve Your Productivity
TubeBuddy offers a lot of productivity tools that make your work easier & faster.
Not only it helps to get your videos ready for posting faster, but you can also avoid repetitive tasks that save a lot of time.
Tasks like replying to common questions on your channel as well as quickly welcoming new subscribers can be done automatically using the "Canned Response" feature.
You can also avoid creating the same YouTube Card repeatedly for each new video by using the "Card Template" feature.
If you come up with a lot of new video topics while reading comments or exploring YouTube, you can save and arrange them in a queue using the video planner feature.
So, a lot of things you can do with TubeBuddy that helps you to concentrate more on producing new content.
#3 Perform Bulk Jobs Quickly
With Bulk Processing tools, you can perform bulk jobs with just a few clicks.
Jobs such as copying/deleting cards & screens, adding thumbnail overlay like logos, updating playlist, are done easily with TubeBuddy.
Besides, you can also quickly find demonetized videos on your channel and bulk submit them for manual review.
All these bulk jobs can suck up a lot of time, but TubeBuddy makes things easier for you.
#4 Increase Video Views By Using The Right Tags
Video tags are used to describe and highlight the content in your video. With tags added in your video description, you can expect more views and searchability.
With TubeBuddy's "Suggested Tag" feature, you can find the best relevant tags for your videos to drive most views.
Additionally, if you use the same tags for all your videos, you can use the "Tag List" feature to store them for later use.
This way you can simply eradicate the problem of typing the same tags over and over again.
#5 Find Out The Best Time To Publish Your Video
TubeBuddy lets you know the best time to publish your new video to get the maximum views.
When you upload videos on YouTube, most of the time you don't see an initial boost to your views.
That's because you publish them on the wrong day and time when your audience is inactive.
As many people from your audience belong to different countries and time zone. It's actually difficult to predict which time is best to publish your videos.
In such a case, TubeBuddy's "Best time to publish" feature is a savior.
Not only it suggests you the best day, but it also tells you the best time when your audience is most active.
Thus, publishing your videos on the suggested day and time gives you better engagement.
#6 Create Your Channel Backup
Backing up your channel data is always a good idea in case it gets deleted.
Not only you can use them whenever you want, but you can also maintain your data in a spreadsheet.
With TubeBuddy's Channel Backup feature, you can easily create a backup of your whole channel's metadata in an Excel or Google Docs.
#7 Analyze Retention of Your Audience To Improve Your Video
Retention is the amount of time that a viewer has watched a video. It is used to analyze your audience to know which video they love to watch and which they ignore.
With TubeBuddy's "Analyze Retention" feature, you can easily find out which videos are performing well at various time intervals.
YouTubers can easily see whether their intro or opening sequence is causing viewers to leave.
In short, you can identify what's affecting the video retention so you can take action to improve it.
#8 Find Out Who is Loving Your Content?
Another great thing about TubeBuddy is that you can find out who is sharing your videos on social media.
Whether someone has tweeted your video, posted it on Facebook or Pinterest, TubeBuddy's "Social Monitor" feature traces everyone.
If you like to find out who and where your videos are being shared, this feature will really help you.
How to Install TubeBuddy?
The following are the steps to install the TubeBuddy extension on the Google Chrome browser. You can do the same for Firefox, Safari & IE too.
Click the "

Add to Chrome"

 button on the upper right side.
It will automatically install the extension on Chrome and you will see the below icon on the top right side.

Now log in to your YouTube channel to see the below message which shows that you're not logged into the TubeBuddy account.

To sign-in, simply click the TubeBuddy icon and click the "Sign in with YouTube" button.




Click "Allow" on the access window.




Once connected, you will see a green message. It shows TubeBuddy is successfully connected to your channel.

To check whether TubeBuddy is working, open any video to see a widget on the right side that shows videolytics like tags, summary, social shares, etc. You can see the below screenshot for reference.
Quick Overview of TubeBuddy's Tools
1. Productivity Tools
Advanced Video Embed: 

Create embed codes to customize the look of your embedded video or playlist.

Canned Responses: 

Use pre-written messages to use them in various areas on YouTube

Card Templates: 

Set any video or playlist as your card easily.

Comment Filters: 

Easily manage comments on your videos by finding positive, negative, question, profanity types of comments.

Comment Spotlight: 

Easily find comments from your Patreon supporters or recent subscribers.

Coppa Centre: 

Learn about COPPA and find your videos rated as "Made for Kids" by YouTube.

 Default Upload Profiles: 

Create multiple Default Upload Profiles for your videos.

Emoji Picker: 

Add Emojis to your Titles, Tags, and Descriptions.

End Screen Templates: 

Set any video as an End Screen Template & apply it to all new uploads.

Notification Commenting: 

Reply to comments directly from the YouTube notification window

Playlist Actions: 

Advanced ordering and filtering options for the playlist.

Publish to Facebook: 

Publish your videos on Facebook within a few clicks.

Quick Links Menu: 

Easily navigates to common areas on YouTube.

Quick-Edit Toolbar: 

Easily navigate between videos when editing a list

Scheduled Publish: 

Schedule unlisted videos to be published and added to playlists at a specific date and time.

Scheduled Video Update: 

Schedule video updates at a specific date/time

Sunset Videos: 

Schedule videos to be hidden and removed from playlists at a specific date/time

Thumbnail Generator: 

Create high-quality thumbnails with text/image overlays using still frames from your video.

Upload Checklist: 

A list of steps needs to be done while uploading videos

Video Topic Planner: 

Save your video ideas and queue them here.
2. Bulk Processing Tools
Bulk Copy Cards:

 Bulk copy cards from some or all your videos

Bulk Copy End Screen:

 Bulk copy End Screen from some or all your videos

Bulk Delete Cards:

 Bulk delete Cards from some or all your videos

Bulk Delete End Screen:

 Bulk delete End Screen from some or all your videos

Bulk Find, Replace & Append:

 Bulk find, replace & append from your video titles and descriptions.

Bulk Thumbnail Overlays:

 Add a graphic overlay such as a logo to some or all your video thumbnails.

Bulk Update Cards:

 Bulk update Cards from some or all your videos

Bulk Update End Screens:

 Bulk update End Screens from some or all your videos.

Bulk Update Playlists:

 Bulk update Privacy, Ordering and Filtering settings of your playlist

Demonetization Double-Check:

 Quickly find demonetized videos and bulk submit them for a manual review.
3. Video SEO Tools
Auto Translator:

 Translate video Title and description into other languages to increase global reach.

Best Practice Audit:

 Automated checks to follow YouTube's recommendations.

Insta-Suggest:

 View tag suggestions in real-time as you type.

Keyword Explorer:

 Keyword research tool for YouTube. 

Opportunity Finder:

 Get suggestions for channel growth based on your video performance and analytics.

SEO Studio: 

Optimize your video metadata for a specific keyword.

Search Explorer:

 Search Term research tool for YouTube.

Search Rank Tracking:

 Track your video rankings (& your competitors) for target keyword across YouTube and Google.

Search Rankings:

 View your videos ranking for all of its tags.

Suggested Tags:

 Find the best Tags to drive the most views to your video.

Tag Lists:

 Create and manage lists of tags.

Tag Sorter:

 Reorder your video Tags on any video in any order quickly.

Tag Translator:

 Translate video tags into other languages to increase global reach.

Video A/B Tests:

 Test Titles, Thumbnails, Tags and Descriptions to find what works best.

View and Copy Video Tags:

 View and Copy video tags from any video including your competitors.
4. Promotion Tools
Pick a Winner:

 Randomly select a user who has commented on one of your videos

Promotion Materials:

 Customized links and code for promoting your channel and videos.

Share Tracker:

 Share your video on multiple social networks and track them.

Share on Twitter:

 Share your videos on Twitter and automatically attach your thumbnail to it.

Subscriber Outreach:

Reach out to your YouTube Subscribers to multiple social networks.

Vid2Vid Promotion:

 Promote one of your videos in the descriptions of all your other videos
5. Data & Research Tools
Brand Alerts:

Get alert when someone mentions your product in their video.

Channel Access: 

Give specific people access to your TubeBuddy account

Channel Backup:

 Create a backup of all your videos' metadata

Channel Valuation: 

Know your worth by Brand Deal Valuations via SocialBluebook.com

Channelytics:

 View stats & analysis on any channel on YouTube

Comment Word Cloud: 

View a visual representation of what people are saying about your videos.

Competitor Scorecard:

 Compare stats of your channel with competitors

Competitor Upload Alerts: 

Get notification when your competitor channel uploads a video

Demonetization Audit:

 Find words in your title, description or tags that could cause demonetization of your video.

Export Comments:

 Export video comments to CSV File

Health Report:

 Check the health and performance of your channel

Language Analysis: 

Check which languages are spoken by your channel's audience

Retention Analyzer: 

View how videos across your channel are performing at various time intervals.

Social Monitor: 

View where your videos are being shared across social media.

Videolytics: 

Access advanced analytics and insights of any YouTube video.
TubeBuddy Pricing
TubeBuddy offers four plans out of which one is free & the other three are premium (paid) plans.
1. Free Plan
TubeBuddy gives access to limited features from all categories of tools except for bulk processing. 
You get 
full & limited access to some productivity tools

full & limited access to some video SEO tools

full access to promotional tools

full access to some data & research tools
A free plan is best suitable for those YouTubers who want to try TubeBuddy. 
Even if you want to buy the premium plan, it's best to try the free one first to see whether it's really helpful for you. 
2. Pro Plan
Pro plan will cost you $9/month & it gives access to more tools from all the categories except bulk processing tools.
Along with all the features, you also get free access to the following member perks that I will explain soon.
TubeBuddy Mobile

Audio Hero 

Collabspace 

TuberTools 

Jukedeck 

Epidemic Sound 

YouTube Starter Kit Sample Pack 

YouTube Stock 
I recommend a pro plan for those YouTubers who have decent subscribers and want to take things slowly.
3. Star Plan
Star Plan will cost you $19/month and it provides all the tools that Pro plan offers along with member perk. 
Additionally, you also get access to more tools from all categories and full access to bulk processing tools.
Being a YouTuber, if you want to avoid repetitive tasks related to the playlist, end screen, cards, overlays, etc? Star Plan is suitable for you.
4. Legend Plan
Legend plan has no boundaries as they offer all the features for $39/month. You will have the power of its advanced functionality for maximum results.
It is more suitable for those YouTubers who have a good number of subscribers and already earning money from it.
Using this plan, they can further enhance, manage & grow their YouTube channel.
TubeBuddy Pricing Discounts
A good thing about TubeBuddy is that they offer a bunch of discounts if you're on a tight budget.
Even though the free plan is enough for beginners, discounts on premium plans are added bonuses.
Here are the four discounts TubeBuddy is offering.
1. Less Than 1000 Subscribers
You can get a 50% discount on the Pro plan if you have less than 1,000 subscribers on YouTube. This means you will have to pay $4.50/month instead of $9.
2. Yearly Plan
A yearly plan gives you 20% off on all the plans. For example, a $9/month Pro plan is basically $108 yearly.
With the yearly discount, you can save 20% which means you only have to pay $86.4 instead of $108.
3. Multiple Channels
If you have multiple YouTube channels, then you can get a substantial discount when licenses are ordered in bulk. You can contact their support team ([email protected]) for more details.
4. Part of a Non-Profit
If you work for 501(c)(3) Organizations, then you can get 25% off on any TubeBuddy plans.
Member Perks
Being a TubeBuddy member, if you think that's all you can get, then you are absolutely wrong.
Buying the premium plan can give you a lot of perks that are quite useful for YouTubers. 
Here is the list of perks TubeBuddy is offering.
Amazon Alexa –

 By enabling TubeBuddy in the Skills section of the Amazon Alexa App, you can ask questions related to your channel. For example, you can ask how many subscribers you have, the latest YouTube industry news and much more.

Audio Hero –

 Audio Hero offers 250,000 Premium

 Royalty free music tracks & sound effects

.

Tuber Tools –

 They offer High-Quality Graphics and Video Effects for your YouTube Channel.

Juke Deck –

 Juke Deck is a Musical Artificial Intelligence website that creates computer-generated audio tracks automatically. You can use them in your videos.

Epidemic Sound –

 It provides cutting-edge production music for your YouTube Content.

YouTube Starter Kit –

 Get access to templates for channel art, thumbnails, YouTube end cards, YouTube live, guides on how to grow your channel, etc provided by Awesome Creator Academy.

YouTube Stock –

 Download Professional 4K no-copyright motion graphics and sounds from them.
Personal Experience With TubeBuddy
My experience with TubeBuddy was awesome. Though I was not a big YouTuber, I had a pretty decent channel with a few hundred subscribers. (channel is still active but I don't use it now)
The main reason I used TubeBuddy was because of its bulk processing tools, which was a huge timesaver for me.
Bulk tools like annotation templates, video templates, and the tag explorer helped me a lot to optimize my workflow.
I also loved the channel comparison feature, which allowed me to compare my channel with my competitors.
Regarding thumbnails which I used to create using Adobe Photoshop, TubeBuddy's in-built thumbnail generator completely replaced it.
I could easily create eye-catching thumbnails without opening & playing with Photoshop.
Overall, I really love how TubeBuddy could save a heck lot of time. It is really an invaluable tool and you should have it if you're serious about YouTubing.
TubeBuddy F.A.Q
Q1. Is TubeBuddy YouTube Certified?
Yes, it is a YouTube certified tool with over one million users around the world. Here is a screenshot from their official website.


Q2. Is TubeBuddy Safe to use?
Yes, TubeBuddy is perfectly safe to use.
Being a "YouTube Certified" tool means it goes well according to YouTube Google guidelines.
Many other similar tools have caused problems earlier, but TubeBuddy has the longest track record of partnership.
Final Verdict – TubeBuddy Review 2020
TubeBuddy is one of the most popular YouTube tools for a lot of reasons.
I loved it because it's packed with over 60 tools to help you manage and grow your YouTube channel.
Additionally, it's a YouTube certified tool that goes with the YouTube guidelines. So, no need to worry!
Now, tell me, What do you think of TubeBuddy? Are you planning to try it? Let me know in the comment section.