When you click the links and ads on this blog, it helps me to pay the bills & keep this site free for you. Thanks for supporting me! For more info, read the Disclosure page.
I took some time and tried InstaGC for a couple of days just to see whether they are legit. Surprisingly, I actually got paid by them.
Based on my experience, I wrote this InstaGC review where I will share all the details required to decide whether to give it a shot.
If you happen to be short on time, here is a quick review.
InstaGC Quick Review 2021
Availability – Most countries
Sign Up Bonus – 10 points ($0.10)
Earning Methods – Surveys, watching videos, shopping online, installing apps, playing games, quizzes, web searching, tasks
Earning Per Referral – 10 points + 10% of their earnings
Minimum Threshold – 100 points ($1)
Payment Options – Gift cards, PayPal, Bitcoin
Rating – 3.5/5
Summary – InstaGC is definitely a legit site where you can earn gift cards and cash by completing different tasks. Though surveys may disappoint you, other tasks & contests will surely keep you engaged & help you earn points. With a low minimum payout, you can win your first dollar within a couple of days.
JOIN INSTAGC & GET 10 POINTS BONUS
What is InstaGC?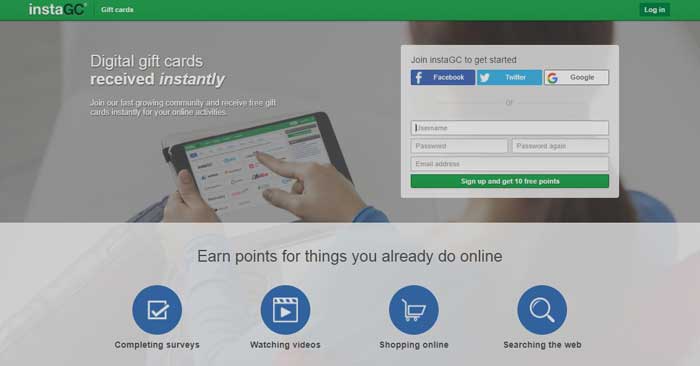 InstaGC (Instant Gift Cards) is a GPT site where you can earn different gift vouchers by performing several online tasks. The task includes surveys, watching videos, app installation, & much more.
For completing each task successfully, you'll earn points where a point is worth one cent.
Who Are The Target Users?
The privacy policy states that COPPA prohibits users under 13. So, InstaGC is for users who are at least 13-year-olds and above.
Moreover, InstaGC is available in most countries, which makes this platform a better option for people who aren't from the US, UK, Canada, & Aus.
How Do InstaGC Works?
As a member, you have to complete different tasks to earn points counted towards redeeming your favorite gift vouchers.
When I was testing InstaGC, I could access every option except Appen tasks, online shopping, and web searching. I don't know it is because of my demographics, but it was quite disappointing.
Nevertheless, I still went ahead and tried other ways like surveys, watching videos, playing quizzes, installing apps, & contests to earn points.
To give you a clear picture, let us discuss some of them.
1. Online Surveys

Online Surveys are the best option to reach the minimum points as soon as possible. Even though it pays better, it doesn't provide a pleasant experience.
While I was trying them, I got disqualified most of the time. Even when I was about to complete a survey, I got rejected out of nowhere.
It's like a guessing game where you aren't sure whether you'll succeed or simply waste your time. If you can complete it, you can make anywhere from 45 to 170+ points. Gladly, I had a few wins, thanks to some survey-qualifying tips I followed.
To find the surveys, explore providers like InstaGC, Persona.ly, Kiwi Wall, & Wall Ads.
2. Watch Videos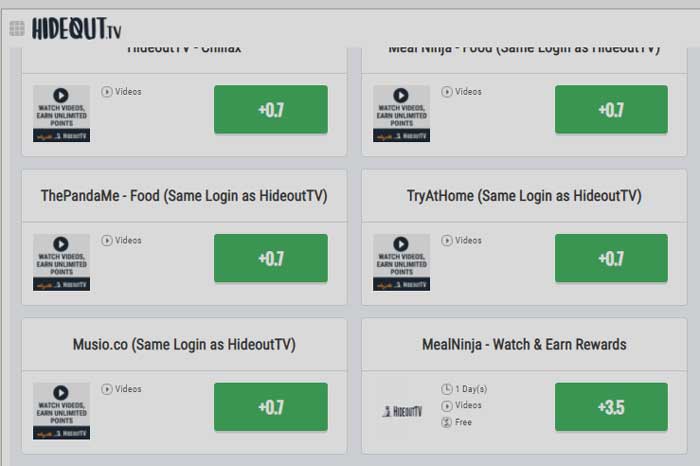 Watching videos is the most effortless task you can do on InstaGC. Even though it is the easiest one, the pay is kinda disappointing.
For every 20 videos you watch, you only get one point. On top of that, they are not short & can range anywhere from 1 to 7 minutes long.
Though one-minute-long videos are not a problem, 5 minutes or more are really not worth your time. Imagine watching 20 of them just to earn one point. That's like spending 100 minutes i.e. one hour and forty minutes. Definitely not worth the effort.
You can find them under the provider's HideOut.TV.
3. App Install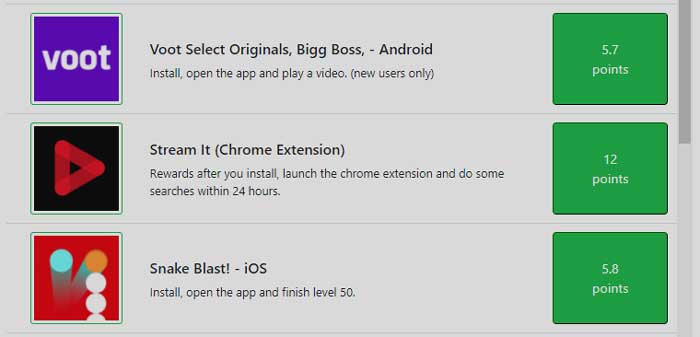 You can also earn points (5-300+) by installing apps that can either be a game or other apps.
With the game, not only do you have to install them but also reach a specific level before earning points. Likewise, some app wants you to perform a minor task like signing up for a trial to collect points.
You can find app installation in AdGateRewards, OfferToro, Kiwi Wall, & Wall Ads.
4. Take Quiz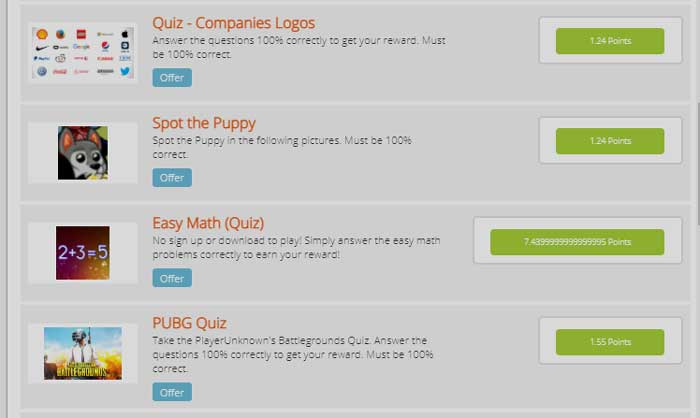 The quiz is another exciting way to rake some points quickly. It includes finding the difference, spotting certain items, & topic-related quizzes.
Each one of them pays 1 to 1.55 points & can be found under AdGateRewards, Kiwi Wall, & Wall Ads.
5. Web Searching
InstaGC has its own search bar where you can earn points for doing searches.
Please note that you won't earn points for every search, still, you can earn a few by doing a few searches.
Due to some difficulty, InstaGC disabled this option as of now when I was testing. So, I couldn't actually try it. However, I read that you can earn one point for 10 searches.

Earn Points With Contest
Besides offering various tasks, InstaGC also offers four contests where you can take part to earn more points.
1. Completion Contest
Earn as many points as possible within a period (usually 28 days) by completing surveys, tasks (Appen excluded), and videos (Hideout excluded).
Each time you earn 5+ points will count towards 1 completion. The user having the most completion will be the winner.
Here is the reward distribution table.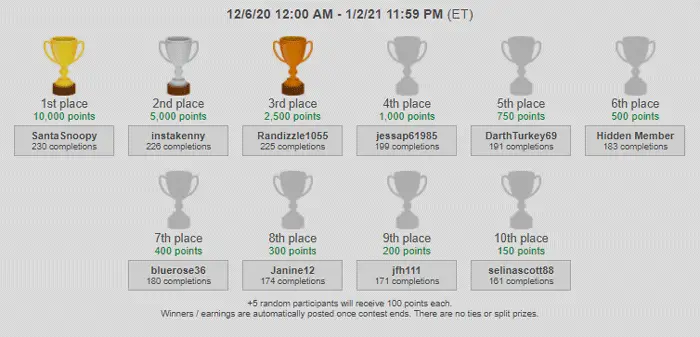 The winners for 11th-15th places will be randomly selected from members who have at least 1 completion.
2. Appen Completion Contest
Just like the previous one, the users with the most completion will win the contest. Completion is counted when you complete an Appen task.
Here is the reward table for the winners.

3. Decimal Pot
In this contest, you have to contribute your decimal point. Like if you have 10.39 points in your account, you can invest 0.39 points. If your balance doesn't have any decimal, you can contribute a maximum of 1 point.
Likewise, other users also contribute, and the total amount collected will be the winning pot.
Each week InstaGC system will randomly select winners from those entered and split the prize pot. The 1st winner will get 50%, the 2nd will get 30%, & the 3rd one will get 20%.

In the above example, I can contribute 0.15 points to have a chance to win a share of 123.46 pot points.
4. Sports
If you're interested in sports, you will definitely love this contest.
All you have to do is correctly predict the outcomes of professional sporting events including American football, hockey, baseball, and basketball to win the pot prize.
Though you have to pay an entry fee (5-25 points) to take part, you can still take home a big amount if you are among the top 3 winners.
Is InstaGC Legit or a Scam?
InstaGC is definitely a legit site.
Why do I say so? Because I got paid by them.
Why do you believe me? Because I have screenshots of my payment.


Also, here is the video where I am redeeming $10 PayPal cash.
I know $1 & $10 is not an earning to be proud of, but my whole intention was to check whether they really pay money into my account. Gladly, it did.
If you check out their history, InstaGC is active since 2011 & still running smoothly. If it was a scam site, it would have been closed for good till now.
They also have a pretty good following on social media.
Moreover, it is owned by Day Online Solutions, LLC, which also runs an affiliate marketing network 'Spark Leads' & ProxStop – a security service.
So, looking at all the details, it is safe to say, InstaGC is definitely not here to scam anyone.
Is InstaGC Safe to Use?
After checking out their privacy policy page, I can say they are safe to use. Here are a few points pulled from their privacy policy page that will clear the air.
Whatever information you provide to them (example – email address), they won't share it with any third party outside. They will only use it to respond to you regarding the reason you contacted them.
The company won't collect your DLN (driver's license number), SSN (social security number) – except for tax purposes, credit card information, passport number, or photo. However – sometimes, they may ask to submit ID verification that may include the above items. In such a case, you are free to blur/hide the information as desired.
They strictly follow Children's privacy (COPPA). So, it is better not to sign up if you are below 13 years old.
Even though they are safe to use, it is always a better idea to create a new email address separately for joining online sites like InstaGC. This way, you won't have to use your primary account.
How Much Does InstaGC Pay?
Well, it depends on how many offers you are receiving in your dashboard. For Asian countries, it might be less, whereas the US, UK, Aus, & Canada has fairly welled chances.
To demonstrate how many points I may get in a day, I added all of my dashboard offers. Here is how it went.
Surveys – 1225.1 points
Videos – 7 points
Games – 564.8 points
App Install – 62.9 points
Quiz – 21.46
So, while writing this post, I have a chance to earn 1,881.26 points ($18.86), excluding all the contests & referral earnings.
Obviously, surveys are not a sure shot. Despite that, my whole intention was to show how many offers you can get your hands on.
Furthermore, offers change now and then, which means I would either see more or a few offers after a couple of hours. So, checking your dashboard now and then is always a better idea to earn more points.
To know what other users are earning, I peeped into Reddit, where some users are claiming to make $5 to $7 a day if they spend 2-3 hours. Others who spend less time are averaging $2 a day.
So the results will vary depending on how much time you invest.
How Does InstaGC Pay?
You can redeem your points for 
Gift cards – Minimum point varies
Bitcoin – Minimum of 1,000 points required
PayPal – Minimum of 100 points needed for $1
Donate to charity
As there are over 330 gift cards (availability as per the country), each one has different minimum coin requirements. For example, US users can redeem for $1 Amazon gift card for 100 points, whereas eBay starts at 500 points for a $5 worth gift card.
Likewise, Indian users need to collect 680 points for a ₹500 Amazon gift card.
InstaGC Hack
I won't say it is some kind of hack, but you can sometimes earn extra points doing nothing. InstaGC posts bonus codes on their Facebook & Twitter account that you can use to credit additional points.
All you have to do is follow their accounts and keep checking their post. Once they post any code, copy & paste it to the Point booster codes section found under Redeem to earn.
For example, my account got credited with 5 points when I used their code 'Dec9RewardUpdate'.


InstaGC Referral Program 
They offer a referral program where you can earn 10 points for every new person you refer who signs up and confirms their email.
Plus, you can also earn 10% of their earnings, excluding their bonuses. This means you will receive 10% of all the points they collected by doing various tasks.
They give you promotional banners and pages to make it easier to promote and get more people interested.
InstaGC Complaints
After reading several user experiences on different websites, the following are the most repeated complaints I came across.
1. Customer Support Issue
A few users were not happy with the support team. According to them, the support staff was rude & not providing proper feedback to their queries. Though some of them eventually solved their problem, a few were still left hanging.
To test out the support experience, I decided to lock my account, so I can ask for their help. For this, I tried to log in to my account with VPN, which automatically locked my account. Then, I contacted them via a support ticket.
It surprised me to see their response within 18 minutes & also they unlocked my account instantly. Initially, I thought they would ask for any verification ID, but nothing happened.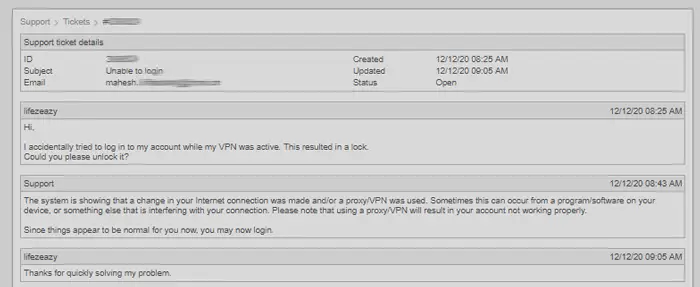 So, overall I had a pleasant experience, but things can differ for others.
2. Getting Disqualified From Surveys
This is not some unique complaint you heard for the first time. As with any online reward site, surveys are not a guaranteed way to earn rewards. The same issue is with InstaGC.
Depending on your demographics, you can either see a few or more rejection rates for completing surveys. On Reddit, one user commented that he got rejected for 80% of surveys he took while collecting 210 points in 2 hours.
Pros & Cons of InstaGC
Pros
10 points sign up bonus
Available in PayPal supported countries i.e. most countries can join them.
Several ways to earn points
330+ gift cards to choose
Low minimum threshold
Cons
Most of the surveys can disqualify you.
Is InstaGC Worth it?
It is worth it for people who have patience and won't mind a few dollars or gift cards every month for doing different online tasks. Though some low-paying tasks can bug you, it won't be a problem if you haven't set your expectations high.
After reading about several positive experiences from users and about their earnings, I will surely keep using InstaGC along with Swagbucks to churn in a few extra dollars every month.
However, there are other earning options as well if you aren't interested in InstaGC.
What Are InstaGC Alternatives?
Here are some other alternatives if you aren't interested in joining InstaGC.
Final Verdict – InstaGC Review 2023
InstaGC is a legitimate website to earn extra money in your spare time. Though you won't make a living, it's a good method to generate extra money.
Some users are even making a great side hustle by spending a lot of time on it & taking part in the completion contest.
If you are up for such work, InstaGC is definitely an acceptable option. If your priority is a decent work-from-home opportunity to make a full-time income, I won't suggest it because there are better online businesses to try.
Now, what do you think of InstaGC? Are you ready to try it out?
READ NEXT:
Pin it For Later: