When you click the links and ads on this blog, it helps me to pay the bills & keep this site free for you. Thanks for supporting me! For more info, read the Disclosure page.
Do you enjoy "Get Paid-To" websites? If you do, you should read this Timebucks review. If you have recently discovered this site, you may have many questions.
Is this a genuine website? Is it true that they pay money, or is it another online scam?
To clear the air, I tried this website for two months to see if it worked for me, and here is my full review.
Quick Timebucks Review
Site Name: Timebucks
Owned By: Australian Clearing Pty Ltd
Earning Opportunities: Online surveys, micro-tasks
Minimum Payout Threshold: $10
Payment Method: Tango card, Payeer, AirTM, Bitcoin, Transferwise
Payment Term: Weekly
Pros
Timebucks offers so many opportunities to earn money, which is not common in other GPT sites.
They send weekly payments having a minimum payout amount of only $10.
The Referral Program pays money on three different levels.
Good customer support.
Cons
You will only earn pennies, which slows down the time to reach the minimum payout amount.
For non-US members, most of the surveys are unavailable & the frequency is also low.
Timebucks in a Nutshell
Timebucks is a GPT site owned by Australian Clearing Pty Ltd, based in Australia.
Just like Swagbucks, you can earn money by completing online surveys, performing tasks, signing up for offers, watching videos, and much more.
Timebucks pays real cash rather than gift cards, and there is no concept of earning points like other GPT sites. Furthermore, there are numerous opportunities to earn money, which are uncommon on other platforms.
It appears to be a promising platform for me, but is it truly legitimate, or is it just another scam site like KashTree? We'll figure it out.
What Are The Requirements To Join TimeBucks?
There are no specific requirements other than having an email address or a Facebook account to sign up.
Timebucks Review 2022
Section 1: How I Joined Timebucks?
The sign-up process is pretty simple and straightforward.
I signed up with my email address because I am not comfortable using my Facebook account. In addition, I've set up a separate Gmail account for joining such sites.
I had to enter my Gmail address and password and perform a robot verification when I signed up. Within a minute, I was on my dashboard, where I could see a plethora of options as well as a $1 bonus in my wallet.

Once I was in, I confirmed my email address and began entering my personal information. I also went to set up my username, profile picture, and payment method.
The entire process took me about five minutes, and I was completely prepared to begin earning money on Timebucks.
What Do I Feel About The Timebucks Dashboard?
The Timebucks dashboard may appear to be a spam site at first glance, but the reality is quite different.
I had this feeling because I had seen many spam sites with the same design, which turned me off. However, claiming the same for Timebucks would be incorrect.
Moving on, I found the dashboard to be a little cluttered, but it is functional overall. On the left side, I can see my referral link column, and in the middle, I can see the recent task completion section.
Options such as earnings, earn, advertise, ladder, payments, settings, chat, and support were conveniently listed on the navigation menu.
Overall, I'm not impressed with the dashboard, but as long as Timebucks pays real money, I can overlook it.
Section 2: How Does Timebucks Works?
What I like about Timebucks is that it provides a variety of ways to earn money. If you dislike taking online surveys, Timebucks has a lot to offer, making it an appealing platform.
To earn money, you must participate in and complete various tasks in order to receive funds into your account. When you reach the minimum amount, Timebucks will transfer it to your bank account on a weekly basis.
So, what are the opportunities they provide that set them apart from other GPT sites?
1. Surveys
I know you're thinking that all you have to do is fill out surveys and get paid. That is how most websites function.
Timebucks, on the other hand, does things differently, indicating that they are serious about fraudulent activity.
Unlike other sites, Timebucks begins with a Quality testing survey in which you must answer at least 80% of the questions correctly in order to qualify.
The questions consist of three topics.
Personal details
Timebucks related
Fun related
First, they will request information about your profile, such as your date of birth, country, and so on. Make sure to give the same response as you did in your profile.
The second is all about Timebucks, and they ask for information about its features. The amusing thing is that they will also provide answers to the questions, making it easier for you to choose the correct answer.
Confused? Consider the following examples.
The final question is all about having fun and determining whether you are paying attention to the questionnaire. When I was filling out the survey, Timebucks asked if I had been to the Moon, to which I obviously said no.
So, the entire quality testing survey is a combination of these three topics, and you will be paid $0.50 if you score more than 80%. I took the test and received a 97%.
Concerning the actual surveys, most of them were not available for my demographics, and the frequency was inadequate.
Despite the fact that I was able to complete a few of them by following some secret guidelines for passing online surveys, I was rejected for the majority of them. Perhaps the figures would have been better if I had been a US resident.
Overall, you can't rely on Timebucks surveys unless you're from a Tier-1 country.
2. Content
You can find nine different ways to earn money under content that are extremely simple to do. Even though the pay is low, it's worth a shot if you don't want to fill out surveys.
A. Clicks
You need to click on links from advertisers and view them for a set amount of time to earn money.
Even though the pay is low, it is the simplest way to add a few pennies to your account. As of now, I can complete the following offer.
B. Slideshow
You will be paid for viewing seven pages of a slideshow 20 times per day at a 10-minute intervals. Unfortunately, each slideshow only pays $0.001.
C. Captcha
You can earn $0.003 for completing every 15 captchas. However, if you fill them incorrectly, you may be banned from the captcha tab.
D. Night Fall News
Here also you need to view a slideshow on a third-party website (Nightfall News) to get paid. Unlike others, the rate changes with each slideshow you complete.
E. Engage
You must watch specific YouTube videos via a third-party website's (Engagehits) chrome extension to earn $0.001 and 10 Sweepstakes entries.
This offer is 95% automated, which means you don't have to do anything because the add-on handles everything for you. Timebucks also states that you can open this task in a new tab while working on other tasks in other tabs.
When I did the same thing, however, the video stopped playing as soon as I switched to the other tab. I'm not sure if this is common, but I'm unable to do any other work in addition to this one.
F. Push Clicks
Clicking on push ads displayed in your browser can earn you $0.003 to $0.02. These advertisements are from a third-party website that Timebucks has recommended. The ads can appear at any time on your browser, and you can only see your earnings after the day is over.
G. Search
You can search on Timebucks in the same way you would on Google and get paid for it. Each search yields $0.001, and you are limited to three searches per day at a 30-minute interval. This feature is available only if you have received at least one payout.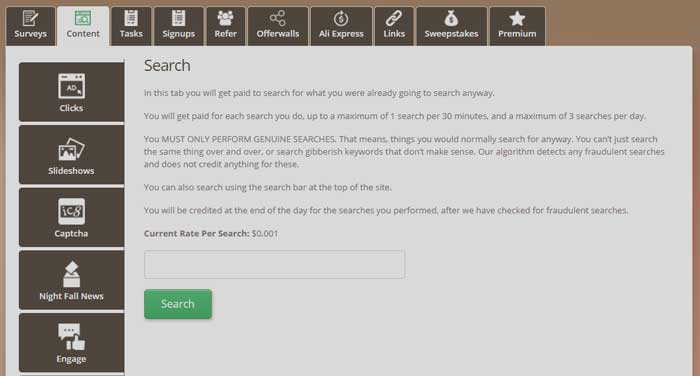 H. Upload
Simply download videos from Timebucks and upload them to your YouTube channel with the title, description, tags, and thumbnail provided by them. You'll earn a few pennies for each successful upload.
I. Videos
In this section, you must watch a series of videos (both YouTube and others) and complete a task in order to be paid. For YouTube videos, you must subscribe and watch the video for 60 seconds to receive $0.001. Other videos provide different instructions for earning $0.011.
3. Tasks
Tasks are micro-tasks that must be completed with proof within a certain time frame in order to be paid. Your work will be reviewed and approved by the advertisers in four days. If you have a problem with the result, you can file a dispute.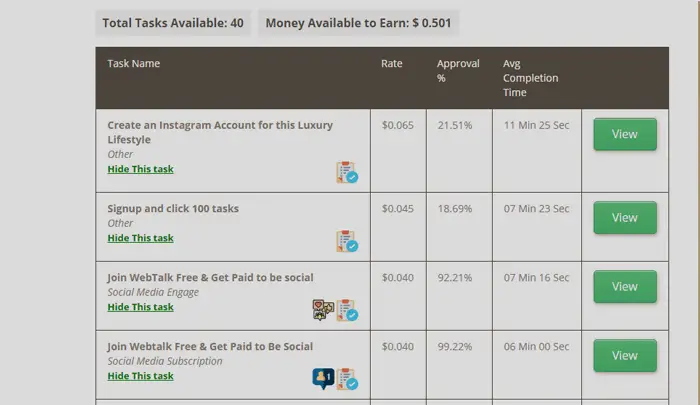 4. Signups
As the name suggests, you will be compensated for signing up with various websites.
Once you begin this task, you must complete it within the allotted time (up to 30 minutes) and provide proof (usually your username and a screenshot of the dashboard) to be paid.
The advertiser will review your work in four days and pay you once everything is in order.
5. Roll
Roll is similar to a lottery where you can try your luck to make some extra money. To qualify, you must have referred at least two new users in the last seven days who have earned at least $0.10. (excluding Referral Commission and Bonuses).
To begin, you must first click the roll button to generate a random number. You will be paid according to the payout table shown below, depending on the number.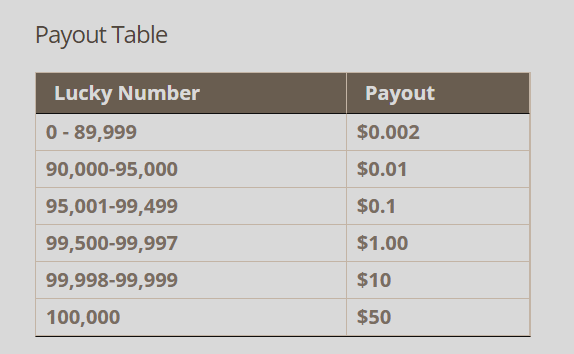 According to the table, if I get 11,000, I will make $0.002. You can try the roll option every hour for a chance to win the maximum bonus of $50.
6. Job Listing
Even though I dislike this feature, it can help you get free referrals.
All you have to do is follow Timebucks' instructions to create a free online job listing that will help you get a steady stream of referrals.
Not only will you make $0.50 for the first job listing you make, but you won't even need to rely on heavy promotion on social media.
Although I consider the method to be unprofessional, it is a viable option for those who lack the resources to promote their referral links.
7. Refer
You can earn money from your referrals on three levels by using your referral link.
Earn a 15% commission on your total lifetime earnings. For instance, if your referral earns $10, you will receive $1.50 in commission.
Earn a 50% commission on every Roll bonus your referral receives. For example, if they win $10 by rolling the dice, you will profit $5.
Earn a 10% commission on any advertising funds deposited into your referrals' accounts. For instance, if one of your referrals deposits $10 into their account, you will receive $1.
8. Offerwalls
This section is primarily mobile-based, with rewards for completing surveys, installing apps, and performing specific tasks. The tasks can range from signing up for an app to making a purchase. You'll get a few cents for each successful job completion.
9. Ali Express 
If you want to get discounts on Ali Express products, use the Timebucks link to make any purchase. After 30 days, your account receives the discounted price for each item you purchase.
If you want to sell Ali Express products to others, you can share your unique Timebucks link with them. When someone clicks on your link, they are directed to Ali Express, where they will receive a commission ranging from 0% to 5% on whatever item they purchase.
10. Links
You can make money by sharing links with this feature. Timebucks provides a link generator, which allows you to shorten any link.
You will earn money if anyone clicks on this link. It is similar to link-shortening websites.
The amount credited is an estimate that will be updated at the end of the day. If you try to cheat by using free or bot traffic, you will receive nothing.
Furthermore, traffic from Tier 1 countries will pay the highest rates when compared to other countries.
Here is a current estimated rate per unique click.
US: $0.006
GB,CA,AU: $0.003
Rest of World: $0.001
11. Sweepstakes
Timebucks offers weekly Sweepstakes prices, with a $500 prize money awarded to 30 users per week.
Sweepstakes are awarded automatically and do not require any action on your part. You will receive 100 entries for logging into your account, and one entry for every $0.001 you earn via tasks.
If you refer a new member, you can earn 200 entries and 10 entries for watching a video in the Engage tab.
12. Premium
With a premium plan, you can increase your pay by 25% for just spending $4.95 per week. That is, instead of earning $0.010 by watching a video, you will earn $0.0125 with the premium plan.
Section 3: How Does Advertise Feature Works On Timebucks?
If you would like to promote any offer, you can also advertise on Timebucks:
To get clicks to your campaigns.
To receive sign-ups to any campaign or program that doesn't involve payment or task.
To perform any task that doesn't involve payment.
For Tik Tok campaign.
Timebucks has mentioned rules for each of the options listed above. So, before you spend money on advertisements, make sure you read them first.
Section 4: How Does The Ladder Feature Works On Timebucks?
The ladder is all about rewarding the top five members who earn the most in a day with a bonus. Timebucks now provides two types of ladders.
1. User Ladder
The top five earners each day receive a small bonus from the Timebucks team. If your name appears on the list on a specific day, you are eligible to receive the bonus amount shown in the table below.
1st Top earner: $20
2nd Top earner: $10
3rd Top earner: $5
4th Top earner: $3
5th Top earner: $1
2. Referral Ladder
Unlike User Ladder, Referral Ladder is a weekly competition in which the person who earns the most referral commission from referrals who joined since Friday receives a bonus. It is not how many referrals you received; it is how much those referrals earned since Friday.
The top five referrers with the most referrals receive the following bonuses.
1st Top Referrers: $100
2nd Top Referrers: $50
3rd Top Referrers: $20
4th Top Referrers: $10
5th Top Referrers: $5
Section 5: What is The Timebucks Payment Model, And How Much Money Can You Expect to Make?
When you reach the $10 threshold, Timebucks will automatically transfer your payment via your preferred payment method on a weekly basis.
In terms of payment methods, there are numerous options available. They are:
Tango Card
AirTM
Transferwise
Payeer
Bitcoin
I'm sure you're looking for a PayPal option, but PayPal doesn't work with sites like Timebucks. It may appear suspicious, but there is nothing to be concerned about.
I would recommend using Transferwise or Bitcoin. If you want to receive payment via PayPal, first withdraw the funds with AirTM and then transfer the amount via PayPal. It does, however, come with higher fees, so be sure to visit their official website to learn more.
Update: They have added the PayPal feature.
Now, how much money can you make?
Well, there is no set limit. The more time you spend on their platform, the more money you will earn.
You can find the top five highest earners for the day by visiting the ladder section (shown below). The current top earner made $6.51, and others earned more than $3. The earnings do not include referral commissions, bonuses, or cashback earnings, which would have increased the earnings.
In terms of my own earnings, I was making around $0.15 to $0.20 per day. However, in order to reach this amount, I had to devote a significant amount of time, which is why I decided to quit after the first payment.
Section 6: User Complaints
To be honest, I don't have many complaints about Timebucks, but it doesn't appear that others do.
After reading so many user reviews, the majority of them were pleased, but a few had some issues. Here are some of the complaints that Timebucks users and I have.
1. Account Disabled Due To VPN Activity
Because of VPN activities, a few user accounts were disabled. However, they actually accessed the site from another city.
Now, I'm not sure if this happens to everyone, but it appears that accessing Timebucks from a different city can jeopardize your account. So, please avoid such situations.
2. No Surveys Or Not Suitable
I've seen several members complain about the survey frequency.
They claimed that they were not receiving enough surveys on their account and that they were being rejected for the majority of the surveys due to their demographics.
To be honest, it happened to me as well, and I believe that non-US citizens will face similar difficulties.
3. Low-Paying Offers
Many users were dissatisfied with the low-paying offers. Perhaps they expected GPT sites to pay their bills, but that is too much to expect from such sites. If you take Timebucks seriously, you will be let down.
As previously stated, I was not surprised by their pay, but $0.001 tasks are better left alone.
4. No PayPal Option
I wish Timebucks had a PayPal option because most people use it to transfer funds. Even if they can't work with PayPal, there should have been a Payoneer option.
I didn't have an account for any of the available payment methods when I decided to redeem my earnings. So, finally, I joined AirTM to withdraw my payment.
Section 7: My Experience Working On Timebucks
My experience was neither bad nor good.
I liked how Timebucks provides so many different ways to earn money. People who dislike surveys, such as myself, struggled to adapt to sites that rely heavily on them.
Completing surveys is a hit-or-miss proposition in which you will either make money or waste your time. As a result, I prefer GPT sites where you can find a variety of ways to make money online, and I must say that Timebucks impressed me.
However, when I saw the $0.001 payment for some tasks, I was disappointed. I understand that GPT sites will not pay me $10 or $15 for completing a single task, but $0.001 is far too low.
In fact, I will not waste my time doing a job for such a low wage. On the other hand, some offers pay at least $0.10, which I greatly appreciate.
As a result, in order to meet the minimum payout, I focused primarily on sign-up offers, referrals, and offer walls. It did take me a few days to get there, but it was well worth it.
To summarize, I had a good time working on Timebucks, but I won't be returning because I have a blogging business to run.
However, if you have plenty of time to scroll through your social media feed, Timebucks is a better and more profitable option.
Is Timebucks a Scam?
You already know Timebucks is not a scam site. If you're still not convinced, take a look at some user-rating websites.
Timebucks has a rating of 4.7 out of 5 on TrustPilots.com, which is the average overall rating from 1,000+ users.
They received an average rating of 3.1 out of 5 on Sitejabber.com based on eight user reviews.
In my case, I redeemed $11.51 with AirTM a few months ago and then transferred the funds to my bank account via PayPal. Here's a screenshot.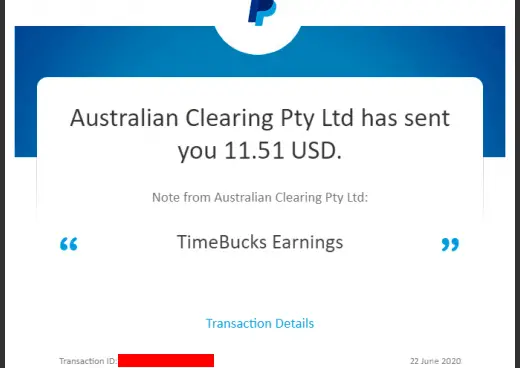 Other Timebucks Alternatives
Final Verdict – Timebucks Review 2022
If you don't mind putting in a lot of effort for a few dollars per month, I recommend it. If you are not interested in such earnings, you can try other ways to make money online or learn a profitable skill to start a full-time business.
Read Next: