When you click the links and ads on this blog, it helps me to pay the bills & keep this site free for you. Thanks for supporting me! For more info, read the Disclosure page.
Hey there, internet explorers! Today, we're diving deep into the fascinating world of GPT (Get-Paid-To) sites.
One name that often pops up in our quest for the best GPT site is "SuperPay me". Hence, we've decided to create this comprehensive SuperPay me review.
We're going to leave no stone unturned as we delve into all the ins and outs of this platform, asking the big questions – like, does SuperPay me really pay? Is it legit or a fake?
Let's dive right in, shall we?
What is SuperPay Me?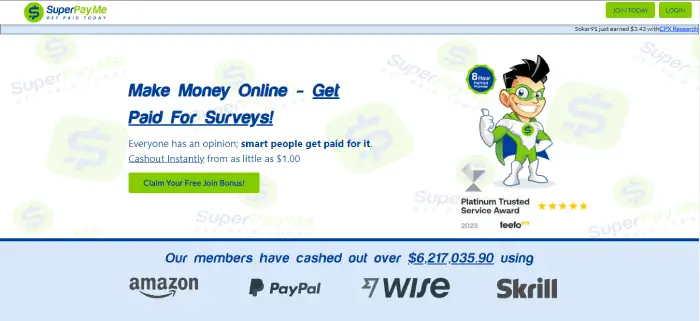 SuperPay Me, in the simplest terms, is a Get-Paid-To (GPT) site.
And what on earth is a GPT site, you ask? Well, it's a type of website that offers you money or gift cards (hello, Amazon shopping!) for doing stuff that you probably do online anyway.
We're talking about taking online surveys, watching videos, signing up for trial offers, playing games, and more.
The whole idea is that SuperPay Me, along with other GPT sites, acts as a middleman between you and market research companies.
These companies are eager as beavers to understand consumer behavior and feedback. They are the ones putting up the cash prizes, and GPT sites like SuperPay Me help them get in touch with folks like us who are ready to complete these simple tasks.
It's all about facilitating easy connections for both sides.
CLICK HERE TO JOIN SUPERPAY ME
SuperPay Me Features
Let's dive into the core features that make SuperPay Me the go-to platform for earning extra cash online!
Abundance of Surveys: Get ready to explore numerous surveys! From branded and market research surveys to plenty more, they're available 24/7 for you to explore. Based on experience, the average earnings per survey fall between $0.50 to $1.30. For more opportunities, check out my guide on high-paying surveys that pay through PayPal.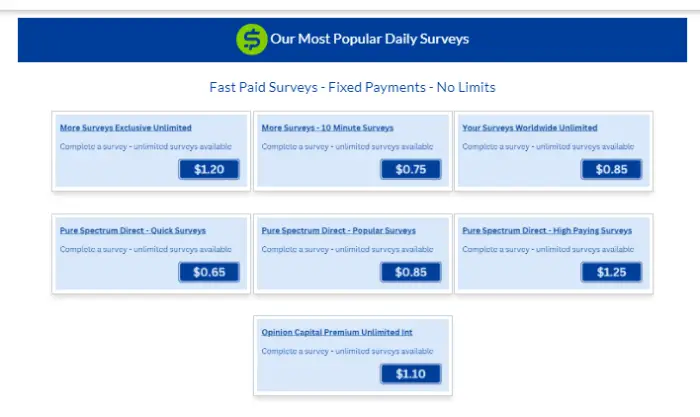 Cash and Gift Card Rewards: Who doesn't love a little extra dough or a nifty gift card, right? With SuperPay Me, you get to earn real money or scoop up gift cards from big-name brands like Amazon. Pretty sweet, huh?
Instant Payments: Forget waiting around for your money! SuperPay Me prides itself on its speedy payment processing. You'll see your rewards in your account faster than you can say 'Show me the money!'
Multiple Payout Options: Whether you're a PayPal fanatic, Skrill enthusiast, Bitcoin lover, or an Amazon Gift Card hoarder, SuperPay Me has got you covered. They offer multiple payout methods to choose from. (depends on country)
A Stellar Referral Program: If you love SuperPay Me, why not spread the love, right? Their referral program lets you earn some extra cash simply by inviting your buddies to join the platform.
Promo Codes and Contests: Stay alert for their promo codes and contests! Participate and stand a chance to earn even more rewards.
Wide Range of Tasks: Aside from surveys, SuperPay Me offers other ways to earn, like watching videos, playing games, referral program, contest, and more.
Global Availability: Users from most countries can join this platform. Isn't that great?
Remember, every bit of extra income helps. So, why not give SuperPay Me a shot and see if it's a good fit for your wallet and your spare time.
How to Get Started with SuperPay Me?
Alright, friends, now that we've discussed SuperPay Me, let's dive into the fun part – getting started!
1. Sign Up Process:
First things first, you've got to sign up. Just head on over to SuperPay Me's website. You'll spot the "Join Today" button. Yep, you guessed it right – click on it! Now, provide basic info, including a valid email address.
Rest assured, they're legit (like PrizeRebel) and highly respect your privacy. So, no worries about sharing your email.
2. Confirmation Process:
Next, you'll need to do a quick confirmation. Again, super simple! You'll receive a confirmation link and code via email.
Click the link, copy the code, paste it on the verification page, and receive a $0.20 bonus in your account after confirmation.
3. Complete Your Profile:
Before you start earning, complete your profile. They want to know a little more about you so they can match you up with the best surveys and tasks.
No worries, it's not an interrogation – just simple stuff like age, location, etc.
4. Look Around and Get Familiar:
Congratulations! You're now a SuperPay Me member.
Explore the navigation menu to get familiar with it. There are tons of earning options to explore, from surveys to cash contests to promo codes.
5. Start Earning:
Here comes the exciting part! Start earning real money by doing simple tasks.
There's no shortage of survey opportunities, and you can even earn money watching videos or playing online games.
6. Cash Out:
When you reach the minimum payout threshold, you can cash out your earnings sooner than you expect.
There are multiple options for this – PayPal, Amazon Gift Cards, Skrill, Bitcoin, you name it! But it will vary with your country.
Just remember, like any other GPT site, SuperPay Me isn't going to replace your full-time income, but hey, who's going to complain about some extra spending money? I know I won't!
Does SuperPay Me Really Pay?
The short answer is yes! SuperPay Me does indeed pay. We can say this confidently because the proof is in the pudding – or in this case, the payment proofs.
Numerous members have posted their payment proofs on various internet forums, social media sites, and even in the feed of payments made on SuperPay Me's website itself.
Payments are typically given as cash rewards, gift cards, or through online payment processors like Skrill or Bitcoin. Moreover, there are numerous payout methods available.
Whether you prefer direct bank transfers, online wallets, or even gift cards (everyone loves a good Amazon Gift Card, right?), SuperPay Me has got you covered.
You can check out this post on Survey Sites that Pay Amazon Gift Cards if you're interested in finding out more about resources that offer Amazon gift cards as payment.
However, there's a minimum payout threshold you must reach before requesting a payout. The threshold varies, so monitor it closely to know when you can claim your earnings.
Also, remember that while SuperPay Me offers some sweet cash bonuses, don't expect to make a full-time income from it. It's a good side income, but not a full-time job replacement.
Overall, SuperPay Me truly pays! With multiple payout methods and global user proof, it's not all talk. Consider trying it in your spare time—it's a good way to earn extra cash but not a full-time income replacement.
Is SuperPay Me Legit or Fake?
Let's face the big question – Is SuperPay Me legit or just another internet scam? With so many deceptive opportunities out there, it's natural to approach SuperPay Me with skepticism.
After considering real people's reviews, positive internet forum experiences, and my own, I can confidently say SuperPay Me is not a scam.
Sure, it won't make you rich. However, it's a reputable platform where you can rake in some extra cash during your spare time. Who wouldn't love extra bucks while waiting or riding the bus? Every bit helps!
One interesting thing I found was the mix of positive and negative reviews about SuperPay Me. Some love it, others don't! But that's with everything. You can't please everybody.
However, before you start using SuperPay Me, check out our detailed section covering payout thresholds, fees, and other key aspects. This will help you decide.
SuperPay me is Available in Which Countries?
SuperPay Me is available in most places, including the US, Canada, the UK, Australia, and many countries in Asia, Africa, and Europe!
SuperPay Me, as cool as it is, isn't quite worldwide (bummer, we know). But, it's still in a good bunch of countries, which is a pretty decent reach.
Just know that survey availability and earning opportunities may differ depending on your location. If you're in one of the biggies like the US or UK, you'll probably see more opportunities than someone chilling out in a smaller country.
So before you jump in, make sure to check if SuperPay Me is available in your country, and whether it offers you enough earning options. After all, you wouldn't want to sign up and find just a few surveys, right?
Ultimately, it's about maximizing spare time and earning extra cash. And hey, if SuperPay Me isn't quite up to scratch in your country, don't worry. Loads of other GPT sites and money-making platforms are out there, ready for you to explore!
Like InstaGC Review or You-Cubez Review, where you can still get your fill of online surveys and cash rewards.
SuperPay Me Payment Details
Alright, let's dive into the nitty-gritty, the payment details of SuperPay Me.
First things first, SuperPay Me excels in payment variety with options like Skrill, PayPal, Bitcoin for digital currency enthusiasts, and even direct cash payout for those who prefer traditional methods. Cool, right?
Here's where it gets even cooler: the payout threshold.
Unlike some other survey sites (yeah, you know the ones I'm talking about), SuperPay Me doesn't make you wait until you've racked up a small fortune before you can cash out. The minimum withdrawal threshold is only one dollar! Who wouldn't love that?
Now, if you love gift cards (who doesn't enjoy an Amazon shopping spree?), SuperPay Me has you covered!
Additionally, if you're into social proof, you'll love SuperPay Me's live feed of payments, like their 'Hall of Fame.' Check out who's making bank for transparency and some healthy competition.
Oh, and remember when we talked about SuperPay Me being all about options? Well, they don't stop at payment options. When it comes to earning potential, they're quite generous too.
They offer a referral program to earn extra cash by inviting friends. Pretty cool, right?
What about the payment processing fees?
Well, SuperPay Me stays true to its commitment to keep things simple and user-friendly. They have a very reasonable processing fee policy which doesn't eat into your earnings.
So, in a nutshell, when it comes to payment details, SuperPay Me's got it all sorted. Whether it's the variety in payment methods, the low payout threshold, or the array of earning opportunities, SuperPay Me definitely knows how to keep its users satisfied.
SuperPay Me: Pros and Cons
Let's now explore the positives and negatives, providing a quick snapshot of the service.
Pros of SuperPay Me
Multiple Ways to Earn: It isn't a one-trick pony. You can make money through online surveys, watching videos, and even playing games. Heck, they've got something for every mood!
Low Payout Threshold: Nothing's worse than having to wait forever to get your hands on your earnings. With a low minimum payout threshold of just $1 for PayPal, SuperPay Me lets you cash out as soon as you hit the minimum amount. No need to play the long game here!
Instant Payments: You know what's even better? It processes payments quickly. It's like getting an immediate pat on the back for your efforts.
Variety of Payout Methods: Whether you're a gift card hoarder or a PayPal enthusiast, SuperPay Me has got you covered. They offer various payout methods like gift cards, PayPal, Bitcoin, and Skrill, based on your country.
Available Globally: Regardless of whether you're chilling in the U.S or adventuring in Australia, you can use SuperPay Me. It's accessible worldwide.
Referral Program: Got friends? Get them on SuperPay Me and earn a cut from their earnings too. Talk about easy money!
Cons of SuperPay Me
Variable Survey Quality: While there are many surveys to complete, some might feel easy while others might be long and boring.
Limited High-Paying Opportunities: Yes, there are ways to earn money but the high-paying gigs are often scarce. You might have to sift through a lot of small tasks before hitting a goldmine.
Potential for Earning is Not Huge: While SuperPay Me is a legit way to make some extra cash, it's not going to replace your full-time income. It's great for pocket money but doesn't expect to buy a yacht with your earnings (unless it's a toy yacht, then maybe!).
And there you have it! SuperPay Me have its ups and downs, like any platform. It is still a great platform to make extra cash in your spare time.
SuperPay Me vs Other Survey Sites
Let's compare SuperPay Me to other survey sites like Survey Junkie and Pinecone Research.
While Survey Junkie offers money-making opportunities through surveys, SuperPay Me stands out with more task variety. And hey, they got a lower payout threshold, so you can cash out your earnings faster!
Now, no platform is perfect. The same goes for SuperPay Me as well. Some users have experienced lower earnings relative to their time invested, and newcomers might find the numerous options overwhelming.
And hey, some users say the verification process is a real pain, taking forever and driving them nuts!
Looking at the flip side, SuperPay Me offers unique perks. Their referral program lets you earn from your referrals' earnings, and they frequently release promo codes for extra bonuses.
Compared to Swagbucks or Prizerebel, SuperPay Me stands out for its simplicity and straightforward approach. Other sites might have more earning options, but they can feel cluttered and confusing. SuperPay Me keeps it simple and tidy, making it super easy to earn!
In conclusion, SuperPay Me isn't the top-paying survey site, but it's got loads of different tasks and a super easy interface! The low payout threshold is a significant advantage.
If you value variety and easy cash-out options, SuperPay Me could be the right choice for you.
Tips To Make the Most Out of SuperPay Me
Here are some tips to use SuperPay Me efficiently.
1. Exploit the Survey Opportunities
This is the heart and soul of SuperPay Me.
Participating in market research surveys lets you voice your opinion for brands and earn money, but not all surveys are equal. Some pay better and take less time.
So, how will you spend your time wisely?
First, always keep an eye out for branded surveys and high-paying surveys. They usually offer the best value.
Secondly, be honest and consistent with your answers. Trust me, brands can smell inconsistency from a mile away, and it can get you disqualified.
Check out this article about how to qualify for surveys for more tips.
2. Leverage the Referral Program
Do you have friends or social media followers interested in making extra money? Then the referral program is your golden goose.
Share your referral link with others, and when they sign up and start earning, you get a piece of their pie without lifting a finger. Now, that's what I call smart work!
3. Say Yes to Promo Codes
Who doesn't love promo codes, right? They are the quickest way to earn a cash bonus.
SuperPay Me often drops promo codes on their social media sites. So, follow them there, and keep a check.
4. Engage in Other Activities
SuperPay Me offers various ways to earn extra money besides surveys, so don't forget to complete them too!
5. Keep it Legit
Last but not least, keep it legit. No fake info, no VPNs. They may lead to trouble, risking your hard-earned money.
There you have it, folks! Your roadmap to making the most out of SuperPay Me. Remember, every bit counts. So, don't disregard those minor tasks or those few cents from watching a video.
In the end, they all contribute to your goal – making extra money.
Conclusion: SuperPay Me Review
Well, there you have it, my savvy internet friends, the review on SuperPay Me. We've taken this wild ride through the realms of online surveys, gift cards, and referral programs, and even touched on the excitement of promo codes.
Throughout the journey, we delved into GPT sites and explored payment proofs, payout thresholds, and market research companies.
While SuperPay Me has received positive reviews and offers the potential for extra spending money, it won't make you an online millionaire.
Think of it this way. SuperPay Me is more like your fun-loving, casual friend who occasionally tosses a few dollars your way for helping him out with simple tasks.
You hang out, complete a few surveys, and score some extra cash or gift cards. Not too shabby for just chilling in your spare time, right?
And hey, remember this – the authenticity of SuperPay Me doesn't eliminate the presence of negative reviews or less appealing experiences. But that's pretty much a given with any platform, wouldn't you agree?
Even our favorite survey websites have their pros and cons.
In the end, SuperPay Me offers you a legit way to earn a little extra on the side. Just remember to keep your expectations realistic, approach with fun, and enjoy the ride.
But hey, it's your call! If you dig this SuperPay Me review, share it with your buds on social media.
CLICK HERE TO JOIN SUPERPAY ME
Pin it For Later: