When you click the links and ads on this blog, it helps me to pay the bills & keep this site free for you. Thanks for supporting me! For more info, read the Disclosure page.
If you're thinking of joining You-Cubez but aren't sure whether it is worth your time? Read this You-Cubez review to clear your doubt.
I have discussed all the important features along with highlighting some pros and cons that give you a clear picture. If you don't have time to go through the entire post, here is a quick summary to save you time.
Quick Summary You-Cubez Review
You-Cubez is not a platform where you can be proud of your earnings. Surely, you can make some extra money, but it isn't worth compared to the time you spend here. It's better to try other websites like Swagbucks, PrizeRebel that provide better earning opportunities.
You-Cubez in a Nutshell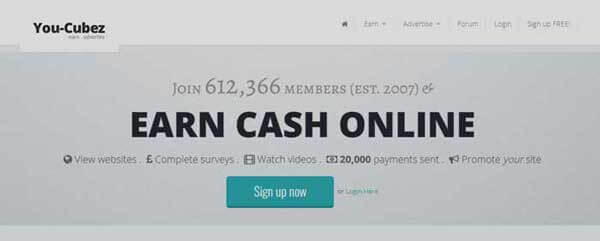 You-Cubez is a PTC site started in 2007 paying its members for completing online tasks & activities. By looking at the site logo, you can easily make out that besides earning, you can also advertise here.
For earning, they have provided a couple of options that look easy while the advertising is something different benefiting only the website owners.
When you start using You-Cubez, you'll be able to collect earnings in three wallets –

The money that goes into the Earnings balance is withdrawn via your preferred payment method, whereas the A/C money can only be used for buying items on this site. As far as Cube Funds goes, they are used in the Adboard, which I will discuss in a couple of minutes.
If your sole purpose is to redeem money to your bank account, you only need to pay attention to the Earnings tab.
How Does it Work?
To begin, you need to create an account using a valid email address and fill it in with your personal details.
Then, complete small tasks from the available earning opportunities like online surveys, watch videos, view ads, etc to earn cash. 
Once you have collected the required minimum payout, redeem your earnings via the preferred payment method.
Besides earning money, You-Cubez also allows you to promote your website using their Adboard feature. Though it is a nice feature, it's pretty useless if you don't have a website.
Is You-Cubez Safe To Use?
Yes, You-Cubez is safe to use. But you need to understand that they are not responsible for the contents and validity of offers sponsored by third-party merchants.
If you ask me, it is common with all the PTC sites and there is nothing to worry about. Still, I will suggest you create a new email address for joining such sites to be on the safer side.
How Do You Make Money on You-Cubez?
Unlike Swagbucks, You-Cubez has limited earning options which makes this platform a bit disappointing. However, the tasks are simple that won't break a sweat.
Here's what is in store for you.
1. Sponsored Ads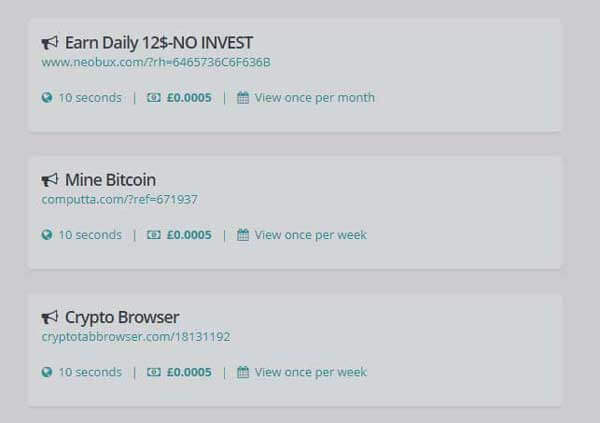 These are ads from third-party merchants that pay £0.0005 for viewing it for 10 seconds.
When you click the ad, a new tab gets opened where you have to fill in a captcha to view them. While watching, a bar starts loading on the top-left side for 10 seconds which indicates the required duration. Once it ends, you have to click a 'Click Me Now' button to earn the promised reward.
Though it's an easy-peasy task, the pay is disappointing as it won't contribute much to reach the minimum payout.
Also, unlike other PTC sites, the quantity of ads is quite less which makes it even harder for you to earn any decent money by viewing them.
2. Paid Offers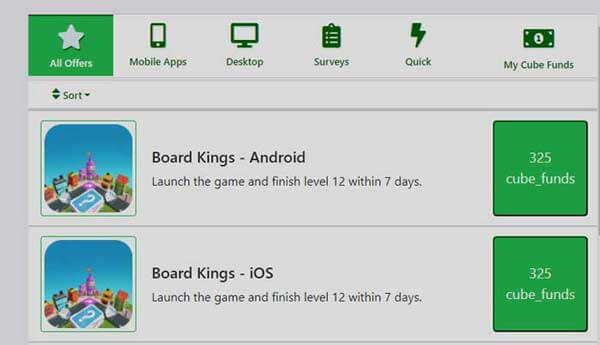 They are offerwalls coming from Peanut Labs, Persona.ly, Adscend Media, OfferTorro, KiwiWall where you have to complete different tasks to earn points.
The tasks include completing surveys, watching paid videos, free trials, sign-ups to websites, install apps, etc. To know how much are you going to earn with offers, You-Cubez suggests dividing the amount by 1000 to see the withdrawable earnings.
For example, if you receive 3000 for completing an offer, you're actually earning £3 (3000/1000) that gets added to your earnings along with £3000 cube funds.
Furthermore, it is always recommended to read the instructions before trying an offer. That's because there is a lot of variety in these tasks & if you don't follow the guidelines, you may keep wondering why you're not getting paid.
To explain this scenario, let me give you an example.
If you check out the Install apps offers, you may wonder that all you have to do is install & launch them to get paid. But many times, the task involves not only installation but also creating an account. So, if you're not aware, you won't see any points in your wallet even after completing the task.
3. Referrals
Just like other sites, You-Cubez also offers a referral program where you can earn £10 cube funds per member. Though looking at the figure, it may seem like a good deal, but the problem is, you can't redeem them.
That's right! They are not used for paying you. Instead, the funds are used to advertise any website in the You-Cubez Adboard section. 
I will touch that part in a few minutes but the point is, the referral program isn't aimed to make money. Instead, it is more focused on advertising aspects.
Also, the promotional tools don't have any referral banners that can be shared or embed on websites besides a referral link.
4. Adboard
Adboard is different from other options because here, you will earn cube funds instead of money. Before I get into cube funds, let us first understand what Adboard is.
This option provides several cubes (as seen in the below image) which leads to different websites when you click them.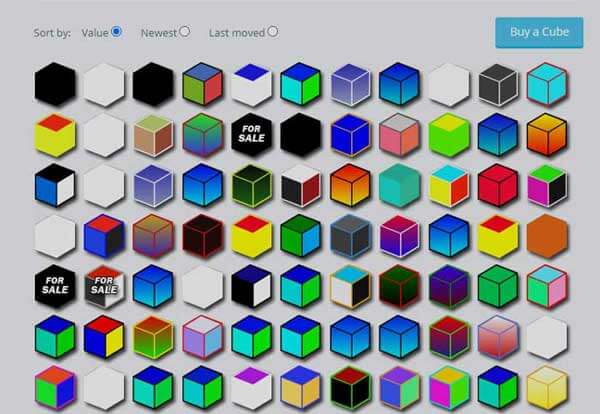 On viewing 30 websites (cubes) for 10-60 seconds, you will earn £1 Cube Funds that can be used to buy a cube in the Adboard to promote your business/website. This means every time a person clicks that cube, it will lead them to the linked website.
If you don't have a website, the Adboard is pretty useless for you. However, if you have one, the quality of traffic isn't worth it.
Let us be honest – everybody clicks the cube just to visit the website for 10-60 seconds. This means they are not interested in engaging with your site as they are only there to earn cube funds, which beats the purpose.
Another thing is, you can't withdraw or convert CF (Cube Funds) into other rewards other than using them to buy cubes, which is a big downside.
But on the positive side, you can sell your cubes to other members to increase your earnings.
How To Make Money By Selling Your Cubes?
Whatever is listed at the top gets more eyeballs. The same case is with cubes.
When you buy a cube for your website, you can list them at the top by spending more CF on them. This way you will have a better chance to get more traffic.
However, you can also sell them to other members if you're not interested in promotion. For this, you need to ensure your cube is ranked in a better position in the Adboard to get a better deal.
For example, selling a 275th positioned cube will give better profit (£6.40) compared to a 740th positioned cube (£1.67).
How Much Money Can You Make on You-Cubez?
The more you spend time, the more you'll earn. This means the more you complete offers, surveys, & watch ads, the better your chances to rake more money.
Though the earning opportunities are limited, it will be quite difficult for you to earn any substantial amount. Also, the pay per task is not much, so you have to complete a lot of tasks to reach the minimum threshold amount.
The only good thing is – the minimum payout is just £8 which is not a big amount. Moreover, if you're subscribed member, it can further go down to £4 & £2.
How Do You-Cubez Pay You?
They pay the earnings via PayPal & Bitcoin when you hit the minimum payout.
For PayPal, you need to earn at least £2 to £8 depending on the membership. For the standard plan, the minimum payout is £8 whereas the Premium & Premium + plan only requires £4 & £2. Moreover, PayPal charges 5% for the processing fee which means you'll lose a little money while redeeming them.
For example, if you're redeeming £8, you'll receive £7.60 into your account.
For Bitcoin, you have to contact customer support & share your Bitcoin wallet address to receive the earning. Though it would have been better if there was an in-built option, still it is fine.
Also, I would have appreciated it if they could also add gift vouchers because then, you don't have to worry about any processing fees. But sadly, PayPal & Bitcoin is the only way to withdraw.
Here is some more information that you must know about payments.
Payments are sent within 30 working days after the requested date.
The name on your account must match the name on your PayPal account for successful payment.
What Are The Membership Options?
Besides the standard membership (free), there are two more options – Premium & Premium+ that provide additional benefits like.
Less minimum payout
Free monthly cubes
Bonus cash on all offerwalls
Several cube bonuses & much more

Personally, I am in no favor of spending money on PTC sites unless they have something big to offer. With You-Cubez, there are only a bunch of earning options & the pay per task is also not impressive. In such a case, I don't think it is a great idea to upgrade right away.
What I can suggest is – first use their standard plan and try their platform till the first payout. At that point, you will have a clear picture of what you can do with it & how much money can you earn in a month.
If the earnings are on the safer side than membership investment and you think upgrading the account will yield better results, then go for it.
Is You-Cubez Legit Or Scam?
Yes, You-Cubez is a legit PTC site that will pay you money for completing tasks. But the problem is, the earning potential is quite low.
The amount of time you spend isn't fruitful compared to the cash you make here. I'd rather suggest you try sites like Swagbucks, PrizeRebel, Survey Junkie that will pay much better compared to You-Cubez.
Related Post:
Who Is You-Cubez For?
As stated in their terms and conditions page, You-Cubez allows users who are at least 16 years old. They also state that if your age is between 16 to 18, you should ask your parents before signing up.
Though everything is quite perfect, I like to highlight a small problem with the age restriction rule.
You see, You-Cubez offers both the PayPal & Bitcoin payment methods to redeem the earnings. If you fall in this age group of 16-17 and don't prefer Bitcoin, PayPal will disappoint you.
That's because to have a PayPal account, you need to be at least 18 years old. In such a case, you have to rely on someone else PayPal account like your parents, siblings or friends.
So, before creating an account on this website, you should think about this aspect and then make a decision.
How Do I Delete My You-Cubez Account?
Now, not everyone will like You-Cubez because the demographics play a role in receiving offers. Like, people from the US may see better opportunities compared to the Asian countries.
Whatever may be the reason, if you think, You-Cubez isn't your cup of tea, you can deactivate or delete your account by contacting customer support. For this, you can visit the 'contact us' page & write your message.
Though other PTC sites have an option for the same purpose, I find it weird when I couldn't find any here.
Also, I read a few complaints where the users grumbled about not receiving any replies from customer support. In such a case, you can use their forum to highlight the issue.
User Complaints
I found a lot of complaints from the users on their forum where they reported not getting paid for completing offers from Ascend Media offerwall. Other complaints include:
Not eligible to complete sponsored ads.
Not getting a response from customer support.
Though that's not the case with every member, some have gone through it. So maybe or maybe not, you can face such problems whenever you're completing tasks or communicating with the support team.
Pros & Cons
Pros
Anyone can join them.
Simple task to perform.
Low minimum payout.
Provides a forum to discuss with other members.
Cons
Limited earning opportunities.
Don't have gift card rewards.
Low earning potential.
You-Cubez Alternatives
Final Verdict – You-Cubez Review 2021
Even though You-Cubez is a legit website, the earning potential is kind of disappointing. I like the cube concept from the selling perspective that can give you some decent pay if you manage to rank them better.
Apart from this, I didn't find anything special that would want me to join them.
Though that's my opinion, you are free to try them to see whether it is worth your time. But please be aware not to spend any money on their membership unless you're confident.
Read Next: