When you click the links and ads on this blog, it helps me to pay the bills & keep this site free for you. Thanks for supporting me! For more info, read the Disclosure page.
Welcome to the ZoomBucks review
Are you wondering whether ZoomBucks is a legit site that pays its members for completing online tasks?
Or..
Is it a scam site whose entire purpose is to scam its users and earn money from their effort.
To know what the whole fuss is – I am going to review this site discussing all the main aspects that you need to know. So, without wasting much time, let's first understand ZoomBucks is in a nutshell.
What is ZoomBucks?
ZoomBucks is a GPT site, owned by Reward Holdings Limited, which also runs GrabPoints. Like other reward sites, they also offer various online tasks that pay points for successful completion. These points can then be exchanged for cash and rewards after reaching a certain point limit.
All the tasks are sponsored by brands whose main focus is to collect data from users to know what they prefer. For such a tie-up, ZoomBucks charges brands to conduct surveys/tasks and members get paid a fraction of that money on completion.
That's how ZoomBucks works to earn profit and keep their members happy as well.
CLICK HERE TO JOIN & RECEIVE 500 POINTS
Is ZoomBucks Safe And Legit?
Yes, Zoombucks is a safe and legit site because not only do they pay real rewards but are also quite strict regarding their policies as listed on their terms and conditions page.
On TrustPilot.com, they have a whopping rating of 4.6 out of 5, rated by 155 members as of now. 
Not only that, it is owned by the same company that runs GrabPoints which is another legit site.
So, there is no doubt, ZoomBucks is a safe and legitimate site but still, I recommend you to use a separate email account while joining to be on a safer side.
How Much Can You Make From ZoomBucks?
Like other reward sites, the earning is not universal because it depends on many factors like 
Demographics
How much time to spend
Whether you belong to the market research company's target group (for surveys), etc. 
If you're expecting the kind of pay that would be enough to spend a month, ZoomBucks will surely disappoint you. 
I know these companies market themselves as some kind of magic potion to make money effortlessly, but trust me, when you start working, you'll understand nothing is free. The amount of time you spend on them will be not worth compared to the pay you receive.
But the good news is – you can expect to make a couple of dollars a day if you spend a few hours daily. But that too depends on the above-mentioned factors.
Ways To Collect Points On ZoomBucks
ZoomBucks offers four ways to earn points – 
Surveys
Videos
Offers
Referral Program
Let's take a closer look at all of them.
1. Surveys
When you visit the survey section, you'll see a bunch of survey routers already listed based on your demographics.
The thing I really liked here is that each router displays how much their surveys pay. For example, if you check out the "YourSurveys" tab, it is clearly stated that they pay 850 points per survey ($8.50). 
I think that's really great for a user as they know exactly what to expect before jumping the gun. Also when you put your cursor over them, you can read all the offer details giving you a clear picture.
Another thing I noticed here is – while scrolling down the page, you will see a message box asking you to complete your profile details to receive personalized surveys (best-fitted surveys as per your personal details)
So, I completed the same and this is what I got.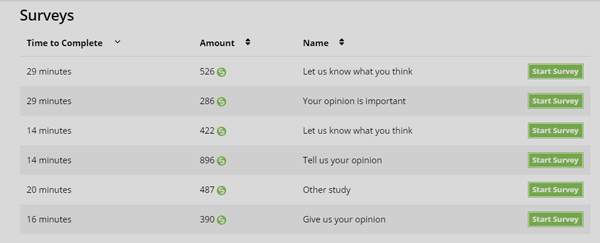 As you can see, ZoomBucks is quite clear when it comes to providing all the necessary survey details so you won't beat around the bush. You will know how much are you going to make and how long will it take to complete.
However, don't expect to complete all of them as there is a high chance of disqualification. In such a case, ensure to read my survey guidelines tips for better results.
Related Post:
2. Watch Videos
Though several brands offer videos on ZoomBucks, Hideout.TV is available in most countries that credit 7 points for every three videos watched.
To get started, first you need to create a Hideout.TV account (important) as all your points from watching videos will be added here.
Once done, click the Hideout.TV link in the ZoomBucks to jump onto the video page. Here, you will find videos from different categories ranging from one minute to over five minutes long.
Each video pays a few points when you completely watch them including ads in the pre or post-roll. You will be able to transfer those points to your ZoomBucks account once you have viewed three videos.
3. Offers
Offers allow you to earn points by completing an activity. It includes – downloading and installing an app, signing up with a website, signing up for a trial, purchasing a product, watching a video, and more.
But before you jump onto it, ensure to read the offer instructions as they have specific requirements. Failing to follow them will result in no credits.
When you visit the ZoomBucks offer page, the first thing you will see is – a list of available offerwalls followed by a list of offers suitable for your demographics. Here is a screenshot.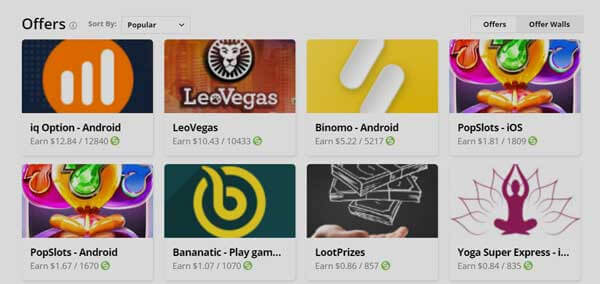 Just like surveys, each one of them displays points and the instructions when you hover your cursor over them. This gives you an idea of whom to pick first.
Most offers are free to complete while some need a small investment like buying a plan or deposit money to move further.
Even though they pay the most points, I'd suggest avoiding them if you're not interested in the product or service. There is no need to spend money on something you won't use ever.
4. Referral Program
You are eligible to receive up to 500 points per referral only in one condition that they first need to earn 1,000 points. There is no percentage share system like other reward sites, which is kind of disappointing.
I would have loved their referral program more had they provided a 5% or 10% of referral earning. This could have made their program so much better.
Nevertheless, 500 points is not a small amount but once you get paid, the referral is no longer useful for you, unlike the percent system.
How Do Zoombucks Pay?
ZoomBucks pay in cash & eGifts when you collect at least 5,000 points in your account.
The gift cards include Amazon, Steam Wallet, Minecraft, and many more based on your country. For PayPal, you can redeem from $5 up to $100 worth of cash.
In case you need to sort out the reward section, ZoomBucks provides a filter option that lets you sort according to category and price.
Who Can Use Zoombucks?
First of all, people from Cuba, Hong Kong, Iran, North Korea, & Syria are not allowed. So, if you belong to some other country, you are free to join them.
Secondly, if you're age is above 18, you are eligible & in case if you're 13+, parental consent is needed.
Other than this, if you don't mind earning some extra cash by spending a few minutes daily, you are welcome to join them.
How Are The Customer Support?
They have a dedicated FAQ page according to topics like account, earn, referrals, reward, etc. If you have any doubt, you can probably find an answer here.
In case, you couldn't find any appropriate answer to your query? You can always submit a request to receive a reply from the ZoomBucks customer support team. They usually reply back within 24 to 48 hours.
Though most users had a pleasant experience with them, some users didn't receive a proper reply. No doubt, a company can't satisfy every user but I have seen ZoomBucks trying their maximum to solve their member's query.
A big example is – you can find their replies on TrustPilot.com where they try to solve problems by giving appropriate feedback. That's definitely a positive sign for me.
Do ZoomBucks Have a Mobile App?
Sadly, they don't have any app on playstore and app store. However, I do find ZoomBucks app online but I can't say whether it is legit or official.
Pros & Cons of ZoomBucks
Pros
Available in almost all countries.
Easy options to collect points.
Different payment methods are available.
A decent minimum threshold amount.
Cons
The referral program doesn't have a percentage share system.
You won't qualify for all surveys.
Other ZoomBucks Alternatives
Though there are many alternatives, I am going to list some great ones if ZoomBucks isn't for you.
Swagbucks – I really love this site because I am able to redeem two $10 PayPal cash rewards every month. Check out my post discussing whether Swagbucks is worth your effort?
GrabPoints – This is another great GPT site that you would love to join.
InstaGC – Lately, I am in love with this site because earning points is quite easy here and they provide ample earning opportunities. Also, InstaGC has a low minimum payout. Read the full InstaGC review here.
Final Verdict – ZoomBucks Review 2021
Honestly speaking, ZoomBucks is a great site to earn free money or eGifts in your spare time but it doesn't pay according to the time you invest.
Spending a few hours daily just to churn out a couple of bucks is definitely not my cup of tea. But, if you waste a lot of hours on social media & YouTube, spending those hours on ZoomBucks will be a better idea.
Now, it's up to you to decide whether it is worth your time or not.
CLICK HERE TO JOIN & RECEIVE 500 POINTS
Read Next:
Pin This On Pinterest: