When you click the links and ads on this blog, it helps me to pay the bills & keep this site free for you. Thanks for supporting me! For more info, read the Disclosure page.
PrizeRebel has been around for a while, and they are counted in one of the most popular GPT sites around.
But, is it just an advertising gimmick, or are they really a legit site?
In this PrizeRebel review, I will shed some light on various aspects of this site. By the end, you will be clear about whether to give them a shot.
But before you read, please remember if the site is working for one person, it doesn't mean it will be suitable for all people. Demographics and Survey Researchers' target interests matter a lot. If you don't fit into it, you will have an awful experience.
So, with that being said, let's learn about PrizeRebel in a nutshell.
PrizeRebel Quick Review
Pay Per Survey – 20 to 345 points
Minimum Threshold – 500 pts for $5 PayPal & 200 pts for a $2 Amazon gift card
Payment Options – PayPal, Gift card
Availability – Most countries
Referral Program – 15% earnings
Sign Up Bonus – None
Rating – 4/5
PrizeRebel is definitely a legit site that pays its member for completing various tasks. Though some users may have bad experiences depending on their location, most have a pleasant experience. Some users are even making $10 a day working on this site.
What is PrizeRebel?

PrizeRebel is a US-based GPT site that pays PayPal cash and gift cards for completing online activities.
The company started in 2007 & since then, it has grown to become one of the most popular GPT websites online. 
With a worldwide membership of over 10 million, this platform is available in most countries, although US, UK, CAN, & AUS users have better chances to make more money.
Who Can Join PrizeRebel?
According to their terms and service page, users must be over 18 years old. Even if you're 16 to 18 years old, you can still join them under your parent's guidance.
For this, you need to check the box that says "By joining PrizeRebel.com, I certify that I have read and agree to the Terms of Service and the Privacy Policy" to continue while signing up.
What Are The Conditions To Join PrizeRebel?
You must provide valid information.
You're not allowed to create over one account per person or household.
You must not use a proxy or VPN to access their site.
Users can only complete offers that belong to their country.
Users are not allowed to use disposable, or temporary email services while signing up.
There are more conditions available that you should read before going forward with PrizeRebel to avoid getting a ban. For simplicity, click here and read the conditions listed under membership rules.
Is PrizeRebel.com Legit?
PrizeRebel is definitely a legit site, as many members already got paid by them, including me.
Here is a screenshot of my payment proof.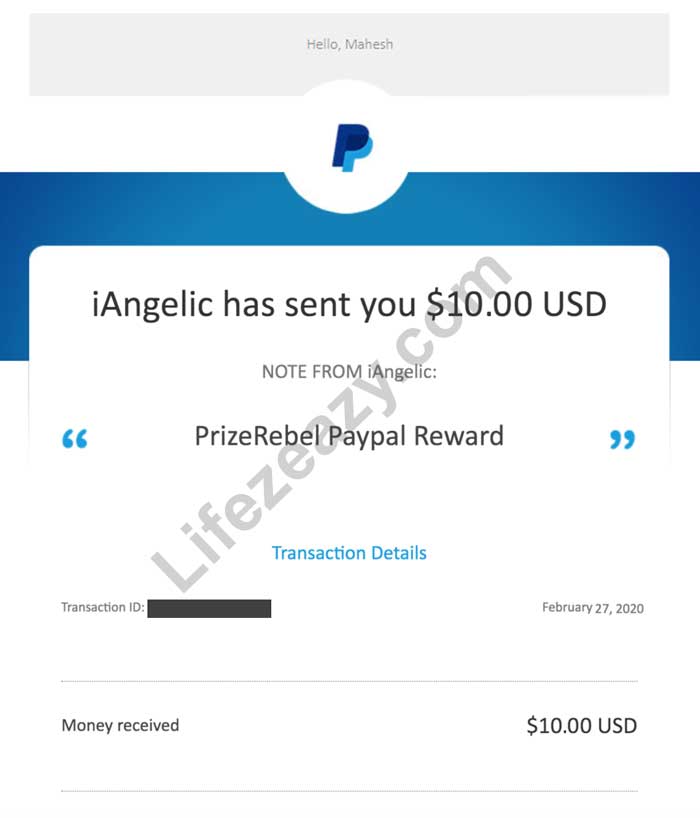 I agree there will be a group of people online who would claim it to be a scam site as they couldn't cash out, but it is natural for any online platform nowadays. Not everyone will be happy, but it doesn't mean that PrizeRebel is a scam site. 
They are one of those few companies that answer user queries on Reddit and other review sites. Had they been a scam, they would have been close for good & won't be answering people's problems online.
Also, if you check out the reviews in Surveypolice.com, about 60.5% of people have rated it 5 stars while 19.2% of users are disappointed with them.
So, clearly, PrizeRebel is a legitimate site but I agree not everyone will have a pleasant experience. However, if you still have any doubt, the best way to find out is by joining the site yourself.
How to Sign Up For PrizeRebel?
You can join this site either using your email address or Facebook account. Once you have completed the entire process, verify your email address by clicking on the link sent by them.
This will land you on the login page from where you can put your email address and password to sign-in.
How To Receive Bonus Points?
Before you complete your first survey, you need to finish a profile questionnaire that rewards 10 points to your account.
This questionnaire is necessary because you will receive surveys based on the details you provide here. So, ensure you give the right information.
How Does PrizeRebel Work?
PrizeRebel has a partnership with many advertising and market research companies who need opinions on their products and service from different audiences.
To get such info, they provide paid tasks through PrizeRebel to the audience who get awarded by completing them.
Thus, the companies get the required data while PrizeRebel earns money for giving them access to their audience. And most importantly, users also make money by completing offers. It is a win-win situation for all of them.
How To Make Money With PrizeRebel?
Here is a list of earning options you can complete here to earn points.
1. Take Surveys
They provide surveys from survey routers such as PeanutLabs, Your Surveys, Samp, Samplicious Surveys,  SaySo, & more. Before you take them, you can view the completion time and the number of points, which I really like. 
Besides, most surveys pay around 75 to 345 points that last 15 to 20 minutes long. Some surveys even take around 35 minutes to complete.
I have also seen many users have even praised their surveys on Reddit and other forums.

2. Watch Videos
You can also watch videos to earn points. Though the pay is kinda low, it is still a great way to rake some points with no effort.
3. Mobile apps
For completing tasks like installing & registering with the suggested apps, PrizeRebel credits 1 to +50 points to your account.
Some apps even pay over 500 points, but it requires you to invest cash in their scheme. For example, Betway pays +575 points when you register and place a bet.
4. Free Trials
You can earn points by trying new products.
5. Sign-up offers
Earn points for signing up for new products or services.
6. Shopping
You have to spend the required amount by shopping from the suggested store to earn points.
7. Play Games
Install the required game and reach a certain level to collect points. By the way, you can check out this post to find other gaming apps that rewards for playing games.
Related Post: Earn Rewards by playing online games on Bananatic (Full review)
8. Take Quiz
Complete quiz games to earn points. Most of them pay only +1 points.
9. Referral Program
Their referral program shares 15% of your referral earnings.
10. Raffles
PrizeRebel holds Raffles regularly where you can win gift cards by entering a draw. For this, you need to buy raffles costing 10 points each and you are free to buy up to 1000.
Though anyone can take part in this, Non-USA winners will receive the points equivalent of the raffle item instead of gift cards.
11. Lucky Numbers
This is another way you can earn points, but it requires luck. 
Let me explain how it works.
Choose any four random numbers from 1 to 17 when you buy a lottery ticket costing 20 points. These four numbers are your lottery ticket number & you can buy a maximum of 20 tickets costing 400 points.
At the end of each week, PrizeRebel announces the winning number & if your four numbers match with the same, you win the jackpot (points).
The thing that makes it better than raffles is – even if only three or two number matches, you can still bag 150 points and 35 points. So, you have more probability to win.
At the time of writing this post, the jackpot prize is a whopping 9,000 points, which equates to $90.
12. Contests
Contests allow the top 12 users to earn bonus points when they collect the most points in the given time. Generally, three contests are running under this section.
Offer wall contest – Users earning the most points from the offer wall in the given time wins the reward (1000 points).
US only surveys contest – US users earning the most points by completing surveys in the given time get the reward (1000 points).
International surveys contest – The same as the previous one but it allows users from all countries.
Referral contest – Users earning the most referral earnings during the contest period will earn the bonus points.
13. Account Levels
This isn't exactly an earning option, but it will definitely help in increasing your earnings.
PrizeRebel offers account levels that add more benefits to your profile. This means you can see a rise in referral earnings, instant payment processing, receive special bonuses, & prize discounts.
To upgrade each level, you need to earn specific required points by completing activities listed under the earn menu.
Here is a table that highlights every detail.
| Account Level | Points Required | Referral % | Automatic Prize Processing | Special Bonus %2 | Prize Discount %3 |
| --- | --- | --- | --- | --- | --- |
| Bronze | – | 15% | No | – * | – |
| Silver | 1000 | 20% | No | – * | – |
| Gold | 4500 | 25% | Yes | 1%* | 1% |
| Platinum | 10000 | 25% | Yes | 2%* | 2% |
| Diamond | 16000 | 30% | Yes | 3%* | 33% |
PrizeRebel Account Levels
How Much Can You Make on PrizeRebel?
Your earnings depend on the tasks you complete as each of them pays different points. If I talk about myself, I wasn't much active on PrizeRebel, but still could pull out $2 by working an hour or two.
Though I couldn't rely on my earnings to make a statement, so I went around trying to talk to users about their experience.
As far as I have seen, American users could easily earn at least $5 a day, while some even made $23. All their pay was mainly from completing surveys, but they too had some ups and downs.
On the other hand, Asian users had some problems with surveys, as they couldn't qualify for most of them. 
For example, one UAE user was not satisfied as he couldn't earn points from completing surveys. Although the PrizeRebel team cleared, they don't have enough surveys for their country.

Likewise, I have seen Indian users facing the same problem as well.
I would have been happy if they could at least credit one point for trying, just like Swagbucks are doing. Though it doesn't make much difference, at least users won't return empty hands.
To summarize this section, depending on your demographics and the task you complete, your earnings will vary. But you can at least earn $5 or more a day if you are willing to spend some time.
What Are The Payment Methods on PrizeRebel?
PrizeRebel pays you in PayPal cash and gift cards. For a $5 PayPal card, you need at least 500 points, whereas, for a $2 Amazon gift card, it only requires 200 points.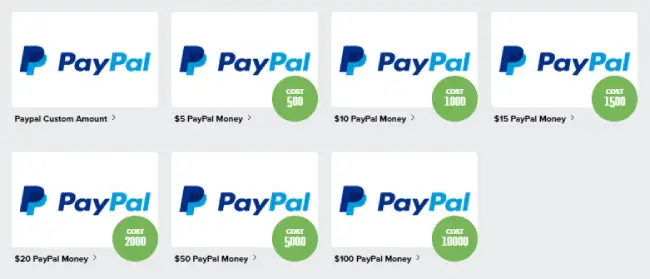 Besides, they also have a large catalog of 500+ gift cards, which you won't find in most competitors. However, not all gift cards will be available to you as it depends on your location.
For Indian users, the least gift card they can redeem is a ₹100 Flipkart voucher that needs only 137 points.
As a user, I really loved the recommended points for all the rewards, which won't take much time to cross if you're daily active.
PrizeRebel User Reviews and Concerns
A GPT site with no problems is a myth, and PrizeRebel is no different.
While performing research online, I came across a few complaints from the users facing problems like survey rejection, missing points, & low points.
Though the problems are not recurring, so it is unlikely you will face one besides survey disqualification. Here's what I find while reading several reviews.
1. Users Couldn't Qualify For Most Surveys
I have seen such problems coming more from Asian countries than the US, UK, AUS, & CAN members. While looking for an answer, I read one reply from the PrizeRebel team that stated:
If you couldn't qualify for most surveys, maybe you don't belong to the target industry, or your country isn't the target focus for survey clients or researchers.
In such a situation, you can try their other earning options to earn points.
2. Members Didn't Receive Points Even After Completing Surveys
Some even complained that they didn't receive any points after completing the survey. One user quoted that he completed 10 surveys, out of which three of them didn't pay any points.
So, I tried to find an answer for this situation and found a reply from PrizeRebel itself.
They stated that sometimes, points are not credited instantly because some survey researchers want to manually review the answers, which takes time. In such cases, the users must wait for a few days to receive the points.
Here is the screenshot of their answer:
3. Surveys Pay Fewer Points
I have seen some members complaining about less-paying surveys. Though not every user faces this problem, some do. 
Gladly, the PrizeRebel team cleared this by saying that the points may vary depending on your location and demographics.
So I think, if you face such problems, maybe PrizeRebel isn't good for your location & it's better to switch to Swagbucks or Survey Junkie.
PrizeRebel Pros & Cons
Pros
They offer a lot of high-paying surveys. Though it can vary depending on your location.
Timely payment.
Several earning options available.
Low payment threshold
Cons
Demographics play a big role in earnings. Because of this, some countries may not find enough opportunities.
Your account may get deactivated without a warning if you don't follow their conditions. The best thing you can do is read their terms and conditions page before proceding.
You won't qualify for most surveys if you don't belong to the target interest.
PrizeRebel Alternatives
Final Verdict – PrizeRebel Review 2022
By now, you know what you have to do.
I would recommend giving it a shot to see whether it is suitable for you & your location. If it is, then congratulations. But, if things are not working, it's better to try the alternatives listed.
Read Next:
Pin it For Later: