Disclosure: This post contains affiliate links. If you buy or sign-up through one of those links, you won't pay a penny more but we'll get a small commission that helps us in running this blog. Read the Disclosure page.
Are you confused about whether PrizeRebel is a scam or a legit site?
Do you want to learn more about them before signing up?
If yes, I am sure this PrizeRebel review post will surely help you out.
I have discussed a lot of positive and negative aspects of this platform which will definitely help you figure out whether you want to invest or waste your time on it.
So, if you are down with it, let's begin.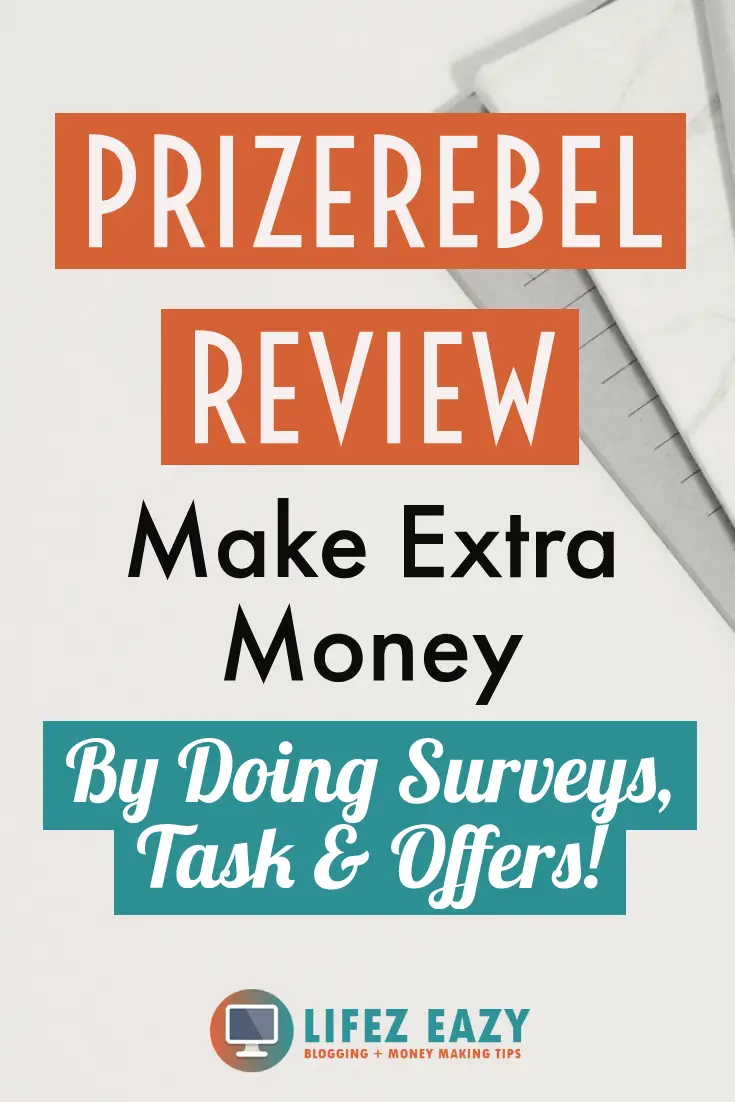 Read More:

What is PrizeRebel?
PrizeRebel is a US-based GPT or get-paid-to website where you can earn money doing various activities like taking surveys, completing offers, playing games, and much more.
It has been around since 2007 & if you know Swagbucks, it is similar to them.
How to Sign Up For PrizeRebel?
You can join this site either with your email address or just using your Facebook account.
Once you fill up all the details, you need to verify your email account by clicking on the email sent by PrizeRebel.
Once you're done, you can access your account & do several activities to earn points that can be redeemed for cash & gift cards.
As a bonus, you can earn 10 points by filling your profile questionnaire.
To do so, navigate & click the Earn menu link which will take you to a Profile questionnaire.
This questionnaire is very important because based on the answers you provide here, they will suggest you surveys that match your profile.
And for this job, they reward you with 10 points along with some recommended surveys as shown below.
How Can I Make Money Using PrizeRebel?
There are several ways to make money on this platform. Some of them are good & some of them are not worth your time.
So, it's up to you to decide which one is better & easy for you.
If still, the picture is not clear for you? let me explain each one.
1. Take Surveys
Like every GPT site, you can take online surveys on PrizeRebel which rewards you some points.
When you are on your dashboard, you can see four options:
Daily Surveys – Take you to another survey site (your-surveys.com) from where you can take additional surveys
Your Surveys – These are the surveys suggested by PrizeRebel based on the profile questionnaire you filled earlier which gave you 10 bonus points
Daily Gold – Daily Gold section provides surveys on a daily basis that can be taken multiple times a day
PeanutLabs – This section takes you to PeanutLabs survey panel from where you can take more surveys
What's My Take
Now what I have observed is, if you are from US, UK, Canada or Australia you will receive better-paying surveys in comparison with the users of other countries.
Users from these countries earn the most point while worldwide members don't qualify for most of the surveys.
PrizeRebel says they don't have surveys for all countries but you can still earn points by completing offers, tasks, and doing other activities.
2. Watch Videos
Watching videos is another way to earn points but unfortunately, it is not worth your time.
That's because you will only make pennies for the time being spent on watching these videos.
As I am from India, I can't see any video option on my PrizeRebel account. But I am sure that users from US, UK, and other countries have this feature.
That is why, I did some research online and found out that Smores.tv and VideoLoyalty are the two platforms that are providing this feature on PrizeRebel.
When you click any video, they direct you to Smores.tv & VideoLoyalty from where you can watch these videos.
Here is how much points you will earn using them
Smores.tv – You get 0.55 points for watching three videos
VideoLoyalty – You get 0.66 points for watching four videos
What's My Take
To be honest, it's not worth your time because for watching 3 videos, you will spend around 10 minutes that gives only 0.55 points. That's not even one cent. (1 point – 1 cent)
That's why it's better to try out surveys & other methods to earn points rather than wasting your time on videos.
Offer walls gives extra bonuses which are provided by the following partners.
Adgate
Adscend
Persona.ly
OfferToro
Trial pay
Superrewards
RadiumOne
PeanutLabs
Typically, these bonus offers are quizzes, games, installing apps, surveys, engaging with brands & advertisers or making a purchase.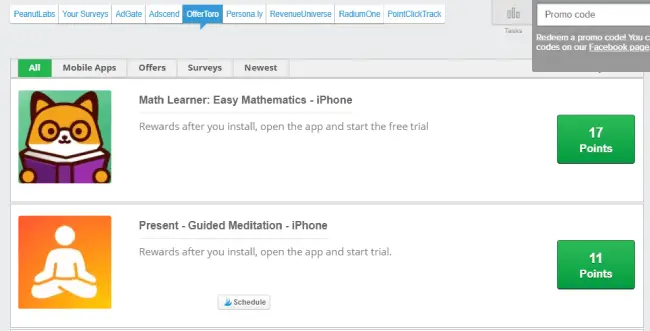 For doing such activities, you can get paid from 5 points to over 100 points. You can also click different partners to explore the offers they are offering.
You can navigate this section under "Earn" menu.
What's My Take
If you hate taking surveys & still want to earn points, then you should definitely spend more time on this section because the tasks are easy and fun to do.
However, if you are taking part in those offers where you need to link your credit card, it's better to take note of all the dates to cancel the subscription before the time runs out.
4. Doing Task
If you are familiar with Amazon MTurk, then you probably know what kind of micro jobs you need to do to make money.
Same thing you need to do in PrizeRebel.
These micro jobs are offered by the Figure Eight company. So, when you click any task on PrizeRebel they direct you on this website where you need to create an account.
Once your account created, you need to complete a quiz to see whether you are perfect for this task. If you successfully complete it, you can perform the task.
As of now, you can see I can do three tasks which rewards me anywhere from 0.60 points to 6 points.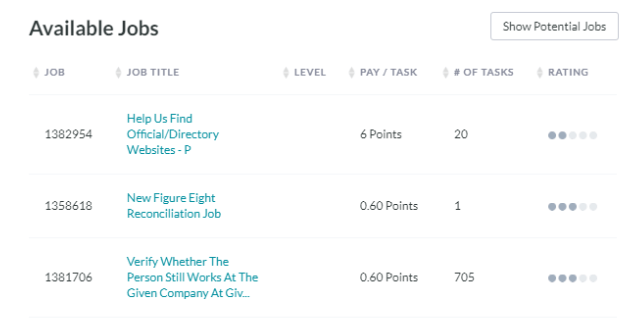 What's My Take
It's good if you enjoy doing these tasks. Personally, I am not a fan because the points are less when you consider the time taken.
I mean, if you have enough time and won't mind low points, then you are good to go because every point counts.
5. Raffles
Every four-day PrizeRebel offer a gift card which you can win by using Raffles.
A Raffle is just like a lottery ticket that you can buy by spending 10 points.
Now having one of them doesn't assure that you will win because luck plays an important role.
So, if you think you are quite lucky, you can try your luck here. But,  keep in mind you might lose your 10 points if you don't win.
That is why the best thing you can do to increase your chances of winning is by buying more Raffle tickets. (maximum 1000 Raffle ticket available).
What's My Take
I don't think it's worth your time because chances are you will not win.
Unless you are super lucky, I won't recommend it. Instead, you can save those 10 points & wait for the redeeming opportunity either for the PayPal cash or gift cards.
6. Lucky Numbers
This is another way you can earn points easily, but it also requires luck. However, if I compare it with Raffles, this is a much better option because you have higher chances of winning.
Let me explain how.
You first need to buy a lottery ticket which cost 20 points that gives you an option to choose any four random numbers of your choice from 1 to 17.
These four numbers are your lottery ticket number & you can do that for maximum 20 tickets which will cost 400 points.
At the end of each week, they announce results & if your four numbers match with the winning number; you win the jackpot.
But, if only three & two number matches with the winning number, you still get 150 points and 35 points.
At the time of writing this post, the jackpot prize is a whopping 9000 points which equates to $90.
What's My Take
Well, this is a great way to skyrocket your points if you are lucky.
I will definitely suggest this method because you have a better chance to score this one.
You can easily win 35 or 150 points even if your two or three number matches & that's a good probability.
But if we look at the other side, you can also lose 20 points if none of your number matches.
So, it's like a gamble based purely on your luck.
7. Referral Program
Like any other reward site, the referral program is the most profitable part and I always recommend people to focus on it.
With PrizeRebel, you can earn up to 30% points of whatever your referral earns for life.
If there are so many users under you, you can easily make more points faster. Though this all seems easy but convincing people to join this site using your referral link is the hard part.
Even if they join, you will not earn anything unless they themselves are earning some points.
That is why it is better to target those people who are really interested in making extra money online and you can find them on Pinterest, Forums, Quora and other social media sites.
8. Contests And Daily Bonus Points
This is a place where Task, Offer Wall, Surveys & Referral contest takes place.
Basically, the person who will top in these sections in a given time (2 weeks) are rewarded with points.
So, the distribution goes like this
Task contests – They reward 200 points to those people who will earn the most points in doing tasks.
 Offer Wall Contest – They will reward 550 points to those users who earn the most points in Offer wall contests.
Surveys contests – Person who will earn the most points in Surveys gets 750 points
Referral contests – User who will have the most referral gets 500 points
So, within 2 weeks, if you are topping in any of them, you will get some free bonus points.
9. Membership Level
Currently, there are five PrizeRebel membership levels
Bronze level – You are at the Bronze level if you have less than 1000 points
Silver level – You are at the Silver level if you have 1000 points or more
Gold level – You are at the Gold level if you have 3000 points or more
Platinum level – You are at the Platinum level if you have 7000 points or more
Diamond level – For Diamond level, you should have 12000 points or more
The diamond level is the highest membership where you can earn the most money.
With each level, you get some extra benefits which help you make points faster. The benefits can be in the form of an
Increase in Referral %
Automatic Prize Processing
Special Bonus % (Special bonus % is based on your monthly earnings from offers, surveys, offer walls, tasks, and daily points. It is added at the end of the month)
Prize Discount % (You will receive a discount on all reward claims based upon the level percentage. Discounts do not apply to Paypal or Direct Deposits(Dwolla))
Here is the chart to understand better.

Is PrizeRebel Safe?
Yes, PrizeRebel is 100% safe.
You don't have to worry about anything while using this website.
But while taking some offers you will require adding your credit card details and pay a small fee.
The good thing is these paid offers are always optional. So, if you are uncomfortable, you can ignore them.
How Much Can You Make on PrizeRebel?
All depends on how much time you will invest.
If you spend the whole day answering surveys and completing tasks, you will earn faster.
But always keep in mind that the earnings are not high even if you spend the whole day working on PrizeRebel.
That's the case with any GPT site.
Keep in mind that members from the US, UK, AUS, and CAN will earn money faster because of the advertisers in those countries.
How Will PrizeRebel Pay Me?
PrizeRebel pays you in PayPal cash and Gift cards.
To redeem, you need at least 500 points for $5 PayPal cash & 200 points for $2 Amazon gift card.
There are many more gift cards & PayPal options you can go for.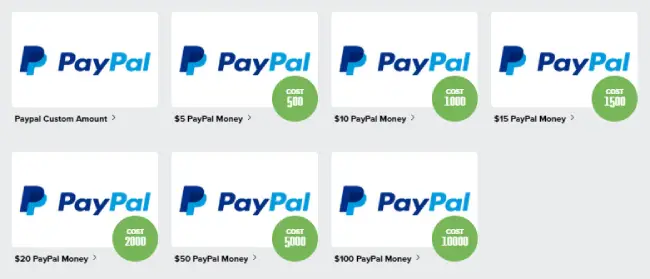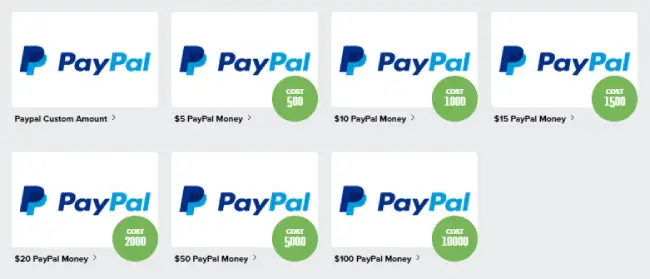 How Long Does PrizeRebel Take to Approve Prizes?
PrizeRebel takes around 24 hours to process your reward claims from the time of redemption.
If you are a gold level member or more, then it will be processed within 10 minutes unless the reward is out of stock.
Is Prize Rebel Available in Your Country?
PrizeRebel is available in almost every country. Though they haven't mentioned any specific country so I can't say whether it will be available in your country or not.
But most probably, it will be available.
Pros & Cons
Pros
Several ways to make points
You can redeem for just 200 points for a $2 Amazon gift card
You can take several surveys in a day
Upgrade membership facility that gives additional benefits
Cons
You won't qualify for every survey
There are not a lot of opportunities in some countries
Few complaints about missing payment & poor customer service
PrizeRebel Reviews and Concerns
These are some concerns and complaints I came across during my research in the review site like Site Jabber & Survey Police.
As of now, Site Jabber has 67 reviews which are mixed with positive and negative comments.
Based on these 67 reviews, PrizeRebel got 3 stars out of 5 which is an average rating.
Most of the complaints are about lots of pre-qualifying questions, missing payments, and problems with redeeming points.
But they are not recurring problems so chances are you may or may not face those problems.
Another complaint I have seen is that customer support is not good. If someone is having a problem, they are not getting any e-mail reply from PrizeRebel for their query.
Now, this is also not a recurring problem so chances are you may or may not tackle this problem.
But on a good note, Trust Pilot has more positive reviews and they gave 7.2 stars out of 10 which is better than an average rating.
Conclusion – Is PrizeRebel a Scam or Legitimate site?
So the final question is, whether PrizeRebel a scam or legit site?
Well, it's a reputable company that has been around for a long time & it has paid out a lot of members which definitely proves that the site is 100% legit.
Though, you may encounter some problem I discussed earlier but which site doesn't have a problem?
So, the best thing you can do is try this platform to see whether it is really worth your time.
Additionally, you won't become rich and you will probably make money quite slow with GPT sites like PrizeRebel.
So, don't treat it like a big source of income & instead, look it as an extra source of money.
If you are really into some serious money-making opportunity, I recommend trying something like Blogging or Affiliate Marketing.
I hope this PrizeRebel review gave you a clear idea of whether or not to spend your time on it.
If it has helped you, don't forget to share and pin this post.
Cheers.