When you click the links and ads on this blog, it helps me to pay the bills & keep this site free for you. Thanks for supporting me! For more info, read the Disclosure page.
If you are looking for some trusted ways to make extra money online, you can explore 15 of them in this post right now. They will not replace your day job, but you can make a few dollars every month using them.
With the extra money, you can use them to pay your bills or at least buy a cup of coffee. Either way, it is not a bad idea to get paid online for doing simple activities.
Now before you explore the list, please note some methods are a little hard and need some initial effort. However, the good news is other methods are simple.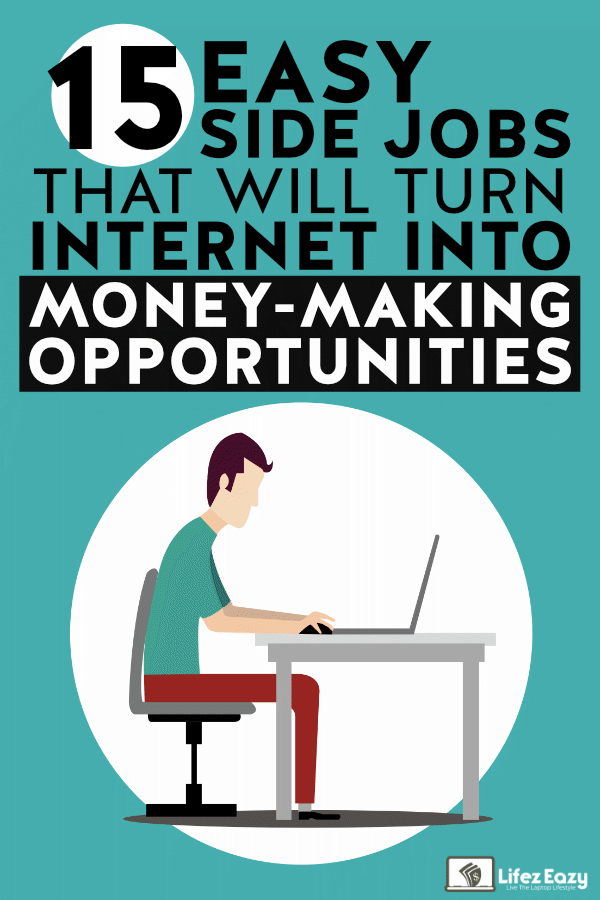 16 Good Ways to Make Extra Money Online
1. Make Money For Using The Internet
If you like to make some extra money by sharing your internet habits, you can join MobileXpressions & Neilsen Computer Mobile Panel.
Both analyze your online activity to learn your internet habits to determine which web sites and applications are necessary for you. These data are then used for marketing purposes. 
To get started, you first need to sign-up and install their app on your smartphone or PC/Laptop. Then use your devices normally, and get paid for keeping them active.
MobileXpression pays a $5 bonus gift card for keeping it active for a week, whereas, In India, they reward 300 INR worth Amazon gift cards for keeping it running for 45 days. The rewards and duration are not permanent and can change anytime. So, make sure to check them out.
With the Neilsen app, you can make up to $50 a year for installing it into one or more mobile devices.
2. Fill Online Surveys
I know most of the time, survey sites disqualify users because either they are non-targeted or made some mistake while filling them. Gladly, there are a few things you can do to increase your chances to qualify. But, they don't work on high paying surveys because of their targeted nature.
If you dislike filling surveys, you can skip this part but if you don't mind them, this can be a great side hustle for you.
To get started, just make sure you join three to four survey companies to get access to more surveys. This way, you have a better chance to earn more in a month.
You can read my linked post where I have listed 15 popular survey websites you can join right now. Here are a few of them.
3. Sell Old Books On BookScouter
If you have a lot of old books that you do not need, you can make some extra money by selling them.
There are many websites where you can list them for selling, but the problem arises when you do not know what price to set. That is when you can use sites like BookScouter. 
BookScouter lets you sell books for the most money by comparing offers from over 30 book buyback vendors. With a single search, you can see which vendor is offering the highest price so you can sell them.
Another way to use this website is by buying lots of books from the Thrift Store and then selling them via BookScouter. This way, you can make a good profit. You can read my full BookScouter review here to know more.
4. Deliver Food
If you love driving and do not mind delivering food from restaurants to customers, you can try DoorDash.
It is a food delivery service hiring people who want to make money on weekends or on weekdays. Being a Dasher, your job is to drive to the restaurant, pick food packages, and deliver it to the customers. For this job,you can make $10-$20 an hour, along with 100% customer tips.
To get started, you should have a vehicle (a car, a scooter or a bike), driver license & insurance. They also do a quick background check before hiring you.
Once you are a Dasher, you have the full freedom to set your schedule & choose your working hours. You can learn more by reading my full DoorDash Review.
Related Post:
5. Start Using Swagbucks
Swagbucks is my favorite place to receive PayPal cash and gift vouchers. I have been using it for quite some time and redeemed many gift vouchers.
The best thing about Swagbucks is that it offers a lot of activities to earn SB's (Swagbuck coins) quickly. Activities such as filling surveys, watching videos, web searching, online shopping, daily polls help you to reach the minimum payout quite smoothly.
To boost your earnings, you can also use their referral program to reach the minimum payout as soon as possible. For each referral you add, you can make an extra 300 SB when the referral earns 300 SB within one month. Plus, you get 10% of their earnings for a lifetime.
Overall, Swagbucks is the most reputed and legit reward company I ever used. You can also try Timebucks which works on the same model and offers more opportunities.
6. Submit Your Receipt
If you do a lot of shopping, your receipts can actually reward you. Many times when we shop, we tend to throw away receipts, thinking it is of no use. But what if they could pay you a few dollars?
That is right! If you take a snap of your receipt and upload them on ReceiptPal, you can get rewards. Whether the receipts are from grocery stores, restaurants, or local retailers, you can use them all.
To get started, install the app on your smartphone, take snaps of your receipt & upload them. This will credit points in your account & you can redeem them when you hit the minimum payout.
You can also connect your Gmail and Amazon accounts to receive points automatically whenever you buy something online.
7. Earn Money With Cash Back Apps
Everybody loves spending money while shopping online. But isn't it great if you could earn some cash back? That is what exactly cashback apps do when you shop through them.
You will be amazed knowing how much money you can save from your usual shopping in a year. Many people are saving hundreds of dollars every year by using such apps. Though your earning might be different if you shop a little, it is still worth trying.
Cashback apps like Ebates, Ibotta, Shopkick are some of the best you can join right now. All you have to do is.
Install & open the app.

Choose your preferred store.

Shop your products & earn cashback. The amount gets added to your account within a few days or weeks. 
8. Make Money By Web Searching
Though web searching will not make a lot of money, it will surely give you a few bucks every month.
All you have to do is use certain websites for web searches instead of Google. Sites like Microsoft Rewards, Swagbucks, InboxDollar, InstaGC are a few of them to get started.
When you use their search engine, they credit your account with a few points for each search. Once you hit the minimum payout number, you can redeem those points for gift cards.
Related Post: Is InstaGC a legitimate site or a scam?
9. Proofreading
If you enjoy finding and fixing grammatical, spelling, punctuation, & typo errors in texts, then Proofreading is the best job. 
All you have to do is check the documents for such errors and fix them. For this activity, you can make around $10-$50 per hour, depending on the turnaround time.
There are many Proofreading companies like Proofreading pal, Proofreading services ready to hire even beginners. But you need to pass a few tests before getting selected.
If you are new and want to learn more about Proofreading, you can enroll in this free workshop.
10. Become a Part-Time Transcriptionist
Transcription is a process where a person listens to recorded audio and converts it into a written text document by typing.
The audio files include speeches, interviews, simple diction having one or more people. Usually, the audio length varies from a few minutes to over one hour & you have the full freedom to choose your files.
Even though the job looks quite simple, it is time-consuming. If you have better listening skills and fast typing speed, you can complete your task much faster.
With Transcription, you can make $15-$25 a day, but it just depends on how many files you can transcribe, how much work is available, & your typing speed.
If you want to learn more, you can take this free course and read the following posts.
11. Make Money By Doing Workout
Everybody loves staying in shape by going to the gym or doing home workouts. Even though it sounds good, staying consistent is the key. That is where most of us fail either because of laziness or having no motivation.
In such cases, you need something that can keep you motivated, and what is better than getting paid? Making money for doing workouts is the best motivation for lazy people like me. Thankfully, apps like DietBet & HealthyWage are there to motivate us.
In these apps, you bet some money on weight loss challenges, along with other users. The total amount collected is the winning prize distributed among the winners.
When you finish your challenge within the time frame, the winning prize is distributed with all the winners. The money you make is actually more than the amount you bet. So, not only can you stay in shape but also win cash as well.
12. Make Money By Walking
Just like workout apps, you can also get paid for walking as well. Many apps like Sweatcoins, Runtopia track your steps via GPS and health devices like Fitbit.
When you complete your walking goals, you earn virtual coins that can be used to buy in-app products and services.
13. Read Books & Make Money
Have you ever thought reading books can pay money or help you receive free books?
Yes, it's possible! But along with reading books, you also need to do one more thing & that is writing a small review.
Basically, your job will be to read a book and write an honest review of 250-300 words. It can be a positive or negative review. But make sure it is honest and unbiased.
For this job, either you get paid, or you can keep that book with yourself as a gift. Companies like Online Book Club pay $5-$60 per review, and Women Review of books pays $100.
14. Become a Website Tester
Every business or brand website goes through a user testing process to ensure it fulfills the end goal. For this, they submit their websites to website testing platforms where people like you, and I test them for money.
As a website tester, your job is to share your website experience, along with answering a few questions. This job requires you to screen record your activity along with your voice narration. This helps the customer understand how their website is performing and what needs to be changed.
For each successful testing, you can make $10. If you join several website testing platforms, you can make more money in a month. I suggest joining User Testing, User Test & Userlytics for getting started.
15. Become a Social Media Influencer
There are many ways to use Social media sites to make money online. One of them being a Social Media Influencer.
A Social media influencer is someone who has established credibility in a specific industry. They can persuade their huge followers to act based on their recommendations.
Many businesses and brands want to work with them to promote their product & service among their followers. For this job, influencers get a good sum of money.
If you have a good number of engaging followers on social media, you are eligible to become one. Well, you won't make much compared to other influencers having millions of followers, you can still make decent money.
To get started, you can join platforms like Linqia & PayPerPost to get sponsor post opportunities from brands. Though Linqia has specific requirements, including over 2,500 engaging followers on social media (only for the US & UK), PayPerPost doesn't have such requirements. Moreover, if your account has a blue tick, things will get simple for you.
16. Start Blogging
If you don't have a blog, seriously, you are missing a good opportunity to make a side income.
When I started blogging, I knew nothing, and I didn't even know how to write content. (I still don't consider myself a great content writer though) But because I was so madly in love with blogging, I learned everything by following experts and taking courses on Udemy.
Today, I am making enough from this blog to carry out all my expenses. I can work on my own schedule, and I can do this job from any part of the world as long as I have access to the internet. Blogging has given me a lot of freedom, and in fact, I am making more than my previous day job.
Though blogging is not a simple job, it is worth giving a shot if you really want to have an online business. There are many blogging models available. Out of them, the following is the simplest one, especially for beginners.
Create a blog by buying a domain name and web host.

Write at least 30-50 in-depth content in your favorite niche.

Apply for Google Adsense and get accepted to display ads on your blog.

Then apply for

 Ezoic

 once you are getting over 10,000 visits. It will increase your ad income by at least 50%.

Along with ads, you can also try affiliate marketing to boost your monthly earnings.
You can read my blogging guide to know more.
Related Post:
Final Thoughts
So, these are the best & easy ways to make extra money online in your free time. Please remember that some methods need a few days to show results. So ensure you are not giving up too early. 
Other listed ways pay a little, but they are much simple. So, it is up to you to decide which one is suitable for you.
If you want to suggest any other method that's working for you, you can let me know in the comment section.