When you click the links and ads on this blog, it helps me to pay the bills & keep this site free for you. Thanks for supporting me! For more info, read the Disclosure page.
Proofread Anywhere is one of the repeated names that pop up when it comes to online proofreading training. Though there are many courses out there, this one has a special place among all.
I know you have not come here to listen to all the praise. In fact, you are more concerned about whether it is worth your investment or it's just another overhyped course.
That is the reason, in this Proofread Anywhere review, I will discuss:
What are they offering?

How exactly their payment model works?

How much can you earn after completing the course?

Its pros and cons

Is it a legit course or just another scam?

Which course should you choose & much more?
So, gear up as it is going to be a long read.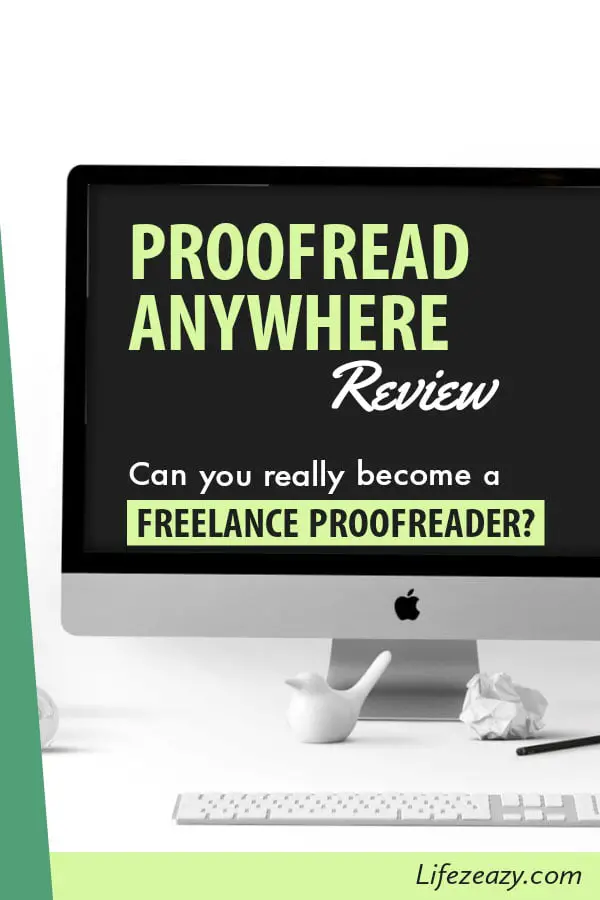 What is Proofread Anywhere?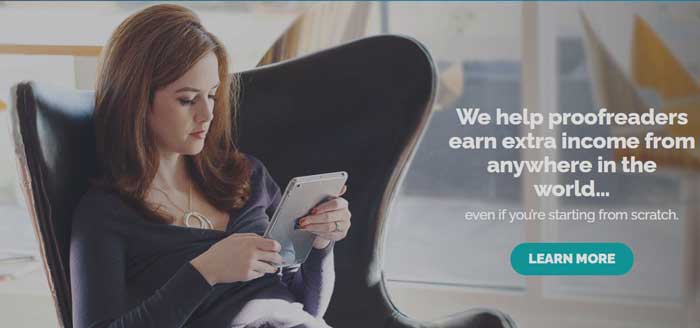 Proofread Anywhere is a blog that provides online training courses to become a Freelance Proofreader.
After enrolling in their platform, you not only going to learn the ins and outs of proofreading but also the necessary skills to find clients & building your own business.
Many online courses will most likely teach you what & how to perform proofreading, but Proofread Anywhere goes deep in building and managing a full-time business.
Who is the Author?
Before buying any course, it is essential to know the author or the creator. Are they an expert with years of experience or someone looking to make easy money?
Thankfully, Caitlin Pyle falls in the prior.
Caitlin is in the proofreading business since 2007, where she used to proofread essays for college students.
Later in 2009, she started proofreading transcripts for court reporters, where she was known as Eagles Eyes. In 2014, she finally decided to start her own business, and that is how Proofreadanywhere.com was created.
As of now, she also manages another website theworkanywherelife with her husband Ben where they talk about how to make a living online.
How Does The Course Work?
Proofread Anywhere offers two courses –
General Transcription: Theory & Practice

 (takes one-month to complete)

Transcript Transcription: Theory & Practice

 (takes two to four months to complete)
Each course comes with video tutorials & posts where most of the material is text-based. After each lesson, you can exercise what you have learned by accessing worksheets and answer key.
They also offer practice sessions where you can download tons of material to test your proofing skills.
To get a complete idea, let us take a look at each course one-by-one to see what is in store for you if you ever decide to buy one.
1. General Transcription: Theory & Practice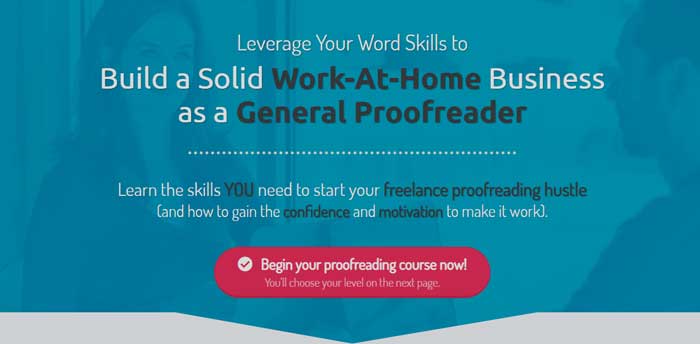 This course has two programs.
While the Ignite plan provides lifetime access to the entire course, Ignite plus grants additional benefits like 
Hand-graded exam

Certificate of completion

Listing in the Self-Publishing School (SPS) Preferred Outsourcer Rolodex

Membership in a separate marketing mastermind group specifically for PA General Proofreaders with verified skills
It has over 70 lessons spread across 11 modules. If you want to view the whole syllabus, you can click here else, follow the below quick summary to get an idea.
Module 1 – 

A general introduction where you can learn all the nuts and bolts of proofreading.

Module 2 –

 This session is all about getting you into the right mindset, where you will learn about proofreading niches & jargon.

Module 3 –

 Learn about the basics, where she discusses errors, capitalization, hyphens, apostrophes, American British style variations, & more topics.

Module 4 –

 This module is all about different proofreading methods you can use to proofread documents. It includes pen and paper, Google doc, Microsoft Word, PDF methods.

Module 5 –

 Caitlyn discusses exactly how you can turn your proofreading skill into an online business by setting up a website, rates, taxes, resume writing, & more.

Module 6 –

 Just after setting your business, she teaches how you should find your clients using various methods, including social media, blogging, marketplace, writing proposals, & so on.

Module 7 –

 This session addresses the workflow of a Freelance Proofreader's business.

Module 8 –

 This module talks about how you can stay productive by organizing your time correctly & gives you tips to gain confidence.

Module 9 – 

The last module is about concluding lessons where she talks about commencement, imposter syndrome, and much more like topics.

Module 10 –

 Get access to two bonuses and case studies. 

Module 11 –  

If you have bought the Ignite plus program, you will get access to the exams here.
Once you complete all of them, you will have a much better understanding compared to all the beginners and intermediate Proofreaders out there. 
On top of that, you will know the secret to find & pull clients, which most of them don't have a clue about.
Overall, you will have all the knowledge, tools & resources to build a freelance proofreading business that can add an extra stream of income.
2. Transcript Proofreading: Theory & Practice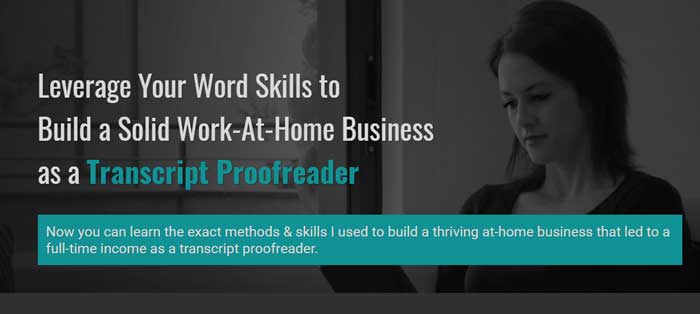 This course is the only multimedia training program for transcript proofreading, which is an advanced version of General proofreading. 
When you enroll, you need approx. 2-4 months to complete the entire syllabus as it dives deep into the technical side of proofreading. 
The course has a total of four levels where you need to complete each level to move on to the next one. Here's how it is.
Level 1: Beginner Basecamp
Beginner Basecamp includes module 1, which is all about Introduction to Court Reporting and Transcript Proofreading.
It is a 7-day course (accessible for 7 days only) which includes the following units.
Module 1
Unit 1: 

Introduction and Course Tour

Unit 2: 

Skills Needed to Proofread Transcripts

Unit 3: 

Court Reporters, Steno, & Transcripts… Defined

Unit 4: 

How a Transcript Becomes a Transcript

Unit 5: 

Depositions vs. EUOs, Guidelines for Interpreted Proceedings, and Things Typically Included in Various Types of Transcripts

Unit 6: 

The Anatomy of a Transcript (and Quiz)

Unit 7: 

Additional Introductory Resources
As a bonus, you will also receive 
A worksheet kit consisting of 100 questions for practicing.

The Ultimate Freelancer Tax Guide

The Look Better in Writing™ Handbook to Commonly Misused Words

The Mindset Mastery Guide

A $50 discount to the next level (only if you decide to go for it within 30 days of purchase)

Lifetime membership to PA Proofreaders, a Facebook group where all like-minded proofreaders hangout + additional resources. 
Level 2: JumpStart
Jumpstart includes modules 1 & 2, where the latter is all about 
getting aware of the possible proofreading errors

becoming familiar with the vocabulary used in the legal & medical field & much more. 
It is a complete 30-day course (accessible for 30 days only) where you have to undergo a total of 9 units from module 2, as listed below.
Module 2
Unit 1: 

Types of Errors

Unit 2: 

Transcript Format

Unit 3: 

Commonly Misused Words

Unit 4: 

List of Common Legal Terms and Looking Up Medical Terms

Unit 5: 

American vs. British Spellings & Other Notes on Spelling

Unit 6: 

4 Most Violated Comma Rules in Transcripts

Unit 7: 

A [Short] Lesson Apostrophes + Worksheet

Unit 8:

 More Punctuation Rules + PRACTICE

Unit 9: 

17 Transcript-Relevant Capitalization Rules
Once you complete all the syllabus, you have to take up a 100-question Word Skills Test & score 80% or more to move on to level 3.
Proofread Anywhere will let you know the result via. a 25-page printable PDF test report along with all the explanations.
Level 3 – NextSteps
NextSteps includes module 3,4 & 5 accessible for 60 days, where you will learn how to mark up transcripts.
It shares four methods to correct transcripts, namely hard copy, on a computer, errata, digitally using iOS technology methods, along with a lot of practice transcripts.
Here's what's included: 
50 Practice Transcripts

Proofreading checklist

Research strategies for the proper spelling of people, place, things within transcripts
Once you complete level 3, you have to score 100% in the Module 5 quiz consisting of a manually graded, timed punctuation, and transcript test to move on to the next level.
Level 4 – Launch & Earn
This level consists of modules 6 & 7, where you will learn all the ins and outs of business building foundation to work with court reporters.
The following are the topics you will learn here – 
How to communicate professionally with Court reporters and agencies regarding issues.

Prepare to meet court reporting professionals' expectations of proofreaders with outstanding customer service

Learn about the significance of using a customized preference sheet with each reporter

Understand how to decipher reporter preferences based on sheet input

Learn about proper billing procedures, rates, negotiating, and follow-up

Taxes and budgeting
These modules are followed by an exam that is graded by an Instructor. The exam is targeted on aptitude and competence in both the theory and practice of transcript proofreading. 
It has a 75 multiple choice question exam and a 25-page Transcript exam where the prior one can be tried thrice while the latter only twice. 
Once you clear the exam, you will get access to modules 8-9, where you can apply for the certificate.
Module 8 is all about how you should market your skills to attract more clients, while module 9 talks about setting a successful mindset.
When you reach Launch & Earn level, you will have lifetime access to all the modules.
What Is The Difference Between The General & Transcript Proofreading Course?
General Proofreading is geared towards those people who only want to proofread books and articles. This course doesn't touch the technical side of proofreading, which is mostly related to the legal and medical industry.
On the other hand, Transcript Proofreading is a more technical-oriented course focused on proofreading court and medical transcripts. They provide a better scope in terms of pay, career, & client-wise.
Even though Transcript proofreading is comparatively a better choice, it is not easy to pass if you are trying to rush things. Also, cost-wise, Transcript Proofreading is more expensive.
What is The Cost of Proofread Anywhere?
Proofread Anywhere is not the typical course that anyone can purchase. I know you don't want to hear this, but it is not a cheap course.
With the very fact that it provides lots of valuable information along with offering various practice tests, it is bound to get expensive.
So, now the question is, how much money should you put on the table before you grab it? Let's find out.
1. General Proofreading: Theory & Practice
Ignite Program – $497
Ignite Plus Program – $597
2. Transcript Proofreading: Theory & Practice
The overall cost for this course is $1,174, where you have to pay for each level as you pass them. However, the good news is, Proofread Anywhere also offers some opportunities where you can save up to $230. 
This basically means, if you buy the next level immediately after completing the previous one, you can score some discounts…Well, that's a clever strategy if you ask me!
Here is the total breakdown cost: 
Level 1: Beginner Bootcamp –

 Pay $77 to get access to module 1 for 7 days.

Level 2: JumpStart –

 Pay $197 to get access to modules 1 & 2 for additional 30 days.

Level 3: NextSteps – 

Pay $400 to get access to modules 1-5 for further 60 days.

Level 4: Launch & Earn –

 One-time payment of $500 to get access to modules 1-9 for a lifetime.
Please note that you do not have to pay the amount altogether. This means, once you complete a level, then only you can spend on the next one.
If you ask me, this is a good deal because Caitlin wants to make sure that you are not blindly spending money on something you aren't sure about. It is similar to tasting food to know whether it is good or bad and then buying a whole plate.
That's the reason she allows you to pay level-wise so that you are not wasting your money, in case you didn't like the course.
How Much Can You Expect to Earn After Enrolling in Proofread Anywhere?
Well, I will say it depends on the person's capability & dedication. If anyone thinks that enrolling in a course can automatically develop the required skill, it is not going to happen.
Courses can only guide & provide you with the required tools, resources, & strategies. In the end, it's you who have to turn the tables.
Now, if we talk about the earning potential, it depends on: 
How fast can you proofread?

What rate do you charge? 

Which document are you proofreading? 
If you are a slow proofreader, charges a minimum rate & proofreads documents that pay less, you are likely to make less money in a month.
That's the reason Proofread Anywhere offers a lot of practice transcript, so you get better at your skill.
Moreover, your earning potential can also get influenced by the type of rate model you choose. You can either go for pay per page, per hour or per 1000 words.
If we talk in general, a beginner proofreader makes at least $20/hour. So, you can expect the same when you are starting out.
What Are The Pros?
1. Best Supportive Facebook Group
Caitlin offers an extremely supportive and educational Facebook group for all its students, where they can hang out with other graduates and experts.
Not only do you get access to exclusive tips, updates, & strategies related to proofreading, but you can also clear any doubts.
Out of all the bonuses, I like her Facebook group more.
2. Not Just a Skill Teaching Course
Unlike other proofreading courses that teach the required skill, Proofread Anywhere takes one step ahead and explains the marketing side as well.
You'll get to learn how to promote your skill to find clients and build a business around it.
3. Pay As You Learn
I completely adore Caitlyn for this. Her Transcript Proofreading course has a level-based payment model where you can only pay for the next level until & unless you complete the previous one.
With such a system, students who are genuinely interested will pay for the next one, while the rest don't have to spend cash if they aren't interested.
Such a system ensures that only motivated students can go ahead while those who aren't suited for the skill can save their money and time.
4. Free Intro Workshop
Investing money on a course that's not cheap is a daunting thing for many people if they are on a budget. The same goes for Proofread Anywhere. 
As we know, it is not a course you can get by investing a couple of bucks. That's the reason Caitlin offers a 76-minute free workshop where she will not only introduce you to the proofreading world but also give you valuable lessons.
Her free workshop includes printable content, videos, case studies, Freebies & templates that is enough to decide whether it is your cup of tea.
What Are The Cons?
1. Courses are Pricey
I feel if they could at least provided a discount on the General Proofreading course, it would have been much better. With such a price tag, some people couldn't afford it even if they are genuinely interested in learning the skill.
2. No Refund Policy
Due to the nature of the course, there is no refund policy.
Now it might be a negative aspect for some people where they may feel cheated after stepping into their member's area. But let's just think from the creator's perspective.
If there would have been refunds, people would simply buy the course, copy all the material and then ask for refunds. Who knows, they might even share or sell the information to others, which is a big loss for the creator.
Nobody wants to jeopardize their business, so I don't see any problem with it. However, I suggest you do your research before buying any course.
3. Course Material Isn't Unique
Now, this depends on the individuals. If you are a beginner, the course content will be unique for you. However, if you have taken any other course, you may find some similarities.
Some students even claim that the course content can be found online if done extensive research.
Well, I do agree with the same, but it would take you a long time to gather all the information. If you don't want to beat around the bush, you can find everything here in a more structured manner that ensures better results.
Moreover, you will also receive valuable expert support from the Facebook community, which you can't find online.
4. Most Contents Are Text-based
If you are like me who enjoy text over video, you won't have a problem. However, if videos speak more for you, you may get disappointed with the course.
It doesn't mean there are no video tutorials, but text content is comparatively more. Additionally, they don't have the NEXT button at the bottom of each module, which disturbs the overall user experience.
Is Proofread Anywhere Legit or a Scam?
Proofread Anywhere is a legit course having a rating of A in Business Better Bureau® with almost positive reviews from its students.
I won't say it is some kind of a gem that will change your life, but definitely, it will make a difference when it comes to gaining & marketing a skill.
General Proofreading course will provide a little more than the basic guidelines & freelancing business advice, whereas the Transcript course is more stringent.
I am still not 100% convinced of the price they ask, but that's just my opinion. 
Will Proofread Anywhere Make You a Certified Proofreader?
No, you will not become a certified Proofreader if you finish either course.
Even though you will receive a certificate of completion for scoring 90% or above, they are just proof that you have completed a course. Nothing more than that!
In fact, there is no official proofreading certification in the United States.
Final Verdict – Proofread Anywhere Review
If you think you have the necessary budget and have a passion to start a proofreading business, Proofread Anywhere is a good choice.
However, if you are new to this or confused about whether it is really right for you, don't jump on the bandwagon. Instead, try their free workshop to get a glimpse of how things are & then decide. 
In the end, it is you who have to make the final call. So choose wisely.
Read Next: