When you click the links and ads on this blog, it helps me to pay the bills & keep this site free for you. Thanks for supporting me! For more info, read the Disclosure page.
So you want to be a proofreader and you came across the Proofread Anywhere course. But, before you invest any money, you want to know if it is truly worth it.
Don't worry!
In this Proofread Anywhere review, I will go over everything a person should know before purchasing this course.
You will learn about the following topics:
What benefits will you get from this course?
Which proofreading course should you choose between General & Transcript proofreading?
Is there a coupon/sale available?
Is it accredited course?
What are the complaints and negative reviews?
Pros and cons and much more.
So, let's get started!
---
Benefits of Enrolling in Proofread Anywhere
If you are going to spend money on a course, you should know how it will change your life.
Will the course help you achieve your goals, or will it be a complete waste of your money?
That's why I'm starting my review by listing all of the major benefits you'd get by enrolling in this course. Simply read each benefit and see if it can help you in any way.
1. Improve Your Proofreading Skill
This course is not merely a theoretical and rule book course. In fact, it goes MUCH FURTHER than that.
Without a doubt, theory and rules are essential for learning proofreading from the ground up. However, it will be ineffective if you do not put it into practice.
Imagine, you read a book or watched a video on "How to Play Golf". Will you be able to play golf for the first time? 
No!
Why? Because you haven't practiced it!
That's exactly the case with proofreading. Reading a course or watching a video will not get you anywhere unless you practice it.
That's why Proofread Anywhere STANDS OUT because they provide practice material along with a hand-graded exam.
You'll get:
8 grammar-specific worksheets
8 module quizzes
100-question in-depth vocabulary quiz
All of these materials will not only SHARPEN your skills but also BOOST your confidence as a proofreader.
So, you can either look for random proofreading test material online or use Caitlin's practice material, which is TAILORED to what you'll learn in her course. 
The choice is yours!
---
2. No More Struggling to Find & Approach Clients
You have learned the skill. Now what?
Do you know where to find clients? How to attract them?
It's POINTLESS to learn a skill if you can't attract clients willing to pay for it. Even if you know where to look for them, knowing how to approach them is CRUCIAL.
This course solves that problem by showing you EXACTLY how to promote your service to bring in customers.
You'll learn how to attract ideal clients by leveraging your online profiles on social media and online marketplaces.
MORE CLIENTS = MORE JOBS = MORE MONEY
So, no more STRUGGLING when you can find the right approach in this course!
---
3. Find The Right Way to Start Your Own Freelance Business
At some point, you don't want to depend on proofreading services or freelance websites to find work. That's because you don't want to give these companies a cut of your earnings.
That's why starting your own freelance business is the RIGHT WAY to become self-sufficient and earn more money.
With Proofread Anywhere, Caitlin exactly teaches you how to start everything from scratch. You'll learn:
How to create a business website within a FEW MINUTES.
How to set your proofreading service rates so that they don't seem TOO HIGH or TOO LOW.
How to market your business to attract a POOL of clients & more.
No doubt, you can certainly do this on your own without any assistance. 
However, the amount of time you'll spend trying to figure out the best ways to start and promote your business will undoubtedly SAP your energy.
So, you can either spend months figuring everything out on your own or take the easier route, which is this course.
---
4. Get Lifetime Access
Some courses offer limited access, often lasting just a year. While this duration is typically enough to complete the entire course, keep in mind that accessing future updated content may require a renewal fee.
However, you have LIFETIME ACCESS to Proofread Anywhere, which means you can upgrade your skill whenever there's an update.
According to one student, the Proofread Anywhere course material has tripled since the last time he took it.
---
5. Designed For Everyone
The course is designed for everyone, whether you are a beginner, intermediate, or experienced proofreader. It will elevate your proofreading skills from a beginner level to a more advanced one.
So, if you're unsure about your qualification for the course due to your limited understanding of proofreading, it's time to clear your mind.
---
What is Included in Proofread Anywhere?
It offers two courses:
General Proofreading: Theory & Practice
Transcript Proofreading: Theory & Practice
Each course includes a free email course that teaches you the fundamentals and allows you to decide whether proofreading is a good fit for you.
1. General Proofreading: Theory & Practice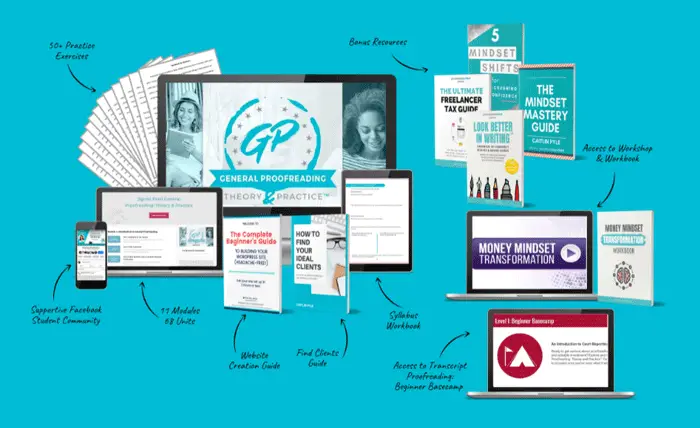 General proofreading is aimed at anyone interested in proofreading online articles, books, research papers, and more, without needing specific field knowledge. 
It includes over 80 lessons spread across 14 modules. Each module offers grammar-specific worksheets, real-life job examples, student workbooks, quizzes, case studies, and more.
This course also provides a free workshop to teach you the fundamentals and help you determine if proofreading suits you.
Upon course completion, you must pass a hand-graded exam with a score of 90% or higher to receive a certificate.
With effort, you can finish the entire course in a month.
Here's the list of modules you'll cover. To see the complete syllabus, click here.
Module 1 – Introduction to General Proofreading
Module 2 – Grammar refresher
Module 3 – Sentence structure
Module 4 – Spelling & word use for proofreaders
Modules 5 – Punctuation principles
Module 6 – Proofreading methods
Module 7 – Proofreading practice
Module 8 – Types of Proofreading
Module 9 – Turning proofreading into a business
Module 10 – Finding clients
Module 11 – Marketing basics
Module 12 – Your workflow
Module 13 – Getting the most out of the freelancing life
Module 14 – Ignite Plus exam for Ignite Plus members
Along with all the theory lessons, you can also find quizzes and practice exercises in the modules to IMPROVE your skills.
As a result, you will not only learn all of the theory, but you will also practice everything you learn side by side. This is the perfect way to learn and build a skill.
Are There Any Bonuses?
If you like bonuses, then the GP also provides the following courses:
The Ultimate Freelancer Tax Guide – Covers accounting, taxation, deductions, and other topics. You'll also receive a list of tools to simplify tax time.
5 Mindset Shifts for Goal-Crushing Confidence – Utilize five effective activities to boost your confidence and become a successful proofreader.
The Mindset Mastery Guide – Learn how to conquer your fear of finding clients, the three pillars of success, cure imposter syndrome, and more. This guide focuses on building a positive mindset.
Look Better in Writing™ Handbook of Commonly Misused (and Abused!) Words – Learn about the most commonly misused words (166 words/terms) in written work.
Access to Level 1 of Transcript Proofreading: Theory and Practice™ – Get a sneak peek at another extensive course on Transcript Proofreading.
Hand-graded Exam with Certificate of Completion – Upon passing the hand-graded exam with at least a 90% score, you'll receive a certificate of completion that you can show to your clients as proof.
Money Mindset Transformation Workshop & Workbook – Discover seven life-changing concepts that can shift your perspective on money and potentially help you earn more.
Marketing Mastermind for Proofreaders – Join a dedicated marketing mastermind group for proofreaders with verified skills. Interact with experienced proofreaders who can mentor you and propel your proofreading career.
Listing in the Self-Publishing School (SPS) Preferred Outsourcer Rolodex – After passing the hand-graded exam, you'll be listed in the SPS Preferred Outsourcer Rolodex.
---
2. Transcript Proofreading: Theory & Practice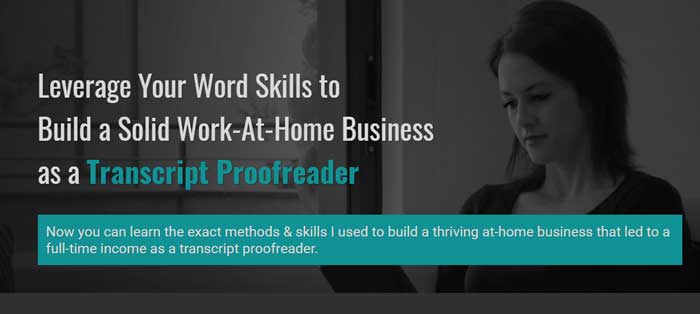 Transcript proofreading course is intended for proofreading "legal transcripts" used by court reporters.  
It is a more focused, intense, technical, and complicated course for more serious proofreaders who want to expand their skills to earn at a higher level.
If you want to take the transcript proofreading course as a beginner, you must first enroll in the general proofreading course. This is due to the fact that without proofreading knowledge and skills, you won't be able to complete Transcript proofreading, which is an advanced version.
The course consists of 54 lessons divided into nine modules. Currently, it is the ONLY structured training program in transcript proofreading that is available.
The course can be completed in 2-4 months, but it can also be completed in 8-10 weeks if you put in the effort.
Once finished, you must take two "human-graded" tests and two multiple-choice automated exams. If you get 90% or higher on all of them, you'll get an official certificate and a certificate number.
Here is the course outline so you know what to expect. To view the entire syllabus, please click here.
Module 1 – Introduction to Transcript Proofreading
Module 2 – The nuts and bolts of transcripts
Module 3 & 4 – Marking up transcripts (Four methods)
Module 5 – Simulation Transcripts (50 simulation transcripts)
Module 6 – Corresponding Within the Court Reporting Profession
Module 7 – Billing and Accounting Procedures
Module 8 – Connecting with Potential Clients
Module 9 – Final Exam and Concluding Lesson
---
How Much Does Caitlin Pyle's Proofread Anywhere Cost?
Each course has its own set of plans. While GP has two plans, TP has level-based plans.
General Proofreading Plans:
There are basically two plans:
1. Ignite
Ignite costs $397 and includes lifetime access to all the course materials required to become a general proofreader.
2. Ignite Plus
Ignite Plus costs an additional $100 ($497) and includes all of the benefits of the Ignite plan as well as the following benefits:
Access to Hand-graded exam
Certificate of completion
Get listing in the Self-Publishing School (SPS) Preferred Outsourcer Rolodex.
Receive membership in a separate marketing mastermind group for PA General Proofreaders with proven skills.
If I were you, I would go after the Ignite Plus plan because:
You can test and polish your skills with their well-crafted exam.
You will have the opportunity to work with SPS without having to look for work. It's similar to getting a placement in a company after graduating from college.
You can gain access to a Facebook group populated by proofreaders where you can interact, ask questions, and seek support. It's always a good idea to surround yourself with people who share your interests, and this group does the same work, which keeps you MOTIVATED.
---
Transcript Proofreading Plans:
This course has four module-based plans. Here are the specifics:
Level 1: For $77, you get access to module 1 for 7 days.
Level 2: For $197, you get access to module 1 & 2 for an extra 30 days.
Level 3: For $400, you get access to module 1-5 for an extra 60 days.
Level 4: For $500, you get access to module 1-9 for lifetime.
Note: If you're new to proofreading and aren't sure which niche to work in, I strongly recommend starting with a general proofreading course first. Once you've learned how to proofread and want to advance in your career to earn more money, Transcript Proofreading is the next course to consider.
---
Proofread Anywhere Sale/Coupon Code
Don't want to buy right now? That's PERFECTLY FINE!
That's because Caithlin offers big discounts a couple of times a year. She held an Independence Day sale a few months ago, offering her course at a whopping 60% discount.
However, I know that many people won't have the patience to wait months when they want to learn the skill RIGHT NOW!
So, you can either buy it now or, if you're patient, sign up for her free workshop.
What will this do?
You will not only receive some free proofreading knowledge, but you will also be subscribed to her email list.
The benefit of this is that the next time she organizes a sale, you'll be notified via email right on the spot. That's CLEVER, right?
Although, if you have the money and don't want to waste time waiting for a discount sale to pop up, simply attend her free workshop to get started.
---
Which Proofreading Course is Best in Proofread Anywhere?
Both are the BEST, but it depends on where your interest lies. The General Proofreading course is for you:
If you're interested in proofreading general documents such as blog posts, essays, textbooks, research papers, etc.
If you'd like to have more clients & jobs.
Whereas, the Transcript proofreading course is best for those who:
Want to proofread legal copies that require knowledge of legal court norms.
Want to get more high-paying jobs.
As I previously stated, if you do not know how to proofread, you should first enroll in the GP course before enrolling in the TP course. Otherwise, you're going to STRUGGLE a lot.
---
Is Proofreading Anywhere Worth the Money?
Absolutely, yes!
Why did I say so?
Because if you choose to attend college, learning a new skill can cost you thousands of dollars. Even after graduation, there is no guarantee that you will get a job.
Compared to that, Proofread Anywhere is a LOT CHEAPER.
It is a SELF-PACED course that provides lots of practice sessions and expert guidance.
You'll learn the EXACT STEPS to start a proofreading business from home, as well as all of the marketing strategies to get clients.
You'll gain knowledge, skills, and the mindset you need to succeed as a proofreader. 
If these things don't sound amusing, that's good! You can save money by skipping the course.
However, the amount of time you'll spend trying to figure it out on your own with no guarantee is comparable to placing a bet.
If I were you, I would take the easy way out because Proofread Anywhere yields FASTER results and builds CONFIDENCE. 
Isn't that what everyone wants? Right?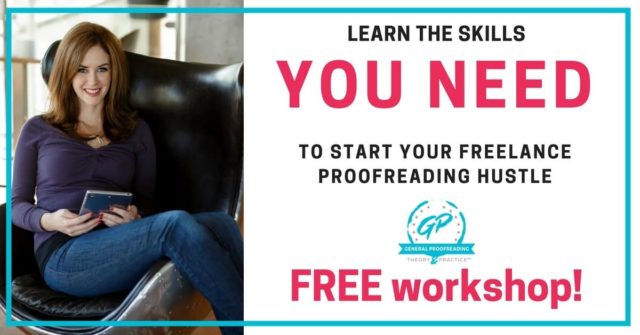 ---
Which is Better: Knowadays (Proofreading Academy) Vs. Proofread Anywhere
Both the courses are better in their own way.
However, to help you make a decision, here are some reasons why Proofreading Academy is better than Proofread Anywhere. (Read my Knowadays review to know more)
They provide adequate training in grammar, punctuation, and spelling. They also teach how to edit texts for flow, tone, readability, and style.
The support staff is excellent and answers your questions throughout the course. You can even schedule a free tutoring call.
They issue the certificate of completion regardless of your final assignment score. So, no more 90% requirement!
Graduates with an 80% or higher score will be given guaranteed work as a freelance proofreader with Proofed, their proofreading partner.
Every course has some drawbacks. Here is what they lack in comparison to Proofread Anywhere.
The Proofreading Academy does not use a style guide and relies on generic rules during training. While Proofread Anywhere uses the Chicago Manual of Style (CMOS) as its style guide. It is one of the most widely used style guides in the US.
They do not teach you how to start your own proofreading business and market yourself. So, if you prefer to work independently, Proofread Anywhere is the way to go.
There is no Facebook community to engage with other students and support each other.
Just because the certificate of completion is easily available, I doubt that anyone will work hard to pass the exam. That's why I like Proofread Anywhere's approach of requiring a minimum score of 90% before receiving the certificate. This way, students will be more focused on learning the course material.
As more students join Proofed, the guaranteed work with them will eventually become saturated. This means that the work files you select will be picked by someone else within seconds.
So, these are some points that will give you an idea of what to expect. No doubt, both are the best, but at the end of the day, it's you who has to decide.
Also Read: Proofread Anywhere vs Knowadays – Which one is better?
---
Pros & Cons of Proofread Anywhere
Pros
Get lifetime access to the course materials (including updates).
Get lifetime access to a supportive Facebook group where you can get answers to course-related questions.
Receive training for building an online business and marketing yourself.
It provides an engaging user interface and useful bonus materials.
Cons
There are no refunds available once you have purchased the course.
Some people may find the price to be extremely costly.
---
Proofread Anywhere Negative Reviews/Complaints
I went to TrustPilot.com to look for negative reviews, and this course has a WHOPPING rating of 4.5 out of 5. (Well, people seem to like it.) 
Out of 100%, 85% said it was an excellent course, 11% said it was a great course, and only 4% said it was a bad course.
When I filtered only the negative ratings, I found two negative reviews in which they shared their experience of being unable to find work.
They also mentioned how Catlin offered them a $10 Amazon gift card in exchange for dropping a positive review.
I understand that reading such negative reviews can easily change your mind, and your confidence in the course may decline.
But, here's a CATCH!
Caitlin asked her students if they had a good experience, like finding clients or jobs, after finishing the course. If they did, she'd give them a gift card in return for writing a positive review. To me, this seems fair because everyone wants their business to succeed, and if it's a real experience, why not get rewarded?
She was glad to help people who wrote bad reviews. If you check the Trustpilot page, you'll see she replied to every negative comment and gave a way to fix the problem. Honestly, she truly cares about her students, just like we hope a mentor would.
Overall, I don't believe all of the positive reviews because, who knows, some of them may have been done on purpose to receive gift cards.
But looking at her helpful nature, you're GUARANTEED to get a brilliant mentor who is there to help you succeed.
---
Proofread Anywhere Controversy
Some people believe that this course is not legitimate, and in fact, it is a complete scam!
To be honest, Proofread Anywhere is a 100% LEGIT course that is well worth your money. But the above statement only applies to those:
Who are DEAD SERIOUS about becoming a proofreader.
Who are NOT LAZY when it comes to putting in effort.
Who won't GIVE UP on a career as a proofreader.
If these three statements don't fit you, then who knows, you may also say it is a scam course.
---
Is Proofread Anywhere Accredited?
No, it's not accredited by the Better Business Bureau, but there is a VERY GOOD reason for this.
Caitlin claimed that the BBB had been targeting her for years to pay for her ratings. 
She tried to list her course there, but they said her website was unsatisfactory, even when she included printouts of pages with markup.
That's because they wanted Caitlin to pay $465 to create a profile there, which she wasn't prepared to pay. As a result, she dropped the plan.
She says that the BBB is a money-driven platform where you can get good ratings if you are willing to financially support them. The biggest example is this article.
If you want to learn more about this, you can read her full statement by clicking here.
---
Final Conclusion – Proofread Anywhere Review
I've provided you with all of the information you need to know before purchasing Proofread Anywhere.
If you ask me, I would purchase the course because my time is valuable. 
If I can learn a skill in a couple of months by taking a course and it boosts my confidence, then HECK, YES! I'm in.
Not only will I be able to recoup my investment, but it will also provide me with an additional source of income.
So, think deeply and make your final decision!
---
Read Next:
Pin this for Later: