When you click the links and ads on this blog, it helps me to pay the bills & keep this site free for you. Thanks for supporting me! For more info, read the Disclosure page.
Do you know a Freelance Proofreader makes $20-$70 an hour for correcting written documents?
You might think, what is proofreading? Can anyone become a Freelance Proofreader? If so, what qualification is required, and how much money can a person earn?
Well, I have discussed everything in this detailed post sharing the exact steps, tools, and resources needed to become a Freelance Proofreader.
If you are curious to know what is it all about and whether it can turn out to be an excellent work from home job? Ensure to read it till the end.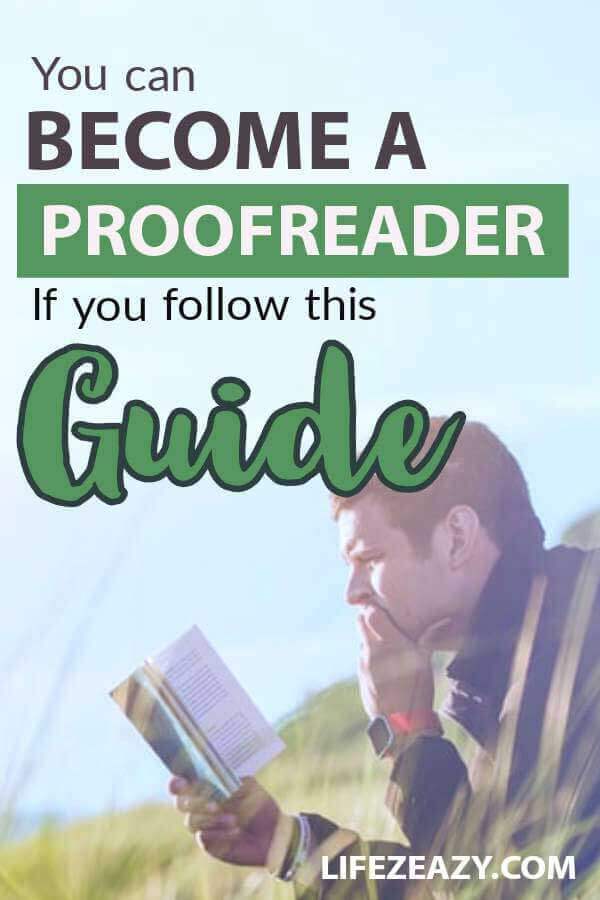 STEP1: Know Everything About Proofreading
What is Proofreading?
Proofreading is a process where an individual, known as a Proofreader, check & fix grammatical, punctuation, spelling, typo errors from a written document/copy.
It is the last step in the entire editing process, after which the copies are printed, published, or submitted.
The copies can be novels, textbooks, children's books, online or university course content, website pages, blog posts, presentations, newspapers, magazines, ads, pamphlets, legal documents, transcripts, court reports, podcast pages, resumes, scholarship essays, and so on.
Difference Between Proofreading And Editing?
If you think Proofreading and Editing are the same, then you are totally wrong.
As discussed earlier, Proofreading deals with grammatical, typos, spelling, punctuation errors, whereas Editing is all about fixing the overall quality of the copy.
Editing ensures:
correcting the overall structure to improve the flow.
improving the clarity of sentences.
improving the quality of evidence and analysis.
enhancing language use.
How Much Does a Proofreader Make?
According to indeed.com, the average base salary of a Proofreader in the US is $22.93 per hour and, it can go up to $50 or more while working with some big companies & businesses.
For example, Greg Ioannou, an experienced Proofreader from Canada, makes a minimum of $50 per hour for proofreading 2,500 to 3,000 words.
Usually, earnings depend on your experience and the type of copy you are proofreading. Legal copies, like a court or medical transcript, pay more compared to general documents like a blog post.
STEP 2: Learn The Skills Required For Proofreading
I know proofreading sounds like a simple job, but actually, it's not that easy.
There are a few skills you must know before trying your hands at this job. If you don't pay attention to it, you may find it harder to proofread copies, which might affect your deadlines.
Here's what I am talking about –
You must have good focusing power.
You must have meticulous eyes so you can spot errors quickly.
You must possess strong grammar.
You should be aware of style guide rules.
Besides, you should also enjoy proofreading, else you may find it boring.
STEP 3: Understand All the Pros and Cons
If you don't know both the good and bad sides of any job, you may end up having higher expectations, which could backfire if things won't work your way.
That's why before you take your first step towards proofreading as a career, it is necessary to know all the pros and cons. Here are some pros of becoming a proofreader.
Pros of Proofreading
You can work on your own schedule, which gives you more flexibility.
You will be able to spend more time with your friends & families because proofreading gives you a lot of freedom.
You can also work as a Proofreader alongside your day job.
You can do this job from any part of the world as long as you have access to a laptop and internet connection.
Cons of Proofreading
At some point, you may face a scarcity of jobs whether you are working with Online Proofreading companies or freelancing.
Freelance Proofreaders may face difficulty in finding clients. This is the troublesome part, where you have to find & turn people into customers to get recurring work.
Being a beginner, you won't make enough money, but things will change as you gain experience.
STEP 4: Implement Tools Required For Proofreading
Manual proofreading is not only time-consuming but also results in missing a few errors resulting in unsatisfactory work.
That's the reason, adding a few proofreading tools to your arsenal is not only going to benefit you but also results in swift work.
Though you can find several tools online that make proofreading easy, I would like to highlight two popular tools that are freemium.
1. ProWritingAid
ProWritingAid comprises a grammar checker, style editor, and editing tool designed to have error-free writing.
If grammar is not your cup of tea, this tool should definitely be on your go-to tools list while proofreading. 
Here is why I recommend ProWriting Aid.
It automatically suggests 1000s of style improvements to make sentences short and concise.
This tool finds out repetitiveness, vague wording, sentence length variation, over-dependence on adverbs, passive voice, over-complicated sentence constructions, and so on.
It highlights all the errors within a few seconds and fixes them with a single click.
ProWritingAid has an in-built word explorer and contextual thesaurus that helps you to find the perfect words for your sentences to make your point clear.
This tool has a free version that provides an online web editor for editing and fixing errors. For integration with MS Word, Google Docs, Chrome, & Scrivener, you need to buy their premium plan.
You can click here to visit their site.
2. Grammarly
Grammarly is another tool similar to ProWritingAid that detects grammatical errors in real-time. You can either use it as a browser add-on or integrate it with Microsoft word.
The free version only supports spelling and grammatical correction, whereas the paid plan offers.
Advanced checks for punctuation, grammar, context, and sentence structure.
Vocabulary enhancement suggestions.
Genre-specific writing style checks.
Plagiarism detector to check over 16 billion web pages.
Compared to ProWriting Aid, the paid plans in Grammarly are quite expensive. So choose the one that sits in your budget or you can always use their free version. You can click here to visit Grammarly.
Here are some more similar proofreading tools you can use besides them.
3. Additional Resources
Apart from the tools, I would like to suggest a few books to level up your proofreading game.
STEP 5: Learn From The Experts
No matter which skill you learn, at some point in time, you will need proper guidance from professionals to move on to the correct path.
For example, when I started blogging, I was completely blank & didn't have a proper roadmap to pull it off. Though I used to read several articles & watch YouTube videos to feed myself with knowledge, I was still stuck in the beginner zone.
I always felt like there are more strategies and secrets that experts don't want to give it away for free. (as Joker says – If you're good at something, never do it for free)
So, after a few months, I finally enrolled in a paid course to learn blogging in a step-by-step manner. The result was – I came out of my beginner zone and achieved more success both in income and traffic.
The point is – learning from the experts is the best way to speed up your growth. For just a small investment in the beginning, not only you can earn significantly more than your investment but also gain success & feel more confident in a very short span. 
Join this 76 minutes free workshop by Caitlin Pyle, who is a well-known name in the proofreading industry. She pulls off six figures from her proofreading business & is ready to spill the secrets in her course 'Proofread Anywhere'.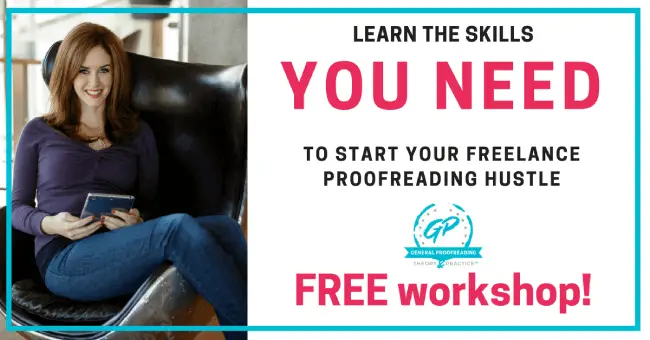 Step 6: Practice, Practice & Practice
You must have heard the phrase – Practice makes a man perfect. This is accurate for proofreading.
Nobody becomes a great proofreader just by taking a course. Even if you take the top course out there, you won't become a good proofreader if you won't practice.
For example – You can't become an excellent football player by just knowing the rules unless you regularly practice the game. The same concept applies here.
That's the reason I am listing a few links where you can take online proofreading tests to hone your skills. Just click the link, read the rules, and begin.
Step 7: Offer Your Proofreading Service
You can offer it in three ways.
Join Online Proofreading companies
Offer service via Freelance websites
Start your own Proofreading Business
1. Join Online Proofreading Companies
You won't earn much joining proofreading companies but it is still a great way to get into the proofreading world.
All you need to do is – pass their preliminary test comprising grammar-based multiple-choice questions & a proofreading test.
If you already have strong grammar, you will not have a problem joining them. Else, do a bit of preparation before applying.
Here is the list of 15 companies to apply for Proofreading jobs.
2. Get Proofreading Jobs Via Freelance Marketplaces
Even though proofreading companies are a good starting point to get some experience, you won't earn much compared to Freelance Proofreaders.
That's because you have to stick to the rate that companies are charging for jobs. So, if it is less compared to the standard price, you can't do anything.
On the other hand, when you work independently, you can set your own rates that give you a better chance to earn more.
Sites like Fiverr, Upwork, Freelancer, Indeed, Craigslist is a great place to find clients & proofreading jobs.
However, on these sites, you need to create a strong profile listing all your previous achievements to get the client's attention. This way, when clients check your portfolio, you will have a better chance to get the project.
I suggest you check out this course that teaches how you can start a Proofreader career on Upwork. You can copy the same model on other platforms as well.
3. Start Your Proofreading Business
Freelance marketplaces and online companies have a common problem that affects your earning & that is – commission.
Usually, both of them take a percentage of your earning as a commission. So, whatever you make till the end of the month is not 100% earning. 
As a beginner, it is alright as you are more interested in improving your skills. But when you are an experienced proofreader who has completed several proofreading projects, it is a better idea to shift towards your own business.
Though it will be the biggest hurdle you face, you can still pull it off if you take proper guidance from an expert someone like Caitlyn. 
Her free workshop is definitely a good starting point to get introduced to this business & then you can decide whether it is your cup of tea.
Final Thoughts
This was the simple roadmap on – how to become a Freelance Proofreader.
If you want to do it as a side hustle, you can join the companies and crowdsourcing marketplace. However, if you aspire to become a full-time Proofreader, enrolling in a legit course is a better choice than figuring out yourself.
Now it's your turn to let me know – what's your take on Proofreading, and which path is the most suitable for you?
READ NEXT: