Disclosure: This post contains affiliate links. If you buy or sign-up through one of those links, you won't pay a penny more but we'll get a small commission that helps us in running this blog. Read the Disclosure page.
Do you know a Freelance Proofreader makes $20-$70 an hour for proofreading?
You might think, what's proofreading and how I can become a Freelance Proofreader? Can I do it full time, and what qualifications I need as a Proofreader?
Well, I have discussed everything in this detailed post sharing the exact steps, tools, and resources needed to become a Freelance Proofreader.
If you're looking for great work from home job as a mom, student, or looking to add an extra source of income, then Proofreading is one of the best online jobs.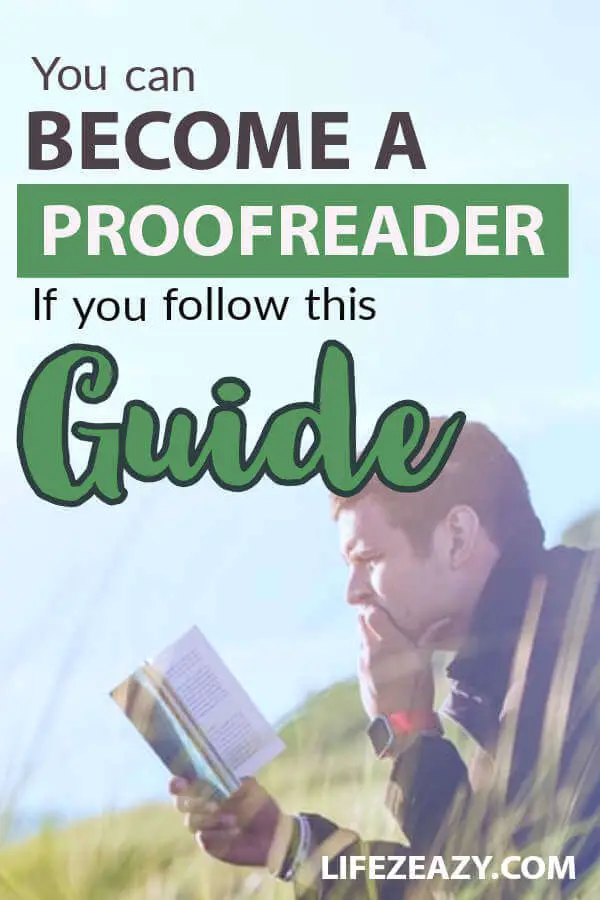 Read More:
STEP1: Know Everything About Proofreading
What is Proofreading?
Proofreading is a process where Proofreaders check & fix grammatical, punctuation, spelling, typo errors from a written document.
It is the last step in the editing process, after which the copies are printed, published, or submitted.
The copies include novels, textbooks, children's books, online or university course content, website pages, blog posts, presentations, newspapers, magazines, ads, pamphlets, legal documents, transcripts, court reports, podcast pages, resumes, scholarship essays, and so on.
Difference Between Proofreading And Editing?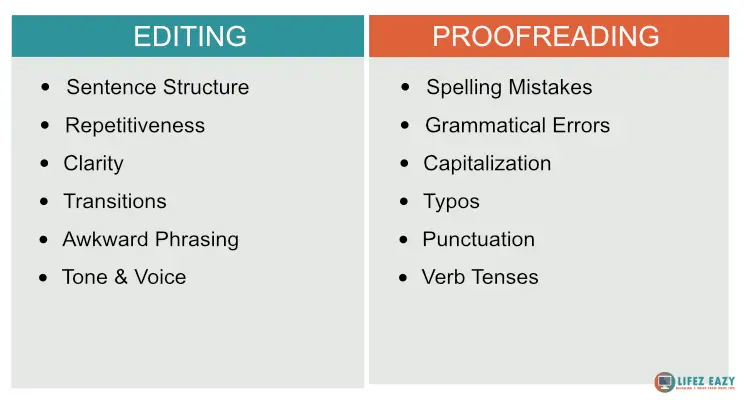 If you think Proofreading and Editing are the same, then you're totally wrong.
Mainly, Proofreading deals with grammatical, typo, spelling, punctuation errors, whereas Editing deals with the overall quality.
Editing includes:
Correcting the overall structure to improve the flow.

Improve the clarity of sentences.

Quality of evidence and analysis.

Enhancing language use.
How Much Does a Proofreader Make?
An Average Freelance Proofreader charges from anywhere between $25-$45 an hour, whereas an experienced proofreader goes up to $50-$70.
Greg Ioannou, an experienced Proofreader, makes a minimum of $50 per hour for proofreading 3000 words.
Usually, the earning depends on.
Experience

Type of document (general or legal) you're proofreading.
The higher the experience you have, the better you will earn. And if you are proofreading legal documents like a court transcript, you get paid more. That's because it's more difficult & requires a good knowledge of legal terminologies.
STEP 2: Know The Skills Required For Proofreading
I know proofreading sounds like an easy job, but actually, it's not that easy.
There are several things you should know before trying your hands on it. If you lack these skills, you may find it hard to proofread that could affect your deadlines.
Here are the skills you must really focus on:
You must have good focusing power and close attention to detail.

The ability to not get distracted easily.

A meticulous eye for details so that you can spot errors quickly.

You must have excellent grammar knowledge, know when to use punctuation & capitalization rules.

You should know conventions in native languages. For example, an English proofreader must know the difference between British, American, Canadian, Australian & Indian English.

You must know the rules of any style guide you're working with.

Most importantly, you should enjoy proofreading and have an urge to always improve yourself.
STEP 3: Understand All the Pros and Cons
Pros of Proofreading Jobs
Work on your own schedule, which gives you more flexibility.

Spend more time with your friends & families as it gives you a lot of freedom.

You can do the proofreading job alongside your day job as an extra source of income.

It's a remote job that you can do from any part of the world.
Cons of Proofreading Jobs
Every job has a good and bad side & Proofreading is no different.
The following are some common cons you'll face being a Proofreader.
At some point, you'll face a scarcity of jobs while

 working with Online Proofreading companies

. That's why it's always a good idea to join at least 3 companies to have a continuous flow.

Freelance Proofreaders may face difficulty in finding clients. This is the most difficult part where you need to find & turn your clients into a customer to get recurring work every month.

Being a beginner, you won't make enough money because you don't have enough experience.
STEP 4: Tools Required For Proofreading
Proofreading tools are a savior that can save a lot of your time and energy. It helps you to find and fix errors quickly which otherwise would have taken time.
When you proofread without any tools, you need to read the whole document to find out the errors. Sometimes, you even miss a few errors unknowingly. This not only consumes a lot of time but also leaves a few errors behind.
In such a case, using tools while proofreading can save up a lot of time. Tools like grammar checkers can highlight most of the errors at once, and all you need to do is click and fix them. It's as simple as that.
However, it doesn't mean you have to entirely rely on them because, at the end of the day, human eyes are more accurate. The tools must be used in combination with your meticulous eyes to make the most out of it.
Here is the list of basic tools you should have while proofreading.
1. Pro Writing Aid
Pro Writing aid comprises a grammar checker, style editor, and editing tool designed to correct English writing.
If poor grammar is your weakness & you find it hard to detect them, Pro Writing Aid can save a lot of time. Here are the few benefits of using this tool.
It automatically suggests 1000s of style improvements to make sentences short and concise.

This tool finds out repetitiveness, vague wording, sentence length variation, over-dependence on adverbs, passive voice, over-complicated sentence constructions, and so on.

Fixes spelling and grammatical mistakes.

It has an in-built word explorer and contextual thesaurus that helps you to find the perfect words for your sentences to make your point.
You can click here to use their free trial.
2. Grammarly Free Grammar & Spell Checker
Grammarly is another grammar checker that detects grammatical errors in real-time. You can use it as a browser add-on, integrate it with Microsoft word & even use their text pad.
The free version only supports spelling and grammatical correction, whereas the paid one offers.
Advanced checks for punctuation, grammar, context, and sentence structure.

Vocabulary enhancement suggestions.

Genre-specific writing style checks.

Plagiarism detector checking over 16 billion web pages.
Personally, I use a combination of both Grammarly & Pro Writing Aid to detect most of the errors.
3. Some Additional Resources
STEP 5: Learn From The Experts
There is always two way to acquire a skill. The first one is learning by yourself, and the second one is learning from an expert.
While the first one doesn't need any money but it takes a lot of time. On the other end, the second one does need money, but it cuts a lot of time.
You get to learn from the experts who exactly know all the tricks and trade of that specific skill. Thus, you become more confident while learning and are ready to take challenges.
The same applies for proofreading. The following is one of the popular online proofreading course that has converted many newbie proofreaders into a Freelance proofreader.
General Proofreading: Theory & Practice
This course is created by Caitlin from proofreadanywhere.com. She is a professional Proofreader who has trained many people to start their own freelance business. She made over $33,000 in a year just by running a proofreading business
Whether you're starting from scratch or knows a little bit of proofreading, you can enroll in her course to hone your skills.
Her course offers the following resources.
40+ lessons in 9 modules

8 grammar-specific worksheets

Bonus resource guides for all types of service-provider markets

40+ real-life example jobs

​Student workbook and syllabus 

​Pep talk videos from Caitlin 

​8 module quizzes 

​100-question in-depth vocabulary quiz

​3 case studies 
For people who really want to learn to proofread but isn't sure whether Caitlin's course is worth it? You can enroll in her free workshop that gives you an idea of whether Proofreading is really your cup of tea.
The free workshop includes
5 signs Proofreading could be a perfect fit for you.

How proofreading can give you lifestyle freedom & financial security.

An easy way to attract your ideal proofreading clients & much more.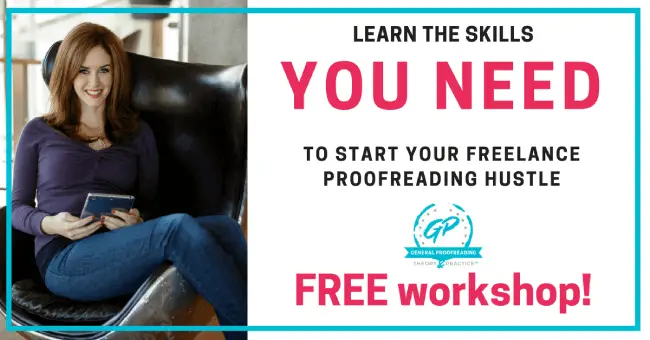 Step 6: Practice, Practice & Practice
You must have heard the phrase Practice makes a man perfect. This is accurate when it comes to proofreading.
Nobody becomes a great proofreader just by taking a course. Even if you take the top proofreading course out there, you won't become a good proofreader if you won't practice.
It's like unless you practice, you won't become a good football player even though you know all the rules. The same concept applies here.
That's the reason I am listing a few links where you can take online proofreading tests as part of your practice. So, click the link, read the rules, and begin.
Step 7: Offer Your Proofreading Service
You can offer your proofreading service in three ways.
Join Online Proofreading companies
Offer via. Freelance websites
Start your own Proofreading Business
1. Join Online Proofreading Companies
This is the easiest way to get Proofreading jobs as a beginner because you don't need any experience. Though some companies ask for it, a few of them won't. Being a beginner, you can gain some experience that will help you in the future.
To join them, you need to take up a preliminary test comprises of multiple-choice questions. All questions are grammar-based & you can easily pass them if your grammar is strong. Once you clear it, you need to proofread a small document to get accepted.
Here is a list of 15 companies where you can apply for Proofreading jobs.
2. Get Proofreading Jobs Via Crowdsourcing Marketplaces
Even though proofreading companies are a good starting point to get some experience, you won't earn much compared to Freelance Proofreaders.
The reason is that you have to stick to the rate that companies are charging. So, if they are charging little, you can't do anything. However, when you work independently, you can set your own rates that give you more freedom & that's what crowdsourcing marketplaces are all about.
Joining Upwork, Freelancer is a great place to get clients who want to work with Freelancers. This is the place where clients post their requirements, and Freelancers bid for the job.
So, when it comes to proofreading, you need to create a strong profile listing all your previous work and experience to get the eyeballs. This way, when clients check your portfolio, you have a better chance to get the project.
If you want to excel in Upwork, I suggest you check out this course, teaching you how to have a Proofreader career on Upwork.
Here are a few crowdsourcing marketplaces you can join.
3. Start Your Own Proofreading Business
Crowdsourcing marketplaces and online companies both have a problem that affects your earning, and that problem is commission.
Usually, both of them take a percentage of your earning as a commission. So, whatever you make until the end of the month, you won't be getting all of them. But it's ok when you are a beginner looking to gain some experience.
However, when you are confident enough in your skill and have done several proofreading projects, it's time to start your own Freelance Proofreading Business.
For this, you can enroll in Caithlin's General Proofreading course that teaches everything from the beginning till the end. From getting into the right mindset to turning proofreading into a business, you get to learn everything.
As a bonus, you can also join their Facebook community where you can interact and discuss your problem with other proofreaders.
Final Thoughts
This is the simple roadmap on how to become a Freelance Proofreader. If you want to do proofreading as a side hustle, you can join the companies and crowdsourcing marketplace.
However, if you want to become a full-time Proofreader, it's better to enroll in a legit course. Now it's your turn to let me know whether you want to do it part-time or full-time?