When you click the links and ads on this blog, it helps me to pay the bills & keep this site free for you. Thanks for supporting me! For more info, read the Disclosure page.
If you are looking to join GoTranscript to make some extra money, you should take a look at this GoTranscript review before applying.
Like many other transcription platforms, GoTranscript is a well-known company among several Transcriptionists that has been in the business for a long time.
However, many complaints are floating online that shows GoTranscript has both a good and a bad side. So, what are they? Is it really a great website where you can easily churn in money transcribing audio clips? Let's find out.

Read More:
Quick Summary – GoTranscript Review 2020
Platform Name – GoTranscript
Ratings – 3/5
Summary – Though GoTranscript is a legit site, you can't expect to make a lot of money because the files pay less. Most of the time, you have to deal with audio clips having noises that will consume a lot of time. However, not every clip is like that, and you can find some pretty decent ones as well. Among other things, I really liked how there is no minimum payout amount along with a weekly payment system. Overall, I would recommend GoTranscript to those people desperately looking for a way to start making money online. But, on a side note, be prepared to fail selection exams multiple times.
Note: If you want to get the upper hand in transcription, you can enroll in the following free email mini-course created for individuals interested to become a Freelance Transcriptionist.
GoTranscript in a Nutshell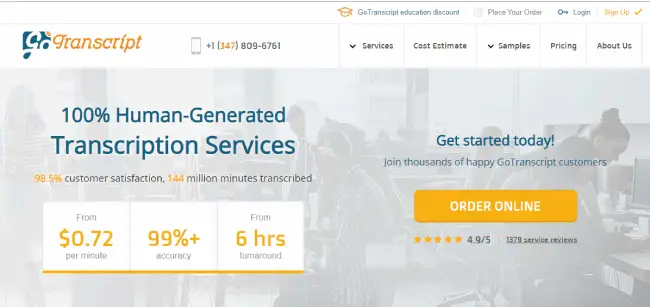 Before I share what I felt about GoTranscript, let's take a quick look at their platform.
GoTranscript is a transcription service company that started in 2005 by Peter Trebek. The company has transcribed over 144 million minutes, with 98.5% customer satisfaction. They offer audio/video transcription, translation (text/audio), foreign subtitles, captions services to their clients.
Many users who have previously worked on GoTranscript claims they don't pay much as compared to the work they put in. Their business model is only suitable for those people who don't mind working for a fraction of a minimum wage.
So, the question is, are they telling the truth? or it is just a hoax? We will find out in my GoTranscript review.
What Are The Requirements To Join GoTranscript?
They don't have any specific requirements, but there are a few things you need to keep in mind while joining them.
Make sure you have a computer/laptop with a good internet connection.
A good pair of headphone
Good command of English grammar and punctuation is a must
Better listening skills
Good typing speed even though it is not necessary
Section 1: How I Joined GoTranscript?
When I clicked the signup option after visiting their homepage, I can see there are three options to join them. You can either use your email address, Gmail address, or Facebook. I used my Gmail account for this purpose.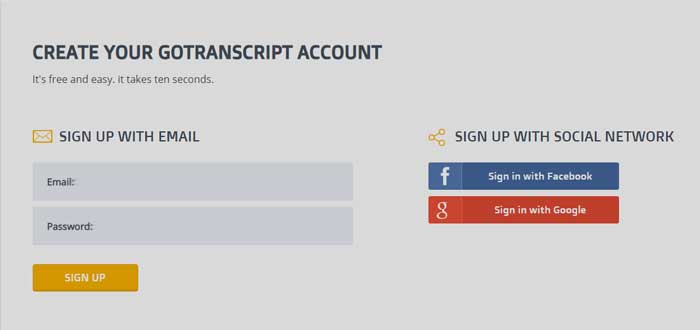 Once I joined and logged in, GoTranscript took me to the orders page, which looks something like this.
At this point, I was confused about what to do next? Where can I take the transcription test to move further? So, after playing around for a few minutes, I clicked the work option under the "For Transcriptionists" section in the footer that directed me to the transcription jobs page.
Once I was in, I clicked the Apply Now button only to see a lot of different language options where one have to select the most suitable one. For example, if I pick Korean? Then I have to take the quiz and audio transcription test for the Korean language. In my case, I decided to go with the English language which took me to the quiz section.
Quiz Test
Before I was getting ready to take the quiz, I read their instructions only to find out that I have to go through their guidelines page.

On this page, I saw a bunch of guidelines about what they do, their working process, text format descriptions, timestamping types, & other rules. All of them were crucial because the quiz is based on the same. So, I took some time and went through the whole page.

Regarding the quiz, there were a total of 10 questions with multiple choice answers. Each of them can have one or multiple correct answers, and you need to give the right answers to all of them to move to the next section.

Honestly, I couldn't pass the quiz in the first two attempts, but later, I realized my mistake and finally cleared it to jump to the transcription test.
Transcription Test
The test was audio-based, where I have to transcribe an audio file having a duration of 3 minutes 31 seconds.

Now, many people can't get through the test due to the bad audio quality having lots of background noises. Surprisingly, I was lucky enough to get a decent one, but still, it had some noises.

While transcribing, I took almost 40 minutes to complete the job because I am not used to transcribing. Most of my time got absorbed while playing the file multiple times.

Once I did my job, I submitted the file for a review only to get the acceptance email within a week. 
Overall, it was exhausting for me to complete a 3 minutes 31 seconds audio file. Maybe it was my first time, and I am not used to such jobs.
Either way, the transcription job can become challenging if you are dealing with poorly recorded audio clips for which GoTranscript is famous.
What did I feel about the Transcription Job Dashboard?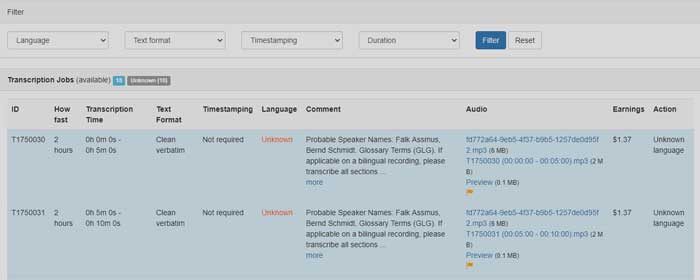 As soon as I visited the transcription job dashboard, I already knew what I have to do because the interface is simple and easy to navigate.
GoTranscript provided every detail for the transcription jobs, which leaves us with no questions. You can find the completion time, text format, timestamping, language, & earning for each file in one place.
As far as simplicity and transcription guidelines go, I am really impressed with them because I didn't have any doubt while commencing my job.
Section 2: GoTranscript Work Process
Complete WorkFlow
To start earning money on GoTranscript, visit your transcription jobs section, where you can find a lot of files ready to get transcribed.

Choose any one you like or use the filter option to sort the jobs according to language, text format, timestamping, & duration. (Note: For some files, you need to wait to get access).

While selecting any file, you can use the preview feature that lets you play the audio file before accepting them.

Once you have finalized, transcribe them either using their in-build transcription software or a tool of your choice within the given period.

After completing the job, submit your transcript to the Editor where they rate & review your work before getting paid.

You can then access the final report to see the correction made by the Editor. Honestly, it is a nice feature from the Transcriptionist point of view because you can actually see your mistakes & thus, avoid it in the future.
A Few Things To Note
Editors will rate your work from 1 to 5. So, make sure you provide accurate transcripts to get at least 4.5 ratings.

Editors will also leave a comment as a tip/suggestion so that you can improve your performance.

Newbies are not eligible to access all the jobs unless they get an average rating of 4 by completing at least five audio clips.

An average rating of 4.5 or more with at least 20 jobs done makes you eligible to apply for the Editor's position.

An average rating under 3.5 can result in disqualification, and it may lead to closing your account.

You can always cancel a job after accepting them if it is too hard to transcribe. A penalty is given to those who hold the job for too long (over an hour).
My Experience While Transcribing the Audio File on GoTranscript
Before I share my experience, I thank GoTranscript for putting an audio review feature where I can listen to the files before accepting them. This feature saved a lot of my time.
Now, while finding an audio file, it was hard for me to find a suitable one as most of them had background noise, non-native English accents, and muffled sounds. 
Being a beginner, I could not even imagine to transcribe them as it will suck a lot of my time. However, after digging a lot, I finally found a decent one, and that is when I decided to commence my job.
GoTranscript allows you to transcribe the job either online or offline. With online, you can work on the Transcription tool provided by them, or you can download the file and transcribe them using Express Scribe or InqScribe.
I decided to go with their software because I wanted to test it out.
How Was My Experience With GoTranscript's Transcription Software?
While working with the tool, I liked the feature where our work gets automatically saved every 30 seconds. It means even if you close your tab accidentally, you do not have to worry about your transcript.
Additionally, I also loved the feature where the tool automatically stops playing the audio once you start typing. Though you can turn off this feature anytime you want, I don't think it is a great idea.
Apart from this, I also loved the following features.
F1 – skip back by 2 seconds

F2 – jump 2 seconds forward

F3 – make the audio slower

F4 – play faster

CTRL + J – add a note with the exact time written in it

CTRL + K – the timestamp will include the word "inaudible" (used when you cannot hear due to background noise)

CTRL+L – the timestamp will add the word "unintelligible" (used when you cannot understand because of accent or how they speak)

CTRL+1, CTRL+2 – Will add the speaker as Speaker 1, Speaker 2
Implementing these shortcuts while transcribing will not only make your job faster but easier as well.
As I was using the tool for the first time, I was a bit slow with all these shortcuts. However, I know that if I keep using the tool, I will pick up the pace.
To conclude, I loved the transcription tool, along with all the features it provides but I disliked the audio quality of some files, which is a big turn-off for me.
Section 3: GoTranscript Payment Model & How Much Can You Expect To Earn?
Members receive their earnings only when their transcripts are edited. For Editors, they get paid after submission of their work.

GoTranscript claims you can earn up to $0.60 per audio/video minute. However, in reality, most of the transcriptionists make $0.18 to $0.25 per audio/video minute.

Talking about the payment, GoTranscript pays every Friday via Payoneer & PayPal. In case you want to check out your earnings, click the "My Stats" option in the menu bar.

As far as the earning potential goes, people earn only $2 to $3 after working for an hour or more. As listed by one of the members, you can make $16 as a Transcriptionist and $30 as an Editor if you work for 10 hours a day.
Talking about my experience, I really liked their weekly payment schedule, irrespective of how much earnings you made during the period. There is no minimum payout amount, which is a relief for many people.
However, GoTranscript pay is low compared to some other companies, which is a bit disappointing. surely
Overall, if you don't mind making peanuts by spending a lot of time, you can certainly join them. However, if you want to spend your time wisely, there are other alternatives, which I will discuss later.
Section 4: An Overview of GoTranscript Rating System
GoTranscript's rating system requires you to at least maintain a rating of 3.5 or more. Anything below that for three recurring jobs can get you fired from their platform. 
For example, if you got a rating of 3.4, 3.3, & 3.2 for three consecutive jobs, GoTranscript will close your account even if you have pending payment.
Talking about the ratings, they are given by Editors on the following basis 
Rating 5

 – When you have given 96% to 100% accuracy

Rating 4

 – When you have given 92% to 95% accuracy

Rating 3

 – When you have given 88% to 91% accuracy

Rating 2

 – When you have given 83% to 87% accuracy

Rating 1

 – When you have given 0% to 82% accuracy
Personally, I like their rating system as this will filter out the underperforming transcriptionist, which is good for their business.
However, I believe that GoTranscript should at least pay the pending earnings to their members if they decide to close their accounts.
Just because they had less accuracy for three consecutive jobs, it doesn't mean they shouldn't get paid for their previous work.
Section 5: A Look at the Editor's Job
The Editor's job is to check & rate the transcript done by other Transcriptionist.

Compared to a transcription job, their work is much easy as they don't have to transcribe the audio files. Their only job is to check whether the transcript is transcribed correctly as per the guidelines. If Editors find some issues, they submit the work to the clients after fixing them.

Because of such a workflow, they can complete more jobs in less time and hence makes more money.

To become an Editor, you should have completed at least 15 jobs, maintaining an average rating of 4.5 and above.
I think if you are working on GoTranscript, it is better to become an Editor rather than Transcriptionist. That's because when you are an Editor, you get the right pay compared to the work you put in.
Now, becoming a Transcriptionist might be a better choice for some people living in different countries. But the point is, being an Editor gives you the power to complete jobs much faster in a more comfortable way resulting in more earnings.
I would suggest that if you are aiming to become an Editor, always transcribe those files that are decent and have less background noise. This way, you will be able to maintain an average rating of 4.5 or more.
If somehow, you couldn't find better audio files? You can always wait for the fresh ones.
Section 6: A Few User Complaints
Most of them have complained about the test because they couldn't pass due to the audio quality. However, some were lucky enough to get decent ones, but still, they failed.
The following are the screenshots of three members.
Is GoTranscript Scam?
Absolutely No!
GoTranscript is a legit site known for paying its member on time. Even though you won't become rich, it is definitely a great place to start your online money-making journey if you couldn't find something better.
I worked on GoTranscript in 2016, and I know damn well that they are a legit company. In fact, I even got paid by them, as shown in the below screenshot.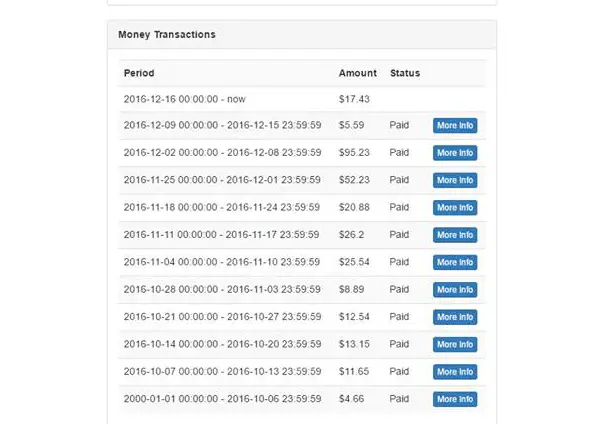 However, as soon as I started blogging, I stopped transcription because it's not my cup of tea. Even though I made some money, I felt bored because I didn't have a passion for it as I have for blogging. 
But, that's not the case for everyone. If you feel transcription is a good fit for you, GoTranscript can give you a platform to horn your skills. Yes, they pay less compared to others, but they are a legit company. 
I advise you to aim for becoming an Editor if you really want to invest your time working with them.
What I Liked About GoTrancript
You are free to choose your working hours.

You can cancel your work if you feel it's too hard.

Freedom to choose any file you want.

Weekly payments on Friday.

Jobs are available most of the time.
What I Disliked About GoTrancript
Most of the audio files have bad quality consisting of background noise, muffled sounds, non-native English accents, etc.

The jobs don't pay much.

Some files have a waiting time before you can pick them up.

Some Editors reply with harsh statements instead of giving constructive criticism.
Other GoTranscript Alternatives
Final Verdict – GoTranscript Review 2020
GoTranscript is a popular transcription website for beginners who wants to become a Transcriptionist. Though you have to try hard to pass their exams, it is still a decent place to make extra money if you work as an Editor. Overall, I have mixed feelings about GoTranscript, but you are free to try them to see whether it works for you. 
TRANSCRIPTION FREE MINI-COURSE
Want to know if Transcription is right for you? Enroll in this free mini-course to get the answers of your questions and much more!